Pair Black Diamonds 
Get a glairing 0.60 Ct of pair of black diamonds in AAA quality to design stunning stud earrings. This pair of black diamonds features AAA top most quality which doesn't consist of any visible flaws on its surface. These black diamonds are round brilliant cut in shapes, one of the most popular in diamond shapes. The use of black diamonds is growing nowadays. Especially when it comes to designing men's earrings or jewelry. The black diamond stud earrings are setting an upgrowing trend from the beginning and most well-known pop stars and hip hop stars are seen with their black diamond stud earrings on red carpets and famous events.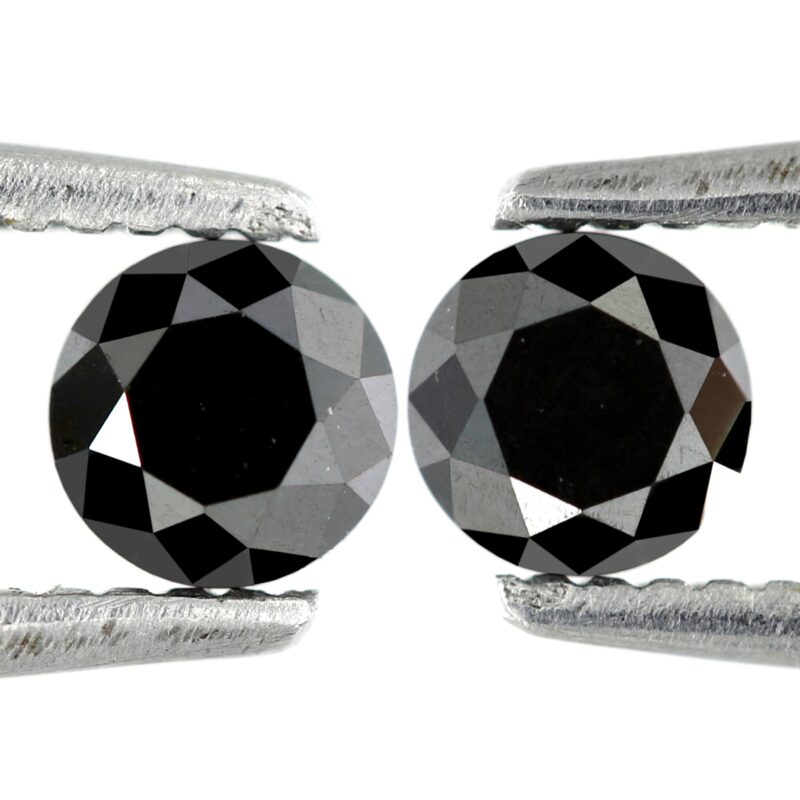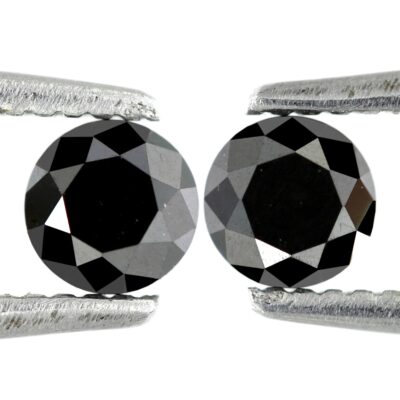 The use of pair black diamonds is most common now and due to their jet black color, they are gaining more popularity between people and jewelers. Black diamonds are adding a shine to upcoming jewelry trends across the globe. Round brilliant cut in Pair black diamonds has similar features in cut and shape with a slight difference of weight. But what doesn't remain the same is its color and clarity which makes them cheaper than the regular white diamonds. If you want to know the difference between black diamonds and white diamonds then you can check with the link below.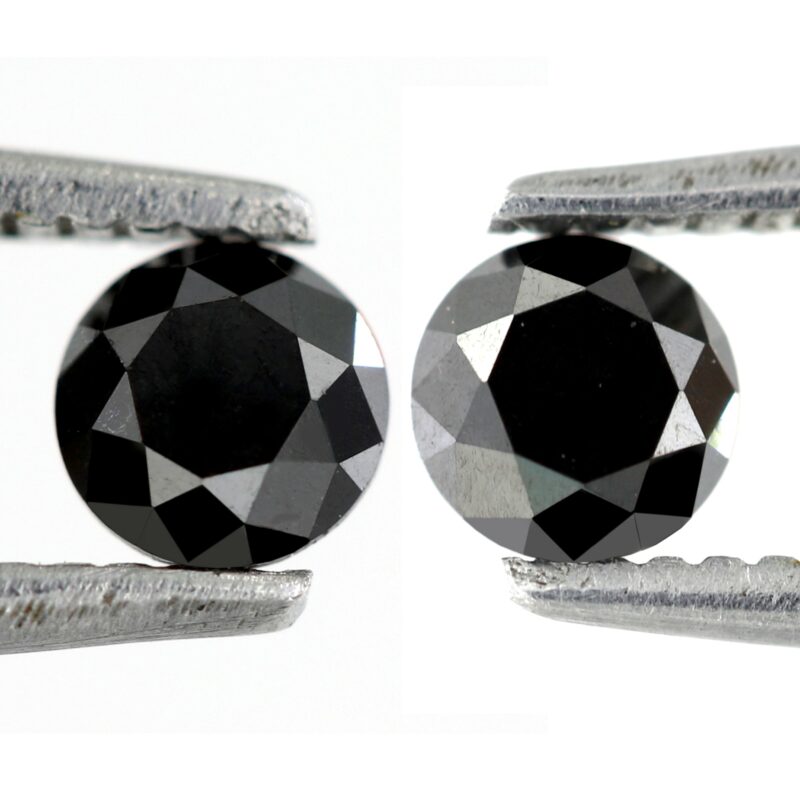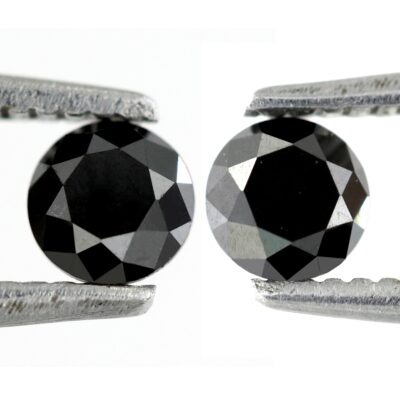 If you want to know the difference between black diamonds and white diamonds then you can check with the link below.
Black Diamonds Vs White Diamonds
Pair Black Diamonds in Details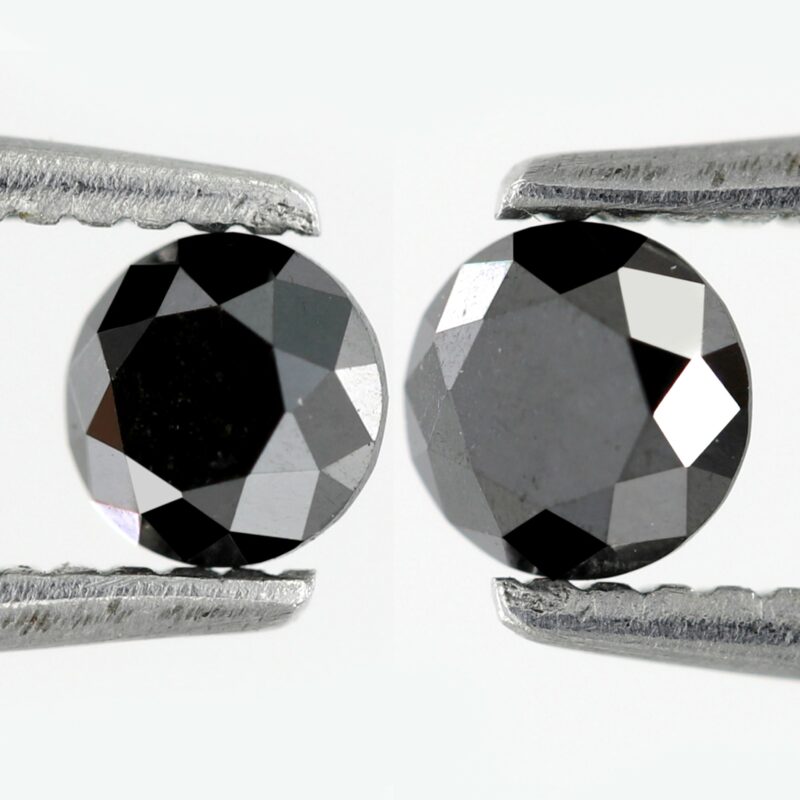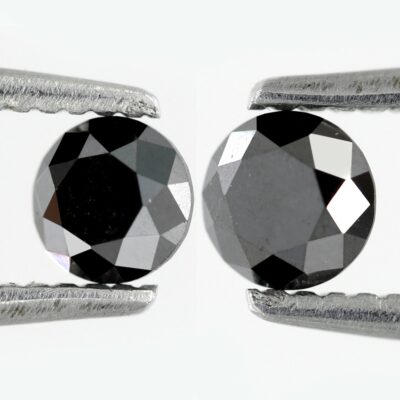 So if you are going to choose this gorgeous pair of black diamonds then you must know about its features first.
The total weight of this pair is 0.60 ct in total which means 0.30 carat of each piece.
The shape of this black diamond is round brilliant cut in the shape which is popular in the diamond shapes.
It features one of the foremost qualities in a black diamond that is AAA top quality.
The color of this black diamond is jet black with opaque clarity which promises to lurk in the light.
You can design a gorgeous pair of black diamond earrings or two stone engagement ring with this pair of black diamonds.
The size of these black diamonds is  3.8 x 3.8 x 3 which makes it the best pair to match.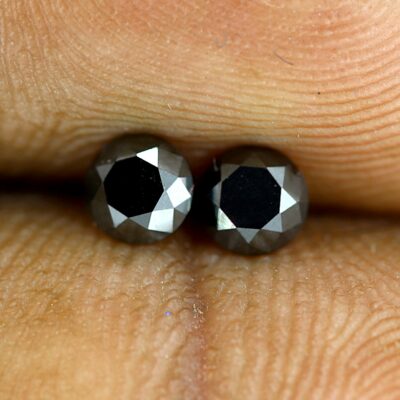 Custom shape black diamonds
If you want another size of the black diamond instead of this round brilliant cut black diamond pair then you can ask us for sure, As a leading wholesaler of black diamonds, Jogi Gems can offer you black diamonds in different shapes and sizes you want. And not only in round brilliant cut shape but if you want a pair of princess shape, oval cut or pear shape then you can mail us and we will give those to you at best-ever prices you want. When it comes to diamond cutting and polishing skills then we have a great and hardworking artisan who can cut black diamonds in whichever size you want. So go ahead and ask for the shape and size of the black diamond you'd like us to make for you at our email, info@jogigems.com, we will love to serve you with the best.
But if you'd like to take these round brilliant cut pair then you can head to the cart and shop now to get those at the best wholesale price ever.