5 carat cushion cut black diamond
Dashing and sparkly 5 carat cushion cut black diamond is the one for those who love big carats diamonds in their jewelry. A black diamond is something that everyone wants to use in their jewelry pieces. The trend of black diamond has got an eye for a decade. Popular designers are using this gemstone to make some elegant and extraordinary pieces with it.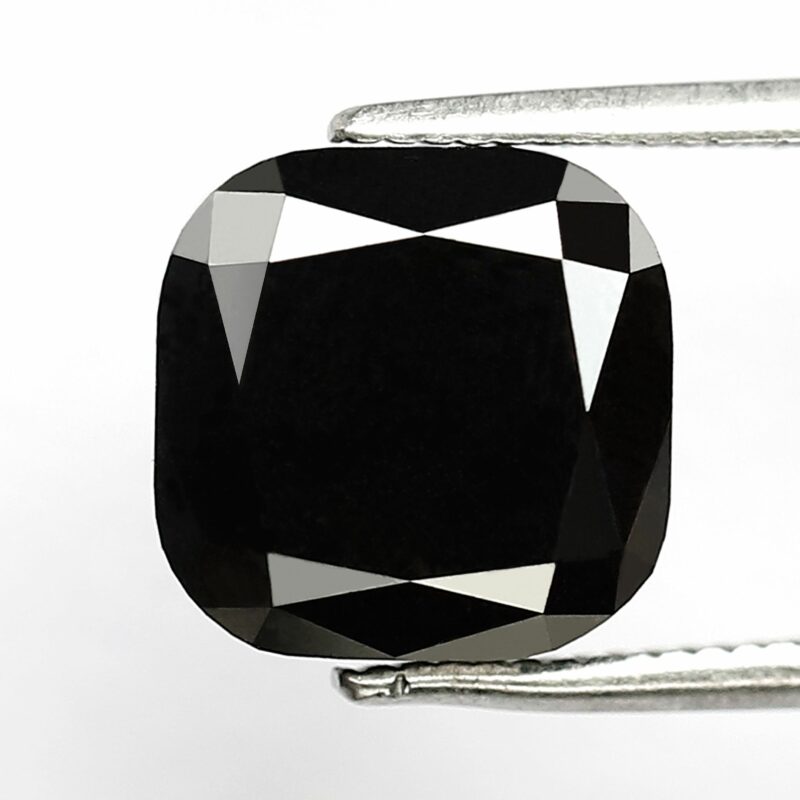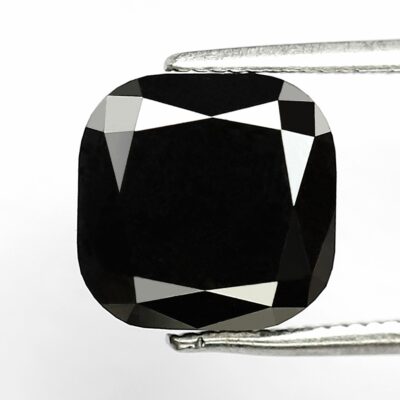 If you are one of those who are thinking to design a black diamond ring with this 5 carat cushion cut black diamond then you must definitely choose it. If you still have a doubt whether the black diamonds are real or not then the answer is yes, Black diamonds are definitely a thing that has a vibrant history. In fact, one of the worlds biggest black diamond was a cushion-cut too which weigh around 67.50 carats in total.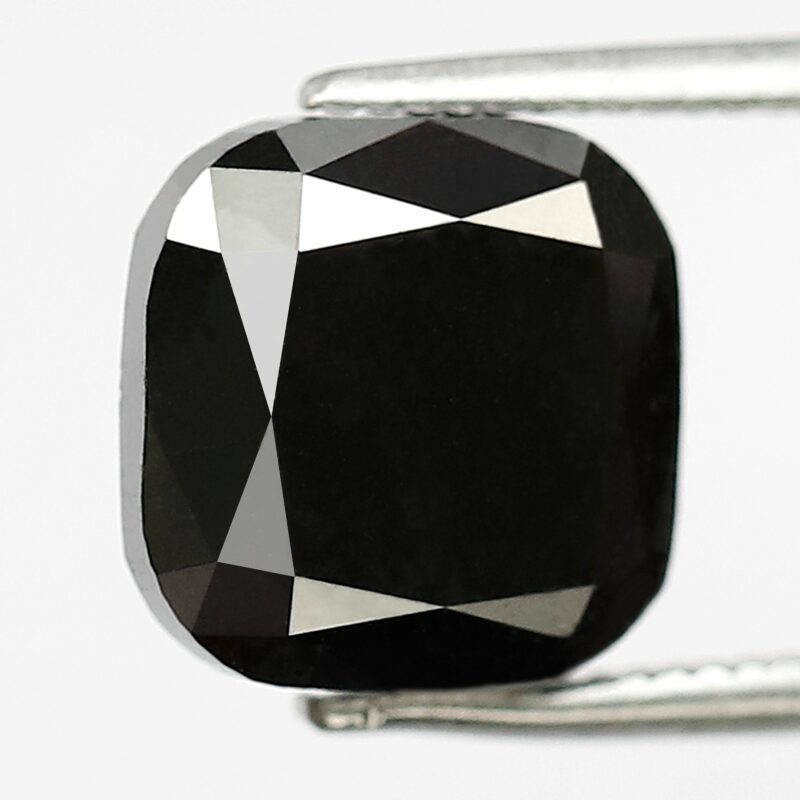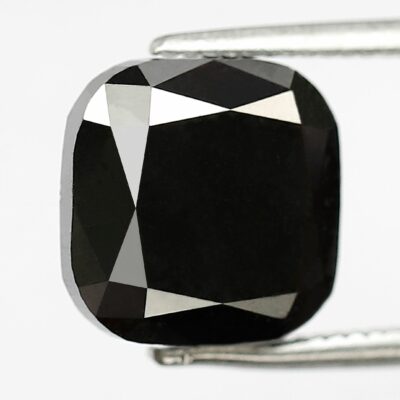 Well nowadays getting a black diamond of 67 carats is the rarest thing as it needs lots of expertise in cutting but you can get black diamonds in the range of 5 carats to 10 carats from Jogi Gems easily lower than the market price. If you want to know whether black diamonds are real or not then you can check with the link in the tab below.
Are Black Diamonds Real?
Features of 5 carat cushion cut black diamond
This black diamond is 5.85 carats in size with this size of 9 mm from both sides. The edge of this black diamond is curvy with a clean table just like the ordinary cushion shape in the diamond. One of the unique things about this black diamond is its back is made of flower rose cut so that you can use 5 carat cushion cut black diamond both ways. It needs sharp excellence to cut a black diamond in flower rose cut as the hardness of a black diamond is 10 on the Mohs scale. All thanks to our diamond cutters for their proficiency they use to turn a black diamond rough into a masterpiece.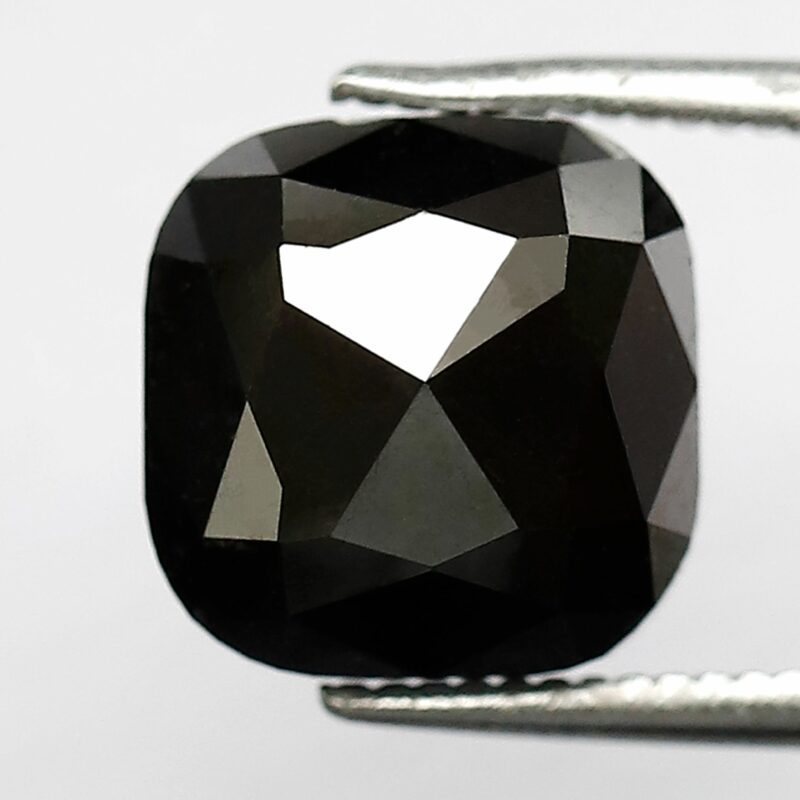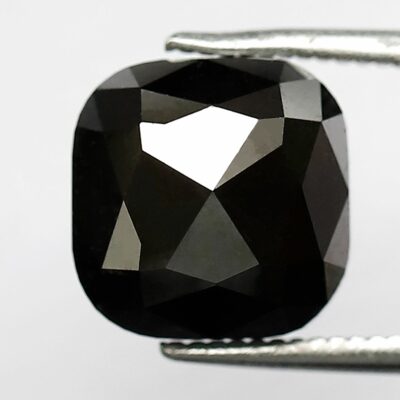 5 carat cushion shape black diamond is completely natural but it is treated to get a jet black finish on its surface without any extra inclusions in it. Therefore it falls into AAA quality which is the topmost quality in terms of black diamond grade. You can use this black diamond for various purposes, like if you want to design an engagement ring of big carat weight. Choosing this black diamond won't upset you and will put a huge smile on the face of the person who will own it.
The custom cut of black diamonds
As a leading supplier of black diamonds, Jogi Gems is happy to announce that do custom orders for black diamonds. Not only custom cutting and polishing of black diamonds but we can also design custom jewelry with this black diamond at the best prices. We can cut black diamonds in any shape or size you want us to make. Therefore if you have any such requirements then you can contact us on our email or WhatsApp.
You can take 5 carat cushion cut black diamond black diamond and make the best huge engagement ring or pendant, make your client happy.