Black diamond oval shape
Want to make a gorgeous engagement ring with oval shape diamond? Then you must check with this bold black diamond oval shape. The oval shape is well known for its elongated look which is more like a round brilliant cut but stretched from both ends. It is one of the most loved shapes when comes to the proposal or designing an engagement ring. Many celebrities Like Ariana grande have got the oval cut diamonds featured in their engagement ring. An Oval shape black diamond looks bold and black diamonds are mostly associated to get a bold and charming look.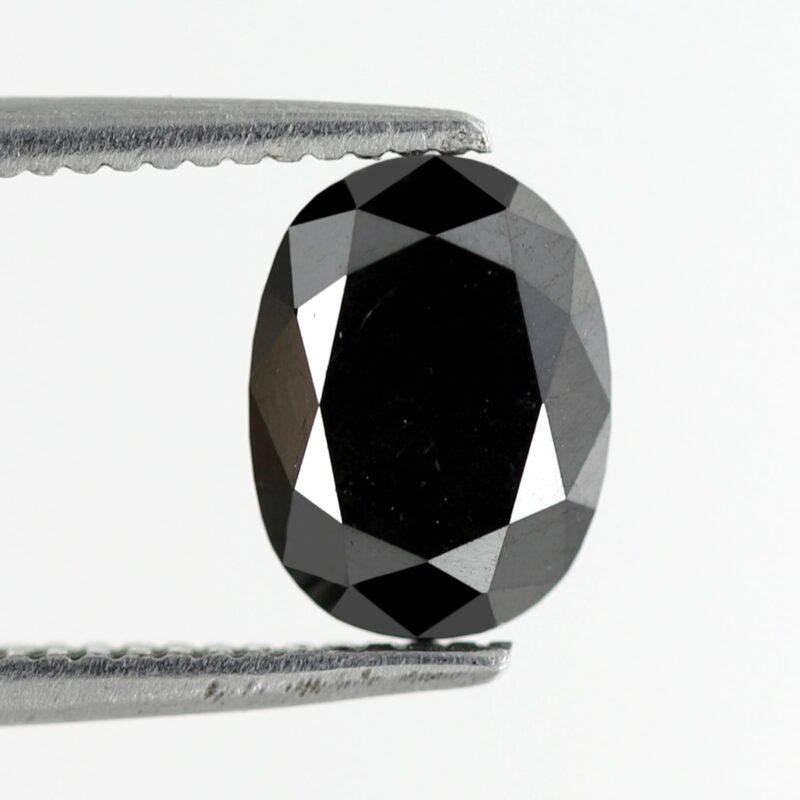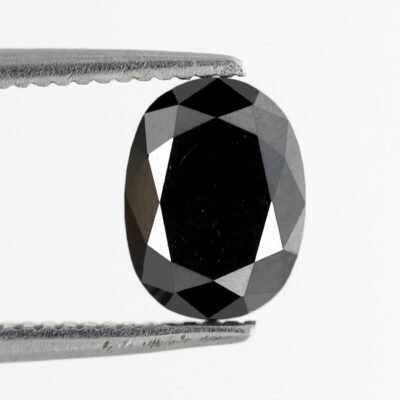 Many engagement ring designs are now featured with black diamonds that are absolutely natural, and Jogi Gems only offer the best to their customers. Especially this oval cut black diamond which is of AAA in quality. This AAA quality of black diamond means it doesn't have any spots, inclusions, or cracks on its surface. Black diamonds are popular in jewelry culture recently many jewelers are rocking with their black diamond jewelry collection. Ovals in black diamonds have similar facets on the top but the backside of this black diamond is different it is cut in rose cut, so while you flip it you can use it both ways.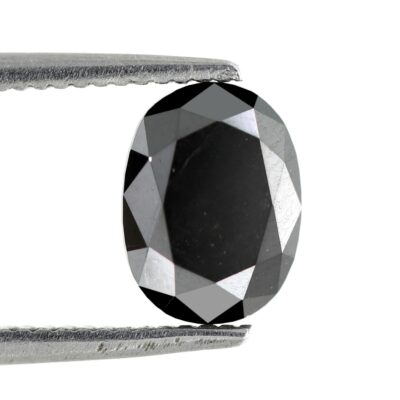 Want to know more in detail about black diamonds and their popularity then you can go through the link below of our recent blog.
Black diamonds in modern jewelry
Black Diamond Oval Shape In Details
Before setting this black diamond oval shape in your jewelry get deep into details.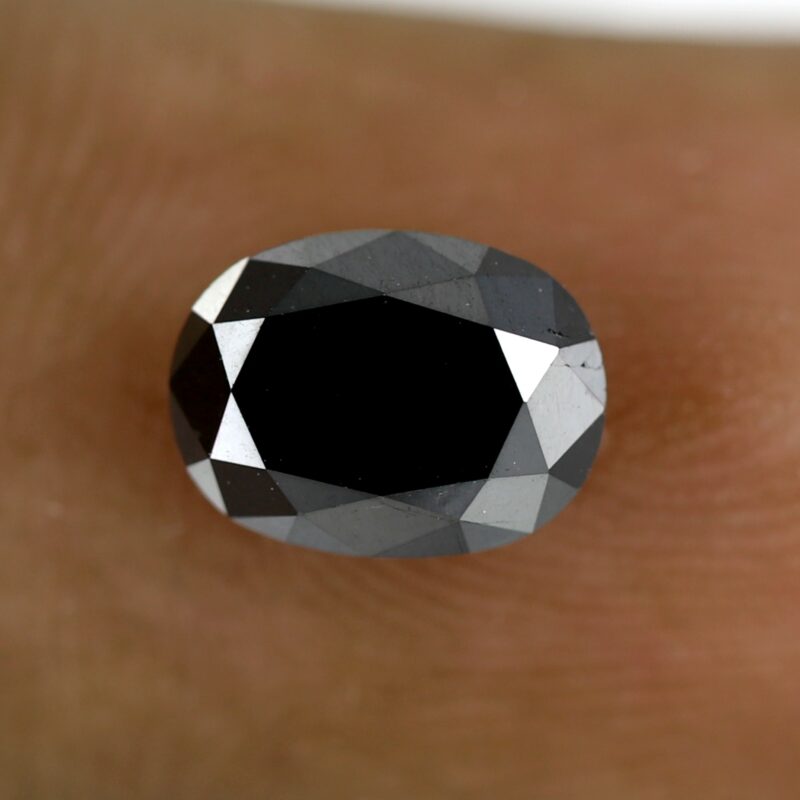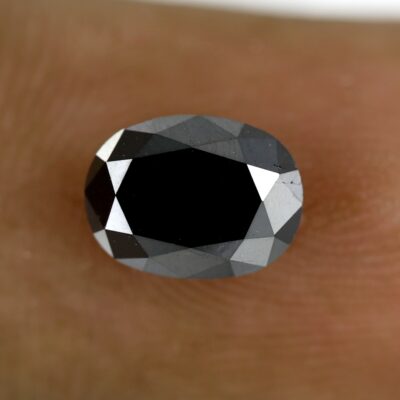 The total weight of this oval shape black diamond is 1.50 carats which resemble a solitaire shape
The size of this black diamond is 7.7 mm X 5.8 mm X 3.7 mm making it an oval shape.
The backside of this black diamond is of a rose cut in shape which makes this diamond look unique.
You can design engagement rings or tiny minimalist pendants with a halo of white diamonds.
It features AAA superb quality which is one of the most desired in black diamonds.
Comes with opaque clarity and a jet black color that promises to shine when light hits the surface.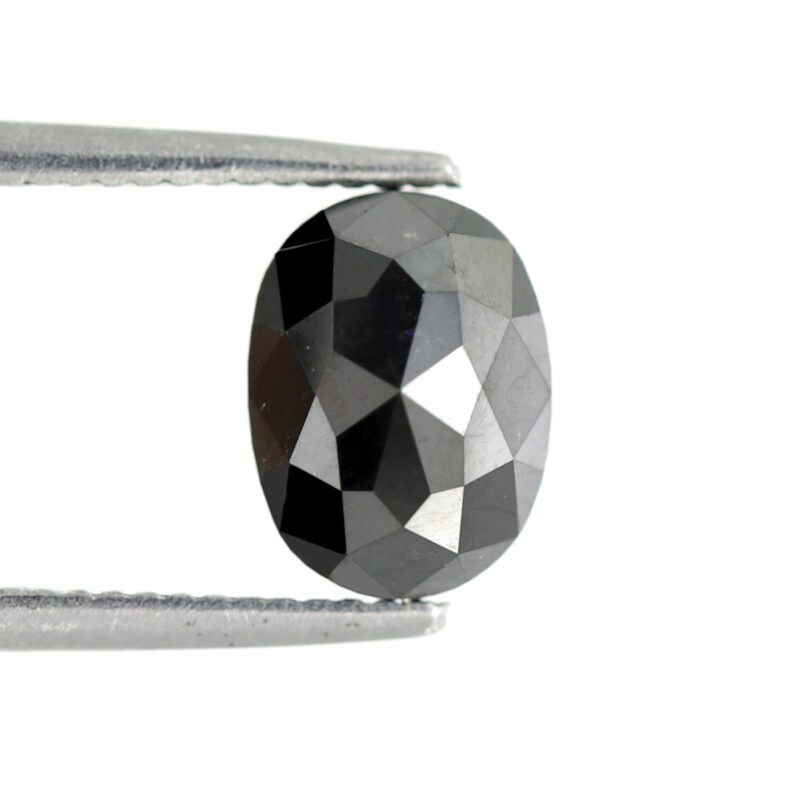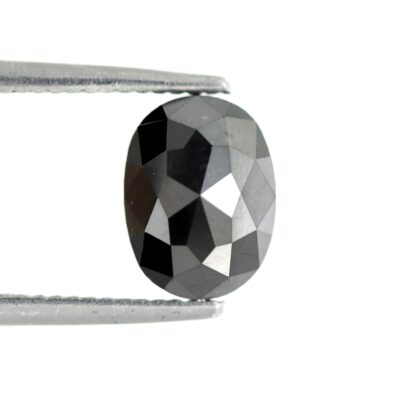 Custom shape black diamonds
If you are looking for a bigger oval shape black diamond and don't want the rose cut in the back or a brilliant-cut then you can ask us over here for sure. Jogi Gems is a leading brand when it comes to black diamonds. We have a huge team of diamond cutters and polishers who can make black diamonds in varieties of shapes and sizes you want. So if you want a black diamond as per your wish or requirement then you will get here at Jogi Gems. We understand our client's requirements and are happy to serve you with the black diamonds of your choice.
If you like this oval cut black diamond then you can order it now as it is available in the shop and ready to ship, so shop now and add gorgeous black diamond jewelry to your shop now.