Grey Diamonds Ring: Everything you need to know
Grey diamonds have flourished in popularity in recent years. These have made up a general portion of the engagement rings we design.
But first, let's have some knowledge of what is grey diamonds exactly!
Grey diamonds are the little pieces of magic, with the sparkle of the inclusion and the color that makes each one completely very unique. Here, we happily adore grey diamonds for their sparkle and brilliance of grey diamonds. Grey diamonds are 10 on the MOH scale of hardness- are the hardest of all the gemstone.
What is a grey diamond? a grey diamond is precisely similar to a diamond but with color and inclusion. In grey diamond, you will completely find its different uniqueness of fire and brilliance. One of our best and treasured thing about our grey diamonds is that they are unique and beloved choices where no two grey diamonds are the same.
So, grey diamonds fall into two sections – Fancy Grey Diamonds and Included / Salt and Pepper Grey Diamonds.
Fancy Grey diamonds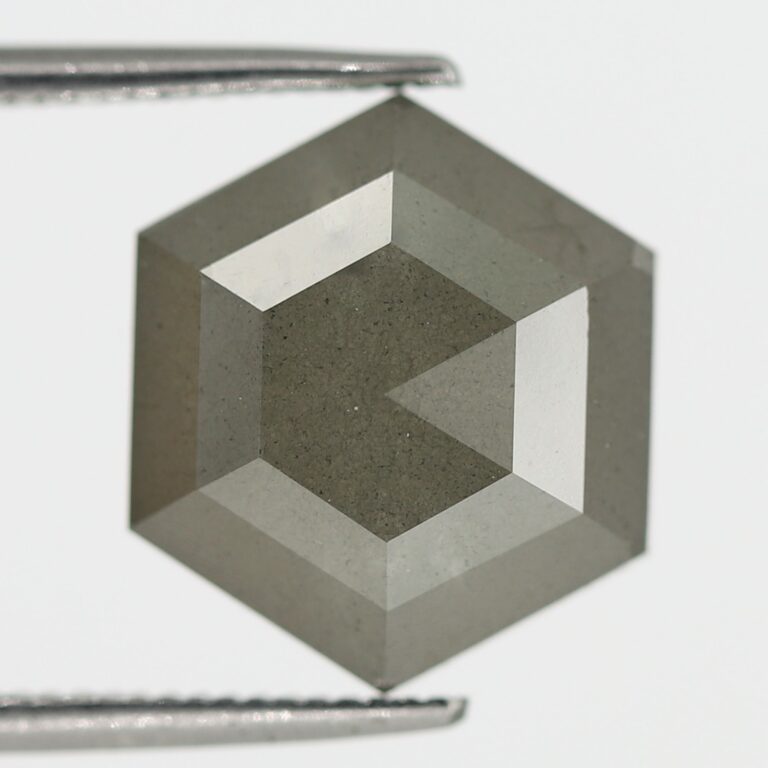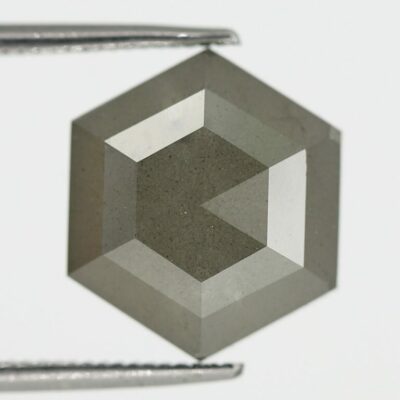 Fancy grey diamonds are notably rare and have a high standard of clarity- Absence of imperfections and inclusion.
Their color varies in intensity, which includes fancy dark grey, fancy grey, fancy light grey, very light grey, light grey, and faint grey. Due to its high concentration of hydrogen or occasionally boron, most fancy grey colored diamonds get their color.
Fancy grey color diamonds are graded on the scale of VVS, which is considered as the highest quality for these diamonds.
Included/ Salt and pepper diamonds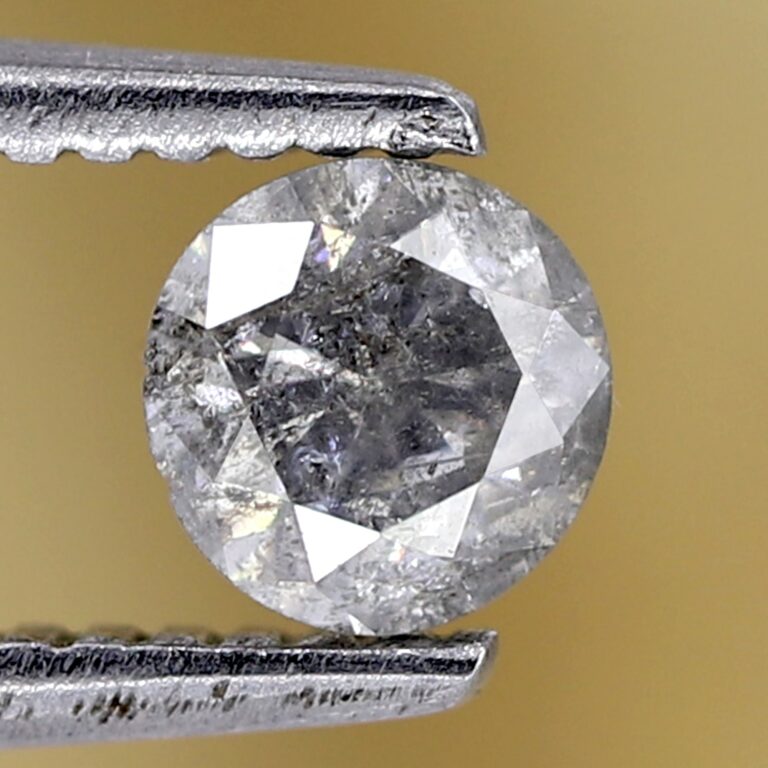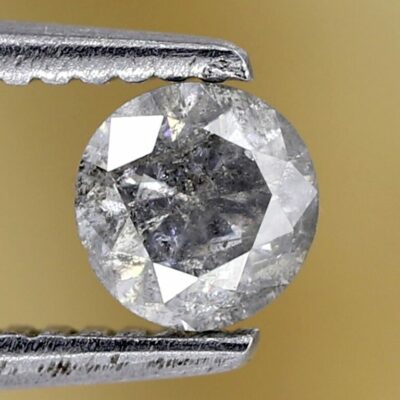 Just like me when I first heard of included/salt and pepper diamonds, I was kinda having a question of what's that confusing words. Let me explain to you in a brief line. "Included grey", "Salt and pepper", Rustic and Raw are some of the few names you may have heard from any other.
While diamonds are formed deep within the earth, under extreme heat and pressure so practically all diamonds( apart from flawless and internally flawless have small birthmarks called imperfection and inclusion. Now here, inclusion comes in all colors, shapes, and sizes. And all these are what affect the clarity of the diamond.
Here, the name of salt and pepper diamonds referred to the diamonds with the high presence of the salt – that is " white inclusion " and pepper includes " the black inclusion " that is visibly variable in small dot-like particles.
So what makes Grey Diamonds perfect?
These beautiful imperfections give the diamond a unique and interesting look on it. And we love the visible imperfection of the diamonds as they create very beautiful film tones and patterns of light to dark grey which shows off the gorgeous natural state of the stones.
The color can be strong and powerful, faint or even creamy, and are beautiful alternatives to the classic white diamonds. They can be speckled with a mix of translucence or they can be a more opaque solid color.
As they are very less rare than high clarity stones they are more affordable for the engagement ring. If you want some more information about included/salt and pepper diamonds simply and clearly check with the link below.
What Are Salt and Pepper Diamonds?
Would you like to know what is the most popular grey diamond shape?
Let me explain here, many grey diamonds including salt and pepper are rose cut.
A Rose-cut is a classic shape that features a flat bottom and a large surface area. This geometrical diamond shape is perfect for these diamonds because the large surface helps to show off the brilliance and uniqueness of the diamond.
So, If you are also looking for different shapes, you don't have to worry, You will surely find it in the oval shape, cushion cut, pear shape, radiant and kit shapes as well.
Grey Diamonds Ring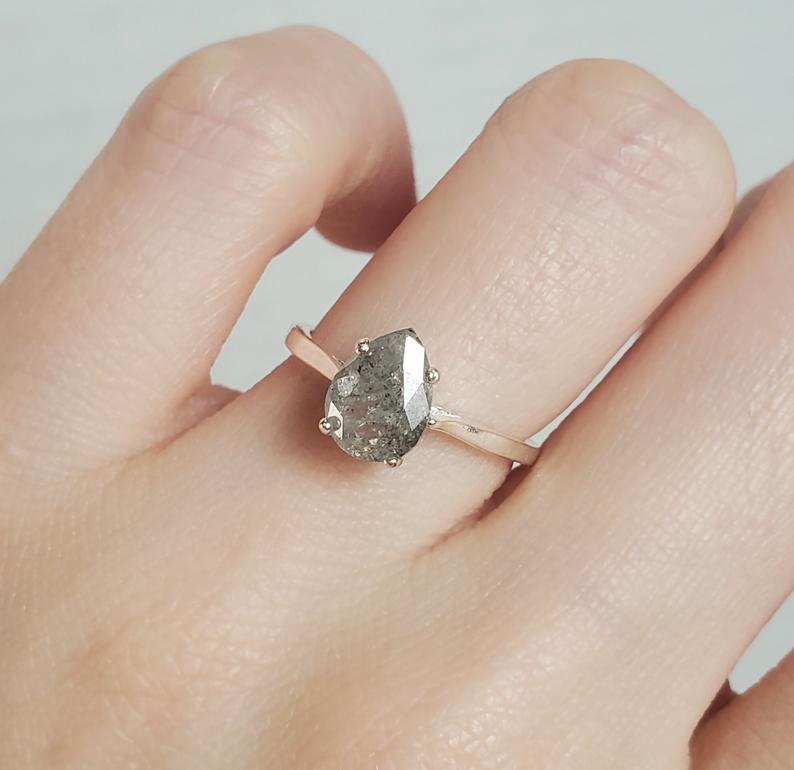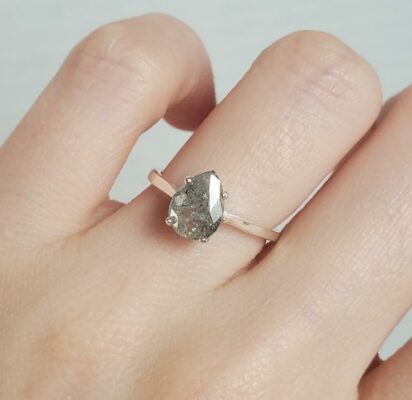 Being a neutral color, grey diamonds ring, and engagement ring are the most sophisticated, elegant, and chic.
Shopping for a grey diamond ring is just like shopping for any other type of diamond ring. A grey diamond is an excellent alternative to a classic diamond in an engagement ring. Grey diamonds ring is a fabulous alternative engagement ring style.
It is one of our preferred type of grey diamonds ring and is especially very popular here. It will remain an excellent choice as each diamond is unique due to its individually marking, and for sure you will truly have one in millions of grey diamond rings.
A grey diamond is granting simply but yet magical qualities. Because of their rarity, they present a very unique one-of-kind of observation without compromising on glances and fashion. Additionally, just like a colorless diamond, grey diamonds fit seamlessly with any outfit or skin tone.
There are a few important things to consider when choosing a grey diamond ring
• The first thing is that the diamond shape that you like to prefer
• The 4C's of your diamond to remember that with grey diamond, the clarity will have inclusions.
• The jewelry ability to modify your ring
• The ring warranties and the exchange policies and any special cleaning requirements.
Do grey diamonds sparkle?
It's a big yes! grey diamonds do sparkle. Grey diamond is still a diamond because when it catches the light, it will sparkle, shine, and glow. So if you are here for all about the sparkle, we recommend the custom-design of grey diamonds ring of your own choice at where we will definitely going to excite you more.
Are grey diamonds ring more expensive?
A grey diamond is very much rare and because of its rarity, many people assume that these diamonds are much more costly. however, grey diamonds are still relatively unknown, so the demand isn't as strong.
Also because of the supply vs. demands, the grey diamond is usually priced closer to the more common clear(colorless) diamonds than rare- colored stones. Just keep in mind that the demand for a gray diamond is growing!
So, over the past few years, we have seen that the demands for gray diamonds are increasing along with the price.
If you are interested in the grey diamond ring, I will suggest that this is now a great time for you to purchase one of these rarest beauties.