Salt and Pepper Diamond Ring? Something new for you to hear right! Don't relate it with a diamond ring made up of salt and pepper. I can understand your foodie mind but in this blog, we are going to learn some interesting facts about a stunning diamond engagement ring and why it is catching fire nowadays.
What is a Salt and Pepper Diamond?
Most people know diamonds as a shiny stone with sparkly glitter reflecting through it. But only a few people know that diamonds often appear with flaws and blemishes on or inside its surface. And many of us don't buy or go with the diamonds with dull color or quality.
Do you even know there are diamonds which are highly included and are catching trend nowadays for its impurities? Well, diamonds also reflect a lot of your personality. It also reflects that whats catchy have imperfections too. But with a lot of imperfections "Salt and Pepper Diamonds" has set a unique trend in the diamond and jewelry industry.
Why these diamonds are known as salt and pepper diamonds? the only reason is due to its internal structure which looks like salt and pepper are stuffed into the diamond. black and white inclusions inside of the body of the diamond which was formed when the diamond was formed inside the earth's crust.
Altogether, Salt is termed for its white inclusions and pepper stands for the black inclusions in a diamond. Salt and Pepper Diamonds are eco friendly because they consume less time and resources to mine.
How Does Salt and Pepper Diamond Engagement Ring Look Like?
There are many jewelers out there who wanted to try something different to stand out in the race of making something extraordinary. With salt and pepper diamond they made their own place in the jewelry world because of its unique characteristics.
Also, you will get to see many pieces of jewelry you will get to see with salt and pepper diamond. Salt and pepper diamond rings, earrings with salt and pepper diamonds, wedding band, and necklaces too.
But all of the above designers and world-famous jewelers have brought us with some extravagant pieces of salt and pepper diamond engagement rings.
Let's check below some of the best aesthetic collection of engagement rings with salt and pepper diamonds.
Pear Shape Salt and Pepper Diamond Ring in Rose Gold
The unmatched beauty of this gorgeous diamond ring defines its immense beauty at one glance. This ring is a perfect explanation of endless beauty which features a 2-carat salt and pepper rose cut pear shape salt and pepper diamond. There is a halo of pristine round diamonds across it too which keeps the shine sparkly along with the flawed beauty of a black and white diamond in the middle.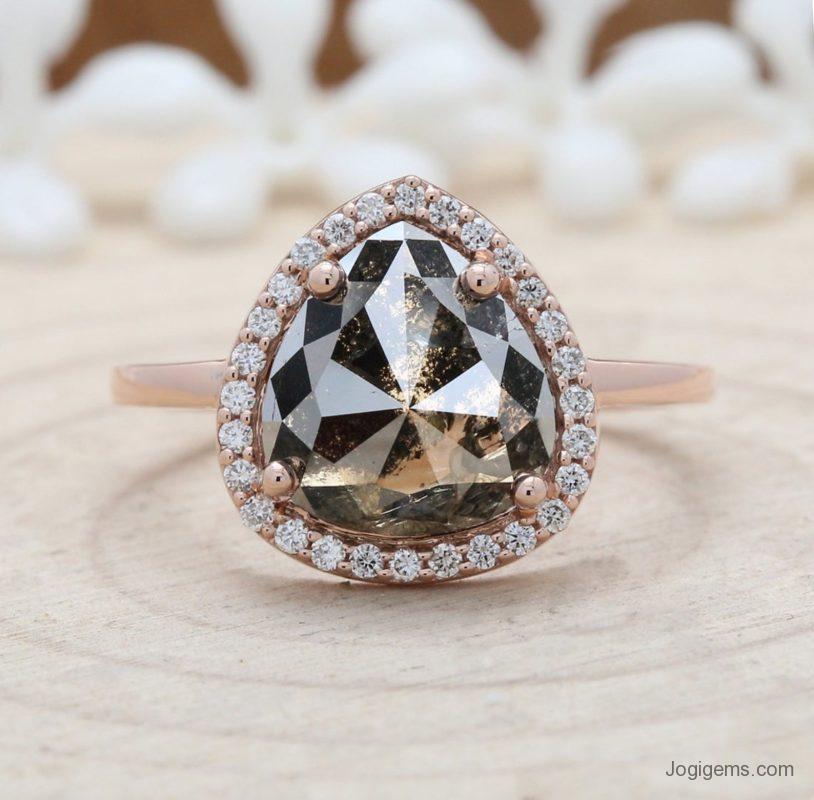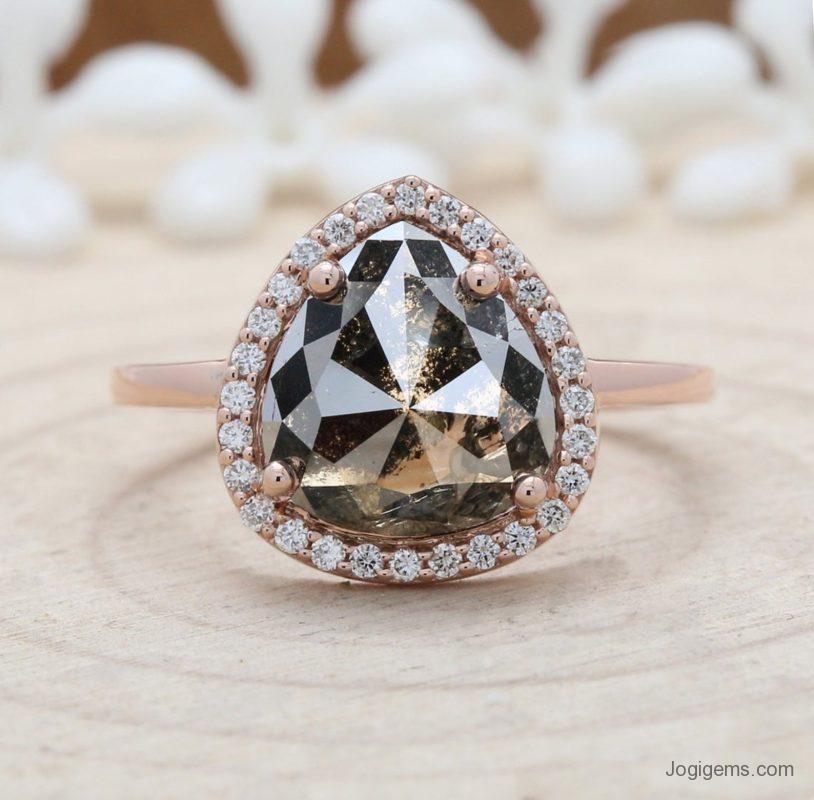 A perfect combination of grayish-black salt and pepper diamond and rose gold makes this engagement ring look appealing. With engagement ring, there's a wedding band too in rose gold. This wedding band is set has salt and pepper diamonds on it. Tiny teardrop salt and pepper diamond increase its audacity to make this ring stand out from others.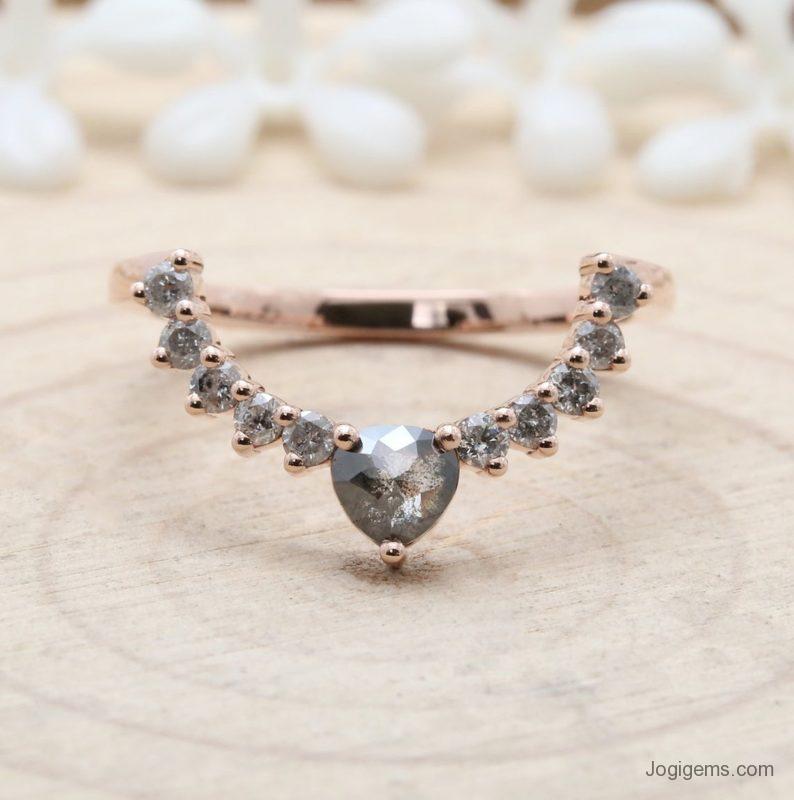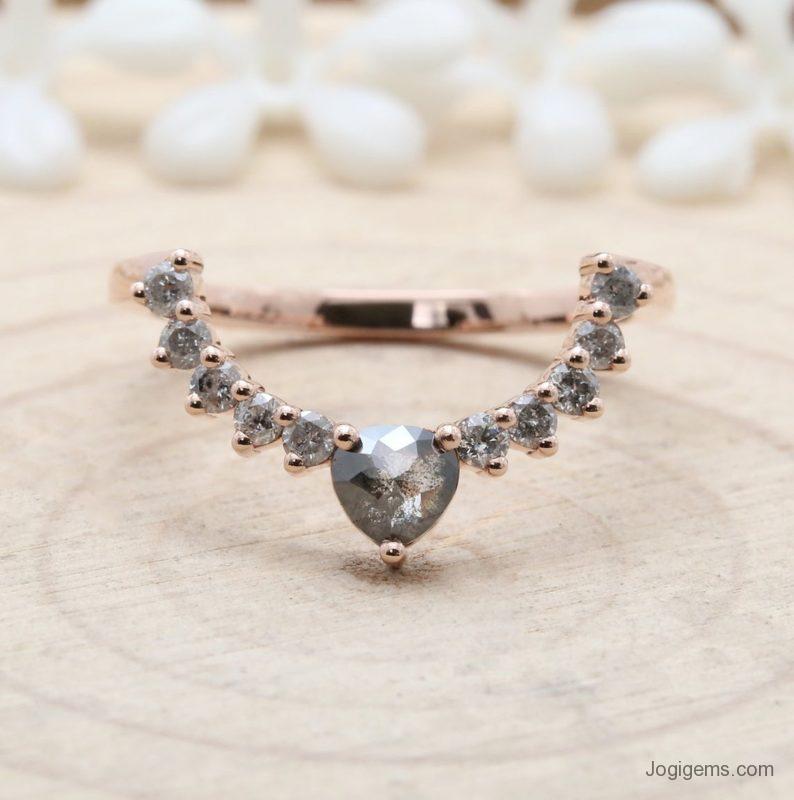 Aesthetic Kite Shape Diamond Ring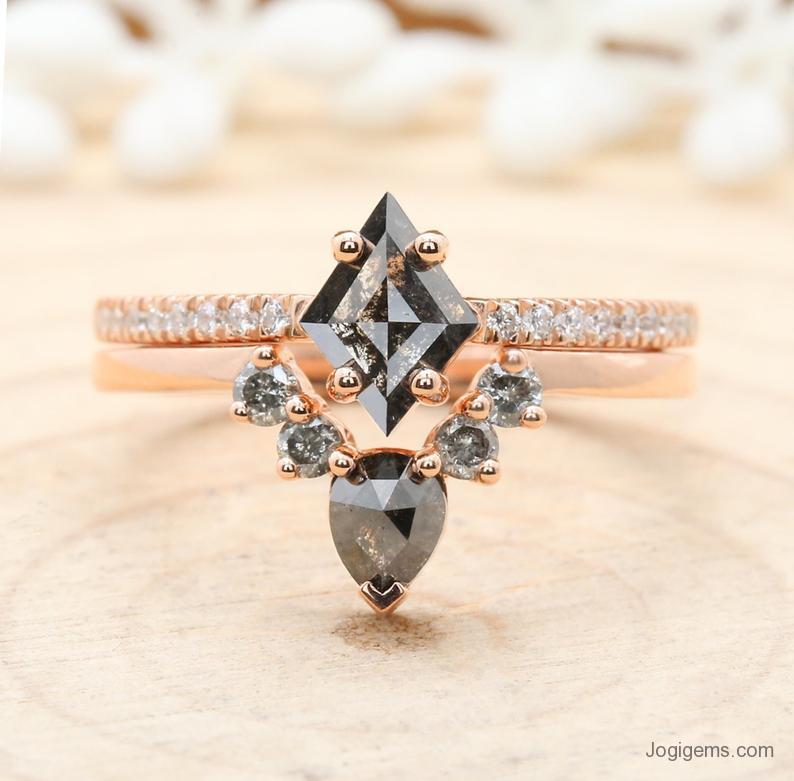 Kite shape is the most famous shape when you look for salt and pepper diamond jewelry online. Take a look at the gorgeous engagement ring with salt and pepper diamonds above. The perfect duo of kite shape and teardrop salt and pepper diamond in a set of engagement rings can catch many eyes if worn once.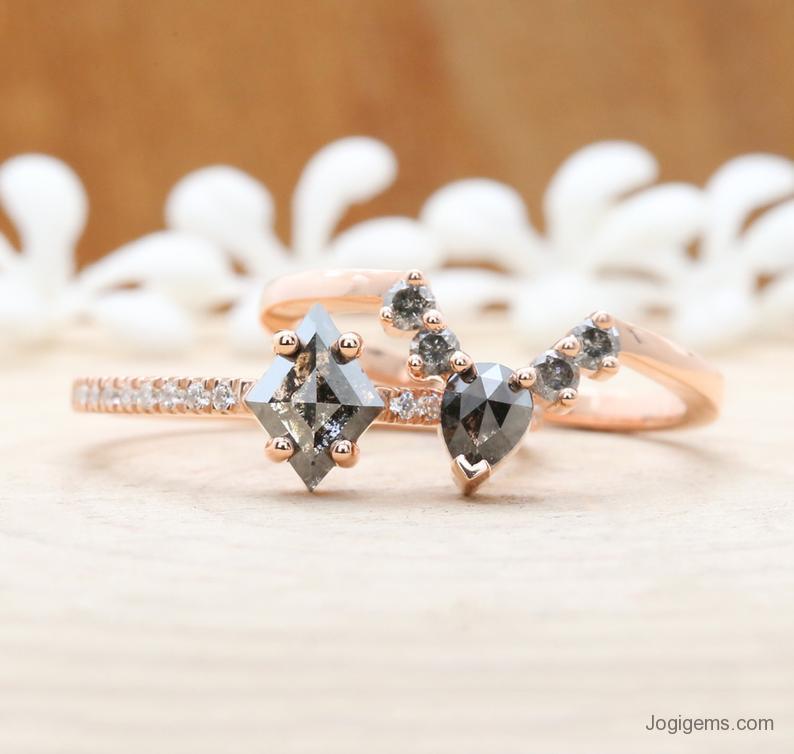 If you look closely then you will be able to see that the band has tiny salt and pepper diamonds with a teardrop. The kite shape diamond in the ring has beautiful accents of pristine diamonds over the shank. Doesn't this look prettier than an ordinary diamond ring? Yes, it does and that is why it has some great appeal even if it has so many impurities.
Salt and Pepper Tear Drop Vintage Engagement Ring.
Teardrop or Pear Rose Cut diamonds are one of the most popular cuts in salt and pepper diamonds. Well, they are most associated when its about vintage or aesthetic design in an engagement ring. Just like the rings above this ring has a special band to complete its beauty.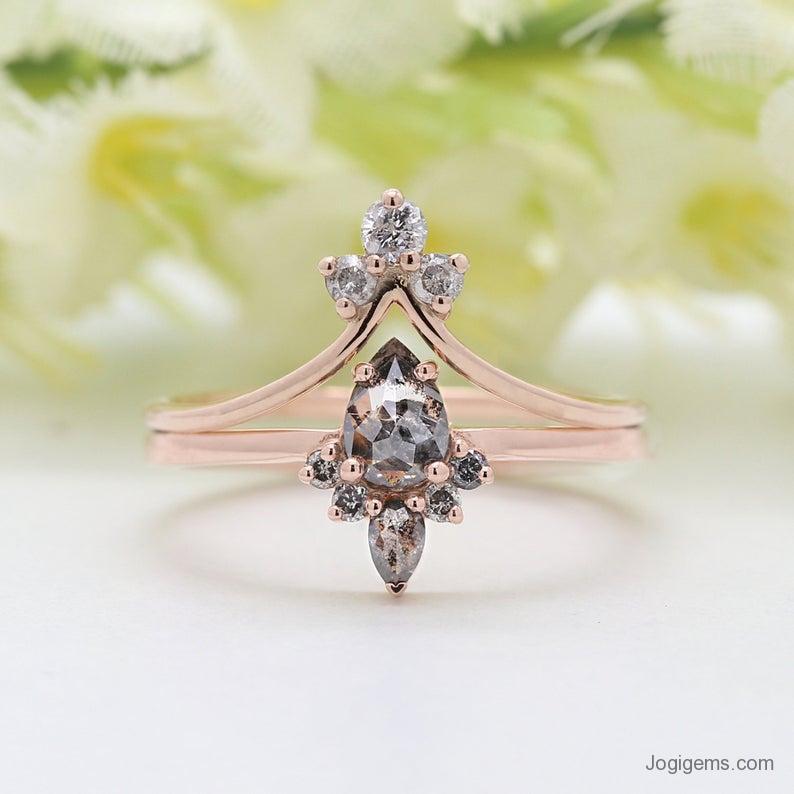 Tear Drop Vintage Engagement ring features a tiny teardrop salt and pepper diamond below the main stone. Besides the diamond, there is the accent of round salt and pepper diamonds set in a chevron shape. There is a chevron band with 3 diamonds which reflects as if the pear rose cut salt and pepper diamond is crowned magnificently.
This engagement ring is made with 14K rose gold too. Most of the designers who make salt and pepper diamond engagement rings choose rose gold as metal. Rose gold is a trend and it fits perfectly with the diamonds to add an aesthetic vintage look to any jewelry.
Engagement rings with salt and pepper diamonds are made to set a never-ending trend. It has challenged those traditional jewelers who are still working on their jewelry designs to stand out with the best quality of diamonds. But after all, whatever it is a diamond and it has its own natural qualities. And people demand what is natural and unique.
Where to buy one of a kind engagement rings?
Salt and pepper diamonds are also known as one of a kind diamond because of its unique characteristics. You can buy these engagement rings from our unique collection as we have our own source of such eco-friendly diamonds. Also, we can offer them at best-ever prices. You can buy salt and pepper diamonds from our Etsy store. Or you can check it over here too. There may be many stores for these unique engagement rings of salt and pepper but Jogi Gems stands out better with quality and cost. Start shopping from now from our store to gift this one of a kind jewelry to your one of a kind life partner. Salt and pepper diamond engagement rings have their own importance because of their unique designs. Thanks to all our jewelry designers who showed up with this concept and showed the world what natural is natural.