What are Icy, Rustic, or Opaque diamonds?
Breathtaking diamonds don't necessarily have to be white or crystal-clear. Sometimes, the natural inclusions and natural speckles might intrude on you. Try looking at the celestial sky in Galaxy diamonds or the shimmering translucent edges of icy rose-cut diamonds. The imperfection of Icy Diamonds makes it more attractive, enchanting, and sensual.
The diamonds go by various names. You might have heard about Icy diamonds, Opaque diamonds, Milky diamonds, or Raw diamonds. The inclusions, colors, and patterns generally decide these appellations. Despite the name variety, these diamonds have become significantly popular in recent years. You can flaunt it by getting a custom-made rustic diamond ring or an icy diamond ring that fits you perfectly.
What Are Rustic Diamonds?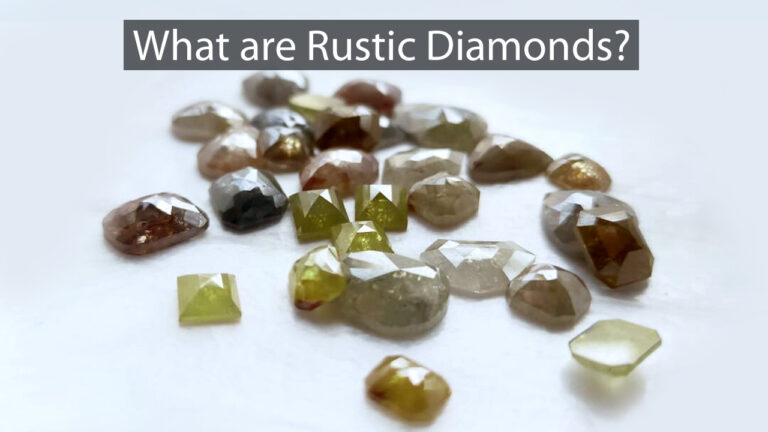 Rustic Diamonds or Icy Diamonds are intriguing, pertaining to their dampened color palettes, intuitive designs, and raw speckles within the stone. Every diamond is a different one. You won't find two similar Opaque diamonds. 
For years, the Solitaire diamond has been everyone's favorite. While Milky diamonds, Cloudy diamonds, or Raw diamonds were thought to be unusable due to their speckles. This is slowly changing now. People have started to realize that the natural beauty of diamonds lies in their imperfections. Black and white speckles make your Milky diamond ring more beautiful and authentic. 
You can create a spectacular Rustic Diamond pendant or Rustic Diamond earrings by getting a customized design that's a flat base with rose-cut diamonds. You can also purchase raw diamonds that are slice-cut in unique shapes.
How are Icy Diamonds formed?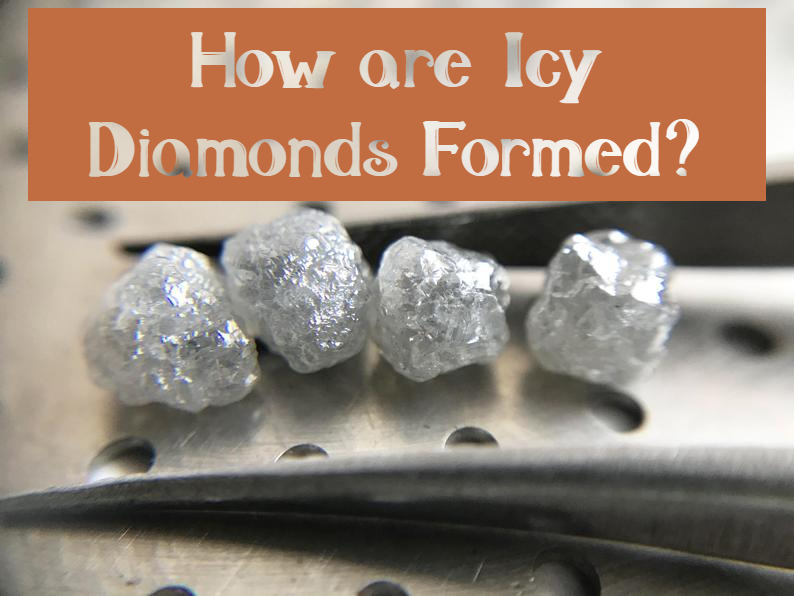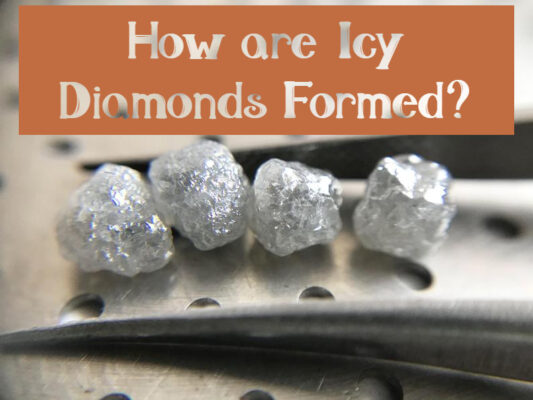 The inclusions determine the color and patterns of Rustic Diamonds. At present, Icy Diamonds and Salt and Pepper diamonds are gaining popularity.  
Iron inclusions develop a reddish tone, i.e., the light-bending appears to be red during the formation process. Yellowish tones come from Nitrogen present in the diamond crystals. Boron gives rise to Blue and Grey colors without any speckles, while the green color is natural radiation from the deep layers of the Earth.
Icy Diamonds aren't chemically produced or industrial products. These cloudy diamonds are extracted naturally from the Earth's crust in their purest form. The process for cutting and following is similar to the White diamonds. Opaque diamonds include heavy inclusions, which add to their uniqueness and charm.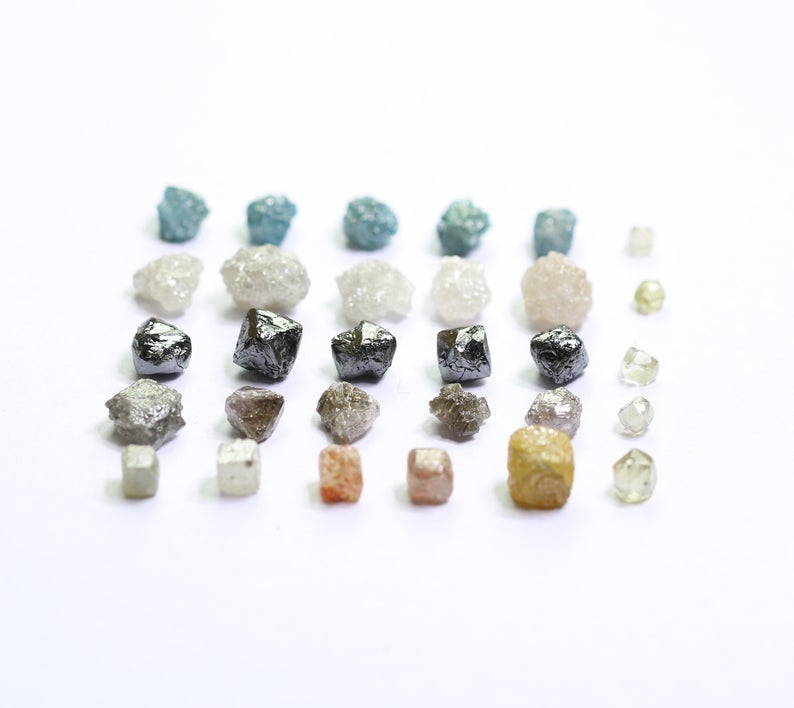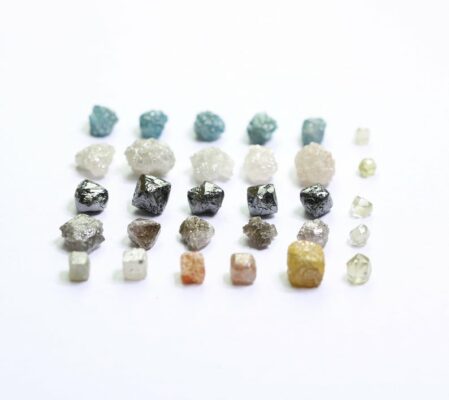 What are the terms used for Icy Diamonds?

Rustic Diamonds

Cloudy Diamonds

Raw Diamonds

Decorative

Uncut

Milky Diamonds

Rose-cut Diamonds

Specimen Grade

Opaque Diamonds
How to find high-quality Rustic Diamonds?
Icy diamonds come in different shapes like round, pear, oval and elegant rose-cut shapes. The size can vary from 0.30 ct to 10 ct. Its polish determines the quality of the Rustic Diamond jewelry. You wouldn't notice any edges chipped off or the stone falling off. You can get a customized design as per your favorite patterns and colors for the lavish Milky diamond ring. 
Make your purchase from a verified seller. This ensures that you get premium quality and original Icy diamonds at an affordable price. You can add a personal touch by getting breathtaking designs for every occasion. Explain your jeweler to create a spectacular piece that matches your personality, dazzles the crowd, and looks glamorous with the outfit styled. 
Why should you select Icy Diamonds?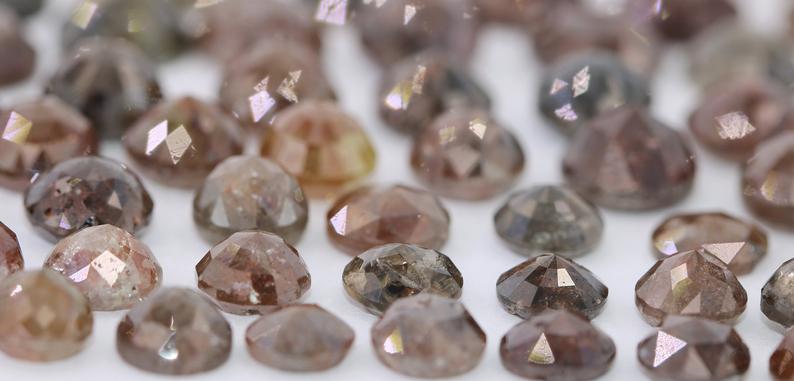 These diamonds are uncut, raw pieces. Unlike white diamonds, the size looks similar to their natural cuts while refining and polishing. 

Borts are used to giving the diamonds a customized shape which decreases the production costs.

Rustic Diamond jewelry would be a perfect pick if you're looking for antique and vintage designs that stand out.

Raw diamonds are available in various colors, quality grades, and sizes. We can help you create a specific shape or pattern that suits your personality.

Opaque Diamonds are unique due to their design. No two diamonds would be the same. This represents the intuitive individuality of the person wearing it.

Due to lower demand, the manufacturing prices of Icy Diamonds are lower than white diamonds. This makes it inexpensive and affordable.
Are Icy Diamonds Ethically-sourced?
The mining practices followed for extracting Rustic diamonds follow the necessary rules and regulations. The diamonds undergo responsible sourcing without damaging the environment. While mining, the crystals are found in the starting layers of the Earth's crust. This means that Salt and Pepper Diamonds and Opaque diamonds are eco-friendly alternatives. You can cherish and wear your Rustic diamond pendant or Milky diamond ring without any guilt.
Flaws in the new Beauty Norm.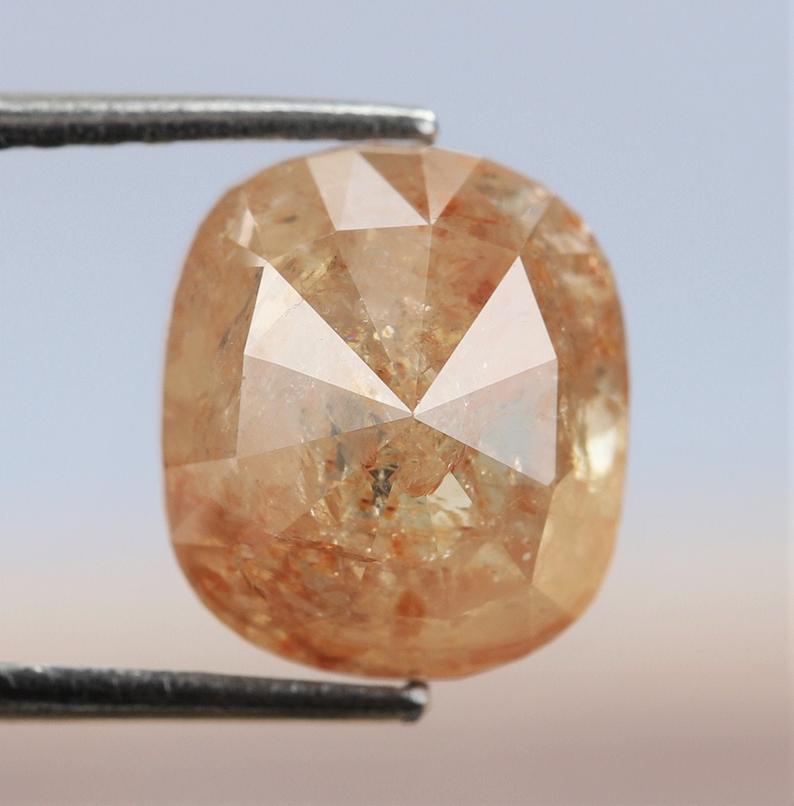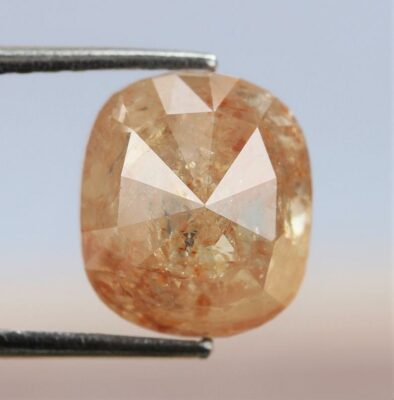 If you're wondering why Icy diamonds are gaining popularity now, it's due to a shift in the perspective. Traditionally, Solitaire or white diamonds have been a part of the status quo. Be it any occasion – Engagement or Anniversary, everyone would be dazzled with the White speckless diamonds. Brides and Grooms are opting for personalized Icy diamond rings for their engagements. We couldn't be happier.
At present, people have started accepting flaws rather than following the Flawless beauty standard. The perception that Flaws define who you indeed are and add to your beauty has developed an innate love for Rustic diamonds and Salt and Pepper diamonds globally. 
"You're more than your imperfections." The inclusions and speckles make the diamonds more authentic, pure, and fascinating. The misconception that such diamonds aren't natural is being cleared out. Icy Diamonds are 100% natural, just like their White counterparts. People have started appreciating diamonds with their raw beauty and speckles. You are beautiful with your Flaws.
Conclusion
Icy Diamonds are a hidden gem that has been gaining popularity. The crystals come with slight or heavy inclusions depending on the formation procedure. Many terms describe this crystal, such as Rustic Diamonds, Cloudy Diamonds, and Raw diamonds. You can get a customized design with your desired shape, diamond size, color palette, and patterns. Icy Diamond rings are absolute beauty and a perfect fit for every occasion.
Do you want customized Rustic Diamond jewelry for the next event? We have some unique patterns and the latest technology to create your dream design. Let's discuss your ideas and create that impeccable and awe-striking design. We are super pumped to make some intuitive ring designs with Icy Diamonds. Contact us for more details.