One of a Kind Valentines Day Rings to Propose 2021
Pandemic comes and go but the love never dies, so if you are looking for some Valentines day rings to propose these hard times of 2021. You must add joy to her life with one of a kind engagement ring selection. In this blog, I am going to help you with some of the best one of a kind engagement rings from designers across the world.
Let's check out some fantastic Valentines day rings that will make your girl feel special. People are too into something that is ordinary but there is always a different choice in diamonds too? Do you know what makes an engagement ring one of a kind, its the gem that is fit in it and that holds a deep meaning? Salt and pepper diamonds are something that adds meaning, and truly are one of a kind.
What makes a salt and pepper diamond one of a kind? If you look at two salt and pepper diamonds aside of the same shape they won't have the same colors because of the inclusions made by mother nature inside the earth's crust. And hence these diamonds get into unending trends since from its introduction to the world.
Salt and Pepper Diamond Valentines Day Rings
There is a new trend in the house that's salt and pepper diamonds, People are going crazy behind these one-of-a-kind diamonds that are ethically mined from the mother earth's womb. Call it a blessing of nature or its unusual creativity which is blowing up the minds of people these days.
So many jewelry designers are getting a great demand from their customers that they want to have a salt and pepper diamond in their wedding ring. Who let this trend begin and why people are crazy? If you are looking for answers to these then you can check with our blog link in the tab below.
Why Salt and Pepper diamonds are in Trend?
Elongated kite shape salt and pepper diamond ring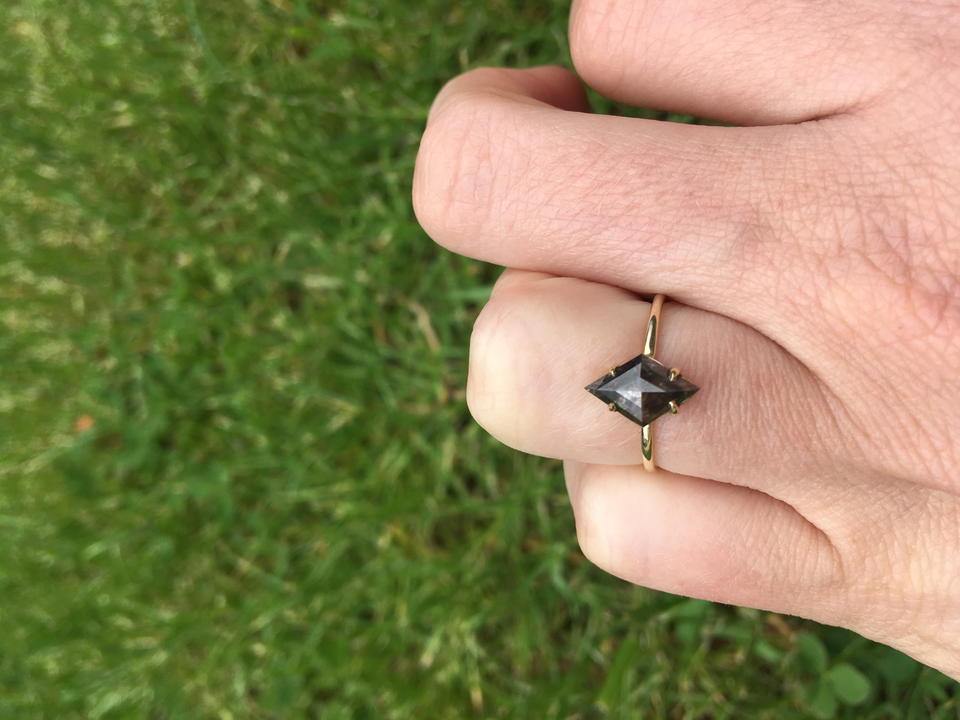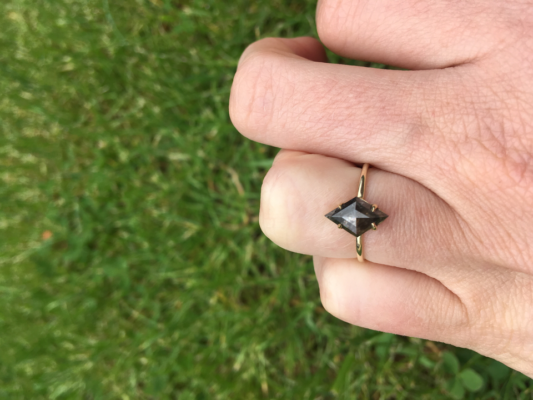 Ain't this looks something raw and fierce, the darkish grey color of salt and pepper diamond catches color from the surrounding, this picture in natural light looks awesome. In dark it might look darker like jet black color in sunlight it will show its real color. The kite shape is one of the authentic shapes in the diamond. You will find various other shapes in salt and pepper diamonds but till now kite shape has been put on number one by the one of a kind diamond ring lovers.
Pentagon shape salt and pepper diamond ring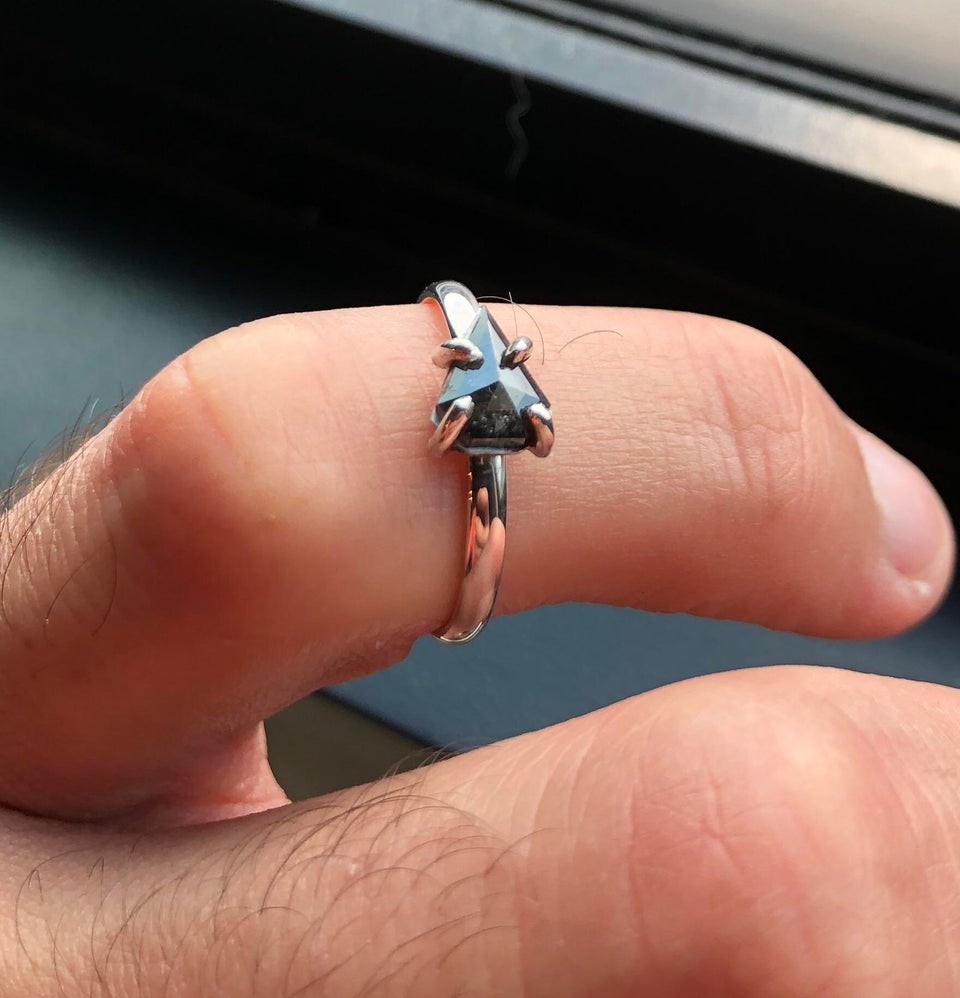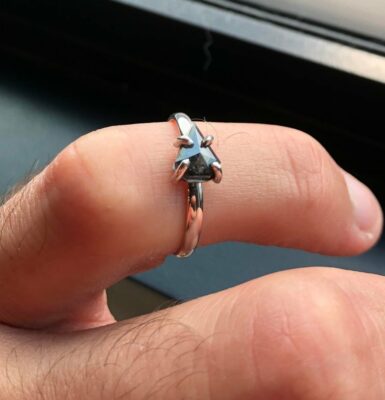 We saw the kite shape above now let's talk about this unusual geometric cut which is also known as pentagon or diamond shape. It is a triangle in shape with an elongated tail and closed shoulders at the top corners. Look at this tempting ring set with a strong 4 prong that's over the diamond top which is showing the strongest hold in white gold. This shows that no matter what I will protect your untamed heart with my hands, a promise to be made to your lover on a special occasion like Valentines day. So whenever you want to propose to her to show your true feelings, showing nobody is perfect but We both together are into this, You can explain these feelings while being on your knees to her. And let her jump and say a yes to you with full of emotions.
Oval shape salt and pepper diamond ring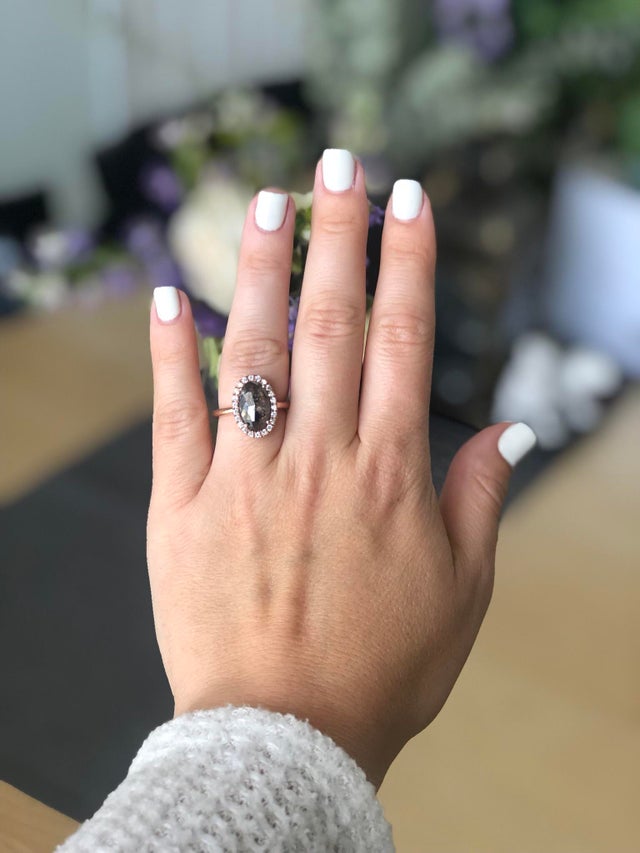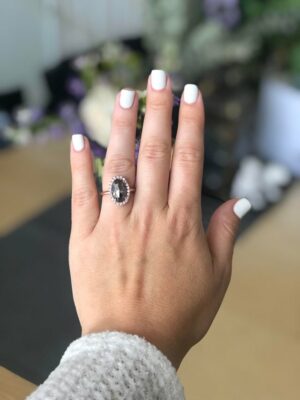 Oval shape diamond is the most favorite thing girls select due to its long ends which are roundish on both sides. The trend of oval shape with the salt and pepper diamond is growing day by day. Most of the people are looking for a brilliant-cut in sat and pepper diamonds too. This oval shape salt and pepper diamond are big enough which is around 3 carats on the finger wrapped beautifully in 14K rose gold and accented with gorgeous white diamonds in the surrounding of the center stone. Look how gorgeous this ring looks you can check with our salt and pepper diamond collection too for such gorgeous diamonds. Don't think much and just gift her an oval shape salt and pepper diamond ring she will definitely love you for the life long. Ofc diamonds are girls best friend and this thing is going to stay with her forever.
Salty and Pepperish Pear Shape Diamond Ring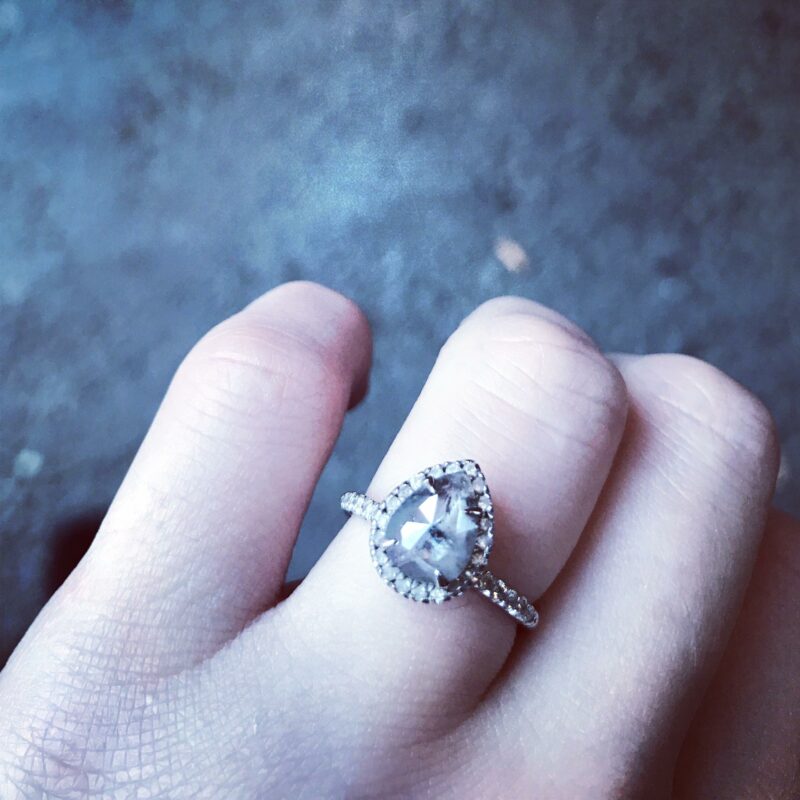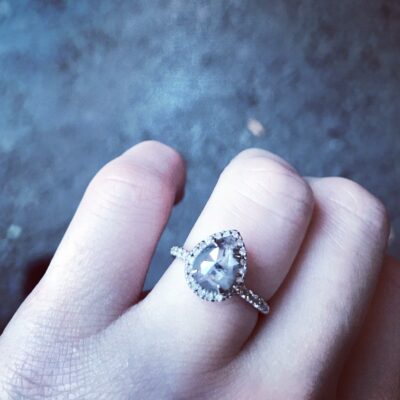 A food lover will truly understand this, something milky and peachy in the hand reminds you of your favorite diet that keeps you healthy. Let's look into the beauty of this salty and pepperish pear shape salat and pepper diamond ring which has a white diamond in the accents with four-prong holding the diamond strongly.
One can even refer to this ring as a yin yang conspiracy, which follows it firmly. As you can see that no matter how good you are there is some bad in your life. Life stays balance with it. The black and white inclusions in the diamond tell a lot of stories. One needs to check with the internal beauty of its thoroughly.
So such type of diamond ring can prove as a meaningful and tempting gift to someone you love. Depends on how you see things in your life.
Round brilliant-cut salt and pepper diamond ring

Here are a salt and pepper diamond ring for all the solitaire diamond ring lovers. In fact, this has a great demand in the market nowadays. If you take a closer look at the diamond in the center you will notice a galaxy full of stars filled in the diamond. It's the reason why salt and pepper diamonds are also known as Celestial diamonds too. This one-carat diamond ring can confuse you to think whether the diamond is grey in color or black due to the mixture of black and white inclusions in it. You will get such type of round brilliant cut salt and pepper diamonds at very high prices from the dealers or jewelers who make celestial diamond engagement rings.
Hence if you are love salt and pepper diamond rings but you like a round brilliant cut diamond then you can go with this. The round brilliant cut shape is available too but they cost you much because of the shape. But buying such a ring is truly amazing, She will definitely love it the first glance, and see the love in the galaxy inside the diamond that is visible.
Cushion cut salt and pepper diamond ring Valentines Day Rings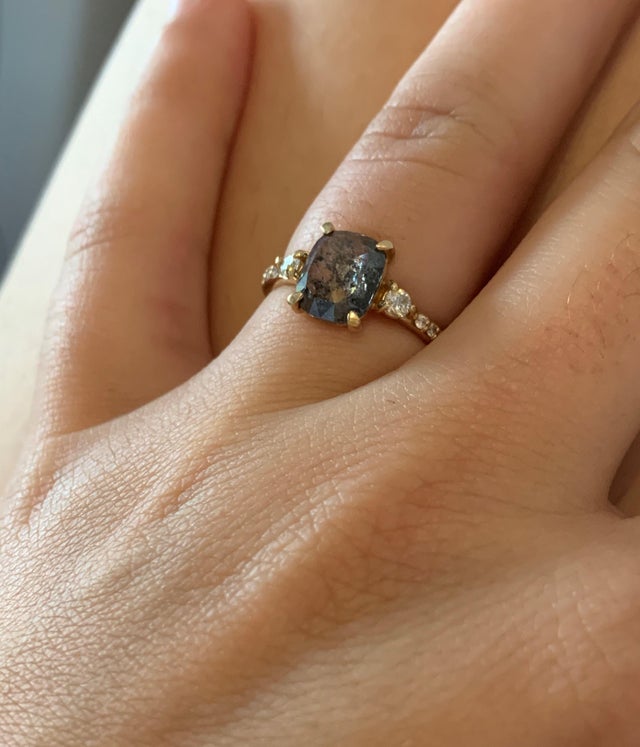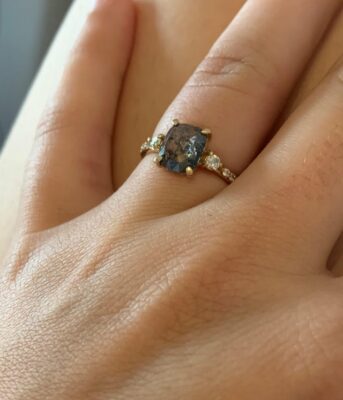 Dark fantasy with transparent pleasure is something you can call this engagement rings as. This ring features a diamond around 1 carat of cushion shape in an elongated shape. The ring is made of 14K yellow gold with a four-prong setting that is holding the cushion cut salt and pepper diamond tightly. It has two white diamonds on the side of 0.08 carats and small white diamonds over the band.
The pepperish (dark inclusions) mixture in the diamond made this diamond look absolutely stunning, the elongated cushion shape is mostly found in salt and pepper diamonds, don't mistake it as oval as its corners are not roundish but squarish instead.
Pear shape salt and pepper diamond ring valentines day rings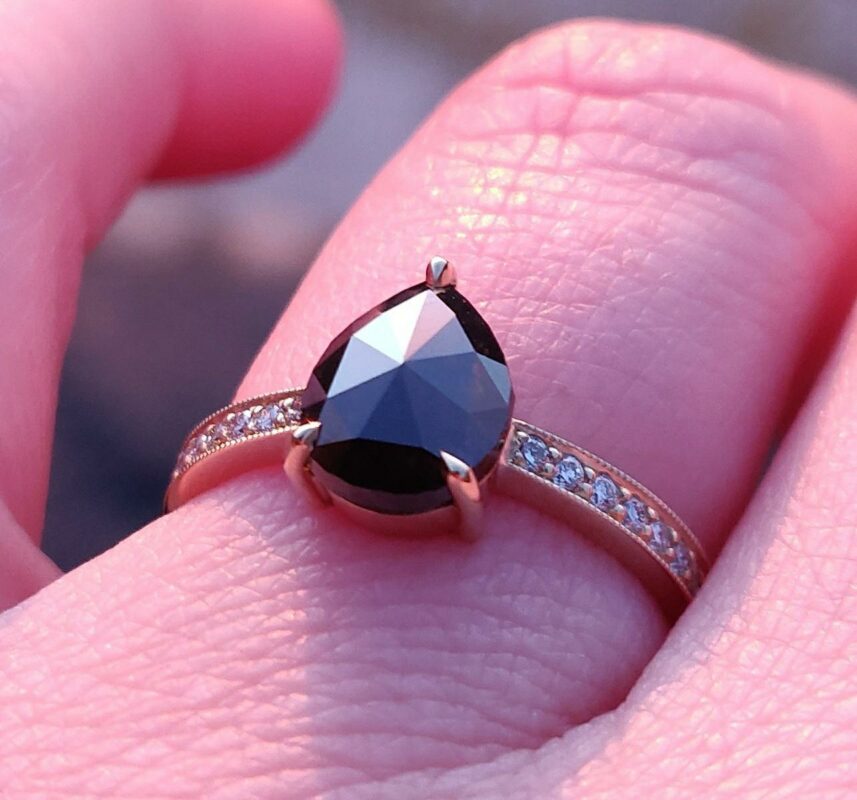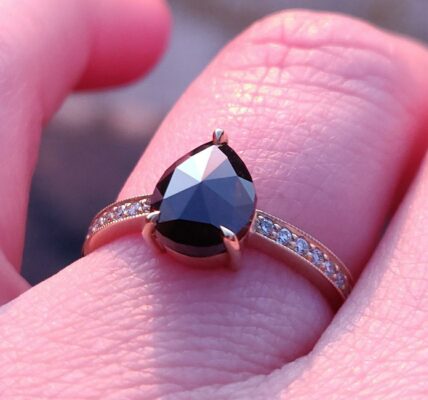 This black diamond pear shape ring looks jet black but it has lots of dark inclusions inside it that make it look like a black diamond. You can term it as a natural black diamond but not a completely black diamond. You can say it is a pepperish translucent diamond. The pear shape is truly adorable if you want to set in an engagement ring, look at the engagement ring which is set in 3 claw prong setting in 14K rose gold. Magical Black diamond Valentines day rings of 2021.
You can select various pear shape whether you want in pepperish or salty, the choice is your, pear shape always have a great response when set in a ring. It is famous has a teardrop due to its elongated shape with a pointed tip and curvy top.
Grey and black salt and pepper diamond ring valentines day rings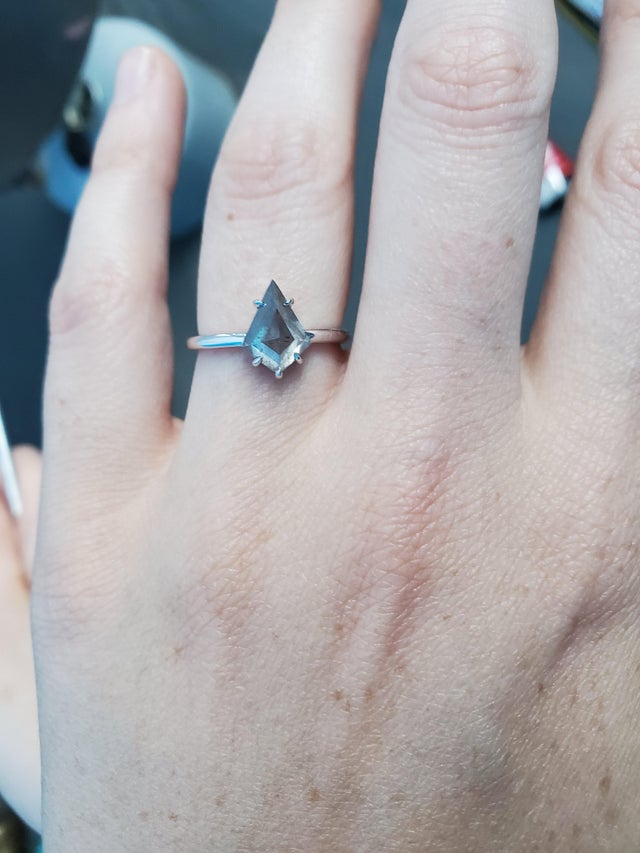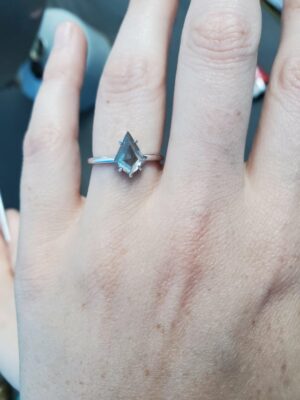 The engagement ring that you are seeing above is one of the best rings on Valentines day rings list.
This kite shape diamond ring is extraordinary, you can see the shades of grey going lighter to grey from top to bottom. A perfect solitaire diamond ring that is truly one of a kind in geometric kite shape diamond which is grayish to light grayish in color. If you want to gift your girlfriend something authentic and unique then you can select such type of engagement ring that will let her say
A diamond that will catch anyone's attention, great to wear easy to carry as it is set in 14K white gold with a four-prong setting that is securing the diamond with its firm grip. You can get various shapes in kites but this elongated looks raw and wild. Therefore you can select this type of diamond ring to gift your girl this valentine and make her day.
Salt and pepper diamond three stone ring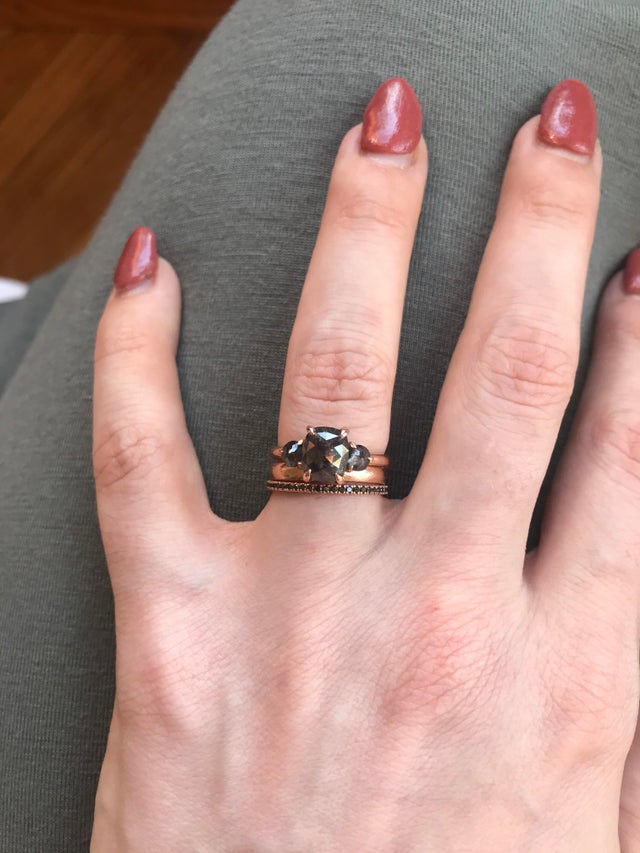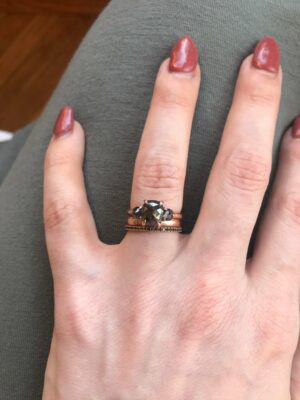 The oval shape is the most desired shape in the diamond industry, in salt and pepper diamonds it always appears in rose cut with a flat back so that the inclusions widely appear when seen in the ring. Most of the salt and pepper diamonds are set in rose gold. This three stone salt and pepper diamond look amazing because of the two side stones set beside the center diamond.
The black structure of the three diamonds is due to heavily black inclusions inside of it, in reality, this diamond is transparent. You can see the diamond changing color in brighter light. It is paired with a black diamond band and a simple band to look bigger both in rose gold. The prong setting of this ring attracts many due to its claw setting. It's like the diamond is held tightly forever. Just like a wild heart is captured by a soul and never want to leave it.
Grey Pear Shape Salt And Pepper Diamond Ring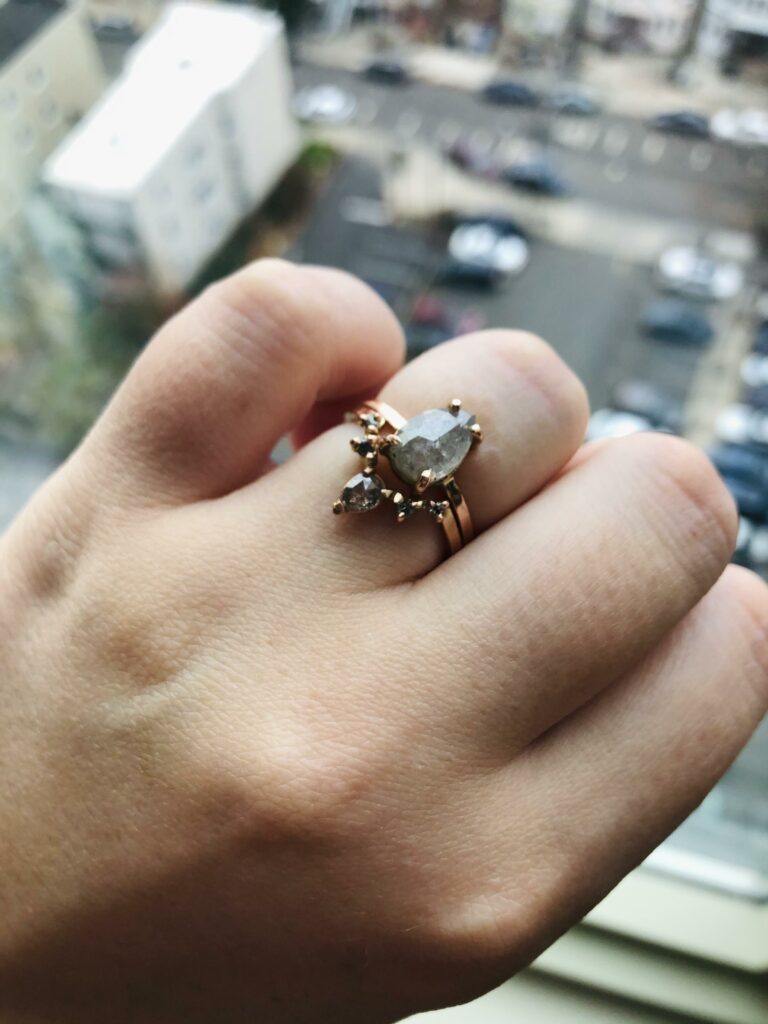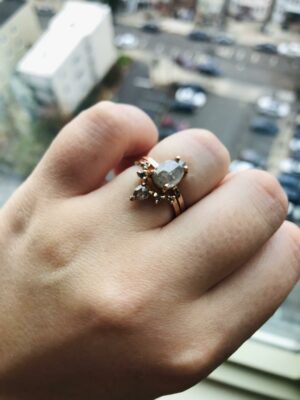 Grey has many shades but this pear shape grey diamond ring is breathtaking, it has the best milky texture inside it. Another pear shape salt and pepper diamond ring with a chevron band that has tiny salt and pepper diamonds in accent. One with a tiny marquise looks elegant in the band paired with round rose cut salt and pepper diamonds in darker to lighter shades in the accents.
This ring is crafted in 14K rose gold, it creates a vintage and authentic look with natural and eco-friendly diamonds set in the band and the engagement ring. The salt and pepper diamonds are set in a four-prong setting made of fine rose gold. How about purchasing a pear shape salt and pepper diamond ring in rose gold to surprise your soulmate? Great idea if you can do it, I think.
Black and grey shape salt and pepper diamond ring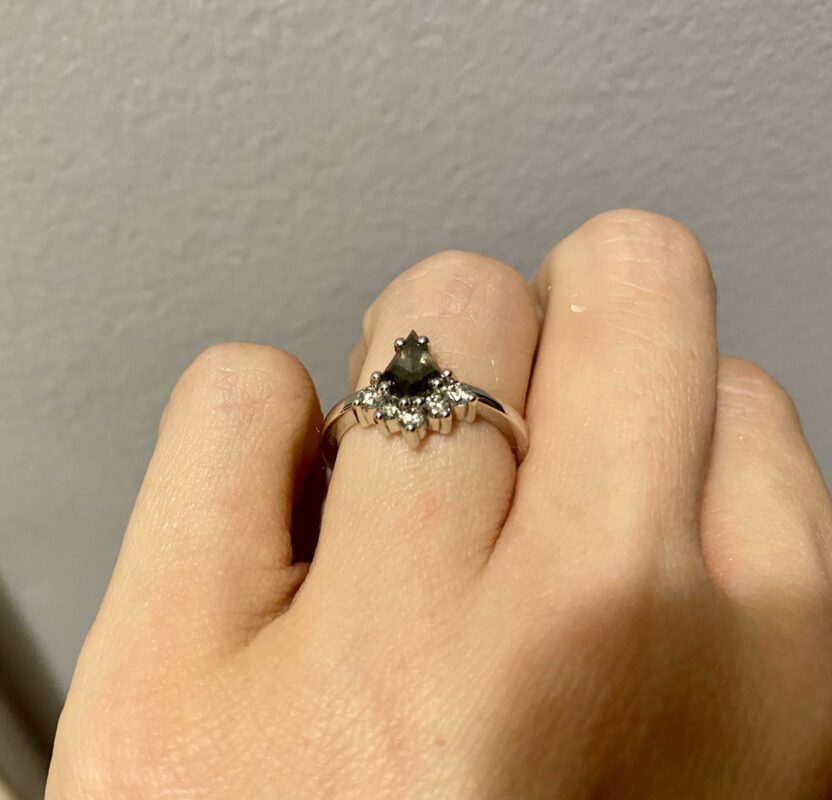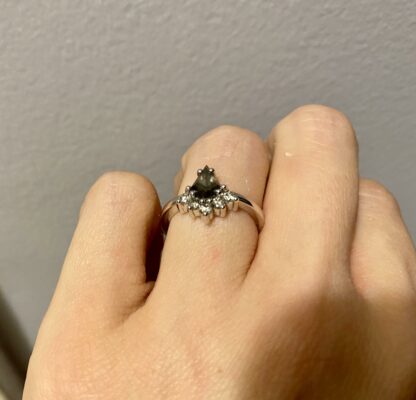 Do you like gothic rings or gothic style where black and grey are the only colors found with white diamonds dazzling in the surrounding? then you haven't seen something different and unusual like this kite shape diamond engagement ring in salt and pepper diamonds.
It is easy to find kite shape diamonds in salt and pepper diamonds but with such color and inclusions it really hard to search, you will find very few people who can provide you similar, But we have options and I can offer you several with the best prices available on this website. This diamond engagement ring is made in 14K white gold with white diamonds set in chevron or v shape accents.
Are salt and pepper diamonds a valentines day rings thing?
Yes, Salt and pepper diamonds are trendy and this stop is never-ending as these diamonds are unique and termed one-of-a-kind diamonds as there no similar diamond-like the other. You can different options in these diamonds kite shape, pear shape, oval shape, cushion shape, square shape, hexagon shape, pentagon shape, and other geometric shapes that are not so common in ordinary diamonds.
Another reason to buy salt and pepper diamonds is that they are eco friendly, the main reason is that salt and pepper diamonds are cheaper due to the high level of inclusions present inside the diamond. Salt and pepper diamonds don't have to go through 4 cs of the diamond for grading. They are graded as per the carat weight, transparency, and how unique the diamond looks like.
This is all from this valentines day rings 2021 blog, so hope you search for the best from this blog and gift to your dear one.
Diamonds are girl's best friends but salt and pepper diamonds are their best friends forever. So this valentines day find the best salt and pepper diamond ring for your soulmate.