What are salt and pepper diamonds?
Diamond Solitaire rings remain to be eternal classic pieces. As the years pass, new trends follow. Couples are now adapting to modern contemporary, and vintage styles. It's perceived that big white diamonds make the best choice for a remarkable engagement. This mindset is transforming with the onset of Salt and Pepper diamonds. If you're wondering what Salt and Pepper diamonds are, we have a new aesthetics category for you to explore.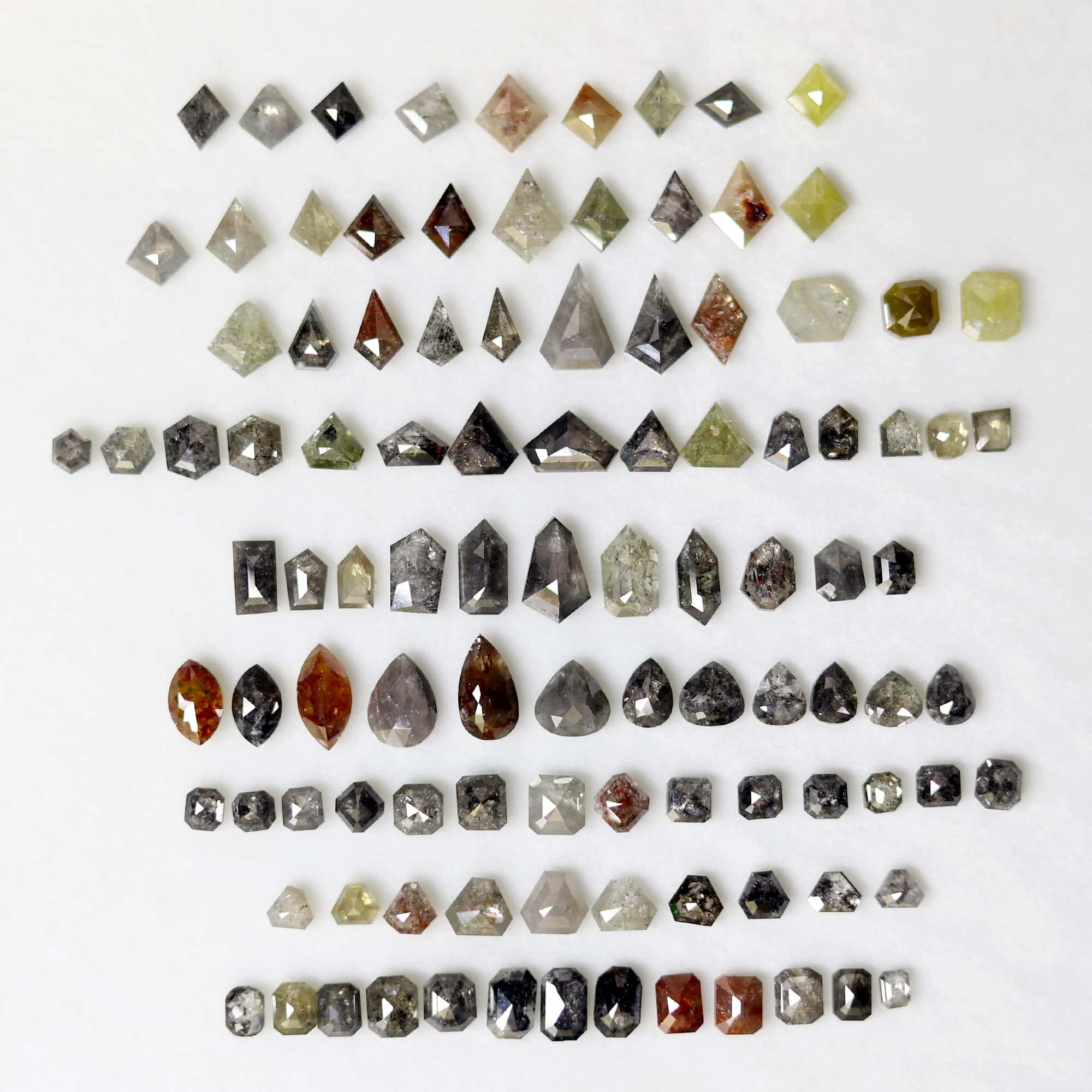 What are Salt and Pepper Diamonds? Let's dig deeper!
The term 'Salt and Pepper' directs towards diamonds that blend black and white inclusions. Every diamond is a different type, i.e., you won't find two diamonds with a similar look. This being said, some diamonds might have more inclusions than the rest. This gives the piece a silky gray and flecked appearance.
Almost all diamonds have inclusions, but they aren't visible to the naked eyes. On the other hand, salt and pepper engagement rings have inclusions that are quite large and visible. This impacts the overall aesthetics, making the diamonds look more pure and beautiful in their unique manner.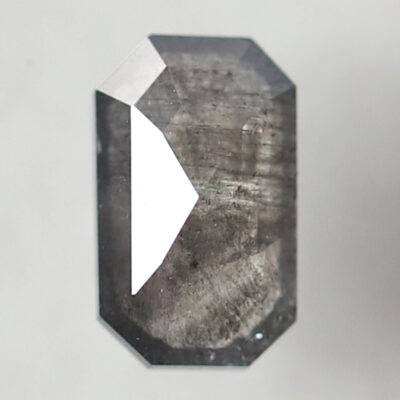 Salt and Pepper Diamond rings are extremely rare and valuable diamonds. Grey diamonds are an affordable option as compared to traditional diamonds. If you're looking for a slightly different style, this would be a perfect choice. They aren't your regular flawless white diamonds. A hint of grayish flemishes makes it more offbeat and original. Who doesn't love something extraordinary, especially for their engagement?
Physical Attributes
Every salt and pepper diamond has a unique shape, color, and style, i.e., astoundingly distinctive.
A glimpse into style and patterns
You would notice that a Salt and Pepper Diamond engagement ring has that native, modest and enigmatic style. This smokey greyish style has become a standalone look, especially for those who aren't willing to get lost amidst the crowd. It fits best for the modern diva who needs something unique and different, like a non-traditional engagement ring.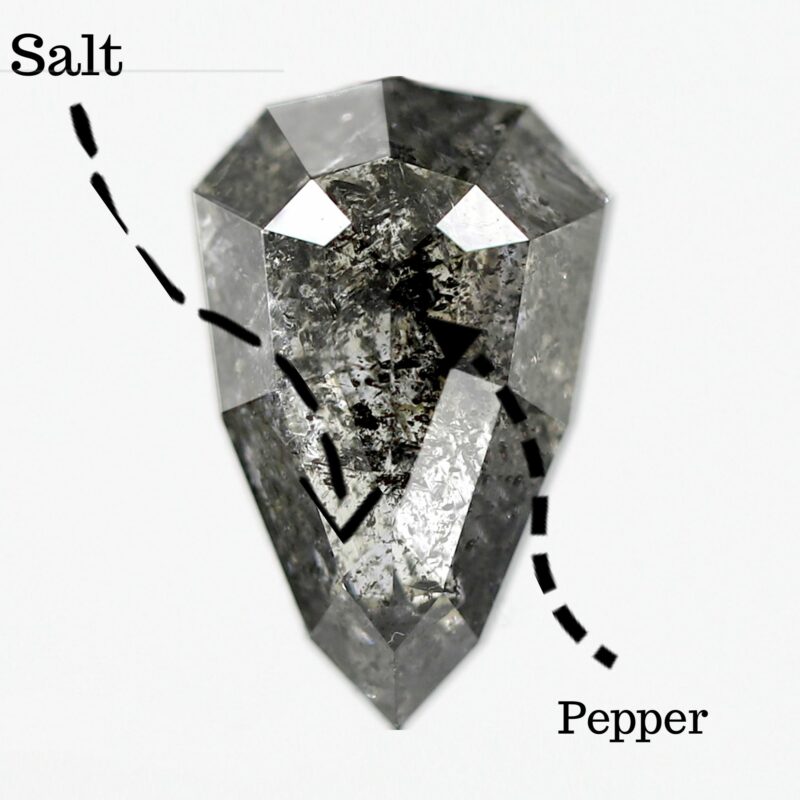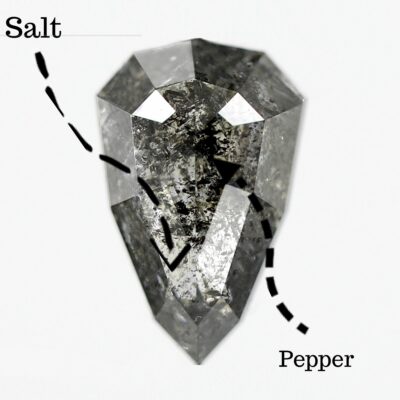 Every diamond has a different appearance that can vary from a dark and moody tone to a vibrant vibe. Grey Diamonds have a unique grey hue that is profoundly rare, pertaining to its high cost. These have high clarity, i.e., the absence of imperfections. A grey diamond represents a sophisticated, fashionable, and classy personality. 
On the other hand, a Galaxy diamond is a gray diamond with a slightly different characteristic. It feels as if you're looking at a celestial stone that has hundreds of twinkling stars floating in its dark depths. These diamonds come in a darker color, like a metallic blue hue with black and white specks. It usually has a full or rose cut. The celestial vibes that come through would enchant you.
Shape and Size
Salt and Pepper Diamonds come in different shapes and sizes. This gives a lot of flexibility while designing the looks. The most commonly found shape is the rose cut diamond. This shape ages back to the 1500s showcasing a large surface area. You can see the beauty and simplicity of such stacked engagement rings with a rose cut. 
If you're someone with a more intrigued personality, you can get a customized salt and pepper engagement ring designed to match your style, appearance, and other requirements.
Colors
You can find a Salt-pepper engagement ring in a range of different light and dark tones. Below listed are the most commonly found shades: 
Icy White with inclusions

Icy White Opaque

Icy Grey with Inclusions

Icy Grey Opaque

Dark Grey with Inclusions

Dark Grey Opaque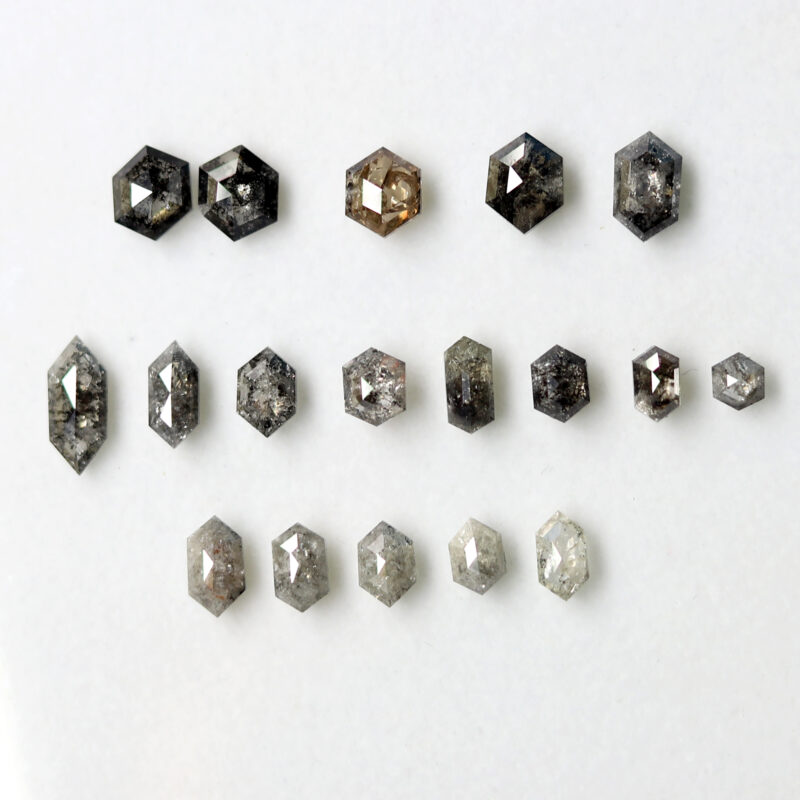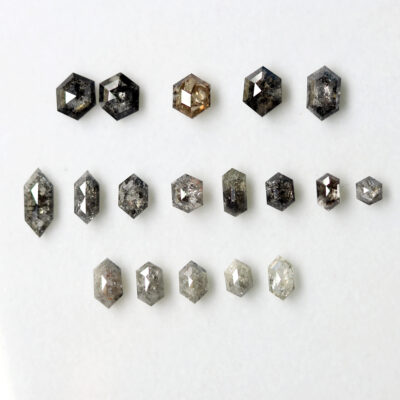 Go Eco-friendly with Salt and Pepper diamonds
Mining a Salt and Pepper diamond requires far fewer resources as compared to a traditional diamond. These diamonds are less taxing on the environment. They come rough-hewn saving a lot of time, effort, and resources. The mining process involves removing stacks of rock and soil from the ground where tiny diamond deposits can be easily found.
How would you define Salt and Pepper diamonds?
Versatile and handy

Raw and Natural 

Enchanting

Simplistic Modernity

Smokey shades

Speckled

Refined and Classy

Why is a Salt and Pepper engagement ring such a rarity?
The quality of Diamonds is decided by 4Cs – Cut, Clarity, Color, and Carat weight. 
Salt and Pepper Diamonds have a wild and natural cut. This means the Diamond grading system does not apply here, but it is still a Diamond – A rich, rare, and valuable form. While these cost less than a typical flawless white diamond, their value doesn't decline. This is a good option for people with a slightly lower budget since the diamonds come without any certification.
Since a galaxy diamond is rarer than a white diamond, the pricing becomes much more affordable. You get a beautiful, timeless and durable diamond at a great price.
How to choose an exceptional Salt and Pepper Diamond?
We feel your dilemma here – How can you possibly choose the best grey diamond when every single piece is unique and breathtaking? 
Well, there isn't a specific solution to this. You can check our website for the different varieties that we offer. We recommend following this process as you'll get a better idea about how different galaxy diamonds or stacked engagement rings vary. The comparison would help you identify which ones would fit your ring finger perfectly.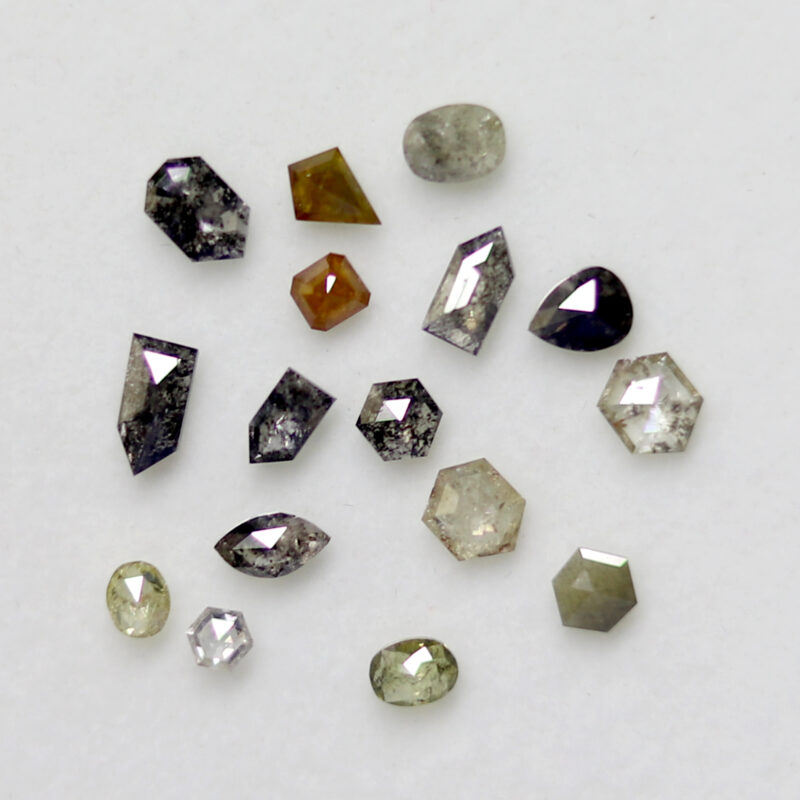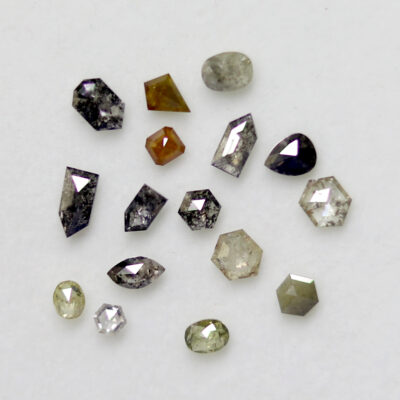 How can we not love helping you out? Our support team is out here to explain the background/history of a specific Salt and Pepper diamond, detailed individual characteristics to help you find that perfect piece for your dynamic self.
If you're someone who stands out from the crowd and can go crazy with their engagement ring trends, we might have some fantastic customization ideas just for you. Let's together walk the process and create a masterpiece along the way.