Black Diamonds have rocked red carpets for a decade, Lets talk about the celebrity black diamond jewelry in this blog.
They are popular for decades and with a decade history of popularity, celebs set spark on famous occasions with it.
There are many celebs who love black diamonds and hence this made me write something about few inspirational ladies who rocked with black diamonds for years.
Famous jewelers who design jewelry for celebs have got a custom request from pop stars to make high-level jewelry for them. Hence due to which the popularity of black diamonds fired up quickly.
Selena Gomez – Celebrity Black Diamond Jewelry
The "Rare" Beauty Girl Selena Gomez, has shown her love for black diamonds on various occasions. Whether it be on the red carpet or award shows, just in a formal look.
The famous Disney star and singer attracted many eyes on her working with several brands.
Oval-Cut Black Diamond Ring
In 2012 "Lose you to love me" singer grabs the attention of many with her work and kindness towards people. She was awarded by the Glamor magazine as "woman of the year 2012"
In this cover shoot, the elegant queen is wearing a huge 'Oval cut black diamond ring" by Martin Katz. This gorgeous ring features a beautiful embellishment of black and white diamonds over the accent. Iced out all the ring with a huge oval cut black diamond in the center definitely multiplied her gorgeous beauty.
Gomez loves to look bold and a stunner with black diamond dangle earrings too. Italians and Latinas Love black diamonds, and that's why her love for black diamond didn't lessen even after years.
Inverted Black Diamond Ring and Earrings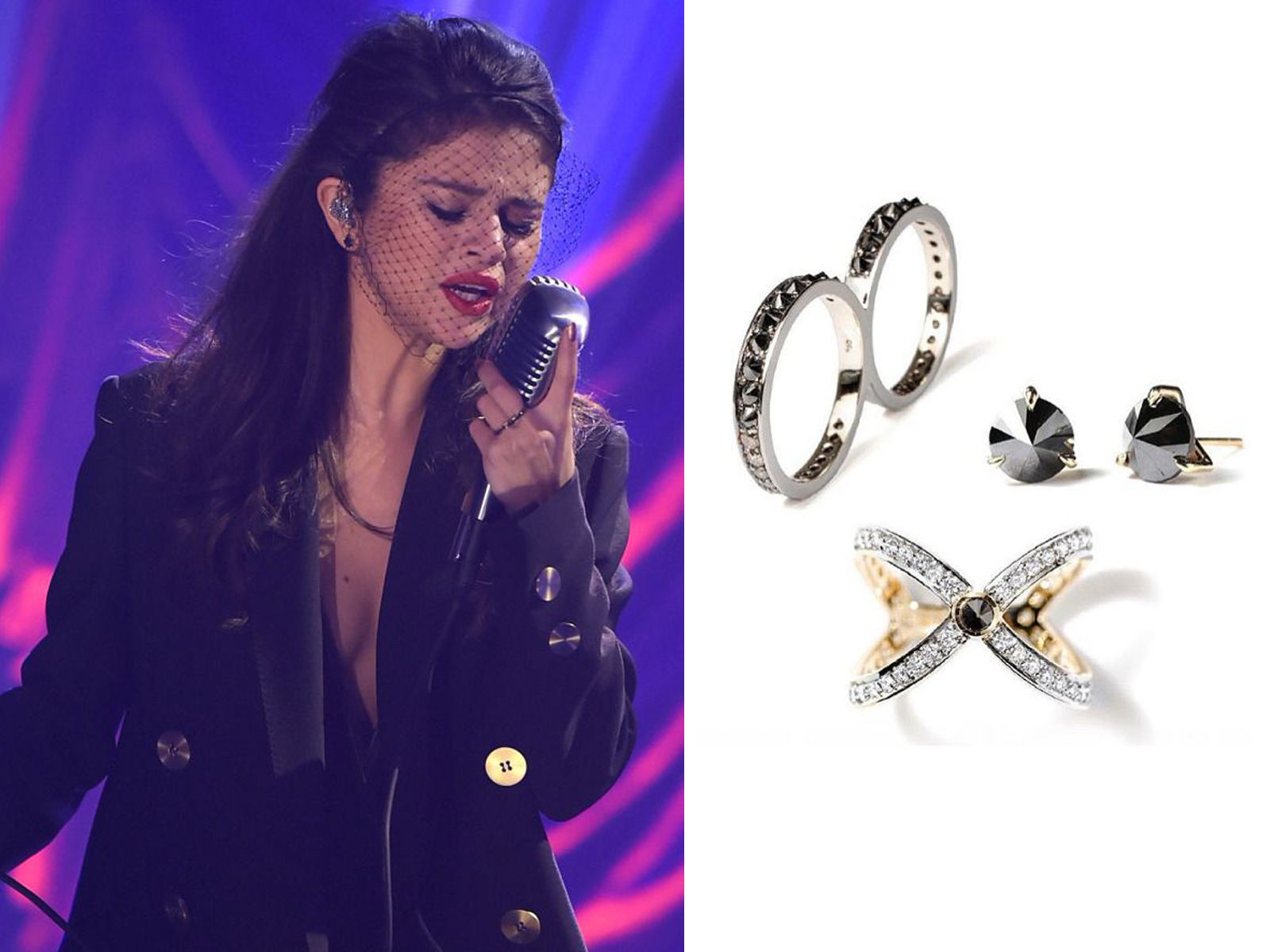 Not only on Magazine covers but She took her love for black diamonds on the Tv Shows too.
In 2015 She rocked her outfit with inverted black diamond earrings, black diamond double ring, and black and white diamond ring by Art Vartanian. Something new and outstanding isn't it?
Few lyrics of her song "Ring" from her latest album ring describe her inverted black diamond ring "wrap on my finger like a ring". Definitely she knows how to look perfect with imperfections.
Famous Popstar, with her Latest Album "Folklore" Taylor Swift, never failed to surprise her fans with her heart touching songs. But did you ever noticed how she rocked with jewelry pieces in music videos from her inspirational album "reputation" which described how strong and independent a woman can be? Yeah, I am talking about "Look what you made me do" Music video.

Taylor didn't leave any chance to take bath with diamonds in a bathtub and much more. But she also showed wearing black essentials according to the "rep" theme.
Whoever knows about Taylor swift must have an idea about how much she adores snakes "laughs". In this music video "Love Story" singer making it real with a "serpentine black diamond ring" by Borgioni. It also features ruby and white diamonds too. How sassy the Rep Queen is, she never failed to show her life through her music video and accessories she wears in it. That's why she is the "POP Queen"
Black diamond double finger ring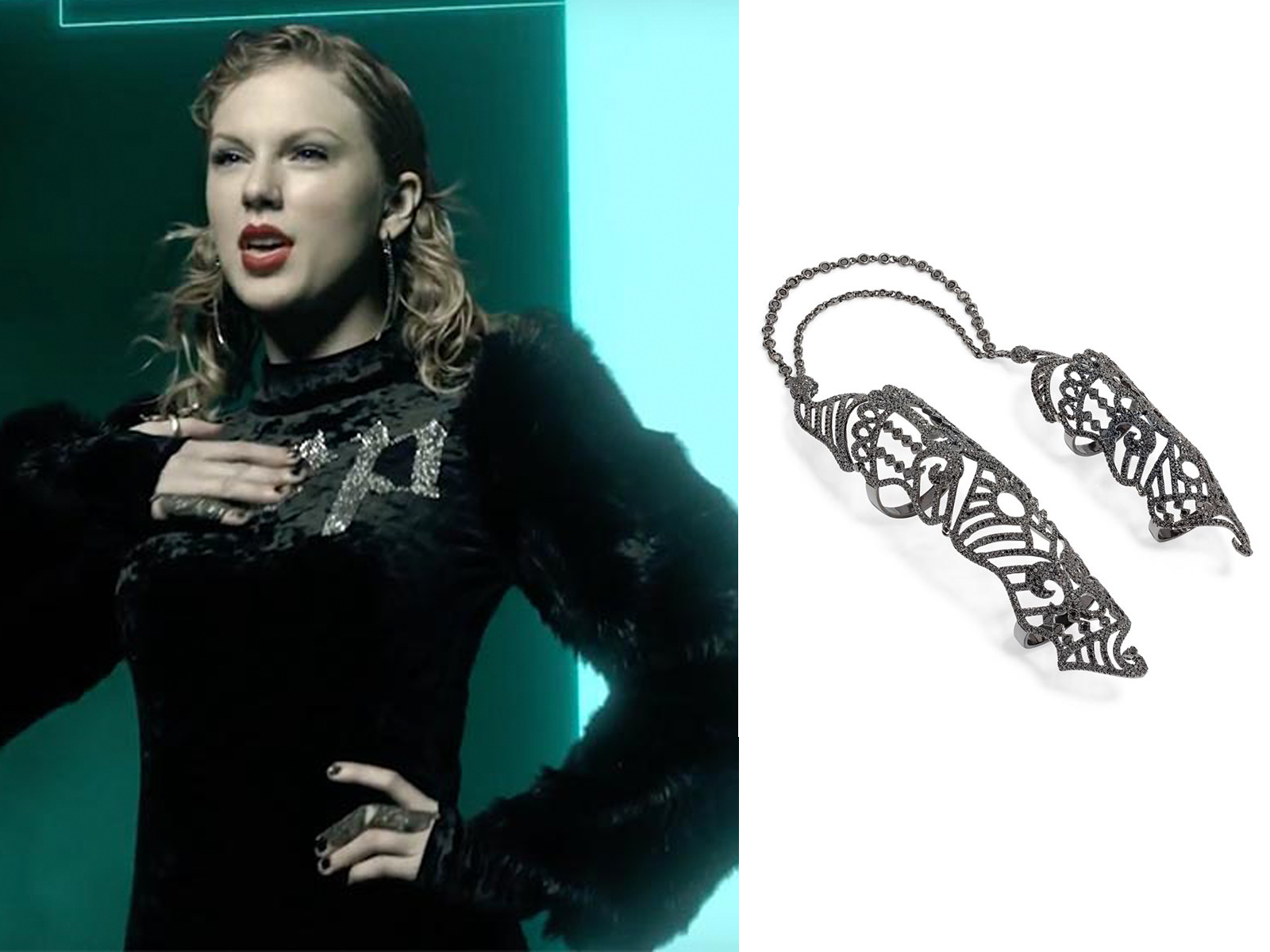 She got moody with a double finger ring fully accented with black diamonds by noudar and ofc with a reputation outfit on it. Blooming and beautiful, Taylor Swift knows how to do it well and stay confident with the jewelry she displays in her music videos.
How many of you remember the iconic song "7 Rings"? I guess most of us do because of Ariana Grande Top the chart for weeks with it.
Most popular for her outfit and style, This shawty girl couldn't hide her attraction towards black diamonds on her shows.
Black Diamond Choker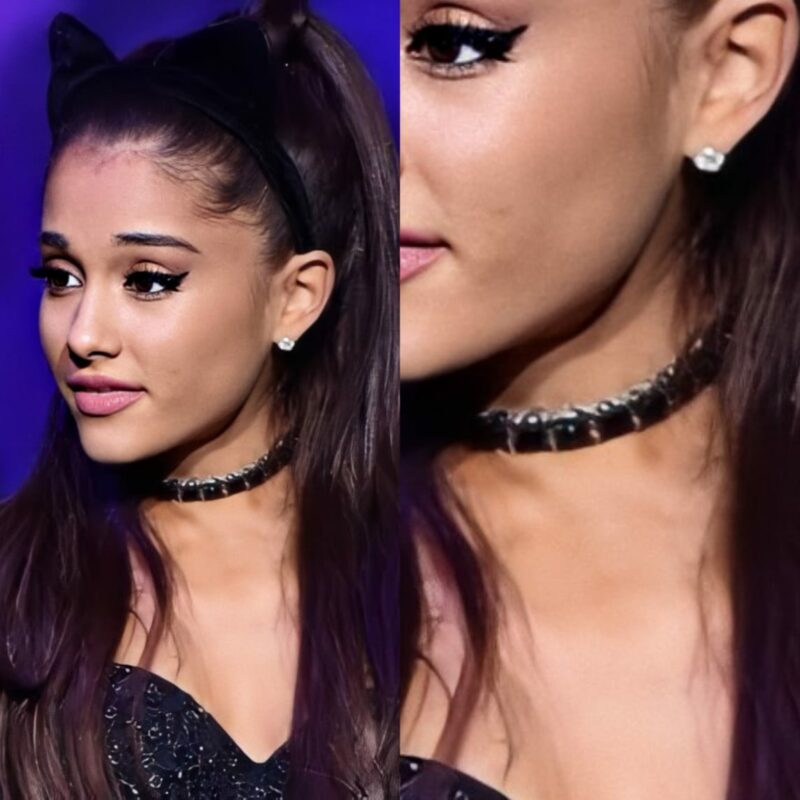 In 2015 at the honeymoon tour the "Thank you next" Singer showed p with beautiful black diamond choker over her neck. She matched them with her black top which made her look bold and sexy.
I always say black diamonds make you look bolder and sexier with any outfit tho. Ariana likes to look bold and her immense talent with black diamond choker obviously turned the tables on stage while performing live.
Halsey
At the red carpet of billboard music awards 2019, Halsey with her splendid outfit and jewelry. The singer was about to perform with BTS on their single. And they got a huge round of applause from the audience for their performance.
Black Diamond Earrings By Halsey
Halsey chooses black diamond earrings to fit her attire. With petite diamond earrings with black diamonds in white gold designed by Stephen webster, she looked amazing.
Her dashing attitude and outfit with black diamonds geared up the excitement of people to watch her performing the first time with the band. Her songs are inspirational and so are her thoughts, her heart is just like black diamonds bold and attractive so is her soul. Can't deny the fact why she chooses black diamonds to be there on the red carpet.
Halsey was spotted with black diamond earrings in past occasions too.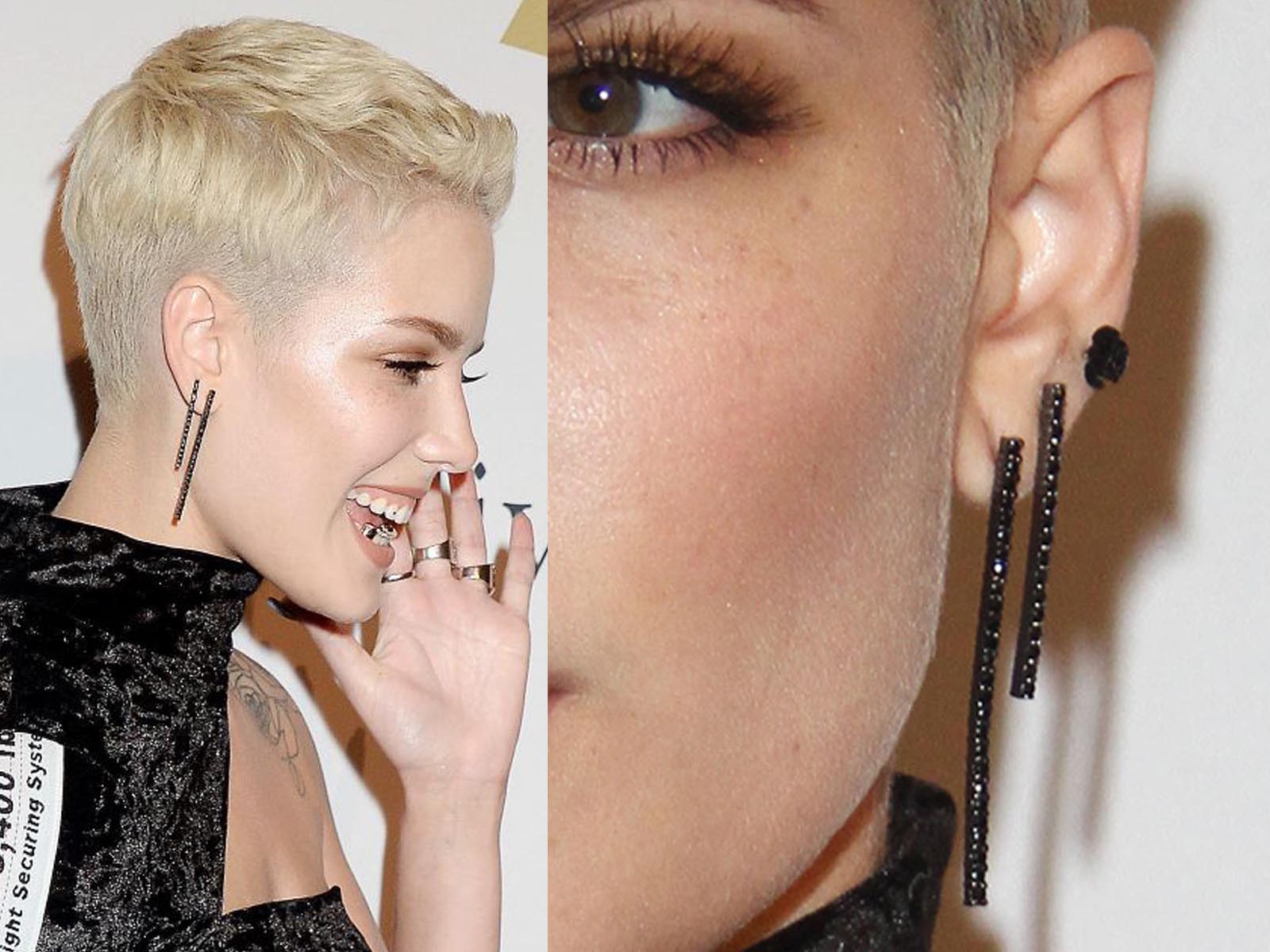 Halsey at Pre Grammy Gala in 2017 with Stunning black diamond bar earrings. Fabulous pair of earrings with black diamonds suits her gorgeous net dress in black color. Halsey was absolutely seen following the trend of black color on the red carpet.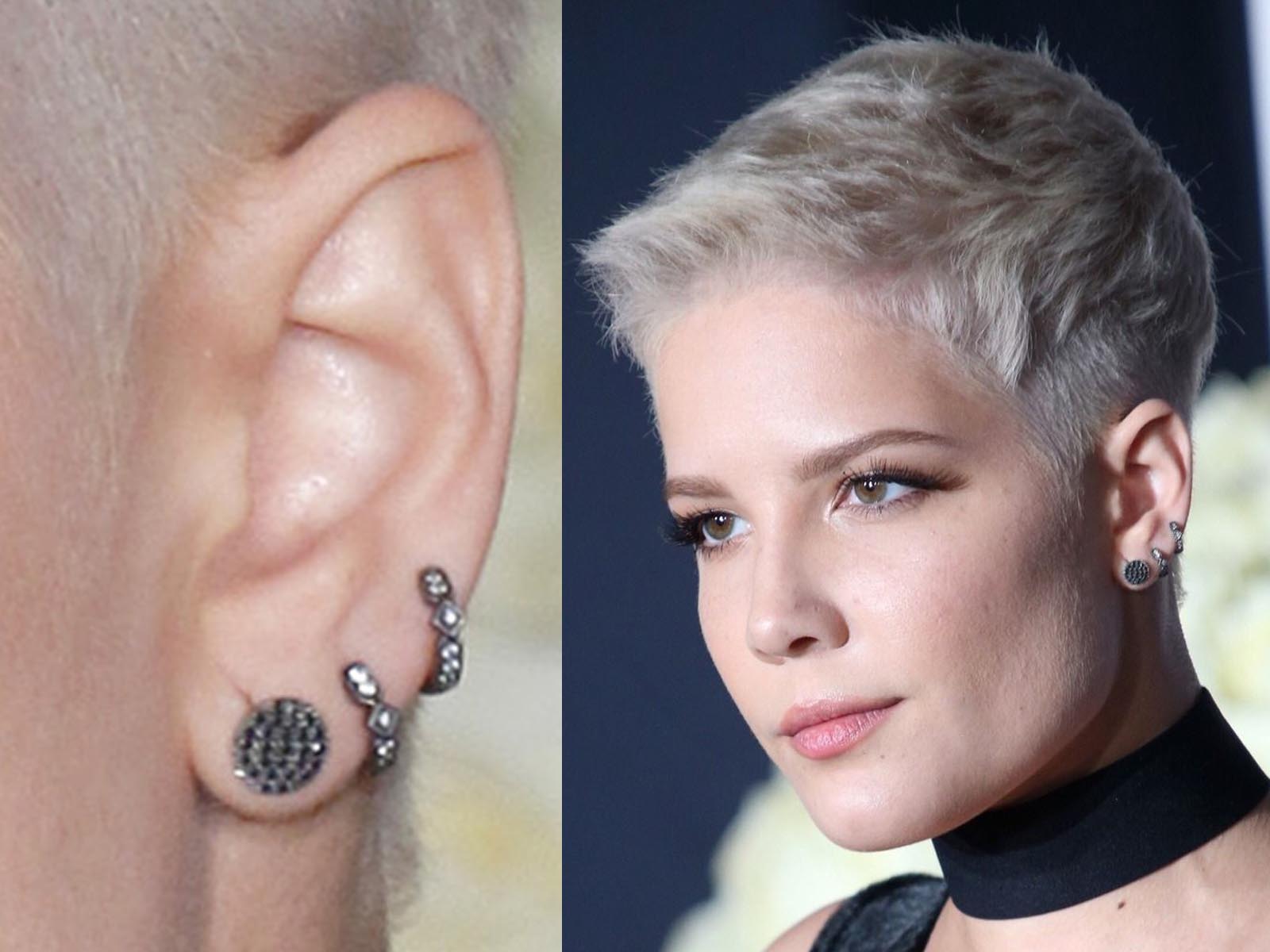 At Premiere of 50 shades darker, "not afraid anymore" singer choose dark dress spruced up with black diamond earrings to match. Halsey adores the word dark, which reflects in most of her songs.
Seems like Halsey loves black diamonds since from the beginning.
Rihanna
Riri on her 30th birthday put her glory up with luxurious diamond jewelry that was glamorous. Riri is also known for her goth featured jewelry and she never missed out on black diamonds. The "monster" girl wore a black and white diamond ring by Jacob & Co sparkled with around 17 carats of diamonds in it. This ring is known as a zebra ring because of the black and white striped pattern in it.
Black and White Diamond Ring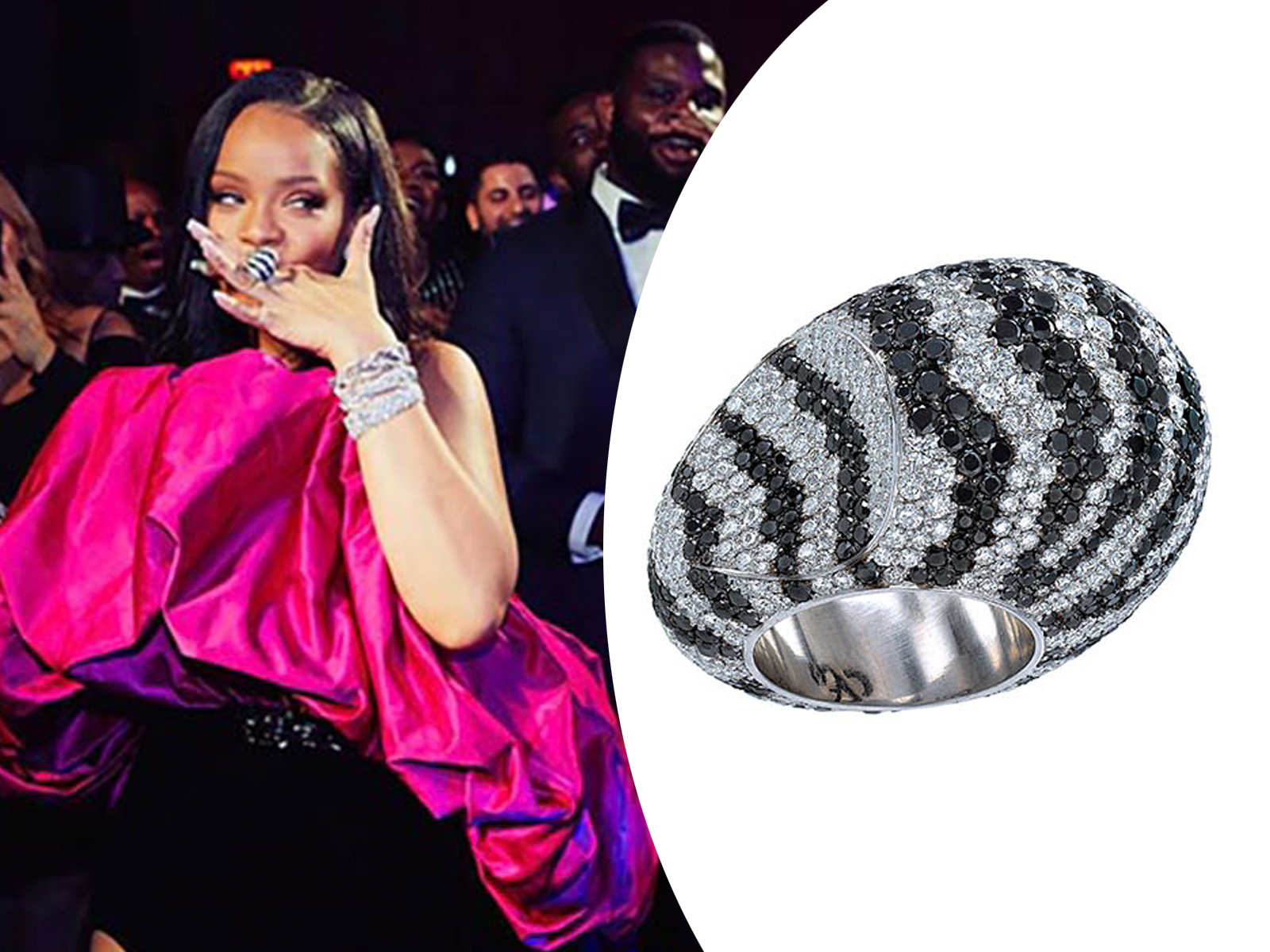 The total cost of this ring is of a whopping $39,000! Price. Rihanna and her luxurious collection with black diamonds are always appreciative and the singer never failed to show up with them whether in parties or red carpets.
Katy Perry
Inspiration to many artists Katy Perry won the hearts of billion Americans with "firework" music video. The pop star has always stunned people with her outstanding look on red carpets.
Black Diamond Heart Ring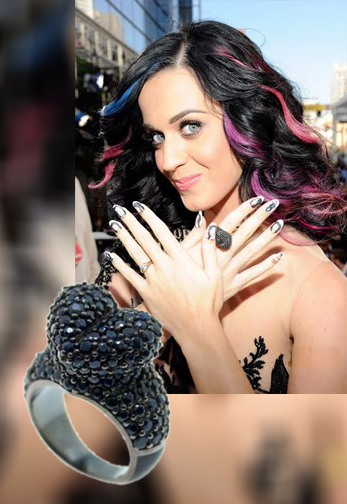 Katy perry is definitely a black lover and this is how she showed her love for black color back in 2010 on MTV video music awards. The star wore a 3D heart ring spruced with black diamonds on it. She was not afraid to show it on cam while she entered the red carpet. With her black dress, black dyed hair, and black essentials, she chooses to wear a black diamond ring, bold selection by the star.
After watching it cannot stop singing "boom boom boom, even brighter than the moon moon moon"
Lady GAGA – Celebrity Black Diamond Jewelry
The art-pop star and Born this way singer was never afraid to share her jewelry style on red carpets. Gaga loves to wear black and in antique style, she has always shown her unique fashion sense on shows and music videos. One of the popular names in the music industry, who always ruled charts got her black diamond ring to the picture on Grammys red carpet 2011.
Black diamond Serpentine ring
With her black net dress and pink diamond ring, she matched her style with a serpentine ring with black diamonds. This ring caught many eyes as it was something unique she wore it for the first time on the red carpet. Stylish, bold, and fearless that's how her style reflected on the Grammys night.
Billie Eilish – Celebrity Black Diamond Jewelry
Emerging pop star of 2019 with her famous song "bad guy" Singer Billie Eilish, celebrated her win at Grammys with a "5 x Black Diamond Pendant Necklace"
Billie creates history by winning 5 Grammys at once becoming the youngest ones to achieve that.
5 x Black Diamond Pendant Necklace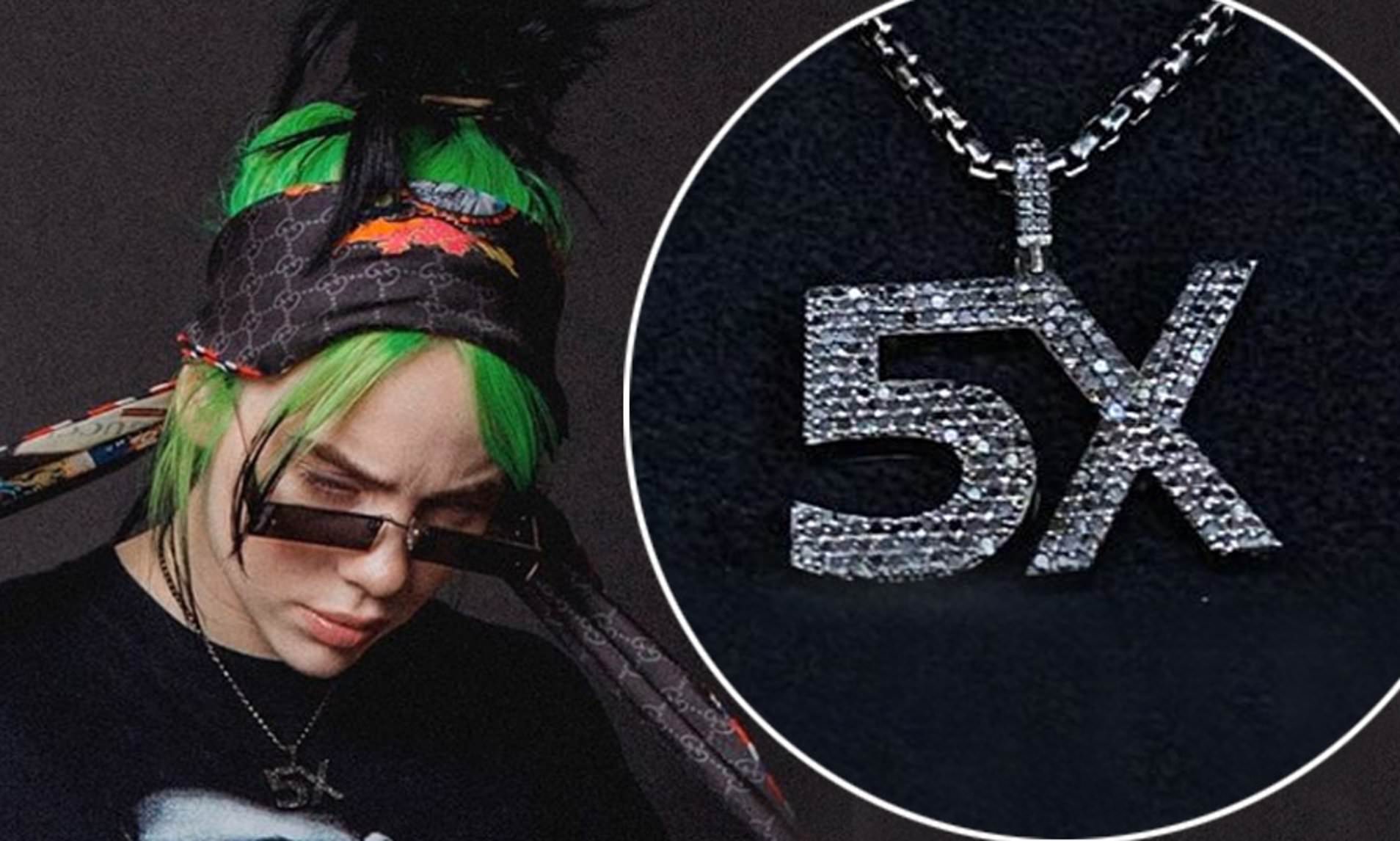 18-year singer custom made it from boo daddy diamonds, the famous celebrity jeweler designed it for 30,000 Euros.
The 5 times sign clearly shows up that she made it to represent the 5 grammy awards she won for the moment. The singer loves to wear black and she chooses black diamonds for her pendant signifies her attraction towards it.
Hence, we can say that how much these inspirational women love to wear black diamond jewelry. Whether it be on an occasion, music video or to celebrate their glory. They choose black diamonds to celebrate, style, and signify their personality.
They inspire many through their songs and music videos. Also, they took it with their jewelry sense with black diamonds which shows their boldness.
Queens are born to inspire and aspire, and they did it with years of hard work and passion.
Therefore if you listen to them and ever notice their songs, it is important to notice what type of accessories they wear. There is some meaning behind what they wear and hence it makes it important for us to notice how they work with it.
If you want to know more detail about black diamond jewelry then you can follow the blog link below.
What is black diamond jewelry?