Asymmetric Salt and Pepper Diamonds are those shapes that don't have similar shapes. We can also say that they are not like regular, but antiques. The reason why much antique diamond jewelry contains salt and pepper diamonds in asymmetric shapes.
There are different shapes of diamonds which are rare. In salt and pepper diamonds most common shapes are geometric ones but there are few shapes that are different from normal. And these shapes are known as asymmetric shapes that are famous among the jewelry designers nowadays.
Only a few diamond cutters or manufacturers make these shapes on great demand as cutting them needs high expertise. Diamond cutting is a unique art and making such unique shapes needs to be a professional. Hence, such diamond shapes are rare and unique.
Jewelry with salt and pepper diamonds are rocking the trend because of its appealing beauty. Even though they are imperfect, they look got perfection because of their uniqueness.
Asymmetric shapes in salt and pepper diamond jewelry catching fire too. Jewelers across the world want their diamond dealers to provide them with such diamonds. It was nothing impossible but diamond cutters made it through and now most of the jewelry designers are out with unique pieces of jewelry collection.
Let us check more about this diamond-cut and what are different shapes does it features.
Portrait Cut Antique Shape
Name is enough to give us an idea of how a portrait shape salt and pepper diamond would look like. This diamond looks like a photo frame with some patterns drawn inside of the diamond. Although, when you take a closer look you will find a shadow-like image inside. Shadow inside the diamond is nothing but inclusions. At the time of the formation of diamond, this diamond was left with many inclusions. Hence nature has carved this diamond beautifully.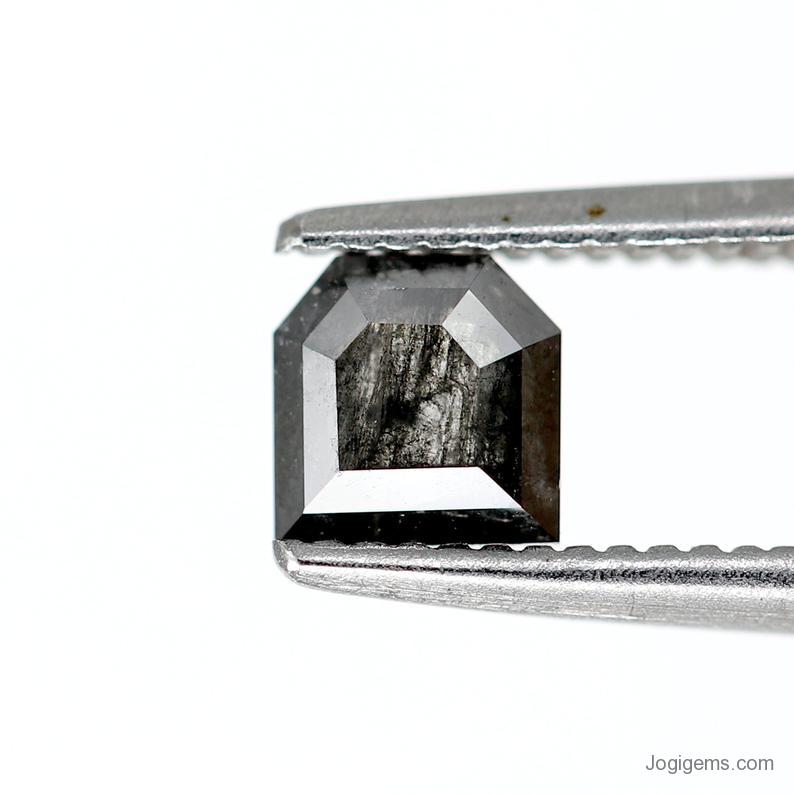 While cutting it look like some portrait inside the diamond hence it was cut with frame-like shape. To give it a look like a portrait frame. If you are thinking to buy antiques then this diamond is a great choice to go. Wonder your dream engagement with such a unique masterpiece. Precious gift from mother nature, Yes, it isn't like normal diamonds but it standouts because of its imperfections. This is why having such a piece adds some extra value to your life.
Batman Shape Diamond Cut Asymmetric
Batman shape diamond? Sounds strange and exciting right? But just take a look at this diamond cut, it is cut in such a way that it looks like batman symbol.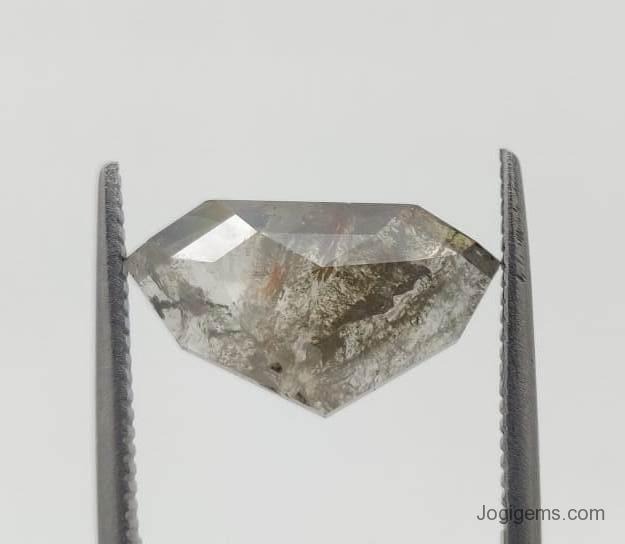 Inclusions inside this diamond make it interesting even more. Imagine a pendant with this diamond cut or a diamond ring. If you are a batman fan then This ring is definitely your dream ring featuring a natural diamond.
Its difficult to cut such diamonds but Jogi gems often come with such diamond cuts. Thanks to our diamond cutting experts who make this possible.
Note: if you want us to make such diamonds then we are just a click away. Contact us via mail or our phone number We are there to assist you always.
Transparent Brown Kite Asymmetric Salt and Pepper Diamond
Many of us that kite shape diamonds are trendy and many of those in salt and papers. Not like a diamond cut nor like kite shape but this diamond looks like both. And this is what it makes different. Rose-cut in shape with brown color transparent diamond is great to fit inside a vintage diamond ring.
Kite shape diamond engagement rings have great public appeal, hence famous jewelry designers are found using it often. Brown inclusions inside the diamond resemble how beautiful mother nature is inside out.
Apart from vintage rings, one can use it while making dangle earrings or pendants too. Due to increasing public demand for kite diamond-cut, many frontline jewelers have joined hands with us too. Jogi gems are a great source for such unique diamond cuts.
Bullet Cut Salt and Pepper Diamond
Don't get scared just because you heard bullet cut diamond its not going to kill you. Bullet cut diamond is rare and with deep black inclusions inside of it makes it look more like a bullet. Nature comes up with such wonderful things inside its earth's crust.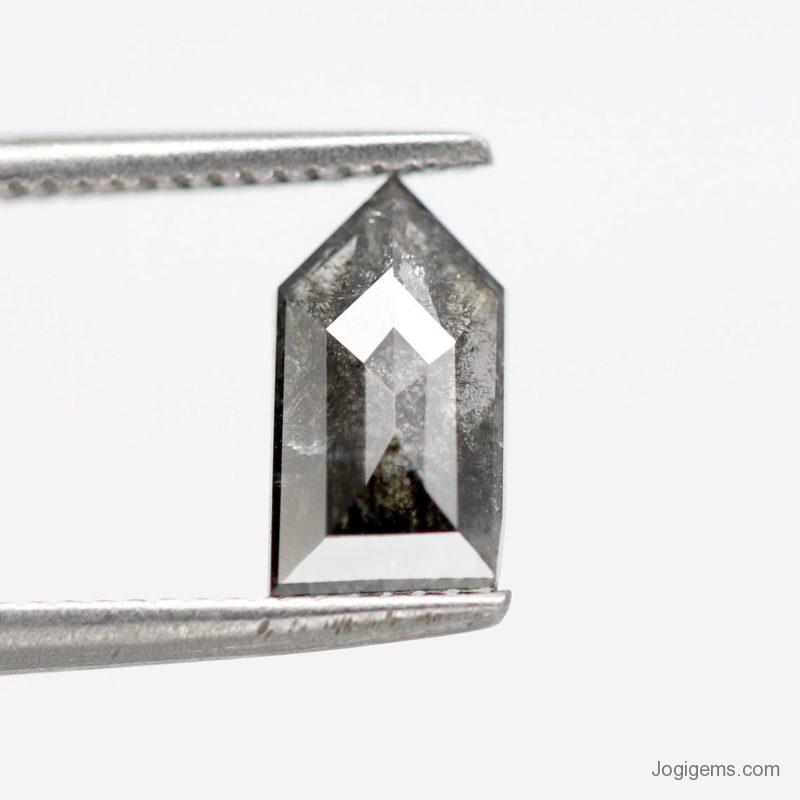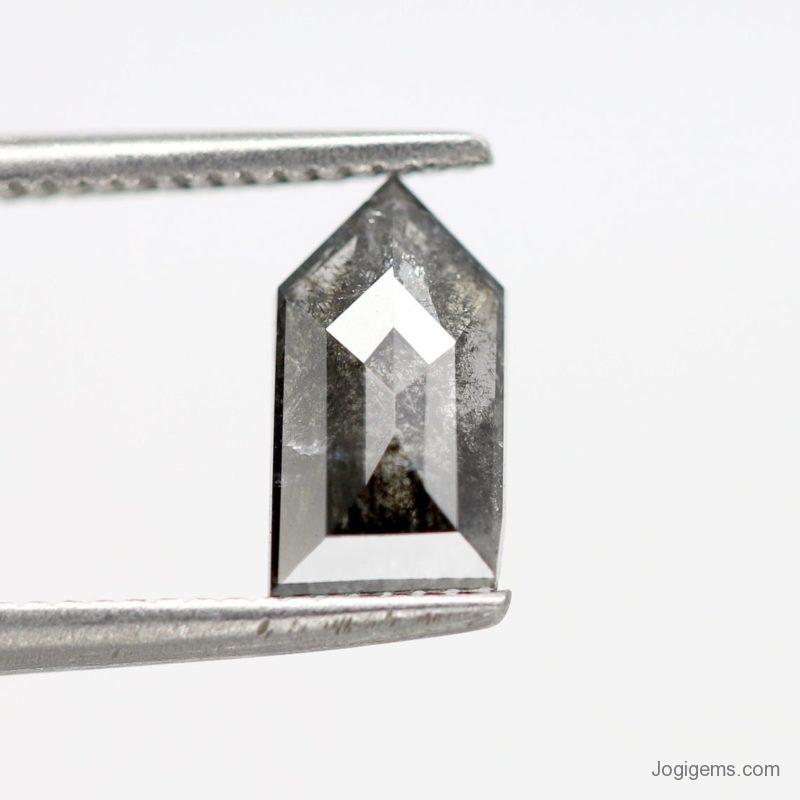 Well, bullet shape diamond in salt and pepper is sighted besides antique diamond rings. Because of its bullet shapes which look more like diamond baguettes. But many jewelry makers are now using this as a center stone with their wonderful designing skills.
So, if you are a jewelry designer and want to make something out of the box then you can find our store with symmetric salt and pepper diamonds.
Asymmetric Coffin Shape Salt and Pepper Diamond
Another Gothic Word for Jewelers who creates dark jewelry. Goth culture is specified about love for black and dark things. Here is a diamond cut that is unique and known as a coffin shape. One of the rarest piece and cut for the one in a million kind of jewelry.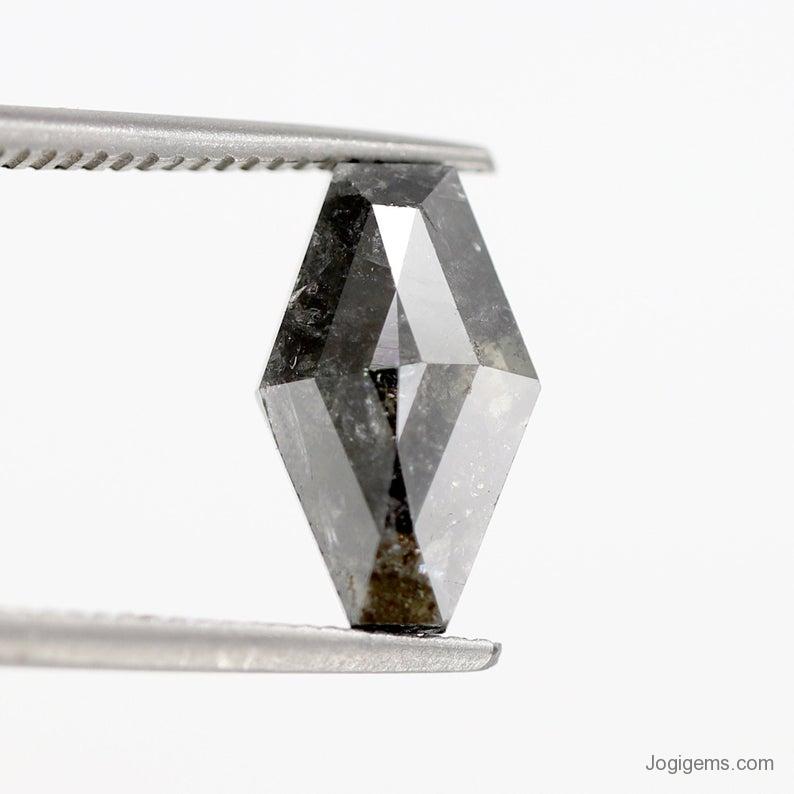 Coffin cut diamond when set in a gothic style engagement ring, crafts the look completely. This Diamond has a gothic appeal with dark heavy inclusions inside the coffin shape. Which signifies many dark thoughts trapped in a coffin.
Look like a black diamond but it's actually salt and pepper diamond. Jewelers who design gothic jewelry can also use this in earrings or pendants.
People who admire gothic fashion often look for the dark black color. And this black salt and pepper coffin diamond resemble their thoughts the most. So if you are looking for such a gothic style diamond cut which fits your collection then feel open to contact us.
Jogi gems have everything in stock and we have our own inventory of asymmetric salt and pepper diamonds. Be it any cut or shape, we can make it as per your wish. Because we have a pool of diamond cutters who have years of expertise in diamond cutting and polishing. Give your one of a kind jewelry an extra touch with asymmetric shape salt and pepper diamonds from Jogi Gems.