Have you ever heard of raw diamond rings and wonder what it looks like? There are diamond jewelry with classic diamonds but have you ever tried to search for something different? This uniqueness in your thought regarding jewelry got you here.
Rough diamonds also known as uncut or raw diamonds are born under the earth's womb years ago in their natural form. It simply stays untouched and without any cutting or polishing it is meant to be the most real of its kind. So let's learn in detail about the diamonds in the rough and how they got popular in jewelry like rings.
What do uncut diamonds look like?
The term uncut itself suggests that they look like a diamond that was formed under the earth. A stone-like structure is tough and shines more than any other stone formed beneath the earth's surface.
The most common forms of a rough diamond are in cubic or of a hexagonal in shape. To be frank they are cut to get its shine as they don't shine much in their natural form. There are very few gem-quality roughs that shine brightly from its born.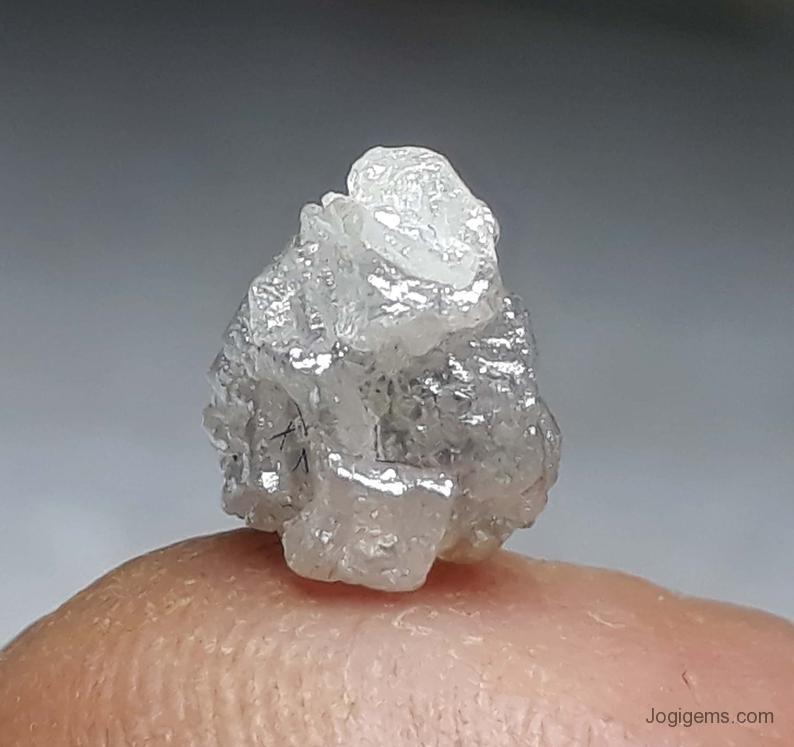 But though it doesn't shine they still worth more which depends on its color, carat weight, and size. The more the raw diamond is bigger in size the greater is its price.
Hence due to its natural occurrence, the demand for rough diamonds in jewelry is growing nowadays. Many couples want their engagement ring to look unique and real. And raw diamond fits perfectly in these criteria. So if you are in search of something different this time then I have some best pieces of raw diamond engagement rings for you.
Gray Raw Diamond Ring
Wrapped in the beauty of 14K yellow gold, this gray raw diamond adds a dramatic effect to the ring. Wild claw setting in prongs holds the diamond-like it was in nature. This diamond ring makes you feel closer to nature.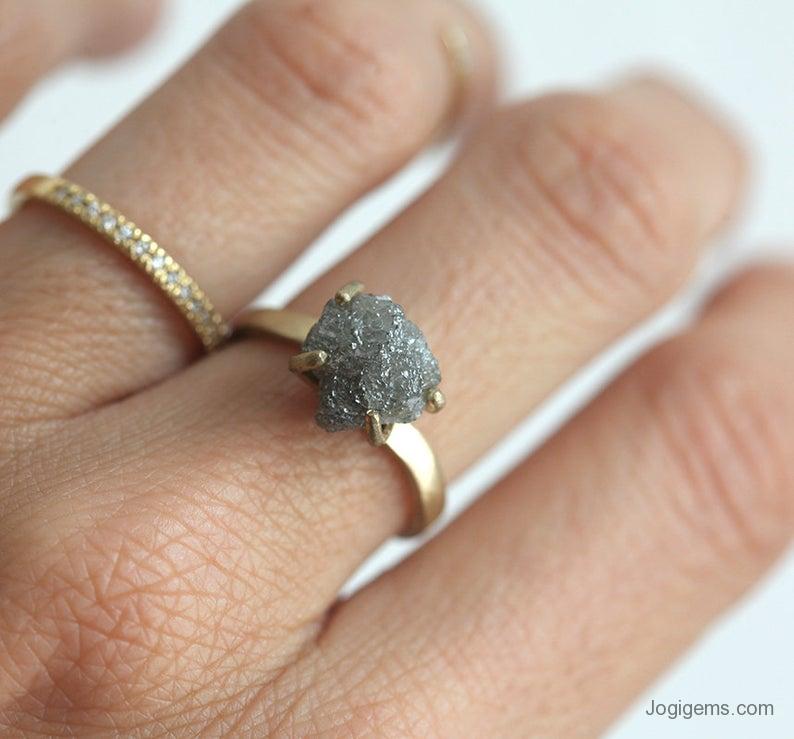 The delicate and alluring an uncut diamond ring is best if you want to gift something one of its kind. The gray diamond holds meaning to the ring, it is something that resembles a dream come true. So propose her in the wilds with this dreamy rough diamond ring. I am sure she will definitely say a "Yes"
Gray Congo Cube Raw Diamond Ring
The shape of raw diamonds is either uncut or cubic in shape, This cubic gray raw diamond ring has extraordinary features. It looks natural, filled with gray and shiny luster, and set in pure white gold in square prongs.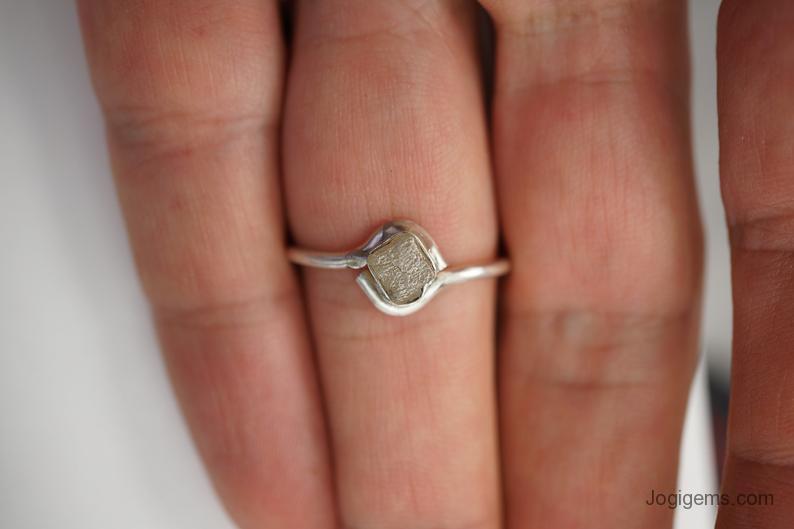 Perfection is the accurate word for this diamond ring. Because of its grayish appearance, it looks more natural than any other rough diamond color. Catchy and rare, one can wear it with an outfit that stands out if compare with another diamond ring in gold.
The gray color of the diamond connects you with hope and gives you the power to gain that hope. An exact piece of raw diamond that adds an antique look to the engagement ring.
Raw Black Diamond Ring
The bold and elegant appeal of black diamonds has the power of strong attraction. While talking about this uncut black diamond ring, you have will fall for it at first glance.
Catchy and mystic this natural uncut black diamond reminds more of your wild nature. The claws of the ring hold the diamond looks untamed and beautiful.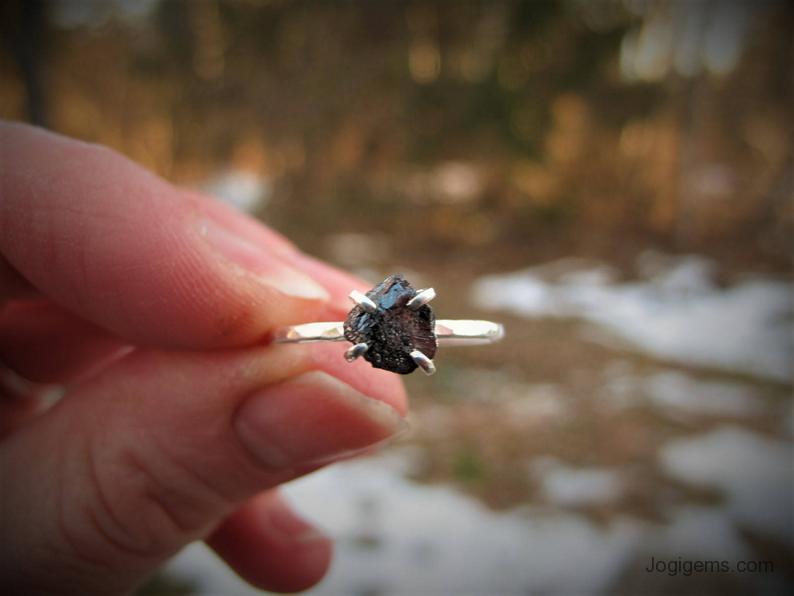 Just like a bird catches it prey and there's no way to escape. Elegancy in this ring is meaningful, hence it becomes hard to find such an alluring ring for the one you love. Make her feel unique, elegant, and special with this gorgeous ring.
Heart Shape Raw Diamond Rings
The rough diamond ring is rare, but this ring is enough to pop heart in your eyes. An uncut diamond with a heart shape set in such a way that it is attached naturally in gold.
"Like a heart wrapped in gold" This uncut diamond ring looks authentic. There are no prongs in this ring but the diamond is set delicately like its wrapped in gold which promises stronghold.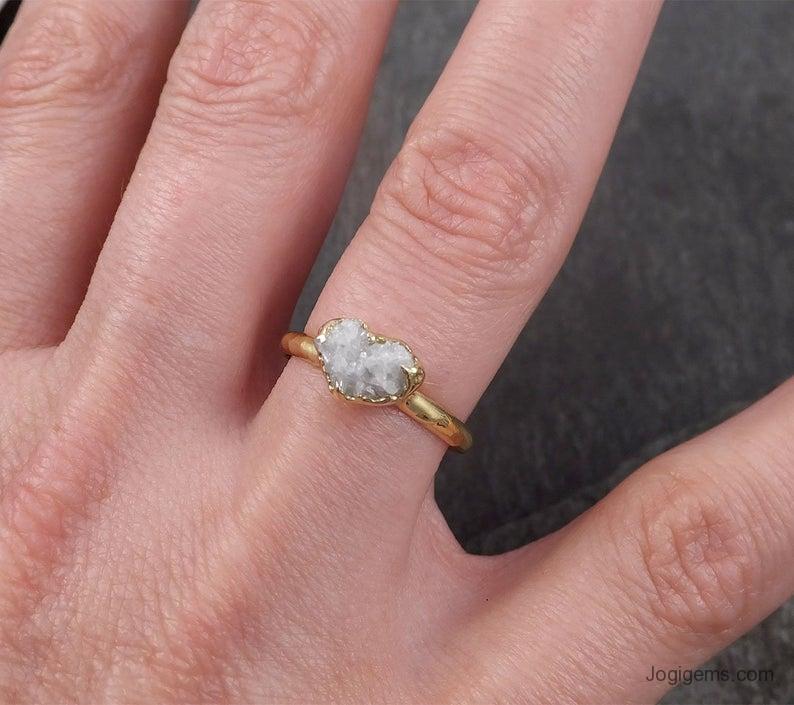 Once you own this ring, you cannot move your eye from it. Confess your true feelings with this ring, Tell her that her heart has flaws but it is still perfect. And imperfections of her only make you fall for her.
This ring defines true and imperfect love, it defines nobody is perfect and what makes you are your imperfections. Also, flaws are beautiful, just like this uncut heart ring.
Uncut Yellow Diamond Ring
A color that reflects wisdom, intellect, and knowledge, yellow diamond also resembles love and devotion. Nature has so much inside it, the wild colors of nature signify many things that inspire us to live better.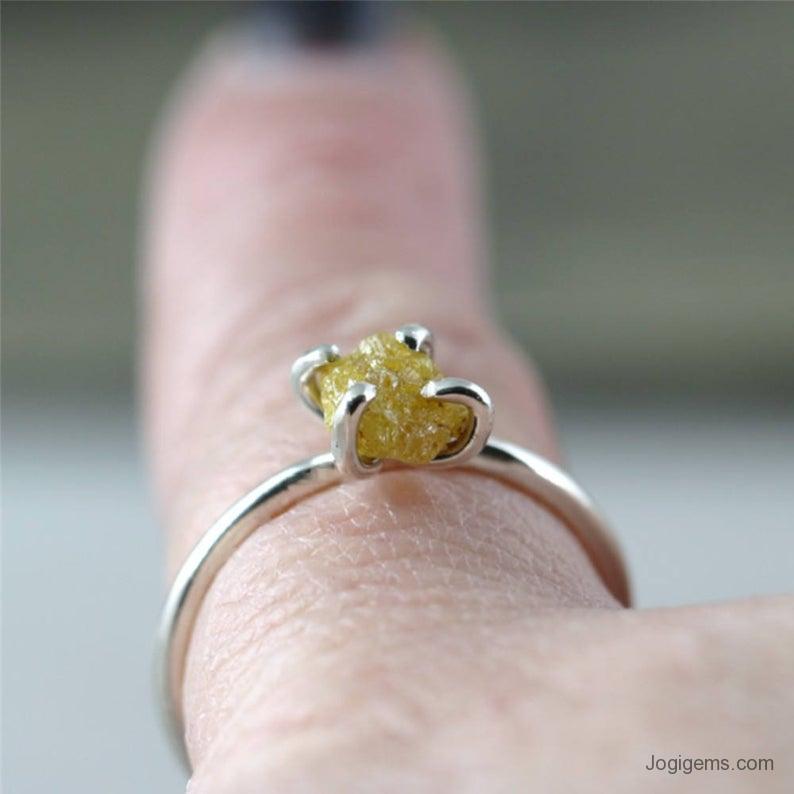 This raw yellow diamond set in white gold looks simple but it ignites the fire of love in the heart. Untouched and still glamorous, when set in white or rose gold creates a different level of attraction. This engagement ring is truly extraordinary, never runs out of style. One can't stop staring while looking at this endless beauty.
Engagement rings are not only limited to glitter and perfection, sometimes whats natural carries great importance than what's polished. Raw diamond rings have made this come true. And thanks to all those creative minds which think out of the box.
It needs real eyes to realize what's real and genuine, this statement proves right here. Diamonds are real, and it holds its own sparkle, there are many things to learn from this rarest gem on the earth. It's the reason why they are in great demand since they were discovered.
So next time when you think to buy something unique and genuine, check out with raw diamond rings. Make the best moment of your life unforgettable with uncut diamond rings.
She will never forget the day and what's true remains forever. Raw diamonds are timeless and it defines never-ending love and affection to your life. If you want to know more about raw diamonds and rings, Contact us via mail and we are here to assist you with every possible information. Buy raw, stay raw, nature holds many things outside and inside too. Raw diamonds teaches us that your imperfections and flaws make you beautiful. So always stay what you are, it makes you unique and you are one in a million.