Rose cut diamond band
Are you looking for matching rose cut diamond band for your diamond engagement ring? Then you are at the best place. This is going to be the most antique band you are ever going to buy. Hence this wedding band is best to match your rose cut diamond ring or brilliant cut diamond ring.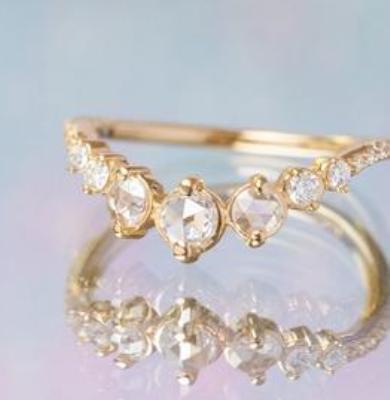 This rose cut diamond band consist of 3 antique round rose cut diamond with a round brilliant cut diamond in the accent stone over the band. You will get this engagement ring in 3 colors, 14k rose gold, 14K yellow gold, or 14K white gold.
Rose cut diamonds are in a great trend recently due to their unique triangular facets, they are also available at a very cheap price than round brilliant cut diamonds due to their flat back structure. If you are keen to know more in detail about these gorgeous diamond cuts then you are free to check with the link below.
What Are Rose Cut Diamonds?
Features of Rose cut diamond band
This gorgeous band features three rose cut diamonds of approx 0.20 to 0.25 carats which are paired with fine round brilliant cut diamonds to get a unique and trendy look.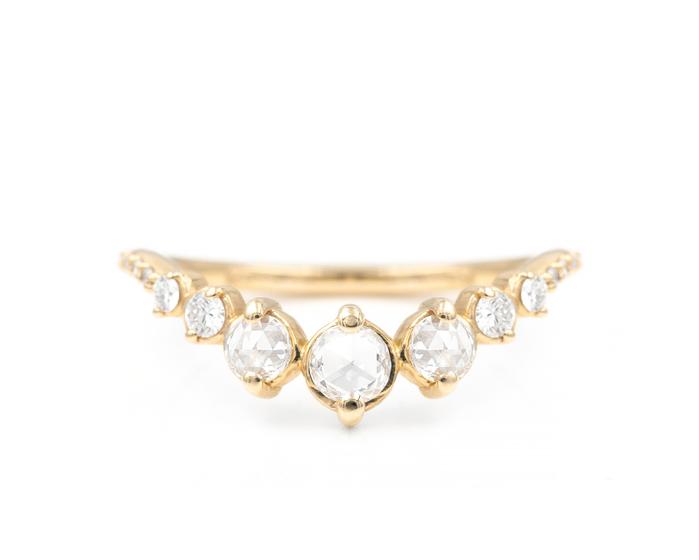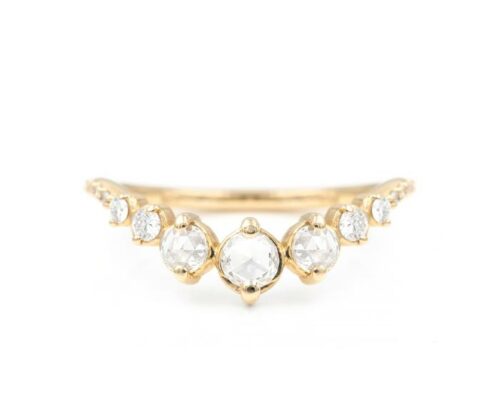 The color of diamonds is F color and they shine because of the VS clarity. This unique combination of rose cut and round brilliant cut diamonds makes this diamond band looks special. There is a total of 10 white round brilliant cut diamonds in uneven sizes to match the chevron ring design of the ring surrounding the 3 rose cut diamonds in the center of the band. The total weight of round brilliant cut diamonds is 0.15 carats in total with the same quality as rose cut diamonds.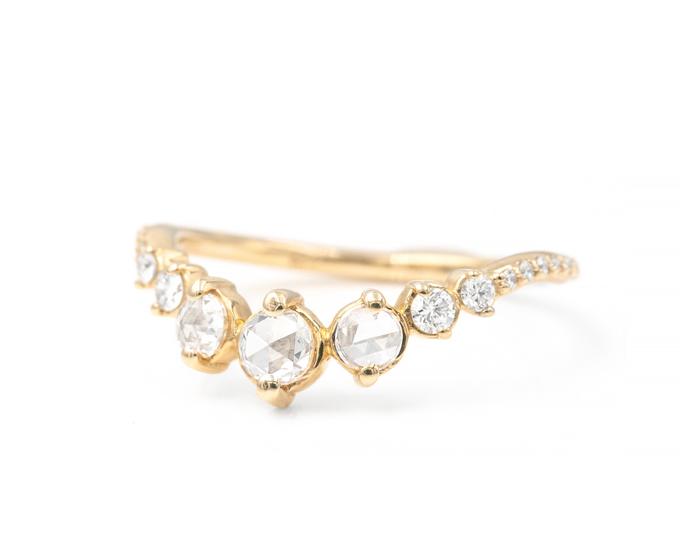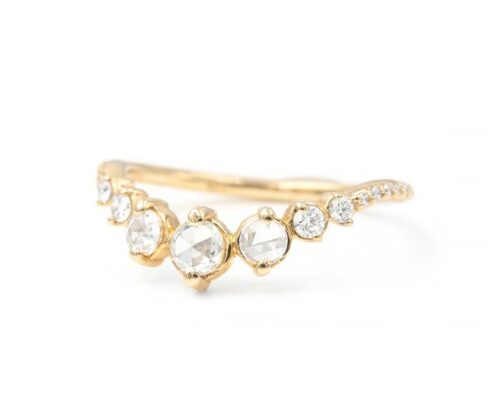 Diamonds are set in 2 prong bezel setting made of fine 14K rose gold. The whole band has a good polish and is available in the ring size you want from US 6 to 9 sizes. But if you want to resize it then you are free to ask us anytime over here via our email address.
When to gift this rose cut diamond band?
If you want to pair this ring with your antique style ring or to make your ring look antique then you can get this diamond band at Christmas or on your anniversary to match your engagement ring or wedding ring.
You can even gift it to your loved one with a classic solitaire engagement ring in round brilliant cut or rose cut diamond engagement ring.
This band is specialized to match a diamond ring and you can wear it on any of your favorite dresses or on regular wear. Get this gorgeous rose cut diamond band at wholesale price from Jogi Gems now.
Customization and Delivery.
If you want to make any changes to this ring, whether you want all the diamonds as rose cut or want to add champagne rose cut diamond instead of white rose cut diamond then you are free to ask us over email anytime. It takes usually 30 working days to reach your doorstep with free shipping but if you want then you can opt for fast shipping as we are tied up with DHL and FedEx which can make it happen in less than 7-8 working days to reach your doorstep.