Rose cut black diamond ring
One of the best and attractive rose cut black diamond ring in 14K rose gold with a chevron band online. This black diamond ring looks charming. The elegant rose cut is of unique shape in round shape with flower-like facets on the diamond.
Rose cut black diamonds are popular and they are taking most of the vintage style, in this ring, there are a total of 3 rose cut black diamonds. Therefore you can call this rose cut black diamond ring as three stone engagement ring too.
Moreover, the three-stone black diamonds are set in 14K rose gold bezel settings which ensures that the diamonds remain secure with enhanced beauty. The black diamonds have their own beauty and they are different from the traditional diamonds.
That's why many celebs are seen wearing black diamonds on red carpets at the time of famous occasions from high-end jewelers. Black diamonds are well known for their eternal beauty. Especially the rose cut black diamonds are gaining great popularity due to its triangular cutting. It takes a real artisan with years of experience to cut this shape.
The facets on this diamond are meant to reflect the light directly from its surface, As black diamonds are opaque it does not reflect the light from inside instead it directly reflects from its surface. Rose-cut facets do a great job of reflecting light through each facet. It looks like a black color rose flower shining so bright in the center.
This rose cut black diamond ring comes with an awesome chevron wedding band spruced up with black diamonds in AAA quality. The wedding band is also made of 14K rose gold. Rose gold is a popular color people choose while selecting their diamond jewelry. If you want to know more about rose cut diamonds then you can follow our blog link below.
What are rose cut diamonds?
Reasons to buy rose cut black diamond ring
Rose cut black diamond ring is a unique three stone ring that you dream of.
Black and rose gold lovers have the best choice to get this black diamond ring.
It is a natural black diamond ring crafted beautifully in 14K rose gold.
If you are looking for a black diamond bridal set then this ring comes with a chevron band too.
A blend of love and boldness is symbolic of this diamond ring.
Diamond ring that fits your budget and one can own it with an open heart.
Planning to get engaged? then rose cut black diamond ring will prove best for you.
Get a trendy and outstanding look with this three-stone rose cut black diamond ring,
Features of rose cut black diamond ring
An elegant piece of love this rose cut black diamond ring is made with superb 14K rose gold. The center stone is of 0.50 carat which is a flower rose cut black diamond paired with two beautiful rose cuts in accents of 0.10 carats each.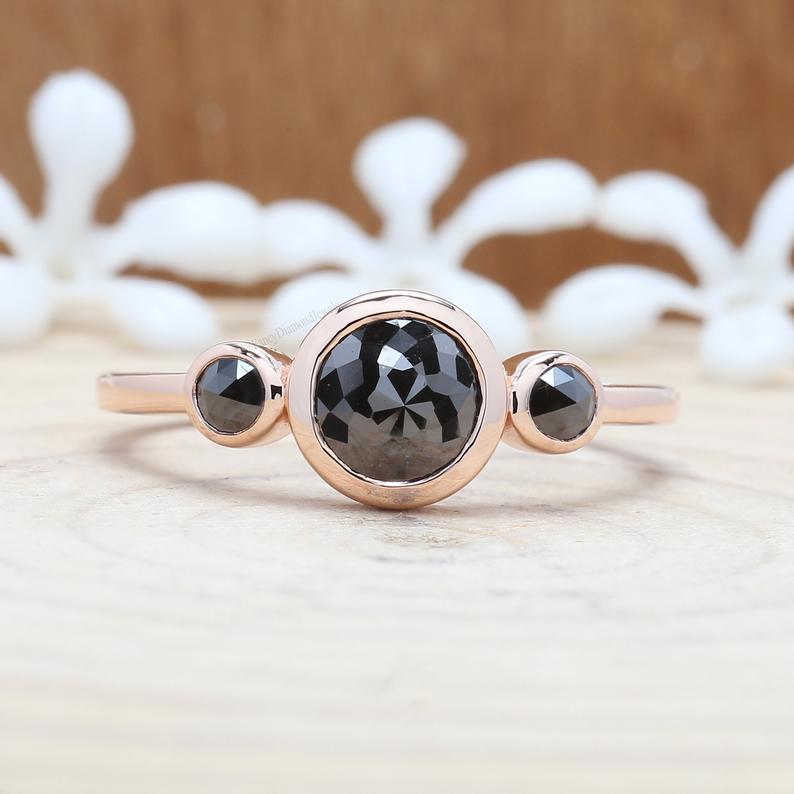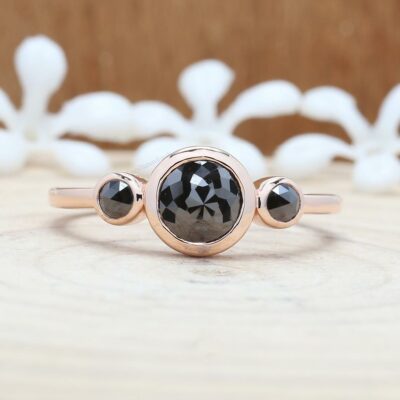 Each diamond is set in a beautiful round bezel setting which doesn't let the round shape of diamonds disappear.  The rose cut shape shines bright in the accent stone as well as in the center. The trio makes it look like the diamonds with revolving around the center rose cut black diamond.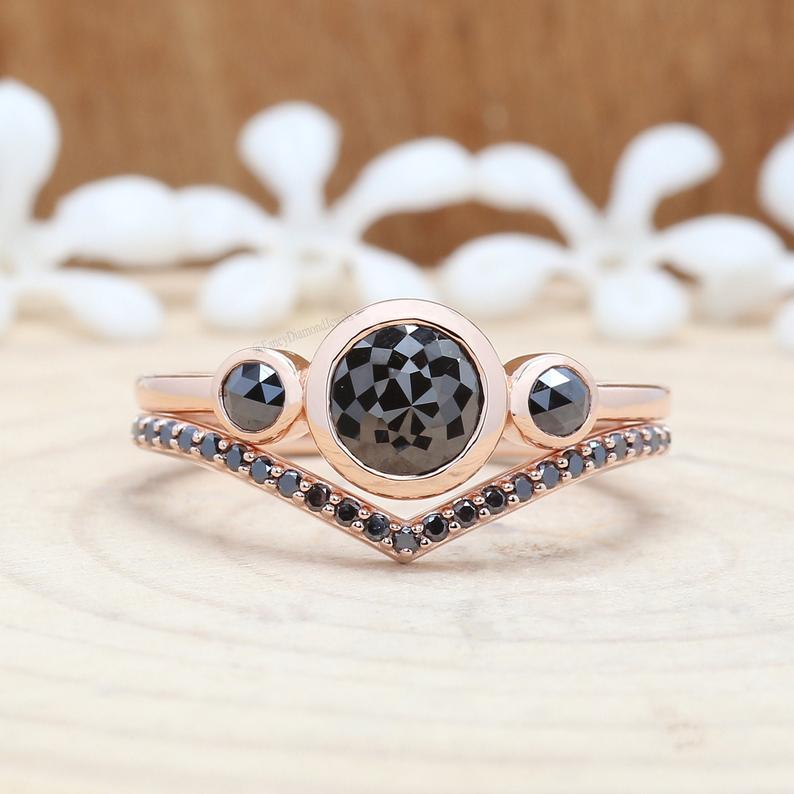 Rose cut black diamond ring also features a gorgeous band with black diamonds in chevron style.  The band made of round brilliant cut black diamonds are set in a shared prong setting. These tiny diamonds glow up the look of the rose cut black diamond ring. Hence this black diamond ring makes a great set for black diamonds and rose gold lovers.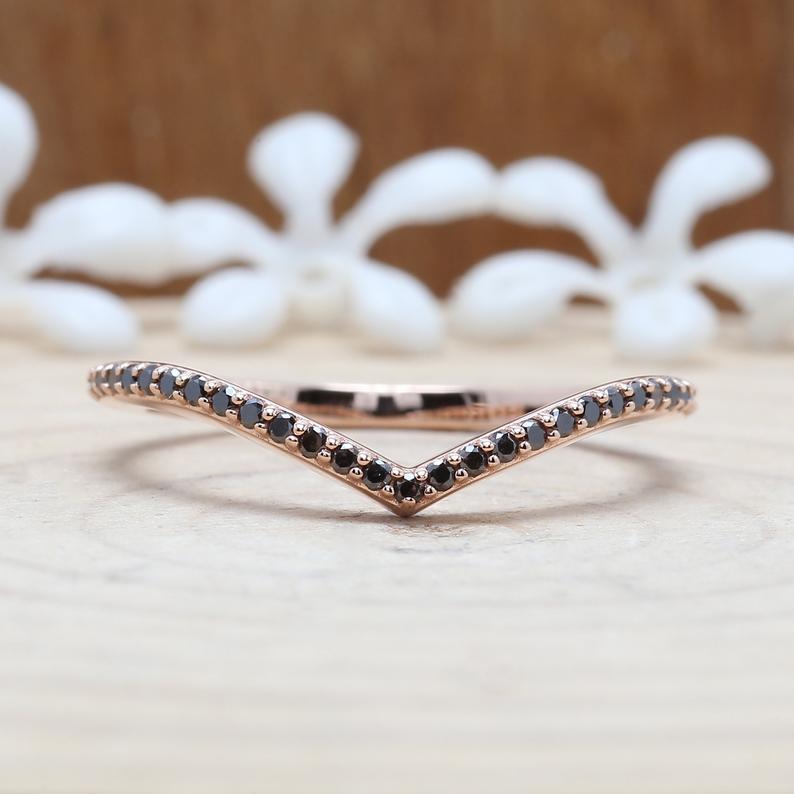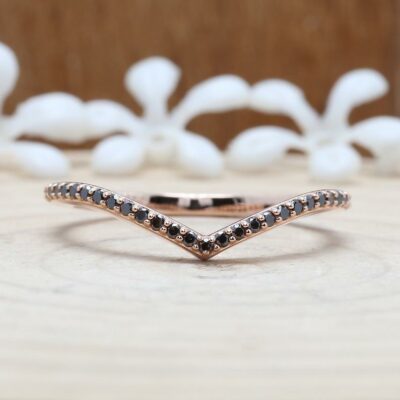 How fast Can I get this rose cut black diamond ring?
Jogi Gems is a leading exporter of black diamonds and its jewelry, we understand and value the urgency of our customers. We don't want you to miss your date and time as it has emotions attached to it. Hence we use DHL or Fed Ex to deliver our parcels across the world with the fastest means. You will get a doorstep delivery securely within a few days of the order.
Can I Customize this ring?
Jogi Gems understand that everyone has their own choices and sometimes it's hard to find a design of your own choice. Hence if you want us to design a black diamond ring of your choice then you are free to email us or contact us at any time. We have skilled artisans who are ready to do this in meantime for you.
Also if you want us to write something on the band of this ring then we can do that for you too. Get this black diamond ring at the best price now from Jogi Gems and make your loved one feel gorgeous.