Black diamond leaf ring
The natural black diamond leaf ring is crafted in 14K rose gold. It is accented with beautiful pear shape black diamonds in a chevron set. The name behind the black diamond leaf ring is that the pear cut looks like leaves because of the diamond shape.
The design of the black diamond leaf ring is unique it represents never-ending growth. Pear shape black diamonds are climbing up with the chevron design in rose gold. The round brilliant cut in the center looks gorgeous and it looks amazing in the design in a six-prong setting.
Black diamonds in this leaf ring are natural and feature superb AAA quality. If you have an immense love for black color and nature then this black diamond leaf ring is the best choice for you. Black diamonds are rare to find in traditional jewelry but can't deny the fact that the trend is setting fire to the rain for the past few decades.
All the shapes in black diamonds are getting as much as popularity like white diamonds. But In black diamonds, all these shapes look elegant and bold. The black color is known for its boldness, and if you want to appreciate your girl with a diamond ring for her boldness then it's a direct move you are ever going to make. You are going to listen to a "YES" from her lips once you present her with a black diamond ring like this.
If you want to know more information about black diamonds and their shape then you can check the blog link below. You will get detailed information about the black diamonds and their shapes over here.
Are Black Diamonds Real?
Why buy Black Diamond Leaf Ring
If you are a nature lover then this ring is all made for you.
Want a matching band to pair your vintage engagement ring.
Pearshape resembles leaves and it reflects your love for nature.
Black diamonds are more trendy as well as more affordable than other diamonds.
Rose gold with black diamonds creates a mind-blowing effect.
You can gift her at your wedding to match her engagement ring.
One can match it with any attire you choose to wear.
Cost-saving diamond ring one can easily own.
Features of Black Diamond Leaf Ring
You will fall in love with its first look as a black diamond leaf ring is made in 14K rose gold paired with bold black diamonds in accent. There are a total number of 4 tiny black diamonds in this black diamond ring. Leaf-like black diamonds are pear cut in shape also known as a teardrop shape. Pear cut black diamonds are 0.10 carats in each, so 0.30 carats of teardrop black diamonds. And it consists of a tiny round brilliant cut black diamond which adds a tiny spark to its beauty. The round black diamond is 0.05 carat in weight. All of the black diamonds are of topmost AAA quality.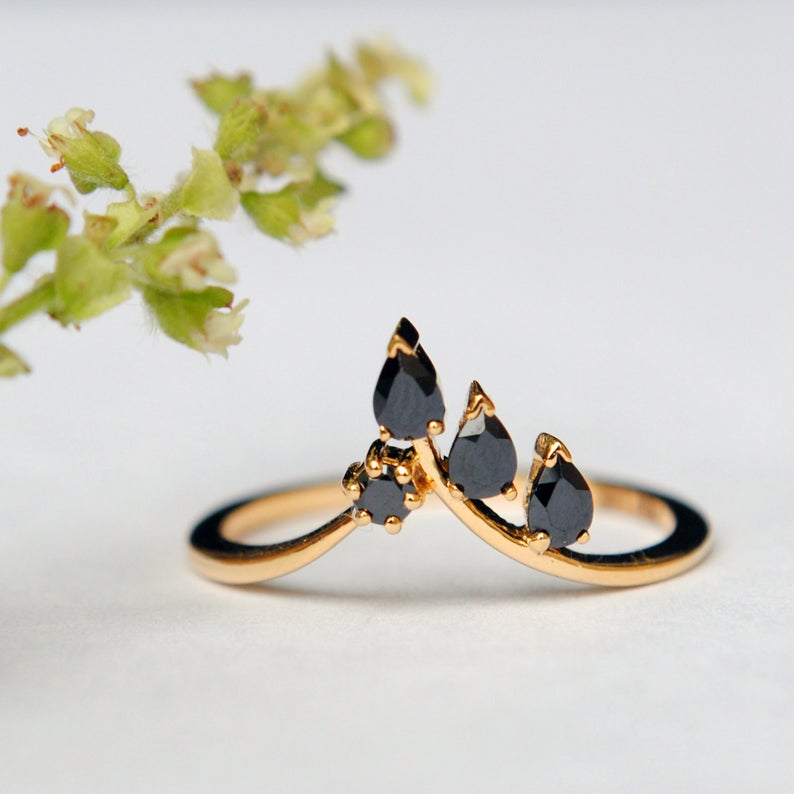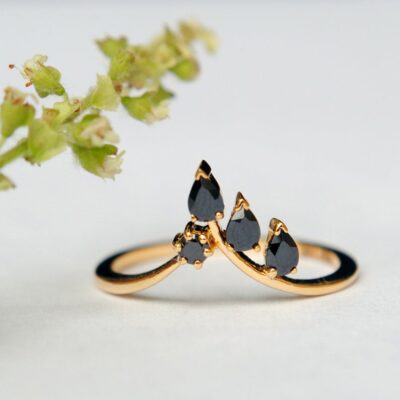 With a total number of 0.35 carats of black diamonds crafted in 14K rose gold. Chevron's design looks stunning, with these superb black diamonds. This band is slim and sleeky also the pear cut black diamonds are set in 3 prong settings. Rose gold is one of the famous colors nowadays in the diamond and jewelry industry.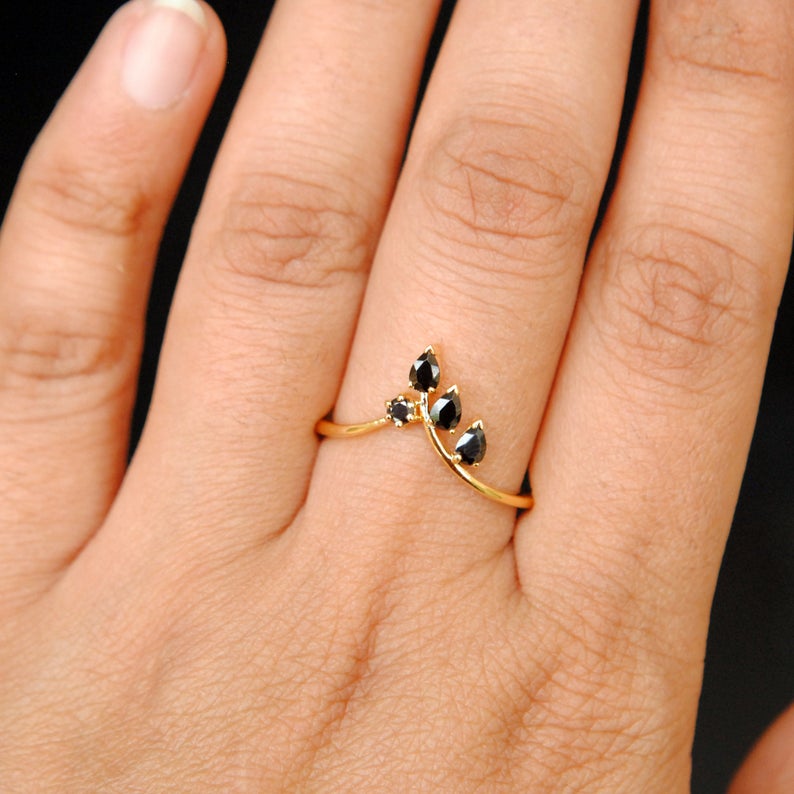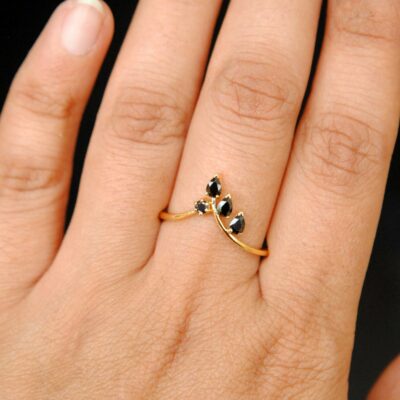 So if you wish to buy a rose gold wedding ring with diamonds then must check with this antique style black diamond leaf ring in 14K rose gold. Pair it with a salt and pepper diamond ring in pear shape or kite shape. As Chevron design is popular for kite shape engagement rings as it looks mystic and wonderful.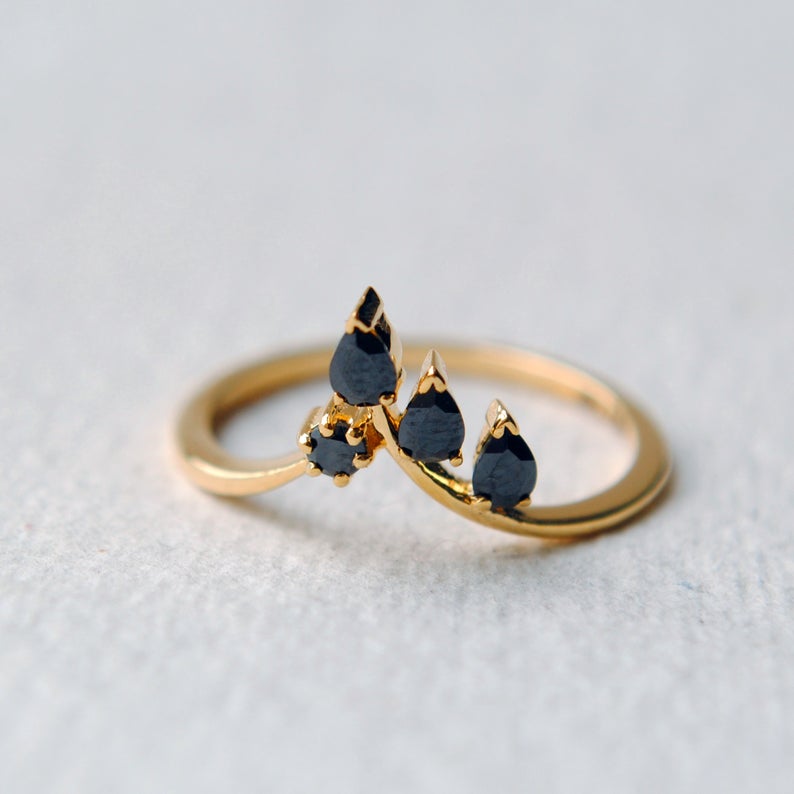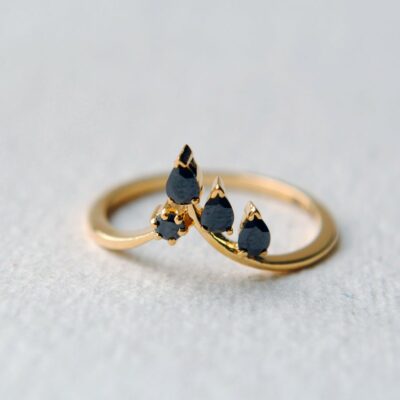 Customization and Delivery
If you want us to make any changes to this diamond ring or want to engrave her name or birthdate then you are free to ask us anytime. Jogi Gems love to accept customized offers and are abide to complete them in meantime. As we understand that special people needed to be treated special and we are here to treat you with the best all the time.
We understand the urgency of our customers, also we respect that few dates are special for them so they had to make an order with us before a month. So to make their orders successful we use DHL express shipping which will deliver your diamond ring in a few days to your doorstep safely.
So try this gorgeous black diamond leaf ring and let her fall in love with you again and again whenever she decides to wear it.