Black Diamond Tennis Bracelet
Are you a hip-hop lover? or want to own a black diamond tennis bracelet in 14K gold then this one is the best for you. Feel luxurious, rich, and bold with this 10-carat black diamond tennis bracelet. Turn your head to the black diamond bracelet because its something that shines bright in your wrist.
The size of this black diamond tennis bracelet is 6 inch and it is spruced up with 37 black diamonds in a shared prong setting. Black diamonds are setting a new trend day by day and it's going even higher in modern-day jewelry. Generally, a tennis bracelet is found with white diamonds or sometimes with the combo of black and white too.
This tennis bracelet is more of black as it is rinsed in black rhodium which makes it look black and bold. Therefore if you really love black color and want your jewelry to be in black gold then this bracelet is definitely made for you. The history of tennis bracelets is still a question to many but the bracelet design is setting a great trend in the modern-day jewelry world.
People often get confused while shopping for jewelry made of black diamonds, as for some they are still a mystery. But we can't deny the fact that the majority of the people who own jewelry made with black diamonds don't step back from it. As the beauty of the black diamond is still unmatched. And moreover, black diamonds are hard to cut due to their hardness.
If you want to learn more about black diamonds then you can check with our blog in the link below.
Are Black Diamonds Real?
in this blog you will get detailed information about black diamonds and most of your doubts related to black diamonds will be clear once you finish reading it.
Reasons to buy a black diamond tennis bracelet?
A black diamond tennis bracelet is something you can afford easily without running out of style
This black diamond tennis bracelet is made with 18k gold in black rhodium
A tennis bracelet is a great sign of eternity and it is majorly used by both men and women
Black diamond is a trend and with black rhodium, this tennis bracelet is set to make a neverending trendy look.
One of the best gifts to your dear one that holds your word of forever.
The black diamond tennis bracelet is best to match with any jewelry you wear most probably on a black outfit.
A tennis bracelet with black diamonds is a unique choice you will ever make, with the best quality of AAA black diamonds in 18K gold.
Black diamond tennis bracelet in details
Black diamonds in this tennis bracelet shines brighter because of its jet black color and opaqueness. If you wonder how they can sparkle being opaque just know that its surface is shiner and the light reflects straight from it in the surrounding. Whether in natural light or bright light they always sparkle with its greatness.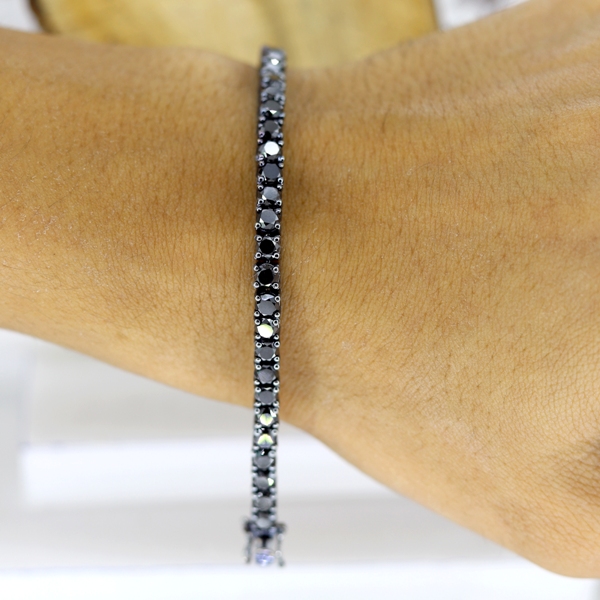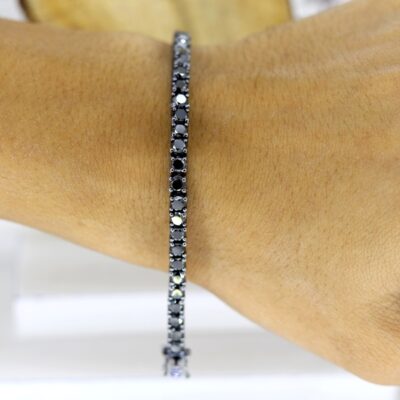 The bracelet size is 6 inches which are easy to fit on the wrist of women. The total width of the bracelet is around 4 mm in size approximately. Black diamonds in this bracelet are natural with AAA quality which is one of the greatest in black diamonds. People who look for black diamond tennis bracelet online tend to choose it made in 18K gold. Hence we made this black diamond tennis bracelet in 18K pure gold to match customers' requirements.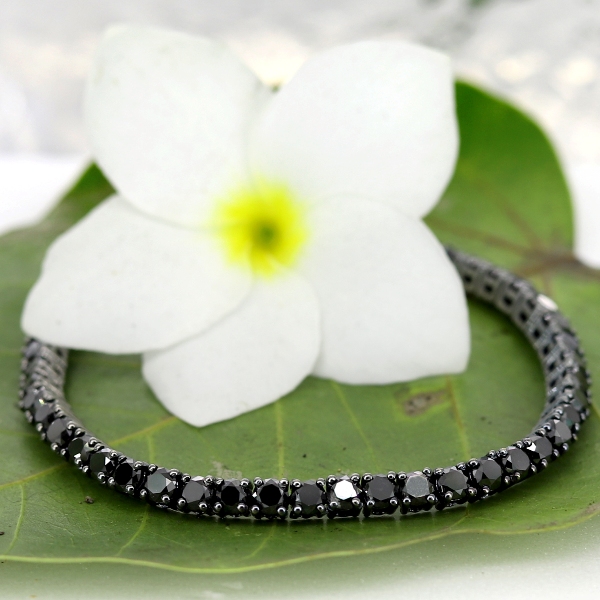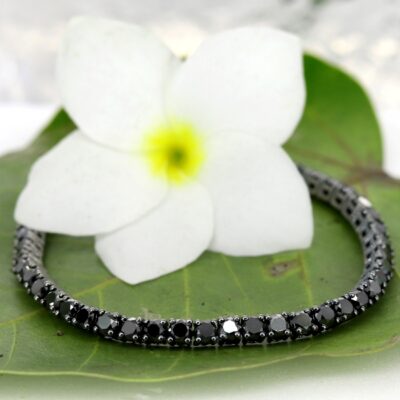 There are a total number of 37 black diamonds of 10 carats in weight which makes a width of 4 mm approx. It looks little yet sweet on the wrist of her. Share your love with this black diamond bracelet in black rhodium at best ever price from Jogi Gems.
Customization and Delivery
Jogi Gems understand the actual needs of our customer, so if you need a bracelet in different size with a different color of gold then you can ask us out with your requirement anytime. We have a team of skilled professionals who look after the customized requirements of our customers. Our jewelry artisan can make that magic for you in a short period of time. Also, we have our own source of gold and black diamonds so we can offer you customization in your set budget.
We use a safe payment gateway to ensure customers' safety first, and we ship worldwide using courier facilities like DHL and FedEx to ship quickly.
So you can gift this gorgeous black diamond bracelet and add bling to your beautiful life.