Black diamond cushion ring
A black diamond cushion ring is perfect when one wants to propose their girl with something unique and extra. The use of black diamonds in nontraditional jewelry is increasing nowadays and so is popularity. Get the vintage feeling with this black diamond cushion ring in 14K rose gold. The black diamond in rose cut with rose gold makes this ring look elegant and one of its kind. Cushion shape rose cut black diamond looks more like a round shape but in a squarish shape with roundish corners.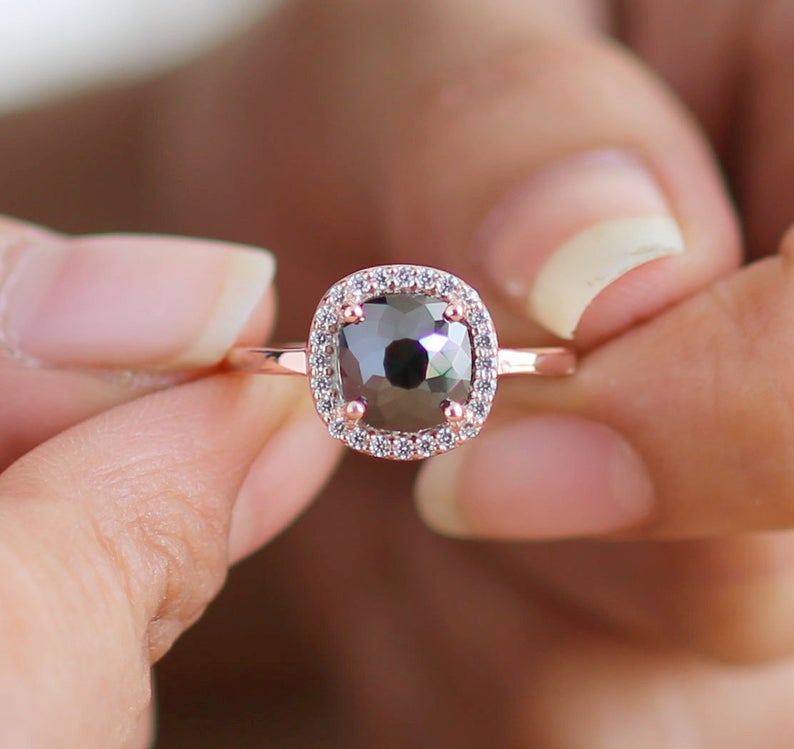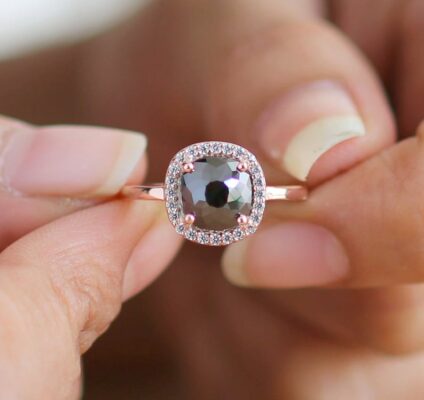 This rose cut black diamond is cut in a flower rose cut style which looks like a blooming black rose cut flower. Black Diamonds are one of the precious gems with the hardest ever material on the planet earth. If you are obsessed with black diamonds then you can definitely go with this black diamond cushion ring in 14K rose gold. One of the best reasons to buy this cushion-cut black diamond ring is that you can style this ring with any dress you want to wear. Rose gold is what most girls want because of its glossy color and shine, the fashion industry with a rose gold color is booming.
If you want to know more in detail about the growing trend of black diamonds with rose gold in jewelry then you may refer to the link below.
Medium button
Features of black diamond cushion ring
This black diamond ring got exciting stuff that makes it look gorgeous and the best to buy, check with the highlights of this black diamond cushion ring: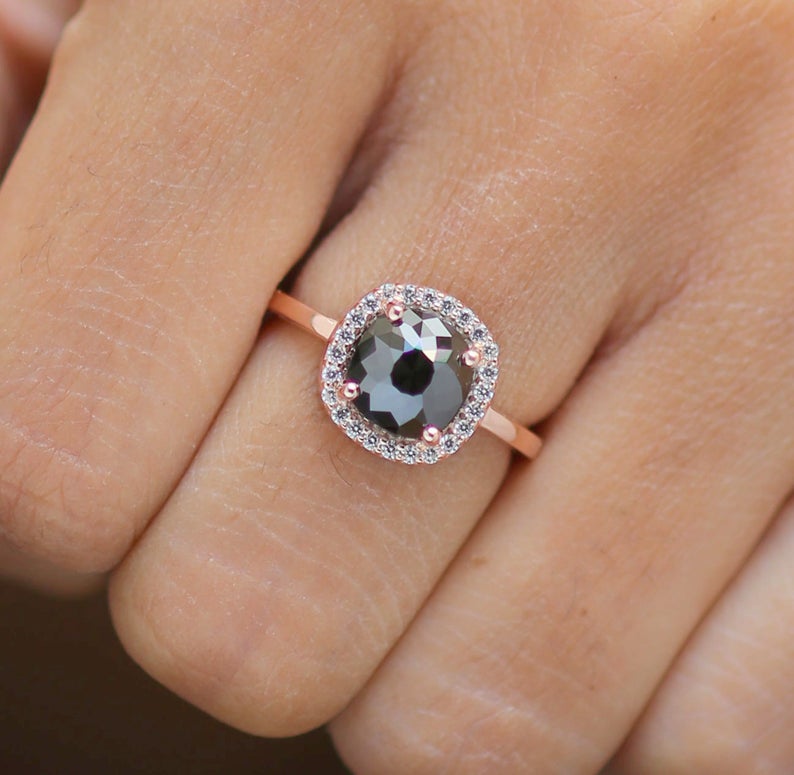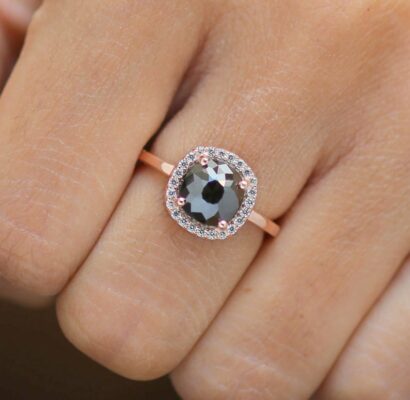 The Center stone of this black diamond ring is of rose cut in cushion shape.
It is surrounded by a halo of white diamonds which makes this ring appear big and shiny.
The whole ring is made in 14K rose gold which is one of the purest forms of gold and it is one of the peaking trends.
There is a total of  24 white diamonds in the halo which accounts for 0.24 carats in weight with GH color and SI Clarity.
The black diamond features AAA top quality with an opaque clarity and a jet black color and it weighs around 2 carats.
The center black diamond is set in 4 prong setting which ensures the full pledge safety of the huge black diamond in the center.
This design is suitable to wear with any matching dress and if you are a black or dark-themed vintage lover.
If your girl loves dark things or black with rose gold then you can definitely plan your proposal on Halloween night for sure.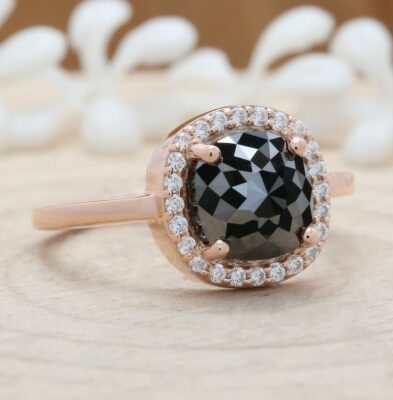 Custom-made black diamond engagement rings.
If you love the black diamond in the center but want a different design or you'd like a different shape of the black diamond in this ring design then you are free to talk with us over chat or email and ask us for a custom ring design. We are happy to make custom engagement rings order from you and can make the best of it as per your wish. Jogi Gems have the desired working designers who can design rings as you want, Also as we hold a huge stock of black diamonds we can fulfill you with the black diamonds in different shapes and sizes you want in AAA topmost quality.