Black diamond cluster ring
You may have gone through several black diamond rings over the web but this black diamond cluster ring in 14K rose gold is marvelous. Usually, people chase for shiny things and it's accepted because people remember "shine bright like a diamond" Well few diamonds aren't meant to sparkle but their authenticity makes them rare and one of a kind. Such is in the case of black diamonds. The color itself is a trend, People turning to black in fashion increases the demand for black diamonds in the jewelry industry now. I personally love to create rings with black diamonds knowing the unique features that make me stare at them all day and night long.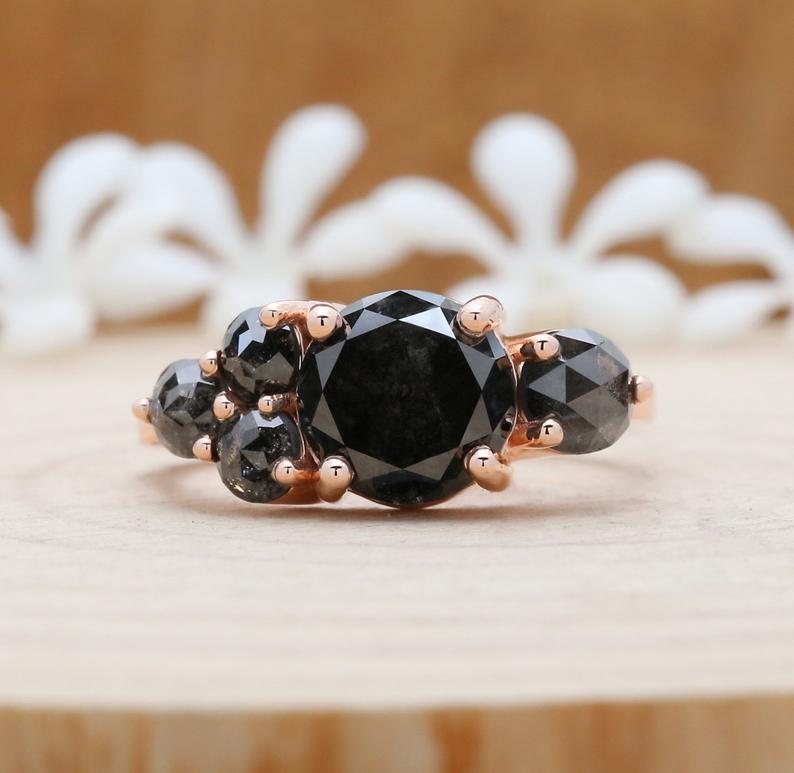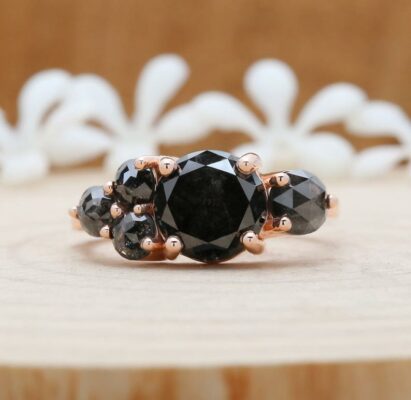 While creating this stunning ring I knew that it should be something different so I took a vintage design made in 14K rose gold with clusters of rose cut black diamonds besides a round brilliant cut black diamond. Black diamonds are often compared with power and strength. Wearing this black diamond ring will remind you that you are strong, So vibe with positivity after wearing this black diamond ring on your finger.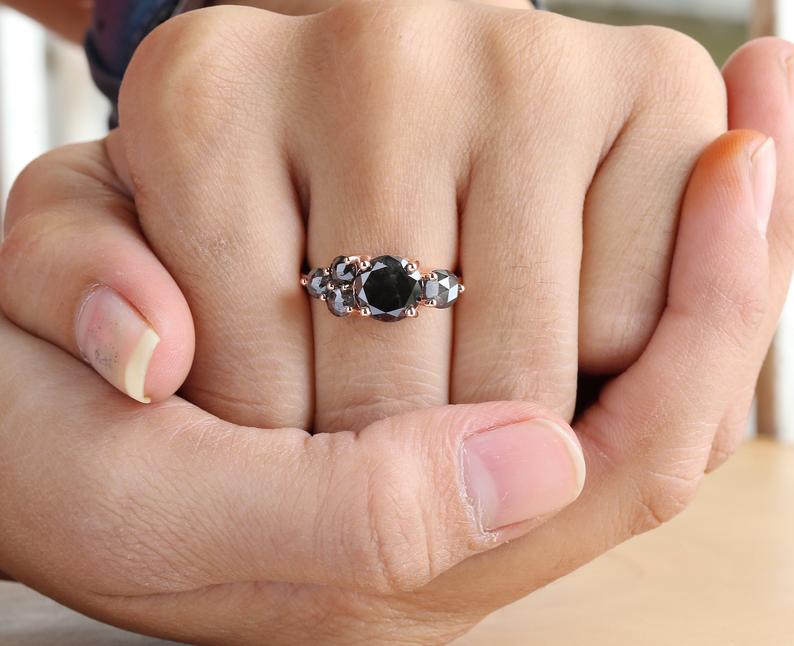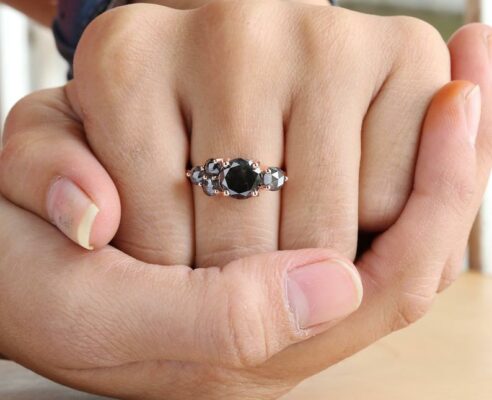 If you are planning to propose to your girl with something different and she loves to wear black then you can go with this black diamond cluster ring in 14K rose gold. But fewer people know about the powers of this gemstone, Let me crack some here, it is one of the hardest things on planet earth, it doesn't shine instead reflects light that falls into its surface.  If you want to learn more in detail about the magic of black diamonds then you can go through our blog link below.
Perks of choosing a right black diamond ring for you
Black Diamond Cluster Ring Contents
This black diamond cluster ring has so many reasons to buy let's learn how and what it is made of?
This gorgeous black diamond ring is set in 14K rose gold which is a superb trend.
It has rose cut black diamonds accent stone set in clusters to give it an extra look.
The center stone in this ring is of 2 carats and accent stones have 0.60 carats, 4 rose cut black diamonds.
These black diamonds are of AAA top quality with jet black color and opaque clarity which shines bright.
Center stone is set in a 4 prong setting and accent diamonds are set in a 3 prong which ensures safety.
You can propose with this ring if you know your girl loves black or she is hinting at you with the black diamond ring on social media.
Custom Black Diamond Rings
If you want to go with a different design with black diamond in rose gold, white gold, or yellow gold then you can talk to us by dropping a mail or on chat. Our customer representative will take note of this and get back to you with the cost and details. We can do this just because we have the expertise to build the ring of your dream. You can also help with the links or pictures of the ring you want us to create for you. Jogi Gems also have a huge collection of black diamonds in different shapes and sizes you want so you can be open to us with the diamond selection and we will make it happen for you. A smile on your face full of happiness forever is what we aim to.
But if you like this ring then you can go with this now and within few days you will receive it, please tell us if you have any deadline so we can ramp up the work accordingly.