Three-stone black diamond ring
Absolutely stunning and mind-blowing this three-stone black diamond ring is breathtaking. Especially when you are searching for a 3-stone ring with a black diamond in the center. That too when an emerald shape black diamond is in the center with two triangles cut diamonds on both sides. Gives geometric chills, with a rectangle diamond paired with triangle diamonds on the sides.
This design is not common, it is something unusual, whenever a black diamond is found in the ring it is considered unique. Of course, black diamonds are unique and people love to choose them because of their extraordinary quality, Side stones in this ring that features triangles look elegant.  All the above, The black diamond in yellow gold always looks gorgeous.
You must have known the Emerald shape in regular diamonds but it is quite different in black diamonds. If you want to learn more in detail about the different shapes of black diamonds then you may refer to the blog link below.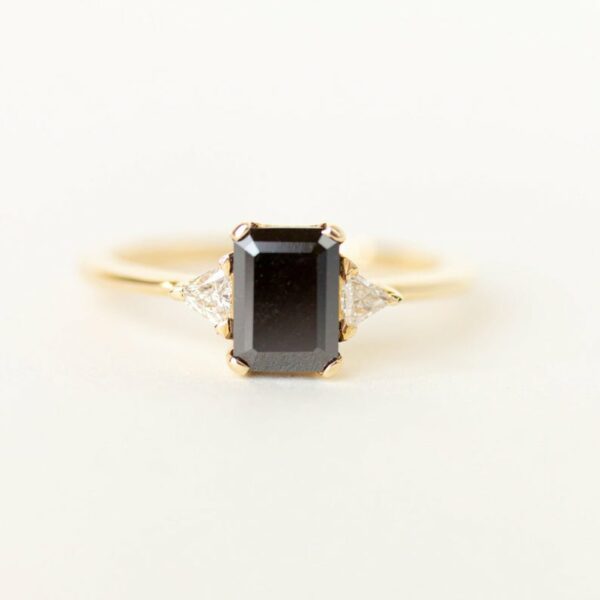 Different Shape of Black Diamonds.
three-stone black diamond ring Emerald Shape
You might have seen many three-stone rings but this one is something different. Due to the presence of emerald cut black diamond with two triangle diamonds on the sides, the whole ring looks Amazing. This ring consists of a natural black diamond in an emerald shape. The total weight of the black diamond is around 0.75 carats in shape.
This emerald cut black diamond features a superb AAA quality which is the supreme in black diamonds. Also, the pair of two side stones in triangle shapes are 0.20 carats in total weight. Hence you can buy this ring and style yourself to gain a luxurious look.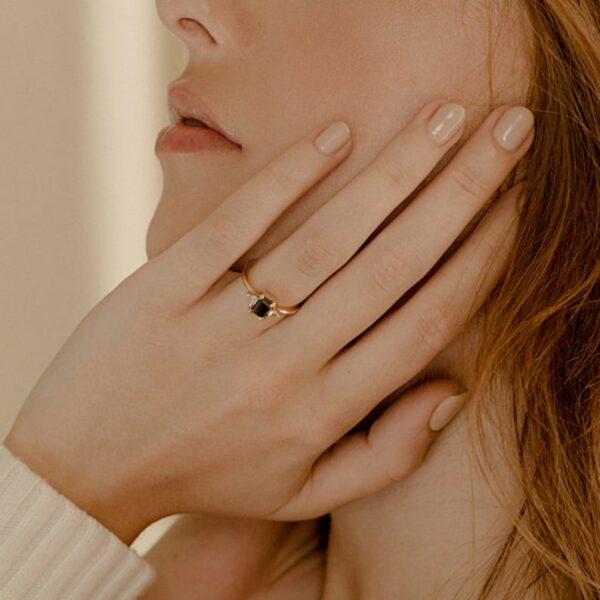 Are you wishing to change the side stones or do you want to replace the center stone with different shapes? Then you are free to ask us over the mail. Jogi Gems is a leading name in the matter of black diamonds and the manufacturing of black diamond jewelry.
Therefore if you have any custom plans to design a ring of your own choice then feel free to ask us. We are capable to fulfill your wish according to your choice in the meantime.