Black Diamond Bezel Ring
An alluring black diamond bezel ring with a 0.50-carat natural black diamond ring in the center is something that you wish to wear once in a lifetime.
This black diamond ring consists of superb quality black diamonds embellished in the center and accent stone. Above all, you will get a matching band with black diamonds too in Rose Gold. The word natural is rare and what we serve is genuine as we manufacture our black diamonds on our own.
Therefore if you want to buy a black diamond bezel ring at a low price, then you can get it at Jogi Gems. There many things about black diamonds that you will fall for.
1st – It gives you a bold statement
2nd- It matches with any dress or fashion you try for.
3rd- black diamonds are unique and you can show off a ring with a set of unique jewelry.
If you want detailed information about black diamonds then you are free to check with our blog in the link below.
What Are Black Diamonds?
Features of Black Diamond Bezel Ring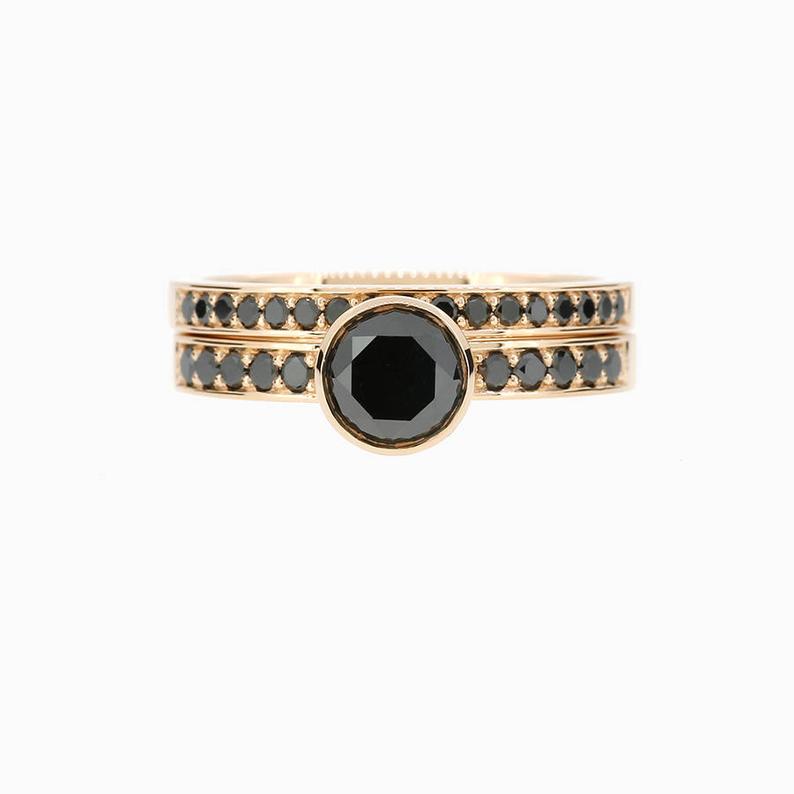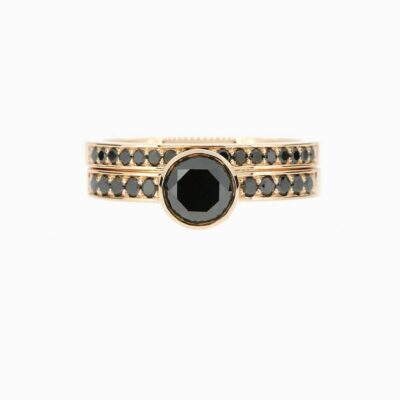 A superb round brilliant cut black diamond in a bezel setting is accented with tiny black diamonds in the surrounding. The center stone which is a black diamond is of 0.50 carats in weight, Approx 5 mm in size. It features topmost AAA quality that consists of no pots and cracks visible on the black diamond surface. The black diamonds in accent are of around 0.01 cents in weight, a total of 10 black diamonds one can see on the band of the ring.
Superb black diamond band to match the ring.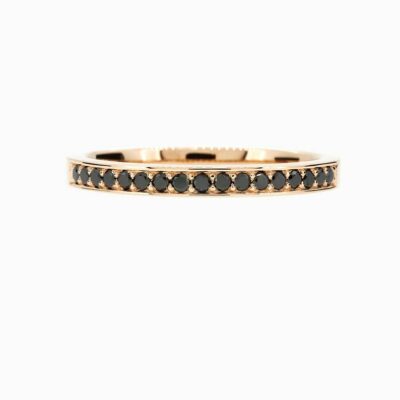 To add a cherry to the cake, this ring features a superb band with petite black diamonds of 0.16 carats in weight all in AAA quality. The double dose of black diamonds upgrades the look of this ring. Feel rich amazing and fabulous with this ring in rose gold.
Rose gold and black diamonds
Rose gold is always the best choice that matches the color black. In fact, both are in a great trend. The band as well as the ring are beautifully carved in 14K Rose gold. The color black is already trendy in the jewelry and fashion world, We all know about rose gold color too.
That's why Jogi Gems presents you with this gorgeous black diamond bezel ring in rose gold that gets you a trendy style. Why go formal when you can always walk with a trend or set your own trend with this diamond ring.
Why buy from Jogi Gems?
Jogi Gems is a leading manufacturer of black diamonds, and when you can get black diamonds at wholesale prices the cost of the ring dips down. We have our own jewelry manufacturing unit with a pool of talented artisans who can design any piece of jewelry. We ensure to offer quality to our customers at the price they can afford so that their dream to own a diamond ring will come true soon. Therefore if you buy from Jogi Gems once, you will continue to shop from our store soon.
Customization Services
Here is great news for you, if you want us to make changes in this black diamond bezel ring then you can ask us. We can make a custom diamond ring of your choice, feel free to drop a mail with your design and we will create the same for you.
As a leading black diamond manufacturer, we adhere to what our customer needs. We make sure that what we offer to you should put a smile on your face and a positive remark on us. So buy this black diamond ring and gift to your lady love or someone special, it will definitely make their day, and you will probably hear a "YES."