Gorgeous Natural Black Diamonds For Sale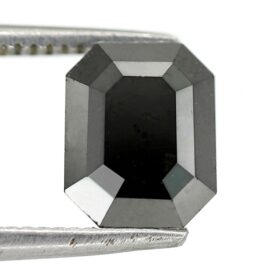 Jogi Gems is here with marvelous black diamonds for sale. This amazing black diamond is of 2 carats of fancy glaring heated black emerald shape fully polished natural loose diamond. It is the ideal stone for making a promise ring for your dearest. It is a 100% ethical source and with a conflict-free natural black diamond. This natural black diamond has a measurement of 7.5 mm X 5.5 mm. Its shape is emerald cut with an excellent cut and opaque in clarity.
We are Selling Natural diamonds, Raw Diamonds, Uncut Diamonds, rough diamonds, and Natural uncut rough diamonds, which can be used for making diamond necklaces, bracelets, earrings, and customized jewelry. This diamond originates from Africa and is conflict-free.
                                                                    Emerald Cut Black Diamonds For Sale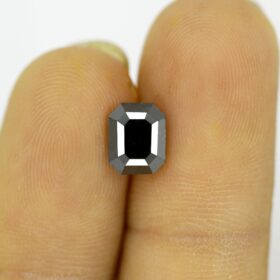 Let us learn what black diamonds for sale in an Emerald cut shape means. So here I will let you understand what emerald cut is and why it's named emerald shaped. A gem that has a cut in a square shape with stepped facets is named the emerald cut. An emerald cut refers to a step, rectangular cut at cropped corners. The open style of this cut symbolizes an open heart and individual clarity. The emerald-owned wearers have a strong sense of style that matches their solid self-worth and assurance.
You also can learn more about the different shapes of a diamond at the given below link
What are the different types of diamond shapes?
Personalization and Delivery
Jogi Gems is a leading manufacturer of black diamonds and has a pool of talented artisans who carve stunning jewelry pieces with them. If you want to make changes to this black diamond then you are free to ask us anytime. Jogi Gems accepts personalized requests related to black diamonds and aims to serve professionally. So buy this emerald cut black diamond and make your jewelry pieces look unique and elegant.
We accept the customization request of the shapes, sizes, carat weight, and cut for the black diamonds. If you have any modifications related to black diamonds, feel free to contact us at any time. We also offer fast delivery services. We can make jewelry within 10 working days to any corner of the world within 8 to 9 business days. So with customization and delivery, you can set your all trust in Jogi Gems anytime.
Our mission is to supply an authentic and wide range of high-quality Natural diamonds at unmatched prices. We also offer Wholesale Terms for all my products. Please send us a Conversation with your requirements.