Cushion Cut Black Diamond Ring
Fall in love with this Cushion Cut Black Diamond Ring in 14K yellow gold. This ring has magnificent details, like a solitaire shape, black accent stones, and yellow gold texture.
If you like square shape diamond more than round or both then cushion cut is a great combination of both. In black diamond, it looks superb due to the jet black color the upper surface shines bright. This cushion cut is of 0.60 carat in shape which makes it fit in a solitaire ring.
The embellishments of tiny black diamonds over a ring make it look admirable. If you are a black lover then you will definitely fall in love with cushion cut black diamond ring once you wear it in your finger.
In yellow gold black diamonds look gorgeous, Yellow gold rings are most sold worldwide as it defines gold. We made cushion cut black diamond ring in a 14K gold which is a pure form of gold and most people seek the same.
You can wear it and upgrade your style with a class after all wearing a black diamond is a unique choice you will ever make.
This ring is one of its own kind.
It has a gothic yet modern appeal that grabs attention.
You can style it with any jewelry piece or dress.
Overall you can shine bright with this black diamond ring.
Black diamonds are unique and each shape describes an interesting story, it has its own dignity. The cushion cut is a duo of princess cut and round brilliant cut. It is known as a cushion as it has curvy edges even though it is square. The facets on its table look elegant and help to reflect the light that hits its surface.
So if you want to learn more detail about the black diamond shapes then you can refer to the blog link below.
Black Diamond Shapes
Features of Cushion Cut Black Diamond Ring 
Cushion cut black diamond ring features one of the best 0.60 carats black diamond in cushion shape.
The accent stones in black diamonds are of 0.22 carats with a total number of 22 tiny round brilliant cut shapes in it.
It is made with pure 14K yellow gold which creates a lovely combination of black and yellow.
The cushion shape black diamond in this ring is set in a lovely 4 prong setting which ensures its safety.
Accent stones on the band are set in a shared prong setting which polishes the look as a Black Diamond Ring.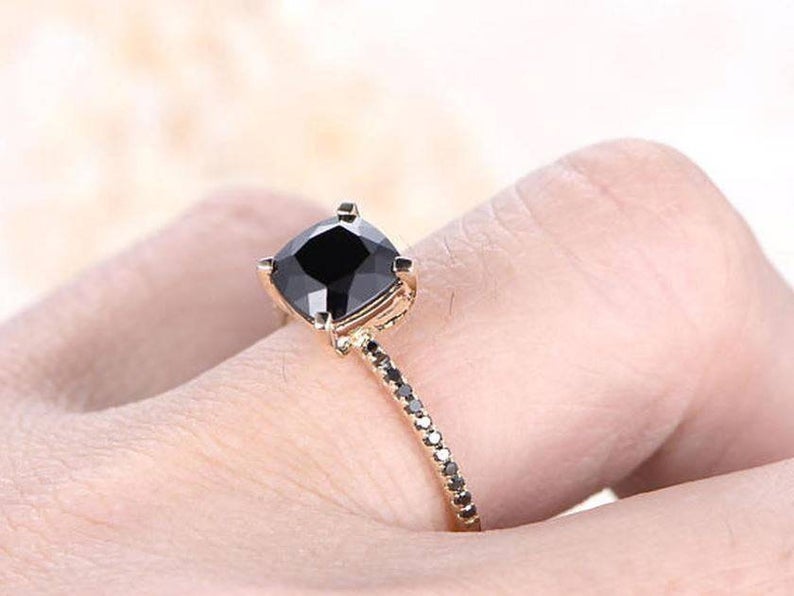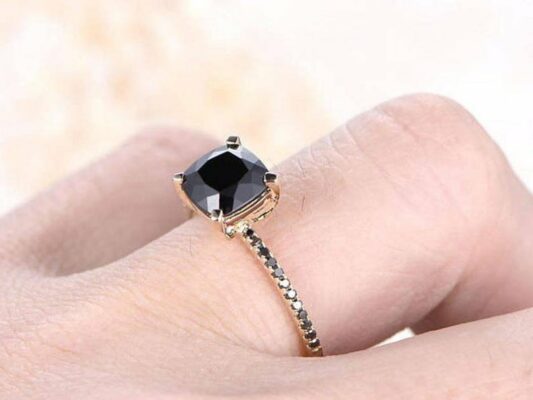 On the finger, it looks amazing, something from which you can't take your eyes off.  Admire this ring for a long time and see how beautiful black diamonds look all the time.
So if you love someone with all your heart and if she loves to style herself in black color mostly then you can definitely surprise her with this cushion cut black diamond ring.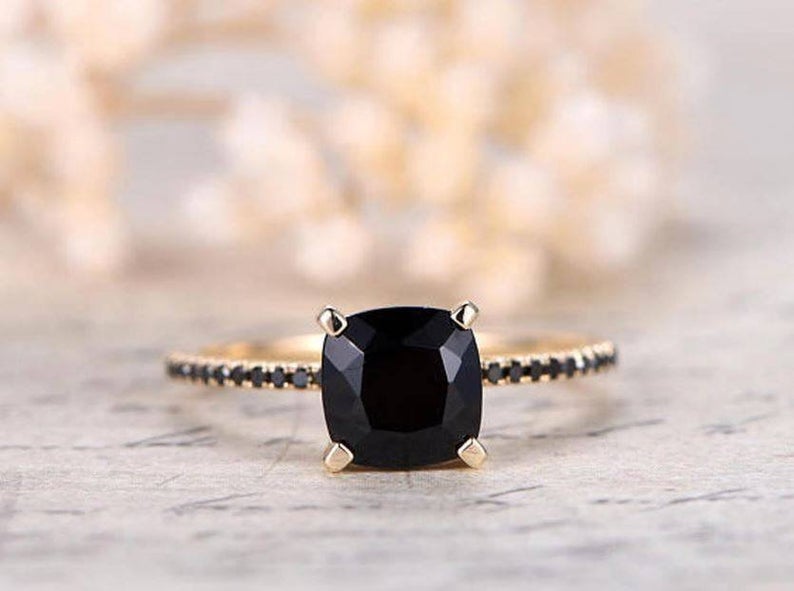 Whom To Gift this Cushion Cut Black Diamond Ring?
You can plan a surprise and share your true feeling with this ring, and explain that your love is as hard as this black diamond. A black diamond is one of the toughest materials in the world. And like diamonds are made forever your love is going to stay the same too. You can explain how deep your love is just like this jet black color of the diamond. And like black and yellow you both can always be the best match to win the game of life together.
Customization and Delivery 
Jogi Gems is a leading manufacturer of black diamonds and has trained artisans who can design jewelry of any type. Therefore if you want us to make black diamond jewelry or ring of your choice then you can ask us without hesitation. Drop us a mail with your customized request and we are ready to fulfill it with our whole heart in the meantime.
We understand the values and emotions of our customers hence we focus more on how to satisfy them leaving a smile on your face.
Jogi Gems offers a fast doorstep delivery system where we usually ship our products within the span of 7 to 8 working days. We use DHL, Fed Ex, and American Express to deliver our diamond jewelry which guarantees the safety of it.