Petite Black Diamond Ring
If you love to wear tiny jewelry then this petite black diamond ring is accurate for you. Crafted beautifully in 14K rose gold the petite black diamond ring is just mind-blowing. The name Itself suggests that this ring is made of petite black diamonds.
This black diamond ring comes with a bonnie black diamond band which consists of a beautiful array of minute black diamonds. Hence petite black diamond ring looks charismatic with a combination of black on black in 14K rose gold. A perfect bridal set that fits your finger and your budget too as black diamonds are affordable.
The round brilliant cut is one of the most common shapes in diamonds, and in black diamonds, this shape looks absolutely stunning. The tiny band fenced over the top looks like a crown to the black diamond in round shape.
What makes a petite black diamond ring looks perfect? 
Tiny black diamonds – black diamonds are unique and the trend for them is growing day by day.
Rose gold – Rose gold is the most favored color when it comes to fashion or modern jewelry.
Design – Unique design of this ring gives it a vintage look due to rose gold and black diamonds in it.
Price – If you are looking for a diamond ring at an affordable cost then this black diamond ring is perfect for you.
Above everything, the main thing is the black diamond in this ring that beautifies it. The shine of natural black diamond is real and it is authentic to own a diamond ring featuring it. Black diamonds have their own importance and its history dated years back. They come in various shapes, sizes, and topmost in quality. If you want to learn more in detail about black diamonds then you can click on the blog link below.
What Are Black Diamonds? Are They Real?
Features of Petite Black Diamond Ring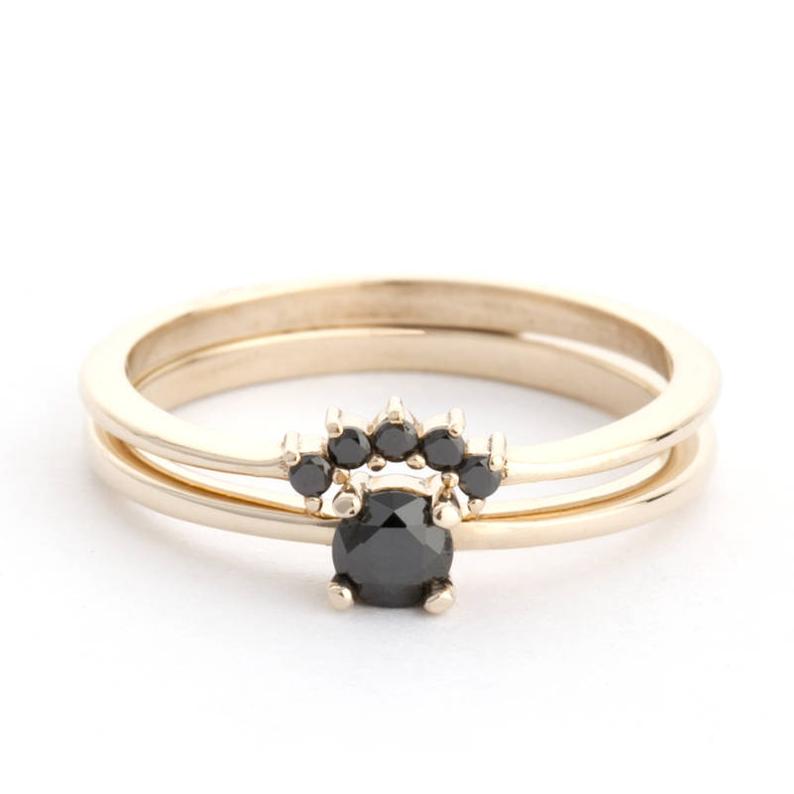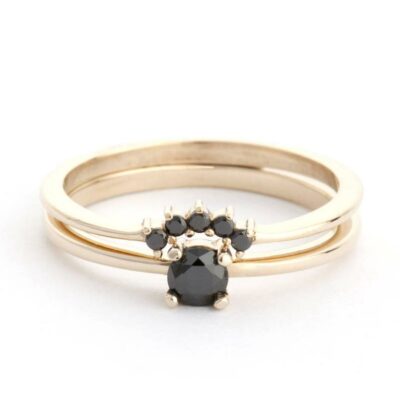 This wedding ring set consists of a black diamond with a 0.30 carat black diamond in round brilliant cut shape. To enhance its beauty it comes with a band that consists of 0.05 carat of tiny black diamonds that are set in the shape of a crescent moon on the top.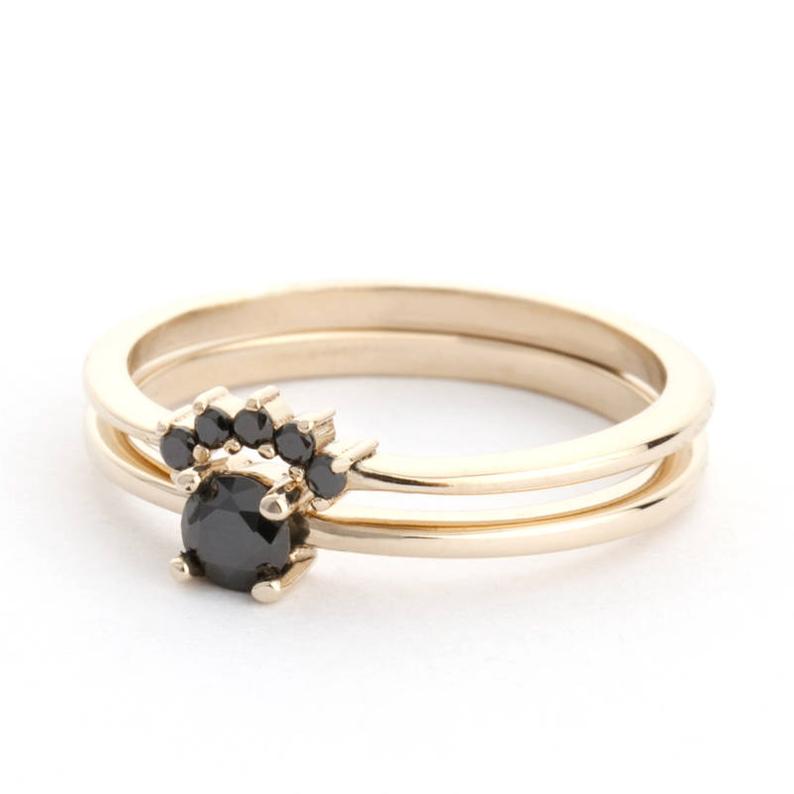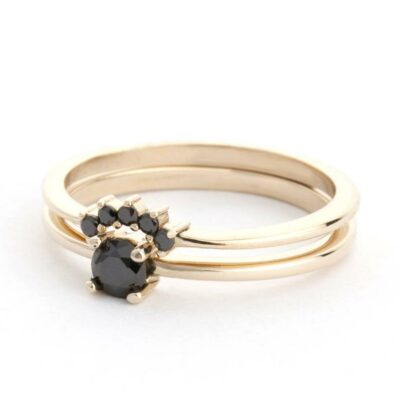 The black diamond is safe in 4 prong settings and on the band the tiny black diamonds are set in a shared prong setting. All of these black diamonds feature superb AAA quality which is the supreme most in black diamonds. They are natural and are also trending in the diamond jewelry world.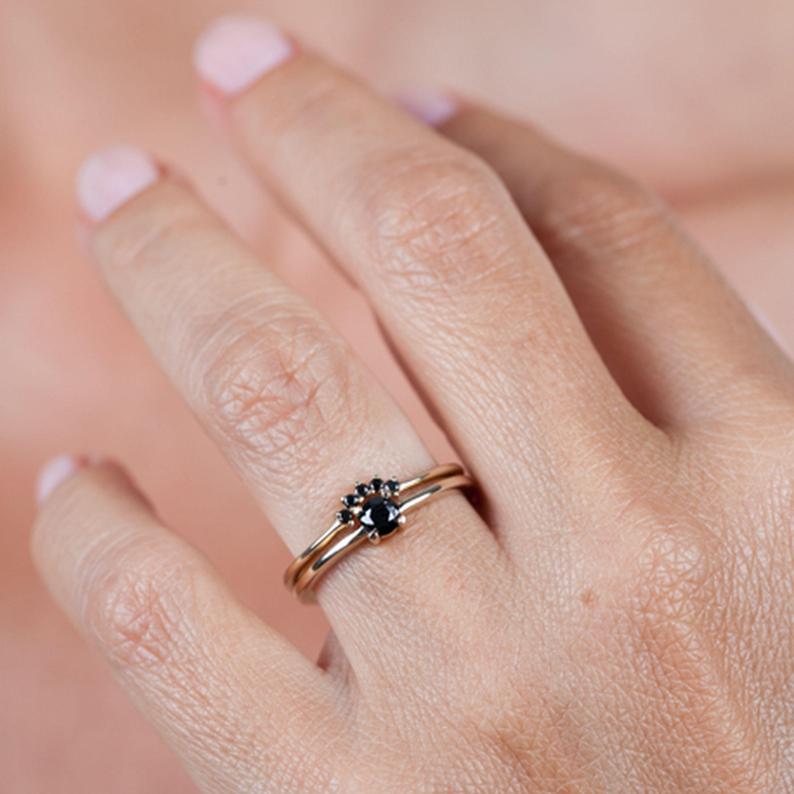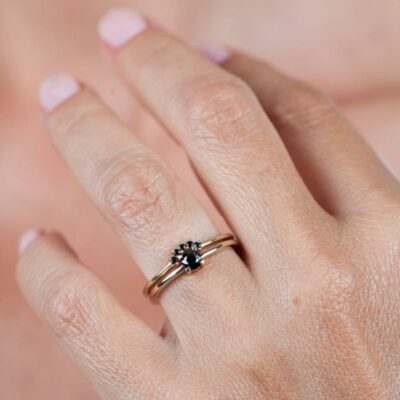 The petite black diamond ring is made beautifully with love and care in 14K rose gold. Women love rose gold the most and when it is combined with black diamonds then it creates a beautiful statement to own it.
Who to Gift petite black diamond ring?
A person who sees beauty in tiny things, this black diamond ring is for someone who likes to wear small diamond jewelry. This black diamond ring may seem tiny but holds strong emotions, Emotions of love, and how beautiful a diamond ring can stay forever in your life. Therefore if you love someone and both of them love black color and want to hold your bond stronger then this ring is a perfect one for you.
You can gift this ring on her birthday, anniversary, for a wedding, or on Valentine's day.
The love of your life won't deny after watching this dreamy black diamond beauty.
Customization and Delivery.
Jogi Gems is a leading manufacturer of black diamonds and has a pool of talented artisans who carve stunning jewelry pieces with it. So if you have any design in your mind and want us to make a diamond ring with it then you are free to ask us over email. We will make it for you at the best cost and just like the engagement ring of your dream.
We offer and choose speedy delivery so that our customers won't face any delay as we understand the value of time and moment.
Hence buy this ring from us and get it to your doorstep before the time. If you want us to engrave a special message on the ring then we can do that for you too. As we have expertise in manufacturing diamond and jewelry both.