Kite black diamond
If you are into designing gothic engagement rings with diamonds then this kite black diamond of 2.02 carat is the accurate choice for you. You can black diamonds in various shapes and sizes but a kite shape black diamond is preferably used in geometric designs or gothic designs due to its elegant shape. Kite shape diamond rings are in full trend, so if you want to design an offbeat engagement ring you can go with this kite shape black diamond which features AAA quality and is quite bigger in size.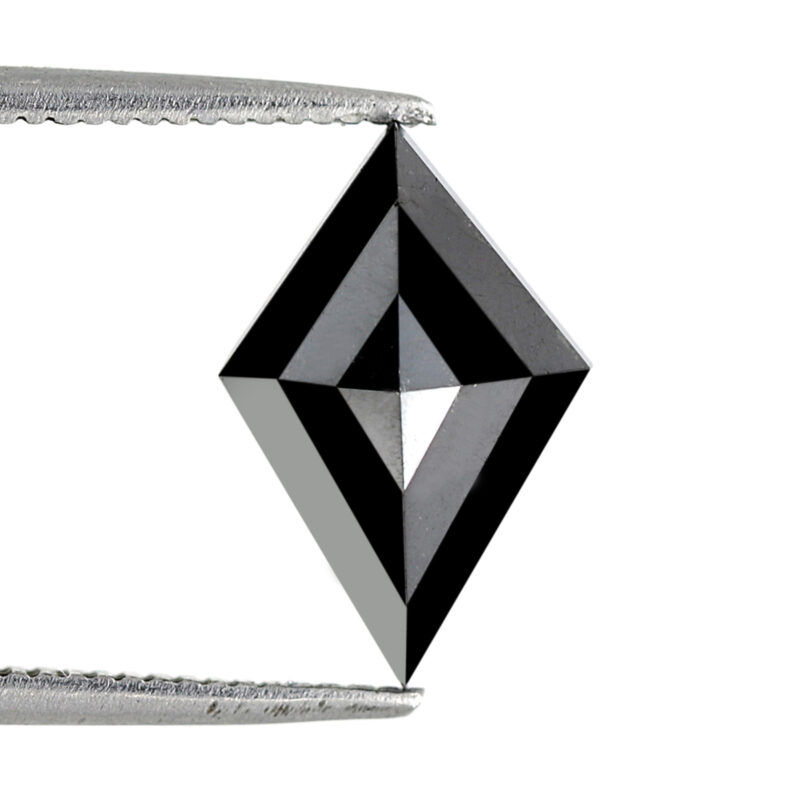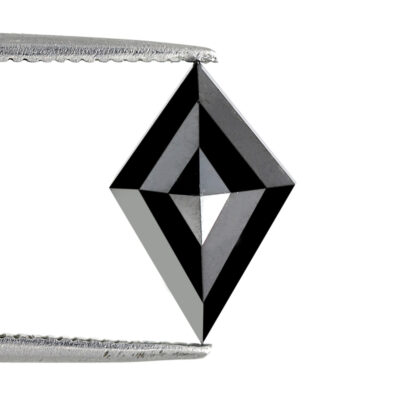 The kite shape diamond is known as a rising star, it is also known as lozenge cut in white diamonds but people are choosing it in black diamonds or salt and pepper diamonds mostly. It has opaque features which means it shines bright when the sunlight hits its surface. Long, elegant and unique that's how you can describe this kite black diamond as. This black diamond is natural but it is treated to get the jet black color. Black diamonds generally come with the darkest inclusions which make it look dispersed, but with the natural heat treatment, it is turned into a jet black color which is most preferred by jewelers across the world.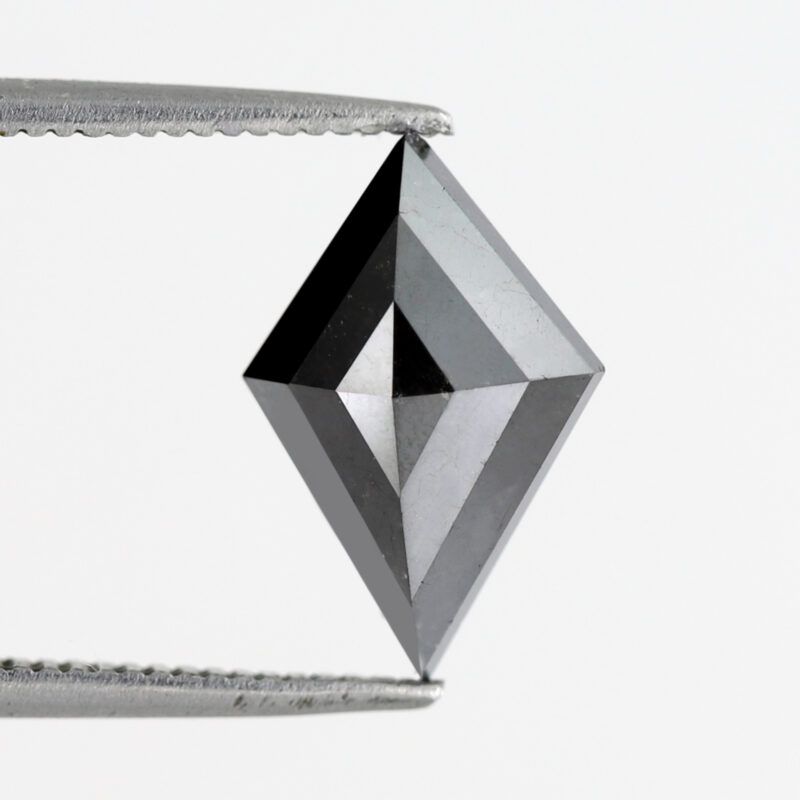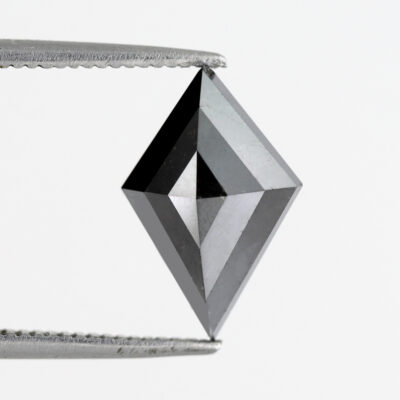 If you want to know more in detail about kite shapes in diamonds then you may refer to our blog link below.
Kite shape diamond a rising star
Kite black diamond in details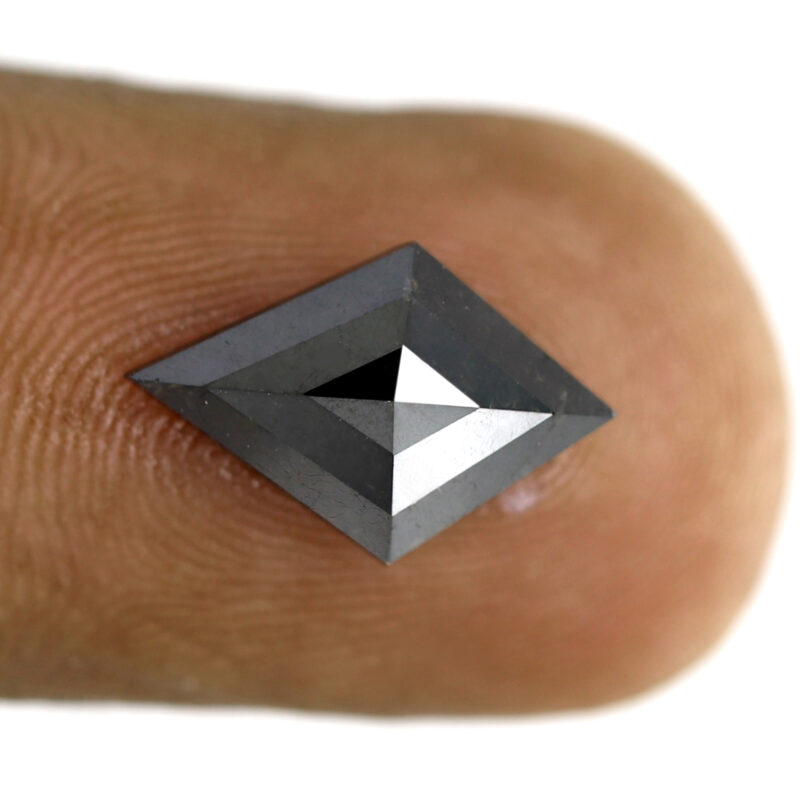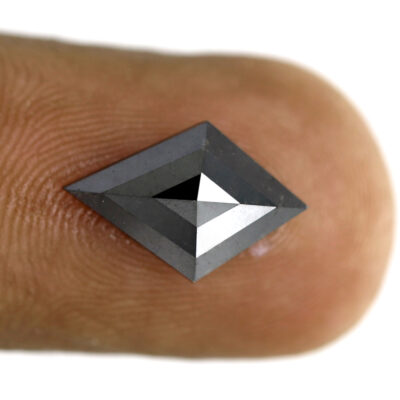 Are you excited to get this kite black diamond and create elegant jewelry designs with it? Then before purchasing it know its best features listed below.
The total weight of this kite shape black diamond is 2.02 Carats which falls in solitaire shape.
With the measurement of 12.7 mm X 8.3 mm X 3.3 mm, it sums up as an elongated kite that can cover your finger and looks bigger in the size.
It has one of the supreme quality which is called AAA quality in the black diamond without any surface inclusions visible to the naked eye.
The color of this black diamond is jet black with opaque quality which offers a permanent shine on the diamond.
It is absolutely natural black diamond but heat-treated to get a shiny jet black color.
You design various types of vintage designs and gothic designs with this kite cut black diamond.
Custom shape black diamonds
Are you looking for some antique shapes in black diamonds just like this kite which you couldn't find usually? Then you can ask us over here for sure, As a leading black diamond wholesaler, we are always ready to cut black diamonds as per your wish. So if you have any such requirements then we are just a click away, Reach us via email or chat and we will take your request into consideration and work on it. We are here to serve our customers with free customization service as we understand their unique and urgent needs and we don't want our customers to stop from making unique pieces that they prefer to do.
But if you want to go with this kite black diamond then you can opt for it now and make it your own if you have some unique design in your mind with this kite shape black diamond.