Kite Shape Diamond, Ever came across a word like this? Sounds interesting but rare to find because not every diamond cutter can make it nor common jewelers can fit it into their design.
Let's know some interesting facts about this unique cut in diamonds. Kite shape also is known as diamond cut because of its shape. That's how small children figure out in their mind when they imagine about diamonds.
Kite shape is a famous geometric shape which is quadrilateral in shape. Cut of a diamond is similar but facets are similar to emerald and princess shape. It is easy to figure out the step cuts which make it a perfect geometric cut diamond shape.
Kite Shape An Emerging Trend
In an engagement ring, the use of a kite shape diamond is for side stones of an engagement ring. But nowadays it has put fire to the rain in the diamond jewelry world.
In states and western world a kite shape diamond ring is winning hearts. Not regular in shapes, nor a heart cut but this one is fitting in minds of people. Just because of its appealing beauty while setting in an engagement ring.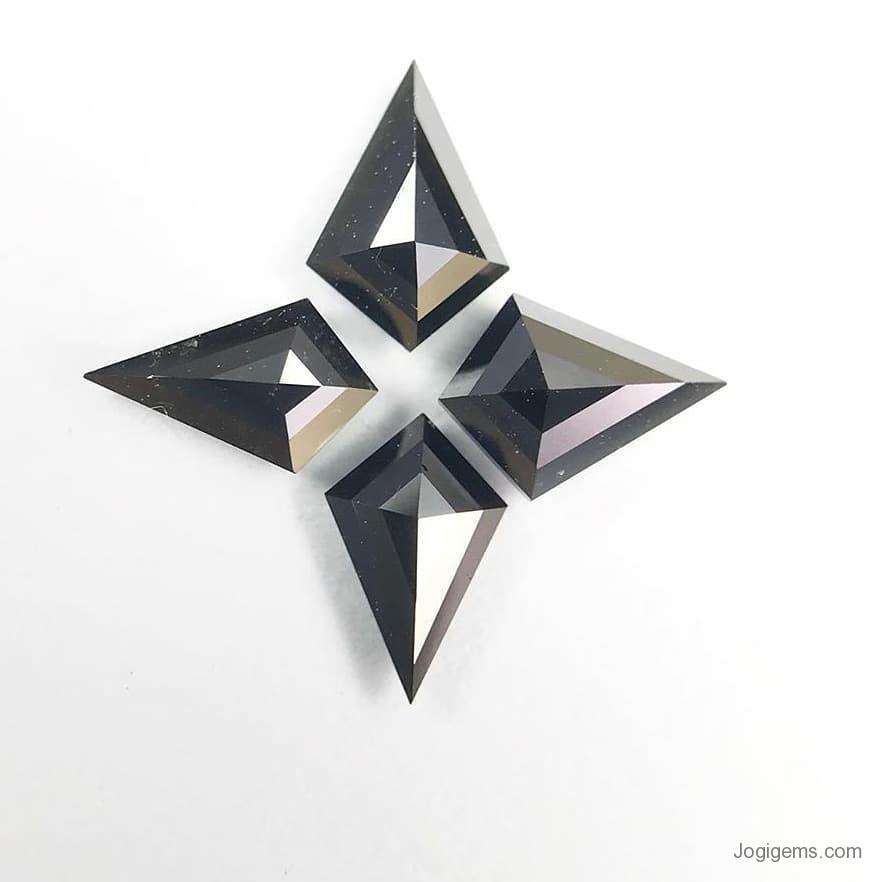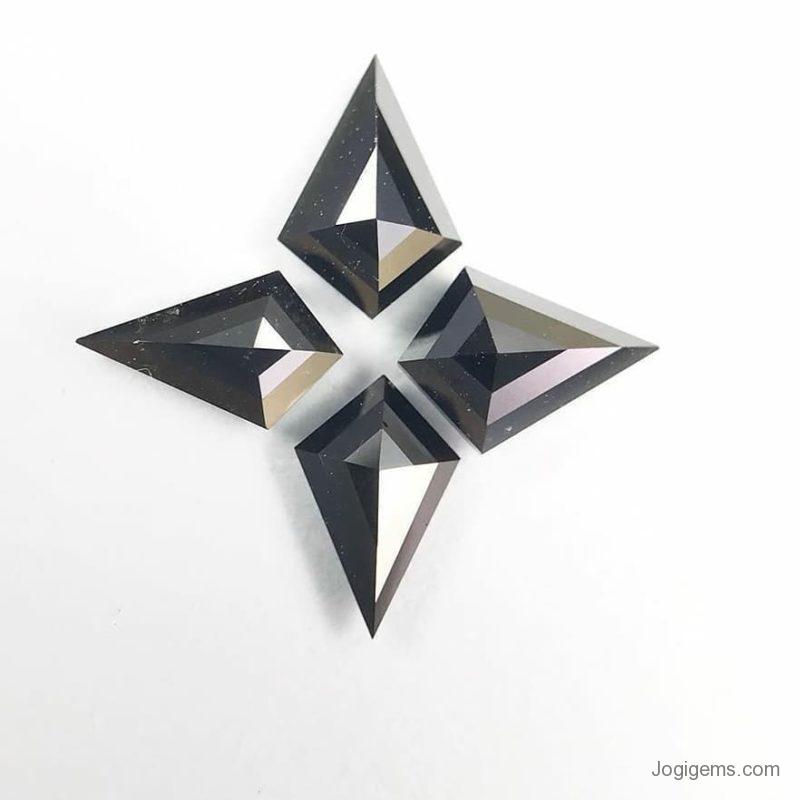 Gray or black diamond kite shapes are most commonly spotted in engagement rings. Elongated shape, pointed corners, and dazzling facets with black or gray color, holds an alluring look to the engagement ring.
Most of the kite shape diamond rings are popular due to their unique color. Of which the most common are black or gray. Kite shapes are familiar in salt and pepper diamonds or black diamonds.
Such a combination of black, grey color and unique shape puts kite shape diamond in the front as compared to other trendy diamond cuts.
Gray Diamond Ring
The gray color is most common in kite shapes, a diamond ring in rose gold makes a perfect duo. The ordinary normal diamond ring won't make such an admirable impact.
Look at the engagement ring below. You will get an idea about it.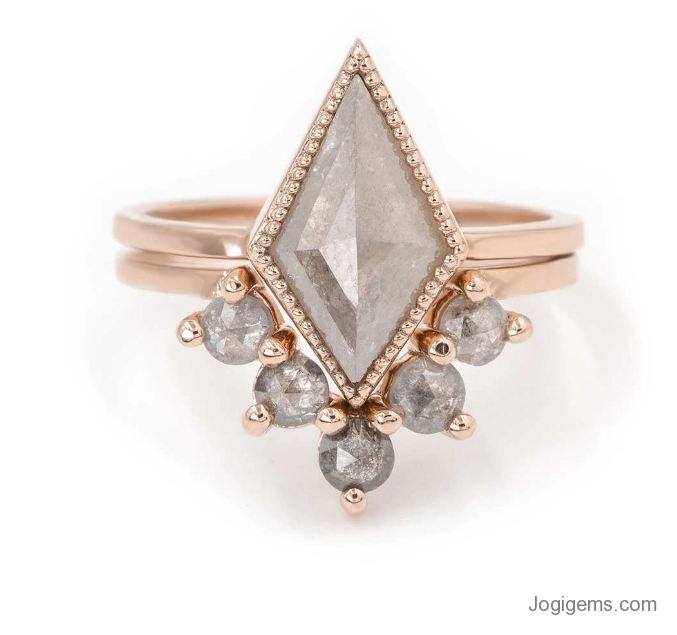 Like a shining star with a cluster of moons encircling in a chevron setting in rose gold. This ring defines purity and a strong bond between stars with the moon. If you admire the moon and stars and if rose gold is your first choice then this ring is PERFECT for you.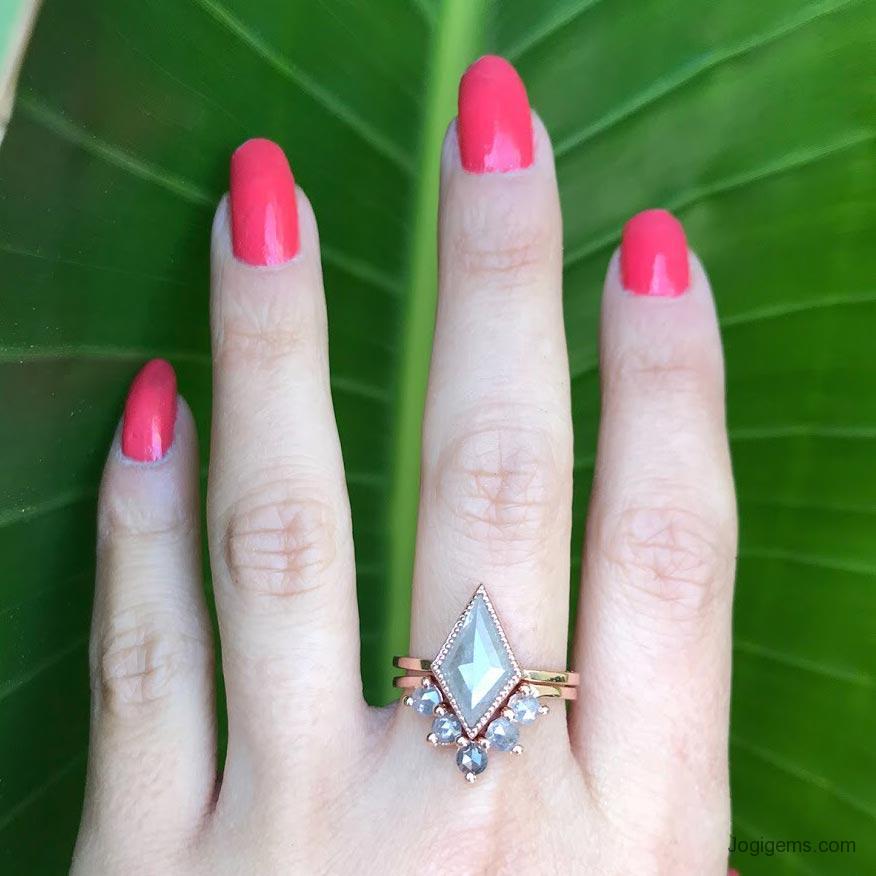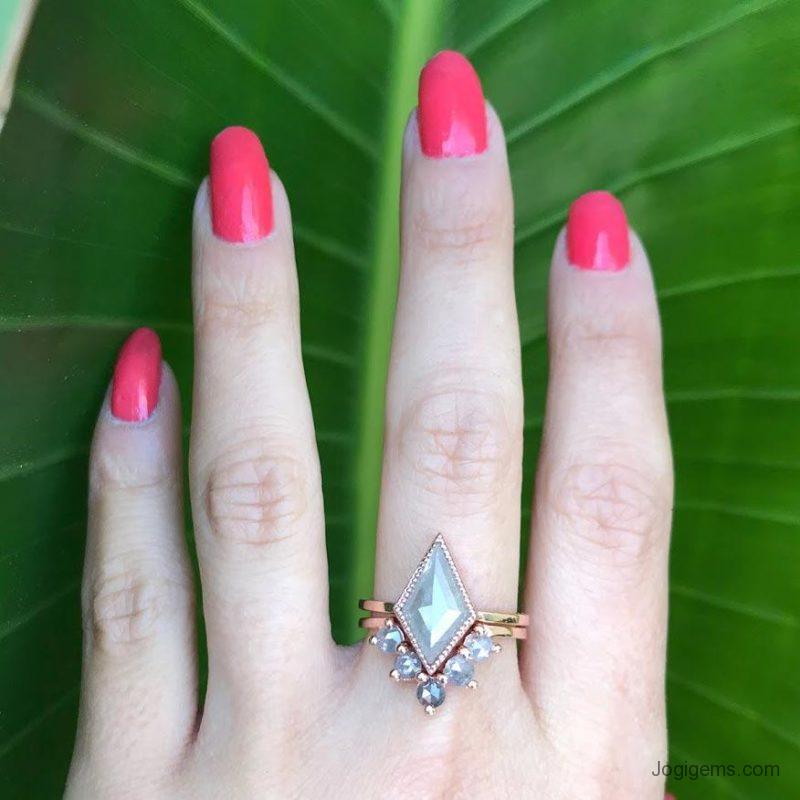 Gray color in this diamond resembles a galaxy of deep thoughts caught up in a diamond. Which is why the demand for gray diamond ring gets higher in the market.
Black Diamond Kite Shape Ring
Black Diamond is always the first choice for the antique diamond ring lovers. Before anything else lets talk about how famous is black diamonds since the last few years. The popularity of black diamonds has caught so much attention amongst well-known jewelry designers across the globe.
Kite Cut in Black Diamond looks elegant with its visible step-cut facets. And when it's set in an engagement ring in rose gold or yellow gold it creates a bold look which is often desired by people who love the color black.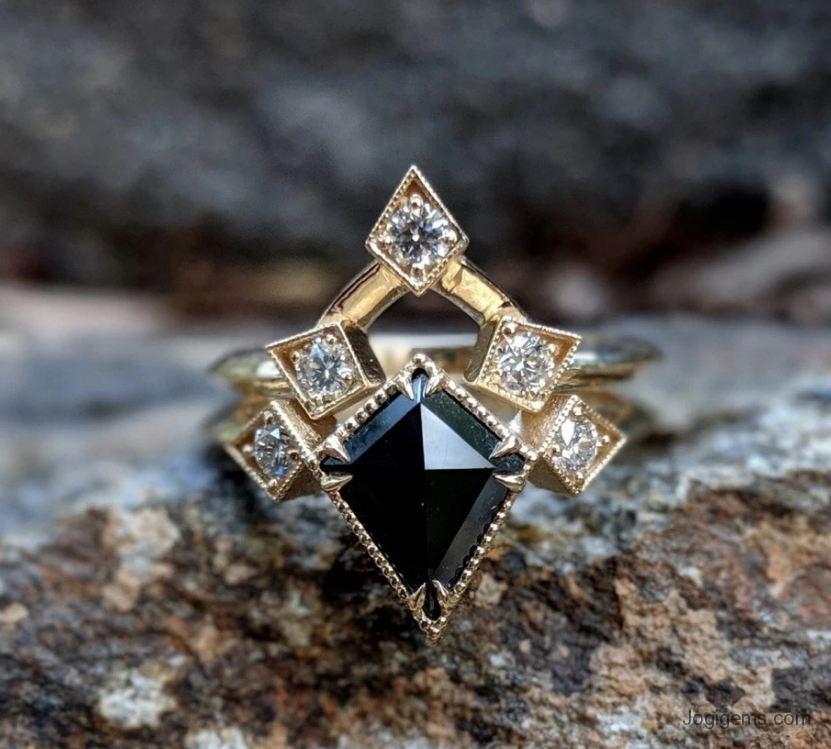 Black Diamond Kite Ring in Yellow Gold looks mystic and captivating. Eagle catch prong holds the black diamond safely. This ring has small diamonds in white which resembles a great combination of black and white together in a ring. This ring symbolizes the power of the black diamond in the geometric design.
Yellow gold with black diamond reminds us of the perfect duo "black and yellow" and that's how it goes all the way around. Black diamonds can match any outfit and is adaptive to any occasion. If you are a black lover and want a black diamond ring then choosing a kite shape is a smart move.
Salt and Pepper Kite Diamond Ring
In the race of ordinary things, searching for one something rare is hard. Salt and pepper diamonds are one in a million kind. The main reason its because of its unique salt and pepper combination. The black and white spots or inclusions make them stand different from all the others. Kite shape in salt and pepper diamond adds a magical touch to its uniqueness.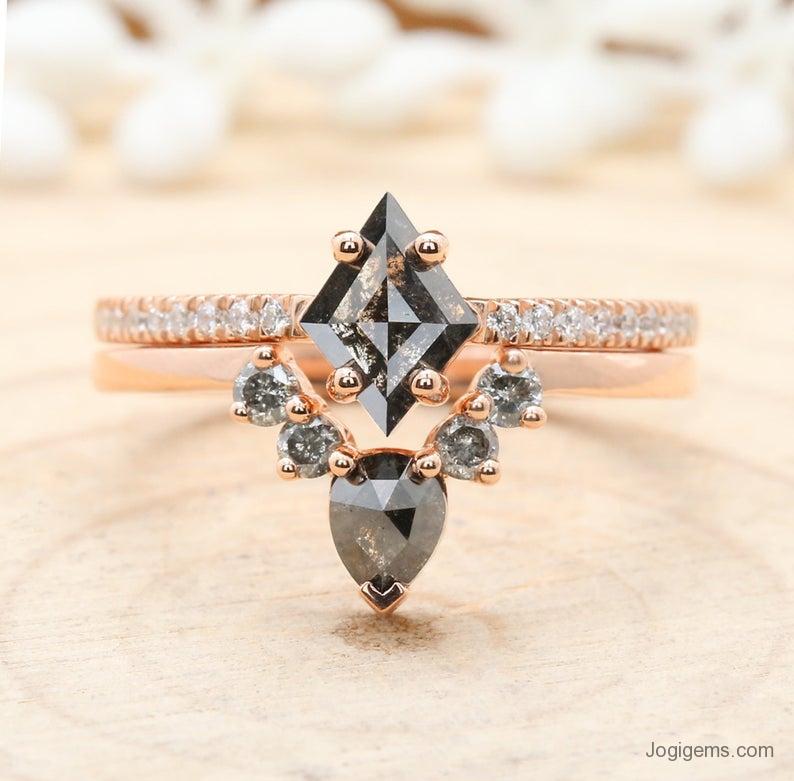 Kite shape in salt and pepper is a flat stone with a large display. In step-cut on the front gives an opportunity to sneak the salt and pepper pattern inside the diamond. Kind of transparent, filled with dark spots and white inclusions reminds us of our connection with nature. How this diamond kept its imperfections inside and didn't lose what it holds for years.
The ring above changes its color, this is the magic of salt and pepper diamonds. At times it appears to be black and sometimes it looks like a black diamond. But when you look at what it holds inside it makes you realize that your imperfections make you unique.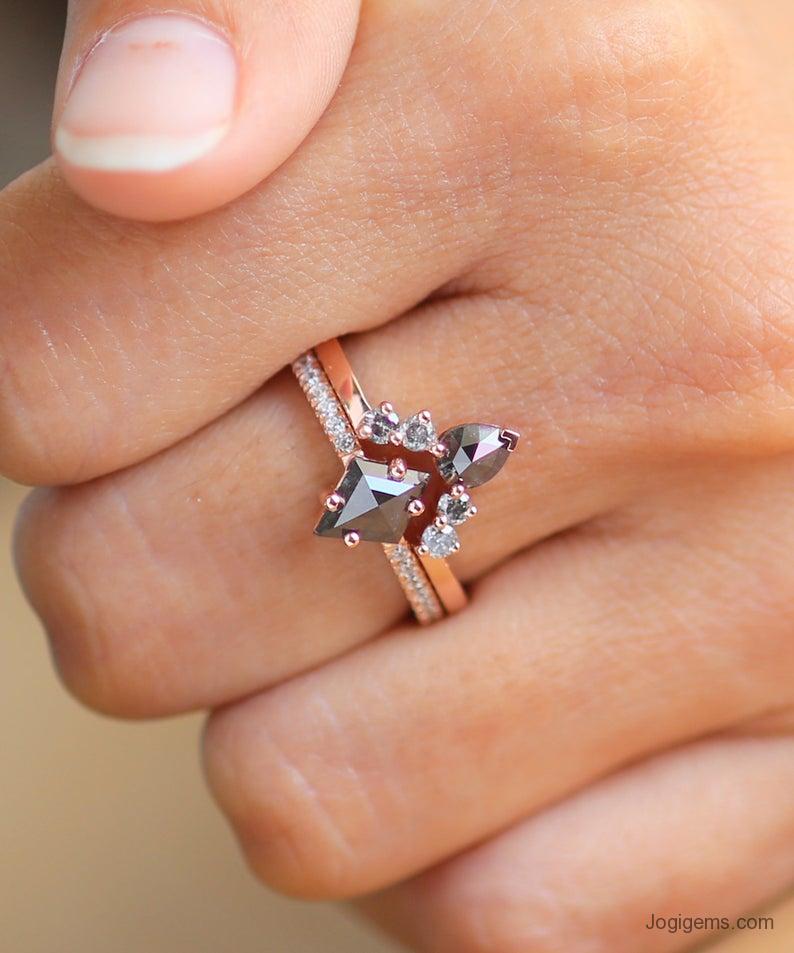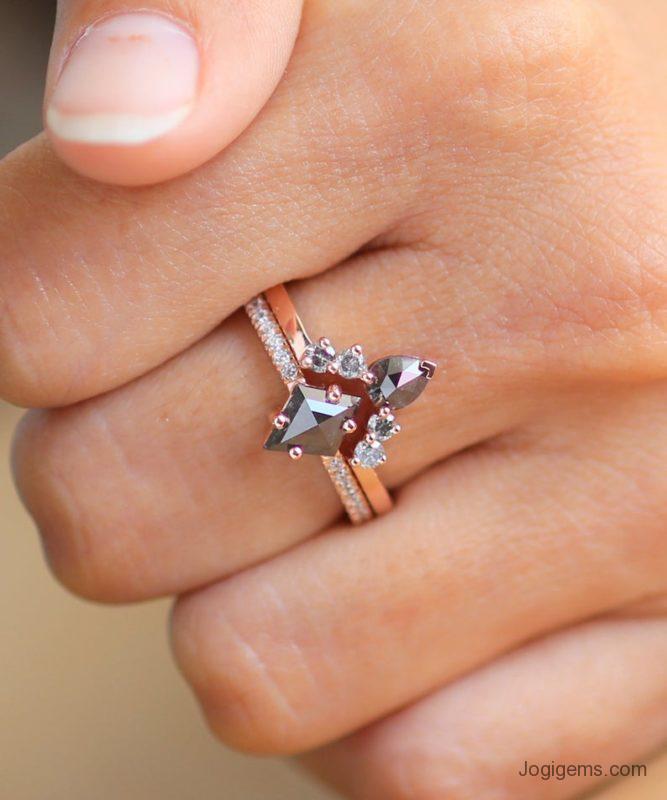 Look at this rose gold ring with kite shape diamond coronated with a band featuring a teardrop diamond with petite salt and peppers. The ring holds kite salt and pepper diamond featuring white diamonds in rose gold which looks gorgeous. Hence, Rose Gold And Salt and Pepper Diamond Ring make an extraordinary collection.

Jaw-dropping beauty, magical appearance, a diamond that holds meaning is the reason enough to buy this ring.
Kite Shape Diamond in a Nutshell
Kite shape diamonds must not be something regular, not only its shape but its appearance makes it unique. There are many diamond cuts but kite shape is a diamond which is not typical. And your choice should be extraordinary to rectify this diamond shape. Natural and real, meaningful with gear, kite shape has it all.
Hope when you shop for a diamond ring next time, you will go with this unique diamond for sure.