Black Diamond Halo Engagement Ring

Black diamond White Gold Engagement Rings are elegant and classy. Black diamond halo engagement rings are currently the most selected engagement rings. It's because diamond halo engagement rings are comfortable and appealing. The Center stone in this white gold engagement ring is 1.02 carat in weight (approx). The quality of these black diamonds is AAA quality, basically known as superb quality. The color of the Genuine Black diamond is Dark Black color and Opaque in clarity.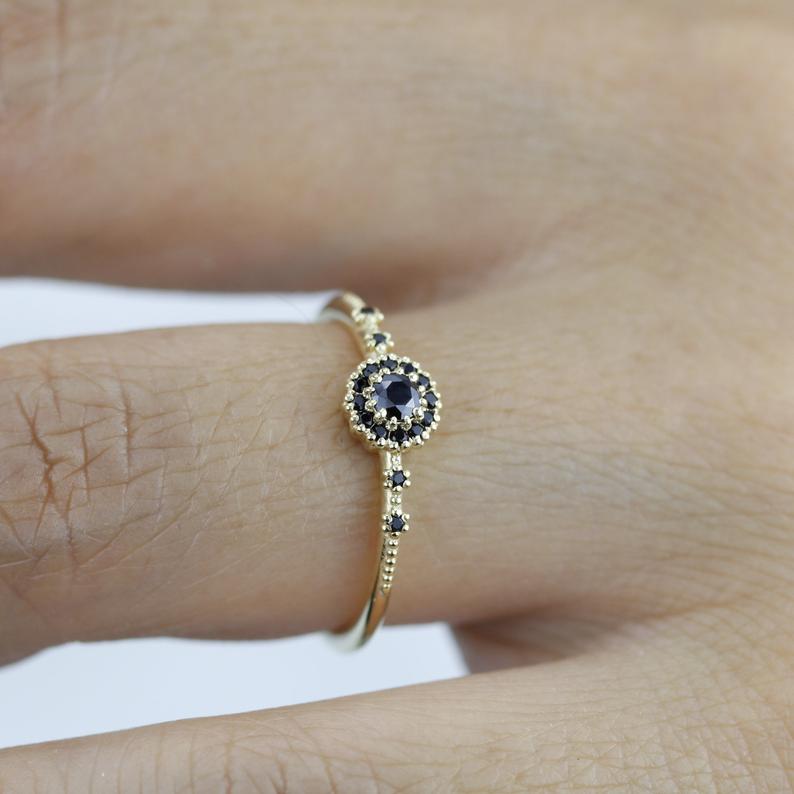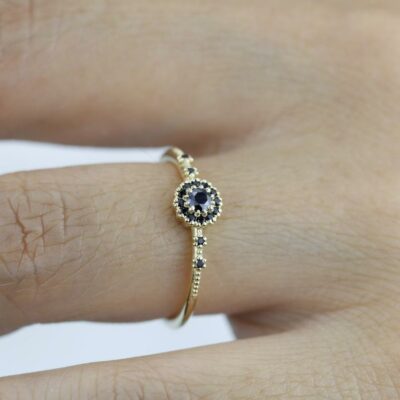 We try to create our engagement ring to look richer in its original way. As we have sets a natural black diamond in the center in 14k white gold. The metal used must be classy and genuinely makes a diamond look the coolest of all time. So, our natural diamond engagement rings are mostly crafted in 14k gold. Here, for the color options, we provide three colors like Rose gold, White gold, and yellow gold. At our customer's wants and need.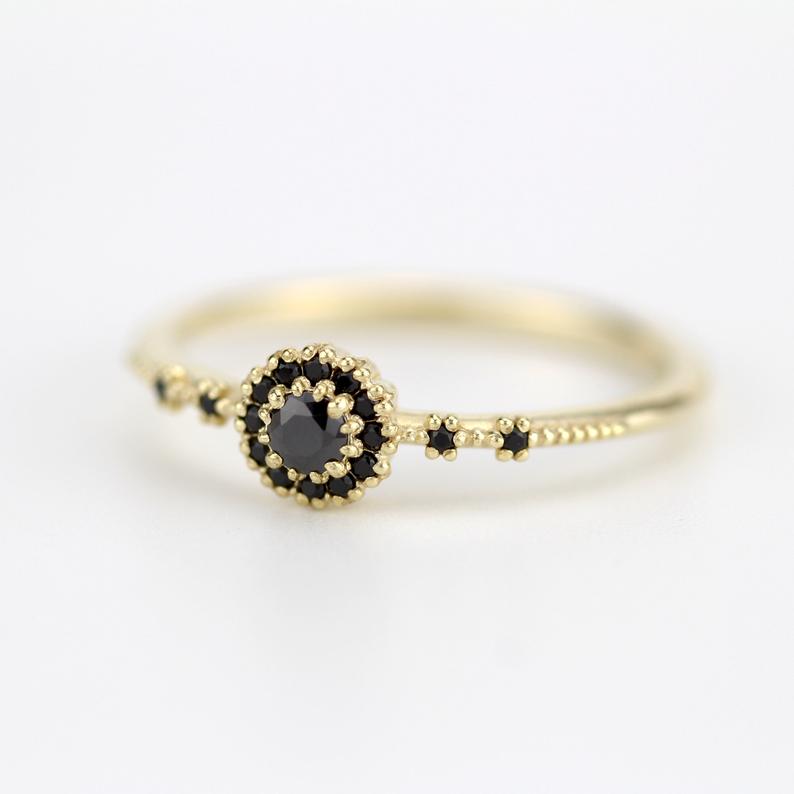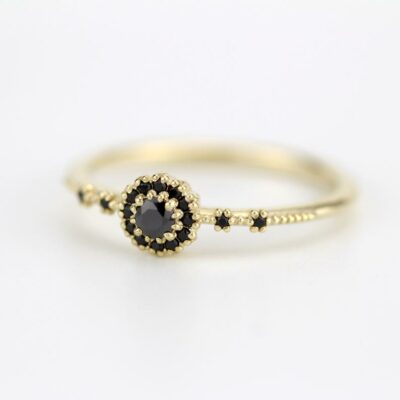 You can gift this ring to your beloved ones at the time of momentous occasion. You can gift this ring as a surprise gift on Valentine's  Day, Birthday, Mother's Day, Promise Day, Wedding anniversaries, or any other memorable day or special surprise day.
This black diamond ring is unique as it is different from the ordinary solitaire diamond ring. We prefer to serve the best quality and hence we serve you with the topmost AAA quality in black diamonds.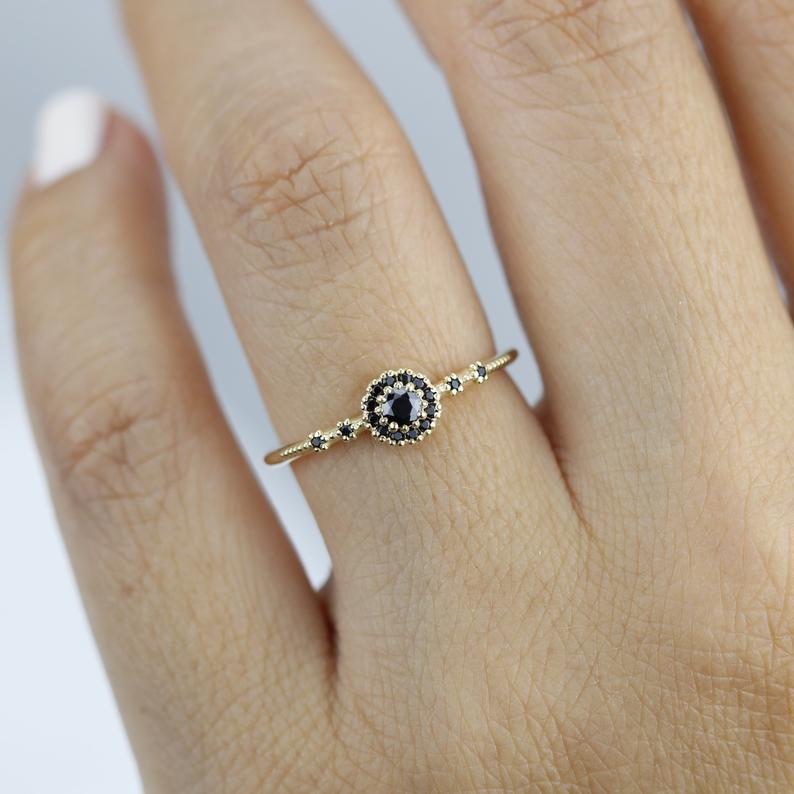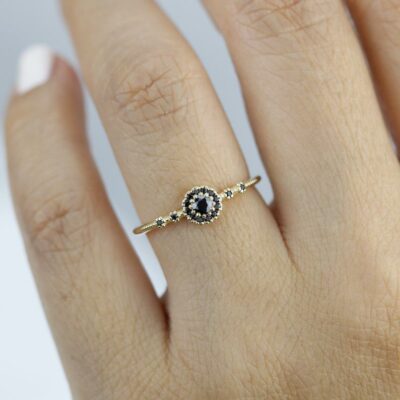 The round brilliant cut is a very well known shape in diamonds. It looks different from another diamond ring you prefer to purchase online. Jogi gems black diamonds are natural and if you aren't aware of them then you must know that they are in a great trend nowadays. Many celebs are using black diamonds for their jewelry collection because they give uniqueness and that matched in any outfits or attires. Recently many people are searching for such black diamond rings to do something different from the niche.
Henceforth, if you have any doubts about the black diamonds, whether they are real or not then you can check with the blog link below.
Are black diamonds real? Also, a brief history of black diamonds
Round brilliant cut halo engagement ring
Round brilliant refers to a precise form of cutting that utilizes numerous facets to reflect white light particularly well. For the most brilliance and beauty, round brilliant diamonds are accepted as an excellent cut. Also, round brilliant is the most classic stone shape made up of 58 facets, considerably the most popular of all shapes as it's the diamond cut that sparkles the most.
Customization and delivery services
If you are here searching for the black diamond halo engagement ring then this ring is perfect for your choice
Jogi gems are the leading manufacturer of black diamonds and black diamond jewels. Here, we provide the best suggestions to our customers as we can understand the need for customization. We accept the customization request of the shapes, size, carat weight, and cut for the black diamonds.
We offer personalized ring-creating facilities to all our customers. Moreover, if the buyer has any customized need for the size of the engagement ring and gold colors like /yellow/white gold/sterling silver, or any personalization, we will complete it within no time. Feel free to ask us and our team member will be there to help you at a time.
So if you want us to make black diamond jewelry of your's modifications then feel free to mails us at any time. We will happily record the details and can make the jewelry in the meantime.
We also offer fast delivery services. We can make jewelry within 10 working days to any corner of the world within 8 to 9 business days. So with customization and delivery, you can set your all trust in Jogi Gems anytime.