Natural Marquise Black Diamond
You must have chosen several black diamonds but when you are on a hunt for something different and wild then this natural marquise black diamond can prove to be a perfect choice for you. Black diamonds come with rare carbon inclusions but to get a jet black color we have to treat them and get a shiny black color, hence this natural marquise black diamond is 100% natural but is treated to get a jet black shine and luster.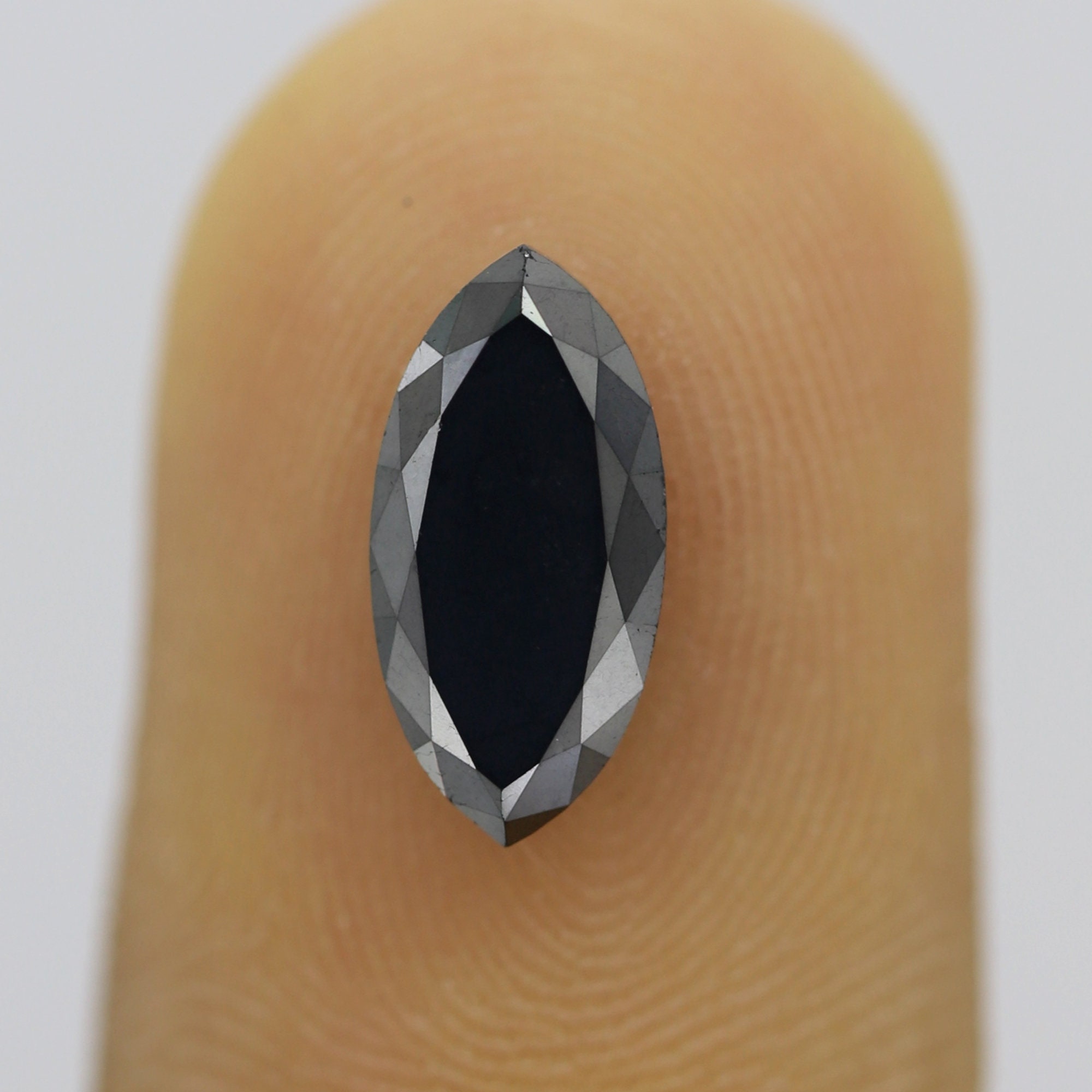 Black diamonds are a hot topic right now in the jewelry market, as they are cheaper to buy and most durable, even if you are having a rough hand while wearing jewelry then the black diamonds won't get scratched or cracked easily. Also, it is a diamond so the marquise black diamond is not going to lose its shine. This Marquise black diamond comes with superb AAA quality and it weighs around 1.68 carat which is almost 2 carats. The elongated shape of this black diamond is popular giving it a wilder look that can cover up your finger utmost. It will look bigger once set in an engagement ring, and if you are a fan of big diamonds and black color then this natural marquise black diamond will be the best choice proven to you.
People usually think that the treated diamonds are fake but that's not the truth, the truth behind the diamond treatment is to fix the flaws and colors of the diamond and black diamonds usually undergo such treatments. So if you'd like to read more in detail about the black diamonds, you can check the link below and know the difference between natural and treated black diamonds.
Natural V/s Treated Black Diamonds
1.68 carat natural marquise black diamond
This black diamond is special not because it is just a black diamond but because it is well cut with the flat table and facets in the front and rose-cut facets on the backside of it, so whole you have a design set in your mind you can set it both ways. You will have to go into details about this diamond before buying this diamond and making a beautiful piece of jewelry with it.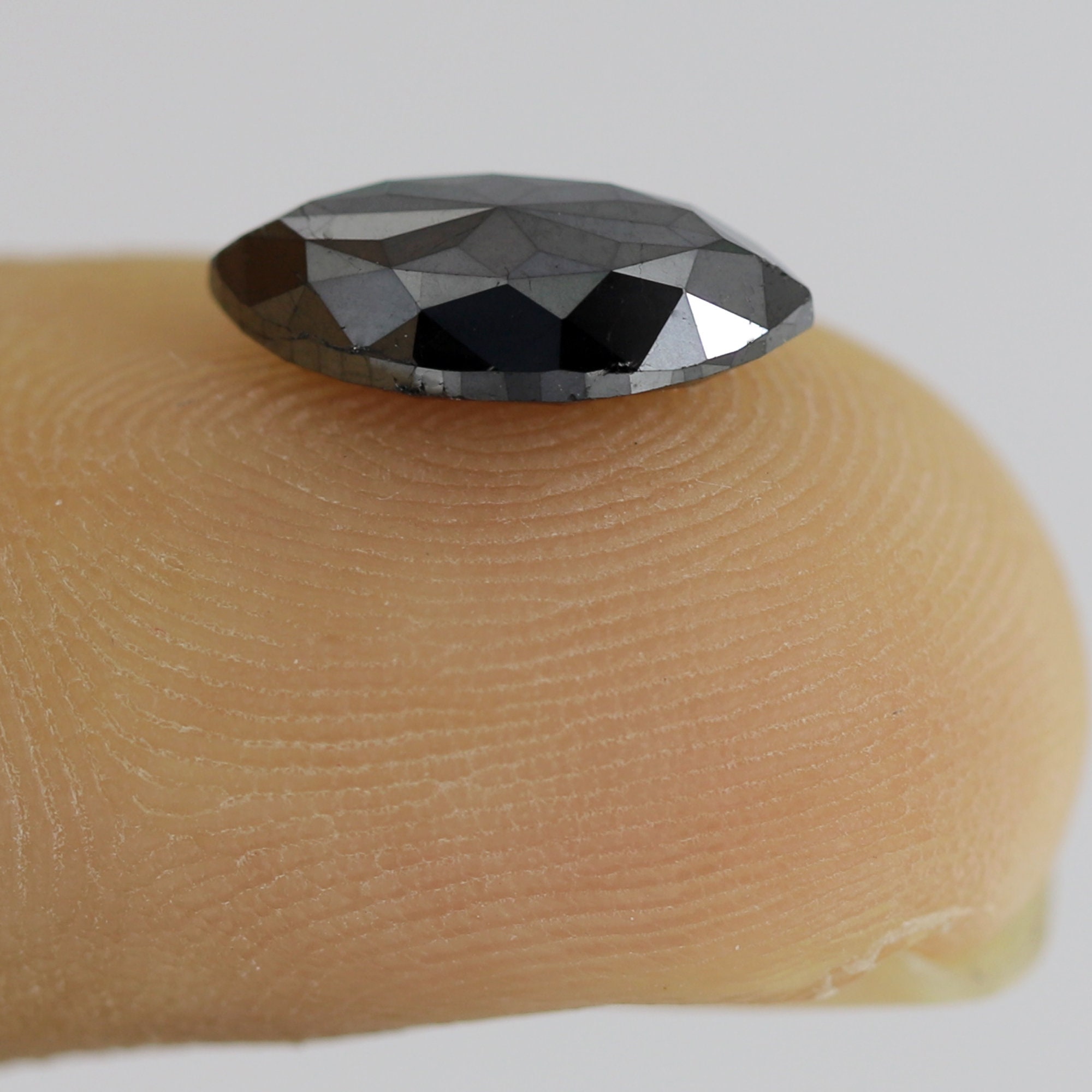 This black diamond is in marquise shape which is one of the fanciest shapes of the diamonds.
It weighs 1.68 carats which are between 1 and 2 carats hence almost larger than any solitaire diamond.
The shape of this black diamond is elongated which makes the diamond look bigger and fits properly on your slim finger.
Measurements of the natural marquise black diamond are 11 mm X 5.5 mm X 3.2 mm which describes how big and slim this diamond is.
Coming to the quality of this black diamond is AAA quality which is one of the best in treated black diamonds.
The black diamond is completely natural but it's enhanced to get a jet black color luster that increases the beauty of this diamond.
Custom Marquise Black Diamond
Liked the cut and shape of this marquise black diamond? But if you are looking for a similar in a different size then you are most welcome to put a request on our website. You can send your requirements through our email or by clicking on the chat button where our customer service executives are always active to assist you. As a leading loose black diamond wholesaler, Jogi Gems can complete all your wishes related to it. We can cut and polish black diamonds as per your need at affordable prices. Choose Jogi Gems to choose quality with the best customer service which is based on trust and fair values.