Black diamond yellow gold ring
Get an appealing and charismatic look with this black diamond yellow gold ring in 14K. If you are searching for something unique whole buying a diamond ring online then this black diamond yellow gold ring is a great choice for you. Accented with natural black diamonds with a unique design this black diamond yellow ring makes you feel authentic.
Black diamond yellow gold ring is a superb art that looks like a star or inspired by a flower with black spots on it. Yellow gold in 14K is the purest form of gold in which people who often buy gold diamond rings prefer to choose. Create an outstanding appeal while wearing this black diamond ring with any modern outfit you choose to wear.
A design that many people will appreciate, its something that not everyone chooses to buy but wants to have it. Our designs are made keeping nature in mind, to keep our jewelry a natural look with natural black diamonds fit in the center.
There are many celebrities who have rocked their jewelry pieces with black diamonds on red carpets during award shows. No doubt that black diamonds are trending for decades and now more people are choosing it due to its jet black color.
Many popular designers choose to make black diamond jewelry but their costs are high due to their popularity. But Jogi Gems wants to offer you such rings at a cost you can afford it. As we have a pool of talented designers that can design rings of your choice in black diamonds.
If you want to know more in detail about the celebrities who shine bright wearing their black diamond jewelry then you can check with the link below.
Celibrity Black Diamond Jewelry
Reasons to buy black diamond yellow gold ring
A black diamond yellow gold ring is one of a kind design which fits any outfit you wear
They consist of natural black diamonds in the accent and center as well.
It will cost you lower than any other diamond jewelry as black diamonds are cheaper.
Best to propose and make a deep promise to your loved one with the deep color of the black diamond.
One of the special gifts you could ever gift to someone special you hold feelings for.
Light to wear and easy to catch any attention from the crowd.
Details of Black Diamond Yellow Gold Ring
The black diamond yellow gold ring is super gorgeous as it is beautifully carved in 14K yellow gold with a unique design inspired by nature. It consists of a 0.30-carat black diamond fit in the center of the ring accented with 12 black diamonds of 0.12 carat in total weight.
The quality of black diamonds in this ring is of AAA which is one of the best in black diamonds. So if you look at the diamond it won't look unpleasant. Jogi Gems promises to serve its customers with the best thing while making this ring.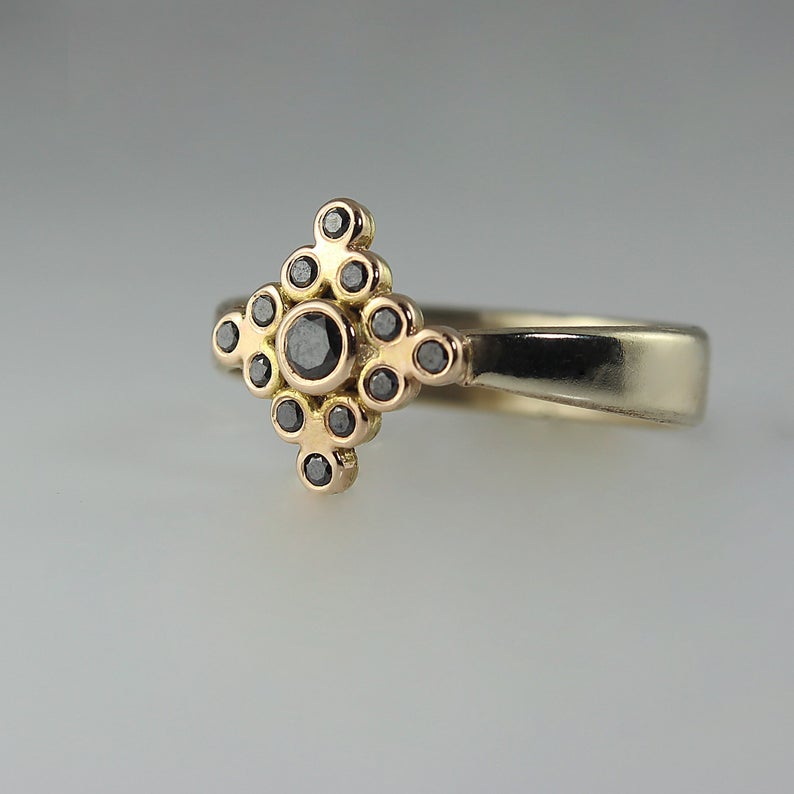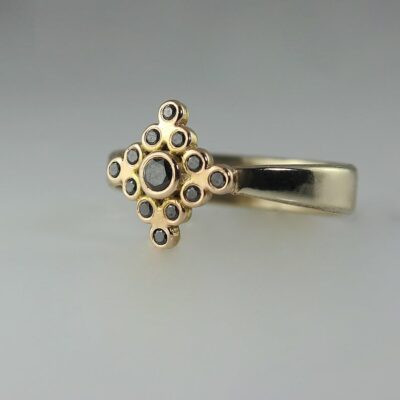 The total carat weight of black diamonds in this ring goes around 0.42 carats, all the black diamonds are round brilliant cut in shape. It somewhere looks like a geometric design ring too due to its round dots feature of the accent stones. So don't miss an opportunity to own this black diamond ring and surprise the love of your life.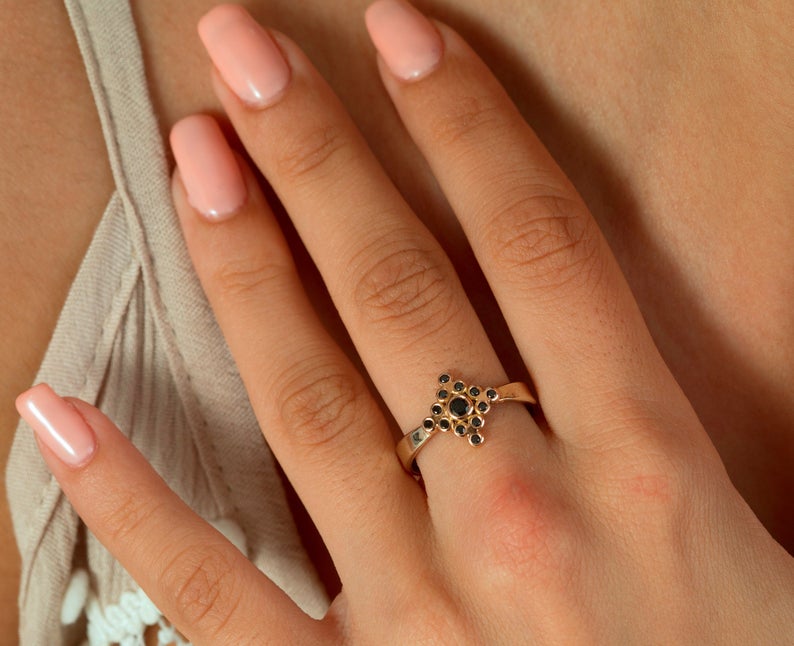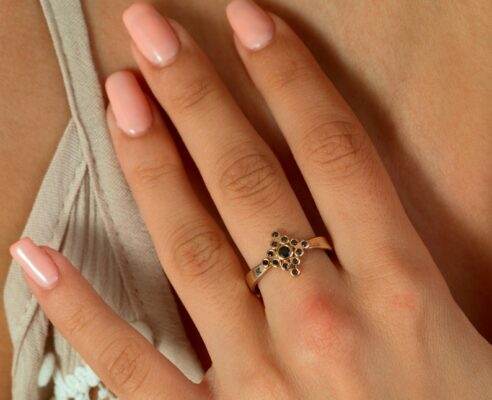 Customization and Delivery
Jogi Gems is a leading brand in black diamonds as we have our own well set manufacturing unit. So we make black diamond jewelry at prices which any person can afford easily. With that, if you want us to make any changes in the design or black diamonds, or you have a design in your mind and want us to make it for you then you ask us for sure. We are always ready to accept customized orders, just let us know about the design and we will start working on it. We can make black diamond jewelry at a cheaper cost for you.
Once you make the order, we ship the parcel with safety and you can get this ring within 7 to 8 working days after its made. We ship across the world with the help of best ever couriers facilities like DHL or Fed-Ex to get it delivered to you on time.
We believe in the best customer service with satisfying results. So buy this engagement ring and make a promise to your lover to stay forever like this for infinity.