Hexagon Salt and Pepper Diamond Ring
Drop a hint to your favorite person with this Hexagon Salt and Pepper Diamond Ring. This diamond has heavy inclusions of dark grey color which is responsible for its one-of-a-kind appearance. Those inclusions are admirable, if you try to take a closer look inside it seems like lots of mess inside the diamond. The grey to dark grey inclusions marks the uneven changes that happened in the diamond, so if you take this diamond in the sunlight it will change its color to light grey or milky white, and in normal light, it will take a darker tone.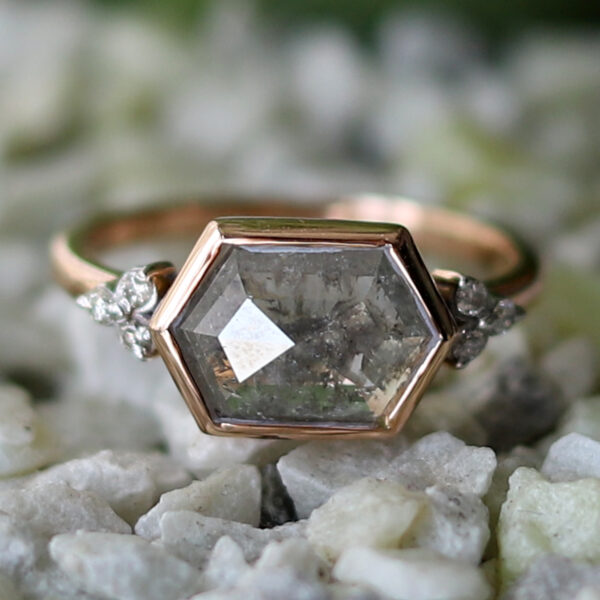 Let's mix this salt and pepper diamond trend with the fusion of rose gold and the concept of this engagement ring was born. All thanks to our diamond cutters and jewelry artisans who work day and night to make such designs which turns a diamond set into a masterpiece. The center diamond is called an elongated hexagon shape which is usually cut in a rose cut to shape with a flat back.
The hexagon shape salt and pepper diamond set in a bezel setting with 3 white diamonds set on each side of it. Those little accented diamonds look like two flowers set beside the center stone in the engagement ring. The best thing about salt and pepper diamonds is that two diamonds don't look alike due to the number of inclusions in them.
If you want to know more details about the different shapes of salt and pepper diamonds then you can check with the link below.
What are Salt and Pepper Diamonds?
Hexagon salt and pepper diamond ring in rose gold
One of the gorgeous hexagon salt and pepper diamond ring you will ever get online from Jogi Gems. It features a hexagon salt and pepper diamond around 1 carat in grey or light grey color. It has 6 white diamonds set in a bezel setting which replicates two flowers set aside the hexagon shape diamond in the center.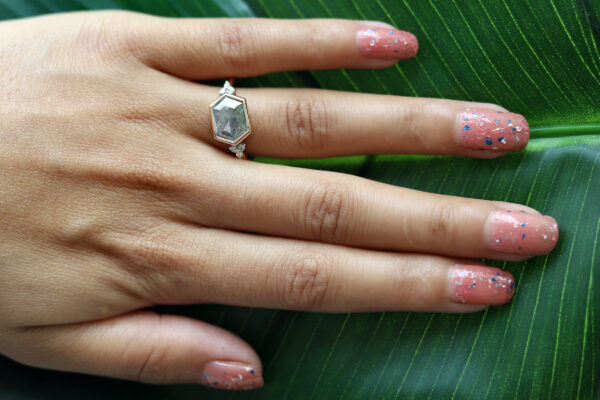 Hexagon diamond is very rare to see in the clear white diamonds but it is common to get in rose cut diamonds or salt and pepper diamonds. What's different in this ring is that you will get a diamond that is set in an east-west manner. Also the flat back salt and pepper hexagon diamond is elongated in shape which means its height is bigger than the normal hexagon shapes.
This hexagon salt and pepper diamond ring is something you can use to express your feelings, that just like this salt and pepper diamond a person is imperfect but its Imperfections make you unique. Nobody is perfect in the world and you must start to love your imperfections because that's what makes you who you are.
Make your own salt and pepper diamond ring
If you want us to design a salt and pepper diamond ring of your own choice in another shape or the same shape but with different imperfections then you can reach us easily with the help of email or chat. Jogi Gems have a pool of artisans and gem cutters who are trained to make a diamond ring of your choice.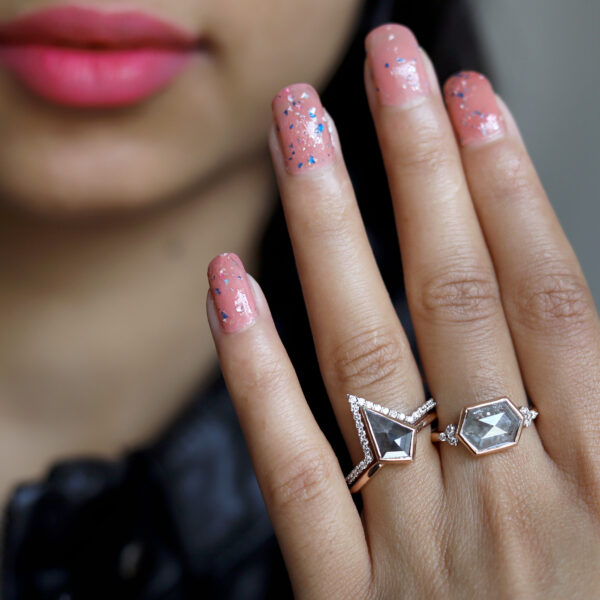 All you have to do is, select a diamond from our inventory or just simply attach a picture of your engagement ring and how would you like us to design and our team will take note of it and design a ring exactly the way you always wanted. This all is possible because we hold a huge stock of salt and pepper diamonds and we have jewelry designers and artisans who can make a customized diamond ring as per your need.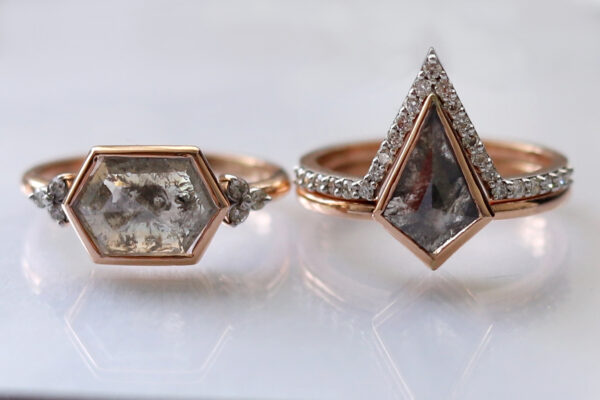 So, what are you waiting for? you can order Hexagon Salt and Pepper Diamond Ring now and express your true feelings to the women of your life. She will definitely love it and admire it for life after all diamonds are meant forever and are a sign of eternal love.