Natural black diamond beads
If are you ready for something extraordinary, then this necklace of natural black diamond beads is an ideal choice for you. Black diamonds are in great demand and if you want to wear those as your jewelry then you can get them at Jogi Gems for the best wholesale prices. The unique part about these beads is they come with a faceted structure on their surface which makes them sparkly and glittery when exposed to natural light.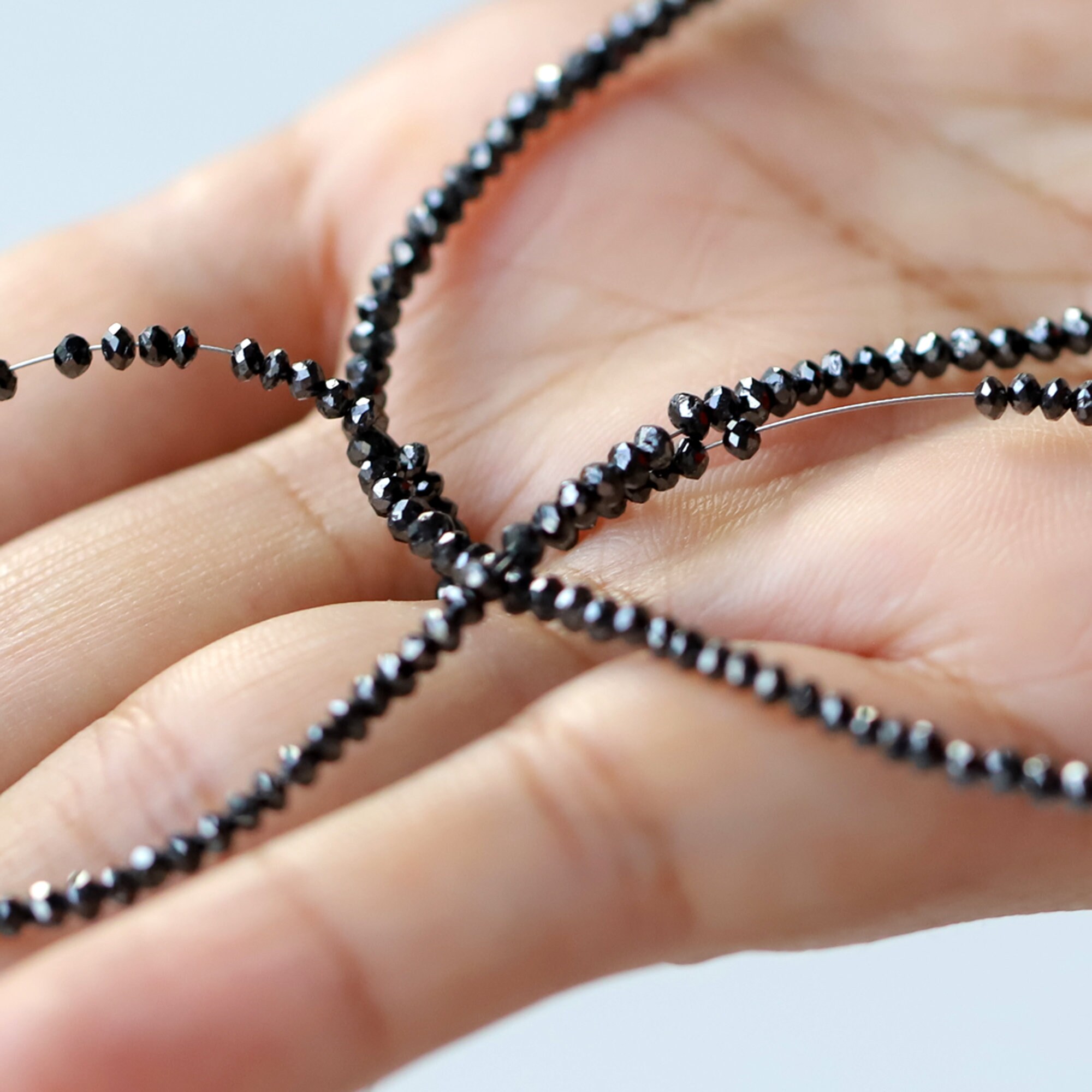 Natural black diamond beads necklace got a great appeal when a person will look at it and won't hesitate to compliment your look, you can style yourself with the best dress of your choice with this beautiful necklace. The total weight of these faceted black diamond beads is 19.84 carats which are almost closer to 20 carats and it comes with AAA top quality. The total length of this diamond beads necklace is 15.2 inches which are 38 centimeters long which is the perfect length to wear as a necklace.
These beads are raw they are being cut from raw black diamonds with some facets that allow them to shine brighter. If you want to learn more about raw diamond jewelry then you can check our blog in blog below.
Raw Diamond Jewelry Trend
Use of Natural Black Diamond Beads
If you are a jeweler you can make several cool kinds of stuff with this natural black diamond beads strand, but if you just want to buy this for your personal use and would like to wear it around your neck as it is then it would be a great choice too.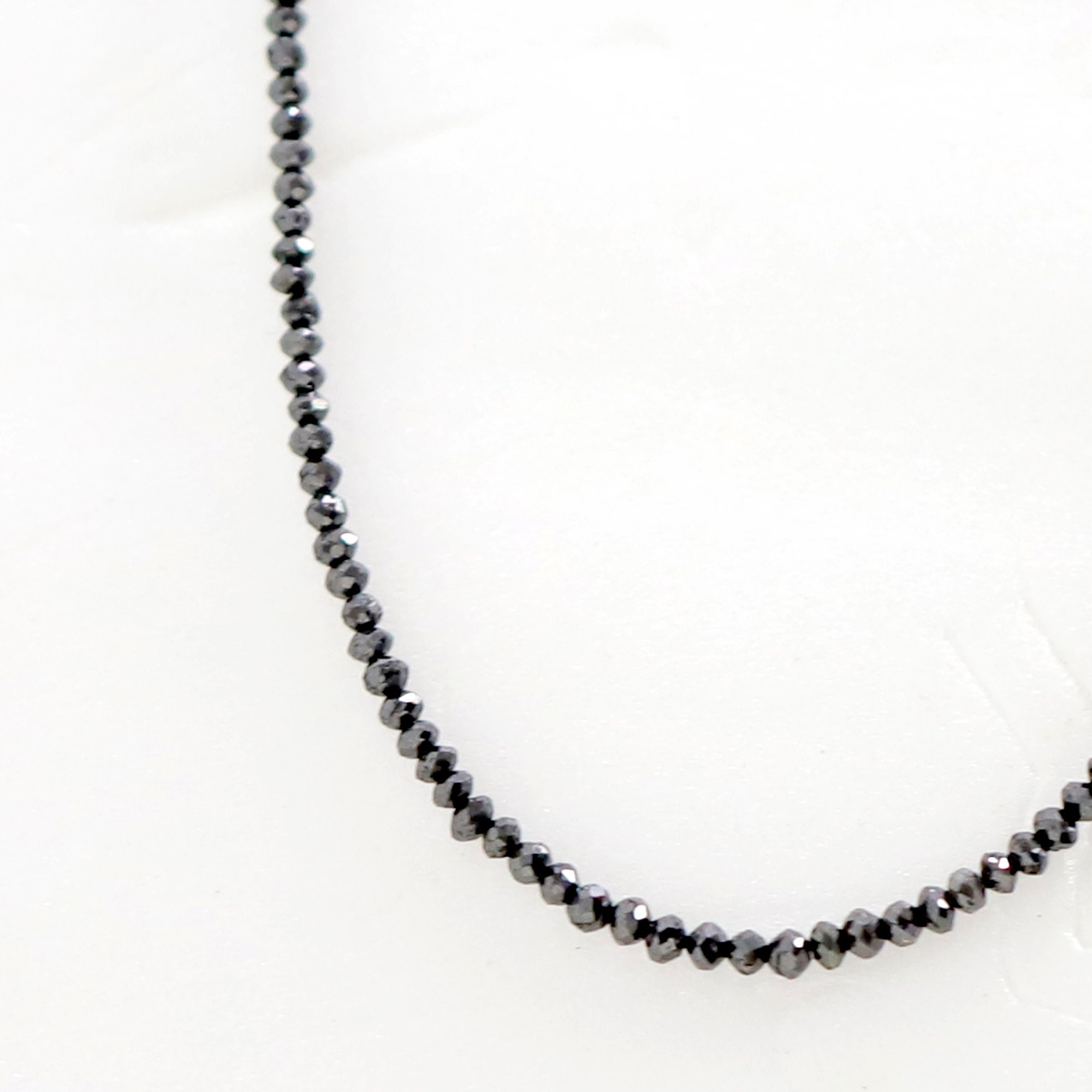 Jewelers can use the beads from this necklace for several purposes like they can create a diamond pendant featuring a black diamond or any other gemstone of their choice in the pendant. Also, they can make beautiful earrings and bracelets with their own creative mind. One can use this single necklace strand to create multipurpose jewelry upon their own artwork or niche.
Details of Faceted Black Diamond Beads
Before moving on with the purchase of these faceted black diamond beads you must check their details.
These diamonds are completely natural but just like other black diamonds they had to undergo heat treatment to get a shiny jet black surface.
Raw black diamonds are a trend that keeps their real beauty alive they are faceted to reflect the shine when the light falls on them.
They are AAA in quality, meaning when you take a closer look, you won't be able to see a scratch or cracks on their surface.
The total weight of this black diamond necklace is 19.84 carats and it is 15.2 inches which mean around 38 cm long closer to the average necklace size.
Faceted Black Diamond Beads in this strand are 2 to 3 mm sizes set from tinier to bigger in the middle which looks perfect!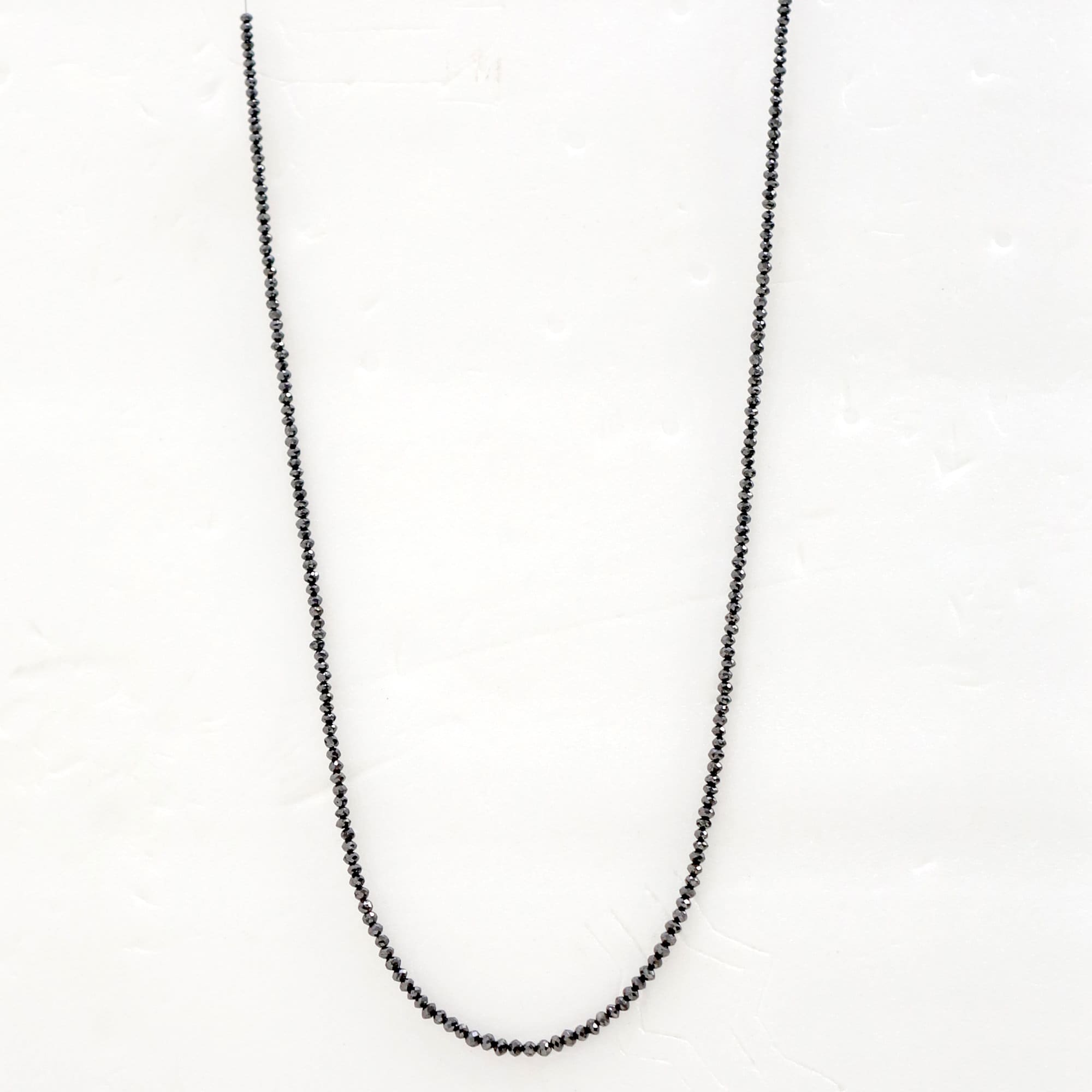 Custom Faceted Black Diamond Beads Necklace or Bracelet
If you are looking for a big-size bracelet or necklace with natural black diamond beads then you can contact us anytime on the website over email or chat, As a leading exporter of raw diamond beads, it's a possibility we can work the best for you to make satisfy your needs. We can offer you faceted diamond beads or raw diamond beads in a variety of sizes from 2 mm to 6 mm and more! you will also get these raw diamonds in different colors like blue, grey, green, champagne, brown, white, and other available colors in diamonds.
The diamond beads listed on this page are an ideal size that works for everyone also quite affordable to buy if you like to flaunt and wear classy jewelry every now and then, don't wait and think buy it, gift it to the person you love the most.