People these days are looking for something unique, hence the vogue for raw diamond jewelry is trending among them.
I know its something new, personally saying why to follow the trend when you can set one. In the world full of imitation going different is a bold move. Copying someone else and doing it their way is easy but staying in your own shoes and shining is difficult. It's strange but true.
If you think like me and something out of the box all the time then this blog is absolutely for you. People love to wear jewelry and love to stay different, they are hard to find but yes we are alive.
It is difficult to understand the jewelry you wear, but when you think and attach your emotions with it you fall in love each time you wear it. Whether you wear diamonds or not, but a one in a million type of thought like you deserves something unique.
With lots of research and selecting something different, I have made up with this top 10 list of raw diamond jewelry for you. Let us check and visualize something simple yet original and extraordinary stuff I have for you.
Dragonfly Pendant Styled with Raw Diamonds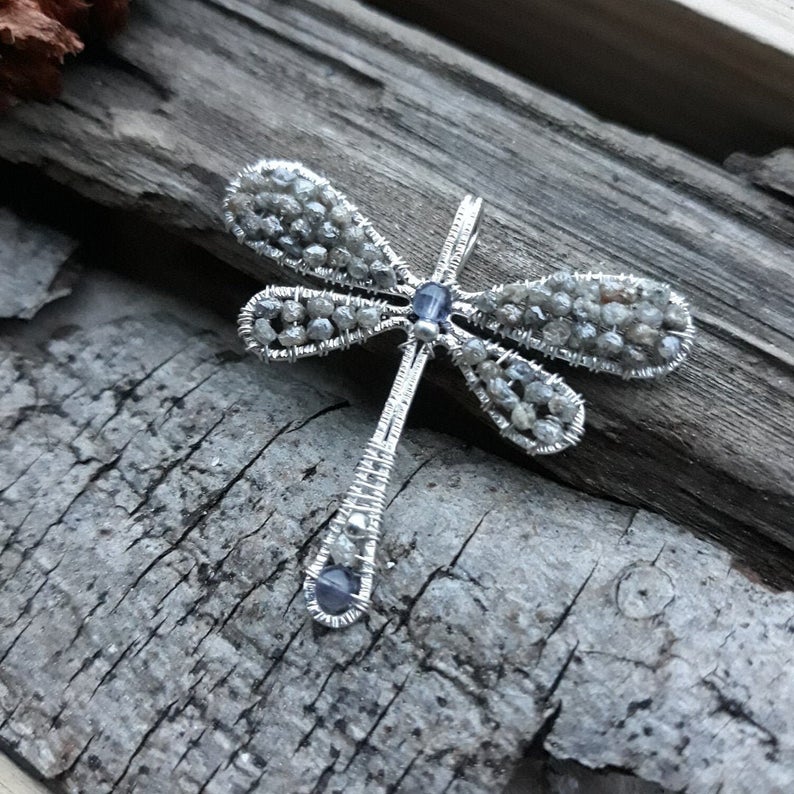 A pendant that describes nature, It stays real with tiny rough diamonds stitched with 14K gold inside of it. A dragonfly symbolizes change, adaptability, transformation, light, and wisdom in life.
Wearing this pendant adds meaning to your life and it will constantly make you realize the reality of life. Of who you are, about change is necessary, transformation is necessary and these things add light in your life.
This is the thing I love with rough diamonds it is meant to keep real.
Glass vial raw diamond pendant jewelry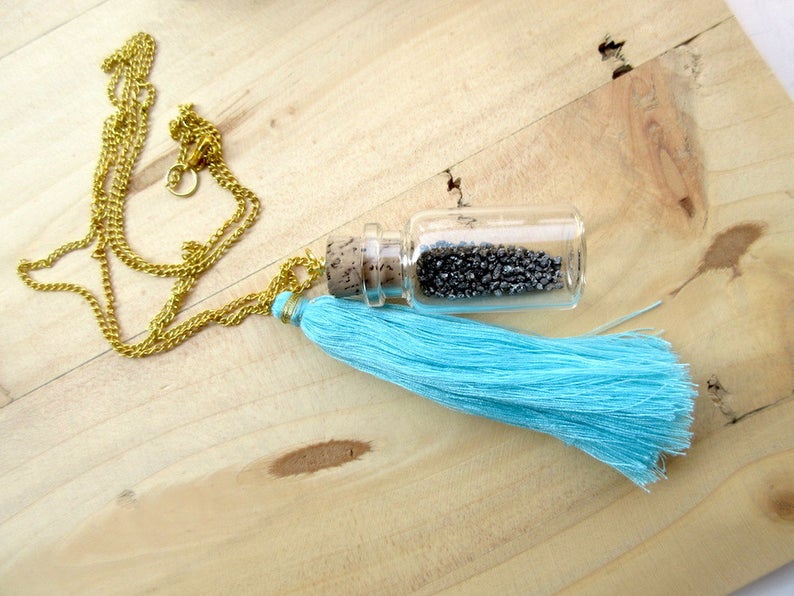 "One of the most precious creations of nature stored in a glass that will dangle close to your heart". This is how I can define this gorgeous form of jewelry which is very rare.
Raw black diamond beads of around 10 carats collected in a glass vial look like a jar full of dark pieces of your heart. Cant hide but raw black diamonds symbolizes many things like boldness, perfectness, your thoughts, and more.
One can wear this and it is capable of catching the attention of many. I am damn sure people will definitely ask you what's inside it, and you can answer what I wrote in the first line above. Hang it with a gold chain in your neck and stay solid holding your strong beliefs with this pendant. Because just like diamonds your thoughts are imperishable.
Uncut White Diamond Band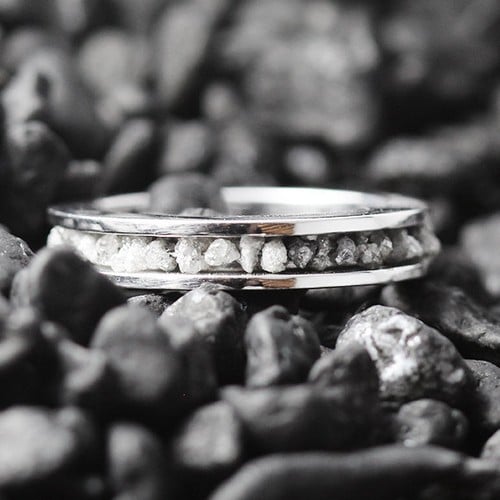 Wedding bands are something you wear to promise someone that you want to live your life forever with purity. So how about a wedding band that symbolizes the true meaning of the wedding?
This special band adorned with one of a kind uncut white diamonds in gold refers to the purity of your feelings towards your life partner. Wedding is a special day of your life when two soul commits their love and wish to spend life with each other till the end.
Hence these natural raw diamonds are a form of purity as they are mined from the earth's crust in their natural form. The beauty of white gold and uncut white diamonds makes this wedding band special. Commit your love on your wedding and show the world how beautiful and pure your bonding is with this wedding band.
Gloomy Raw Diamond Ring Jewelry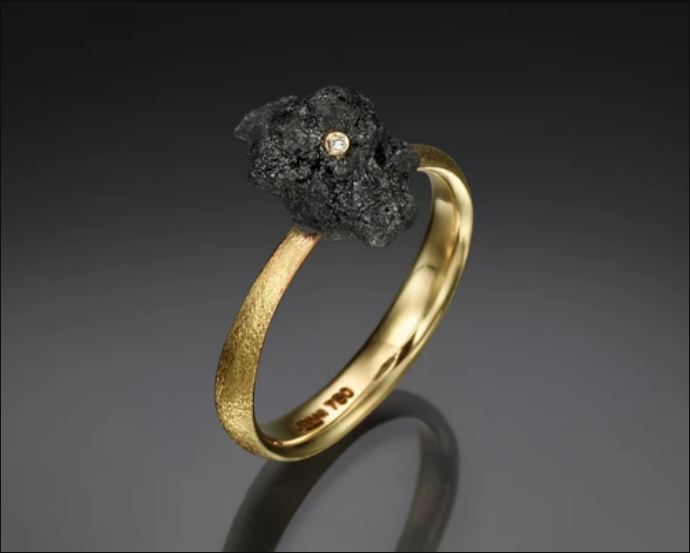 Mystic raw black diamond set in a rough textured yellow gold with a diamond on top is a different kind of allure.
"There is a little light that shines bright inside all the darkness you are holding on" This ring holds the power to lift you up.
This ring symbolizes that no matter how much darkness you are in right now there is a light in the middle that always going to shine.
"It also states that there is always a good side to everything that seems bad"
"What is flawed or seems ugly holds power to light we need to look in the center and never lose our focus"
The design of this ring speaks so many things and you can relate to more. It inspires you to always stay positive no matter how much negativity you hold inside of you.
Congo Cube Raw Diamond Circle Jewelry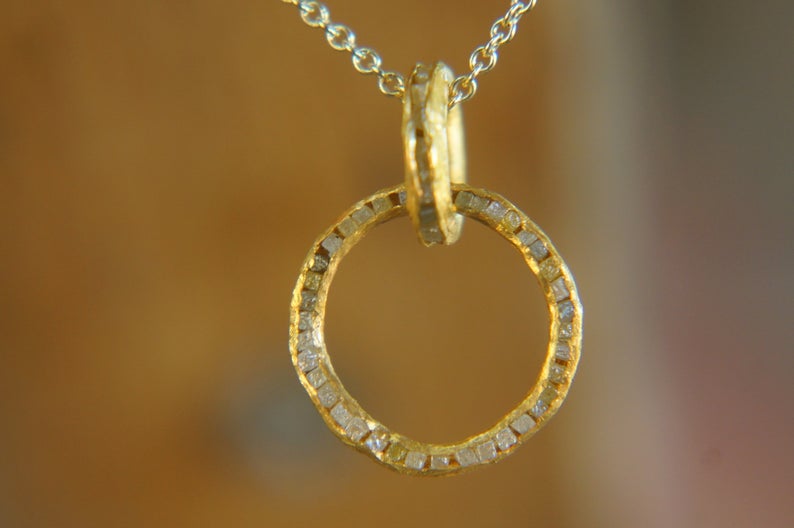 A pendant is a special gift, but it is really important to know what does it symbolizes.
This circle shape pendant spruced with congo cube shape rough diamonds in it reflects a strong bonding or power of togetherness.
Yeah, A pendant you can gift to your best friend, your soulmate, or someone with whom you share a strong bond. As a circle defines a never-ending bond between two or more people. And the congo cubes inside the pendant signifies strong holding with purity as they represent nature.
Snow White Raw Diamond Ring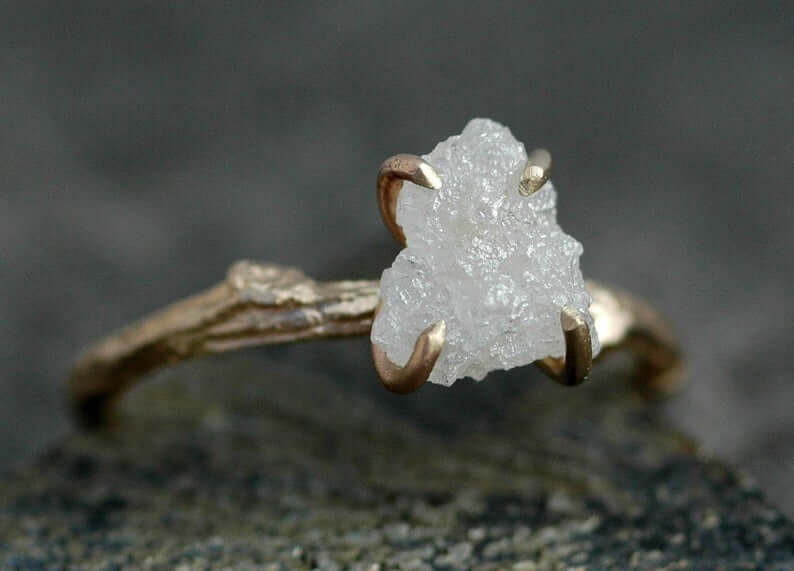 The raw Diamond snow-white ring looks wild because of its unique look and prong setting. The reason behind the name snow white is due to the raw diamond set in the wild catch prong setting.
Seamy texture and cloudy appearance, this diamond ring looks like a rain cloud is caught in claws. Just like a cloud full of dreams and beautiful though is captured in your mind.
The wildness and beauty of this ring describe how a natural rough diamond can stand perfect when it meets your creativity.
Cubes in the box pendant
Congo cubes set in rough raw texture and box shape gold is a unique thought.
The design of this pendant is a fabulous art that represents safety, security, and enclosed space. The congo cubes are square put safely inside a textured yellow gold box. It ensured the safety of natural diamond that is flawed yet beautiful.
The design is in a geometric form that looks stylish and classy with the one of a kind raw diamond in the center.
Salt and pepper raw diamond faceted beads necklace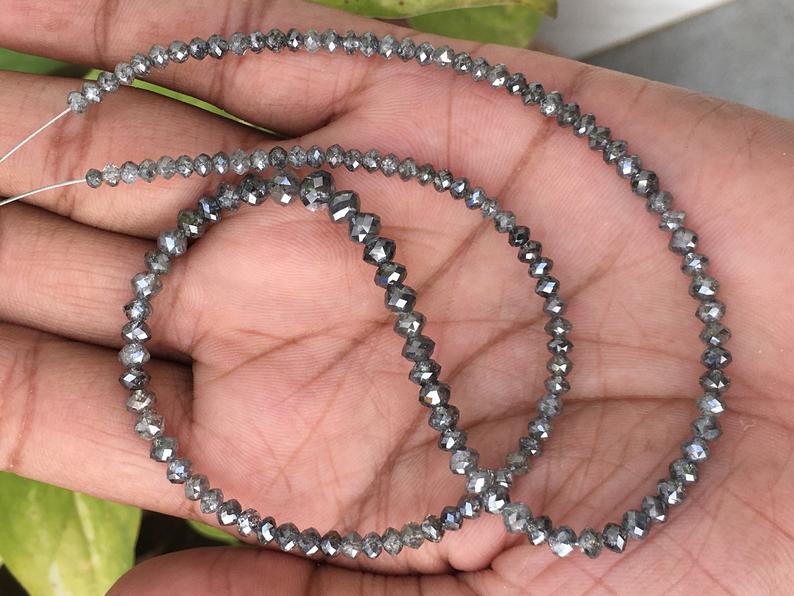 Have you heard about a necklace that looks like a salt and pepper diamond in rough?
Salt and pepper diamonds are one of a kind type. They are well known for their fine texture which shows salt and pepper kind of appearance inside of the diamond.
Salt and pepper diamonds in raw faceted beads reflect light and changes color from dark to gray when moved from sunlight to normal light. Hence they are more popular among people nowadays.
But it is hard to find such type of necklace in rough salt and pepper diamond beads. This rough diamond bead necklace reflects no matter what the consequences are staying real and lowkey is what holds you on the top.
The continent of Africa Ring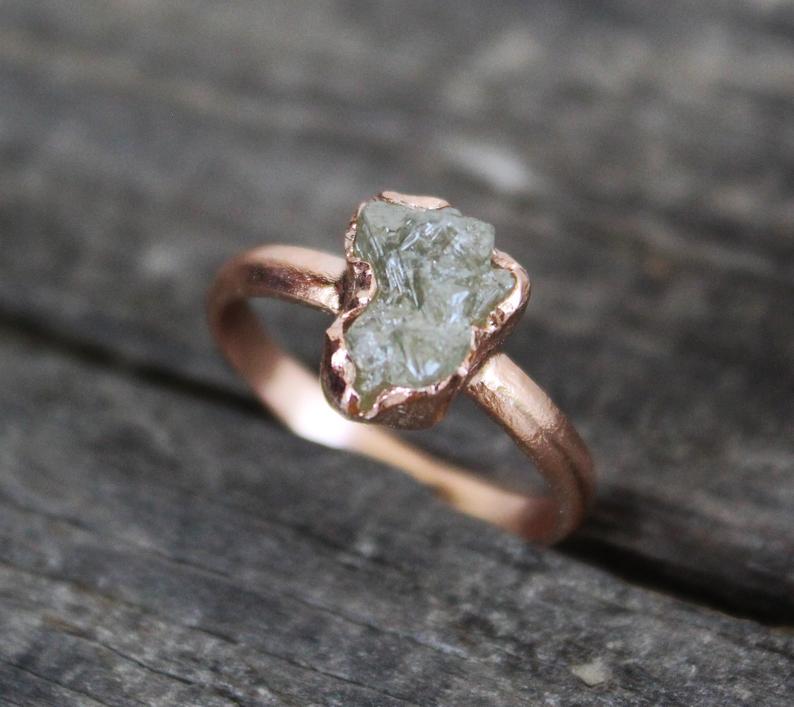 Many of us belong to Africa or love Africa because it is where diamonds are sourced mostly. This rough diamond in the shape of the African continent will reflect your love for the continent.
Africa is still the biggest source of diamonds and is flourishing with wildlife and natural beauty. From snow-clad mountains to the south to the desert in the middle and lush green jungles.
Heres to the beauty of Africa and to the people. This rough diamond ring set in rose gold is a tribute to the contributions of Africans across the globe.
Uncut Green Diamond Beads Necklace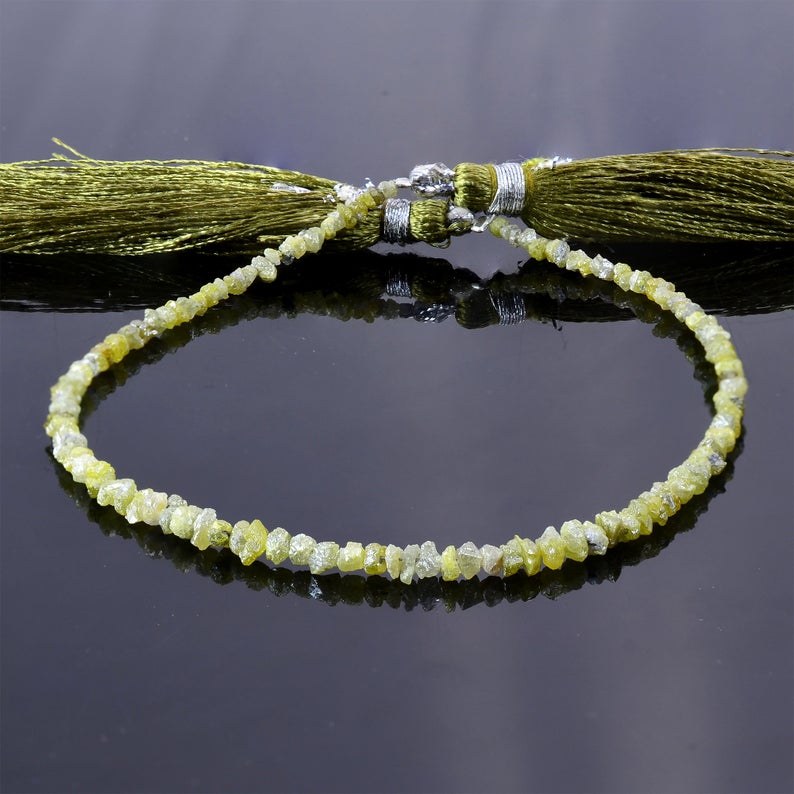 Green is the color of mother earth and it is a term to define a thing that lasts forever. Natural green diamonds are rare to find. A necklace with uncut diamond beads in green color is something that you'd love to style with your latest dress.
Raw diamonds in green color in this necklace are stunning with a color that reflects more of nature. It also symbolizes what is real and natural. So if you are a nature lover then you can definitely go with this necklace for sure. Or a gift to someone who loves and admires green color the most.
Raw diamond jewelry is not just jewelry each jewelry piece comes from a creative thought that holds deep meaning. So next time you shop for something different don't forget to go choose rough diamond jewelry pieces.
That's all from this blog, if you have any doubt regarding rough diamonds and want to make customized jewelry then you are free to mail us with your requirements. Jogi Gems is a leading manufacturer of raw diamonds and jewelry.