Elongated hexagon black diamond
Engagement rings with geometric shape diamonds are in a great trend nowadays, this stunning elongated hexagon black diamond is 2.52 carat which is something extravagant that will fit your requirement. As a jeweler you must have several other options in gemstone then why would you go for a black diamond? Well, black diamonds are the most chosen and famous ones in geometric shapes when it comes to diamonds also they look dashing when set in a rose gold ring.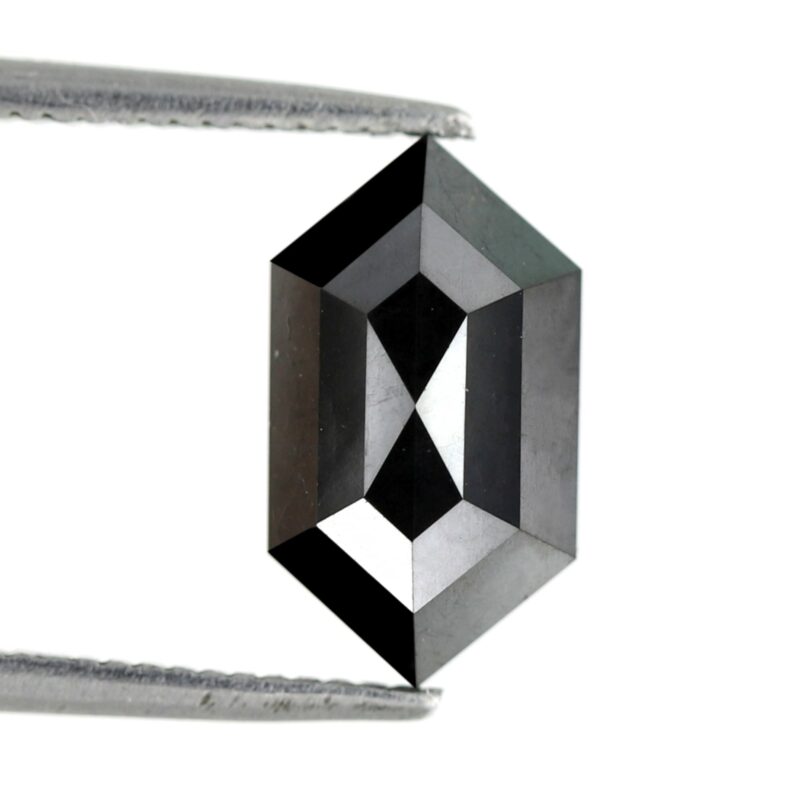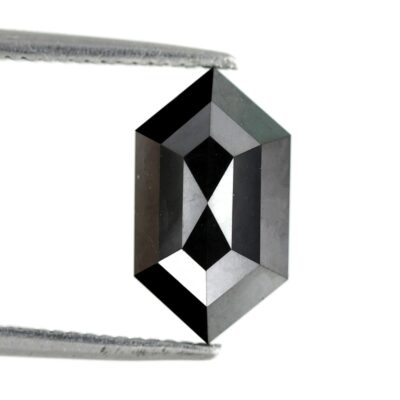 The hexagon shape is one of the most famous cuts which you will only get in black diamonds and salt and pepper diamonds as they enhance the true beauty of these nontraditional diamonds. Geometric shape diamonds are gaining popularity and with this elongated hexagon black diamond, you can create some awesome jewelry pieces which are enough to raise your shop popularity.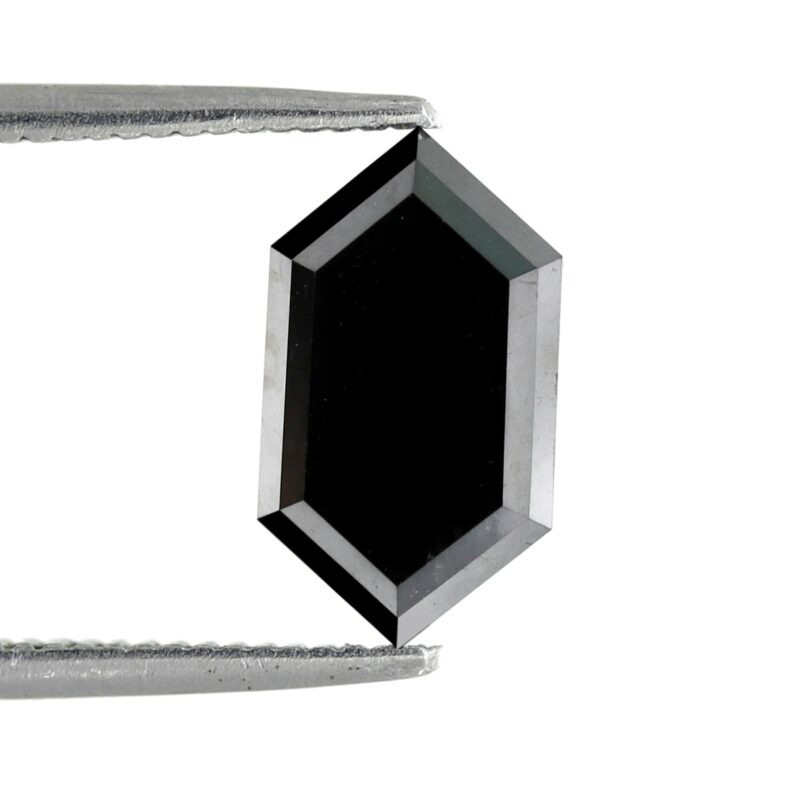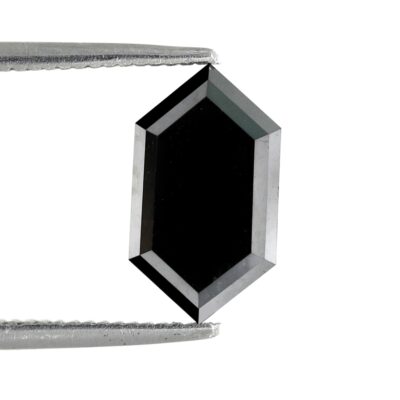 Black diamonds are available in different shapes from fancy diamond shapes to some unusual or geometric shapes like this hexagon shape black diamond, If you want to read more about black diamond shapes then you can check with the link of our blog in the tab below.
Different Shape of Black Diamonds
Characteristics of Elongated Hexagon Black Diamond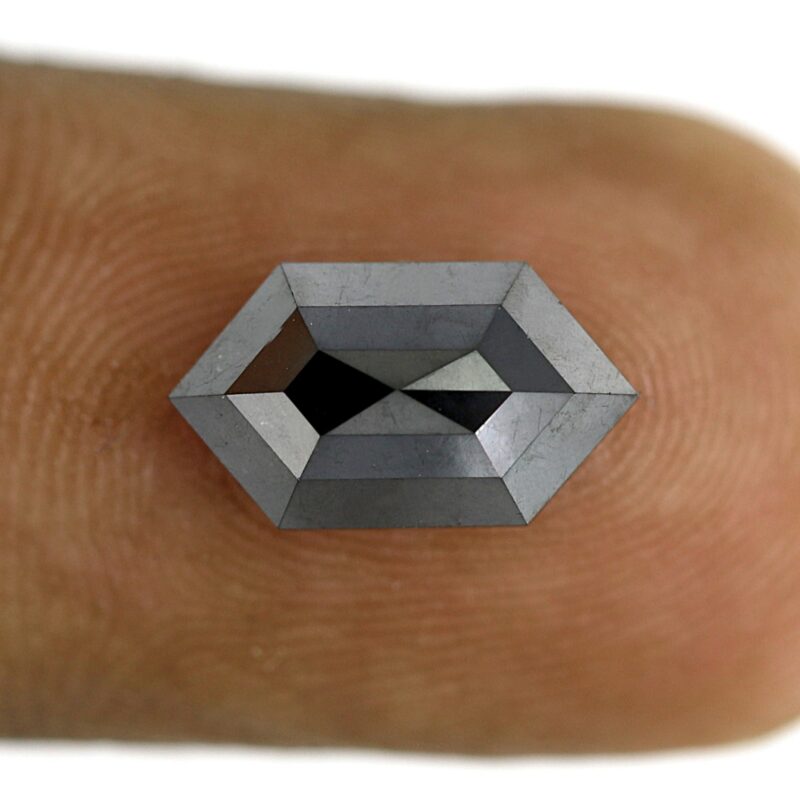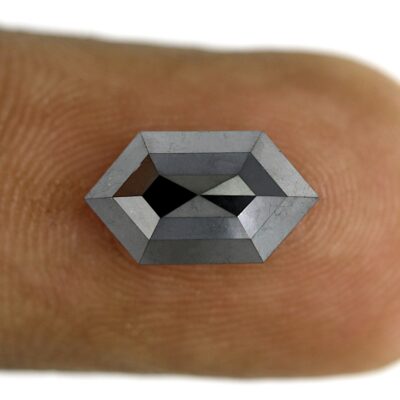 If you have made your mind to choose this elongated hexagon black diamond then you must know about its basic characteristics first. Check some of the must-known facts about this diamond below.
One of the important facts, before you purchase a black diamond, is its size, the size of this gorgeous black diamond is 11.2 mm X 6.3 mm X 4.1 mm.
People must check the quality of the black diamond before buying it, and this black diamond has AAA quality which is one of the topmost.
The total carat weight of this black diamond is 2.52 Carat which falls in solitaire shape.
It is elongated in shape which looks bigger on the finger of a wearer, also you can set it in an antique pendant setting.
With this black diamond, you can create some one-of-a-kind jewelry pieces which will definitely catch people's attention.
Custom shape black diamonds
If you are hunting for a black diamond in geometric shape and if you have a shape in your mind which is not listed in our stock list then don't hesitate to message us with your request. You can reach out to us on our email or chat, just put your exact requirement and our customer will reach out to you as soon as possible. We have a team of professional diamond cutters who are experts in cutting and shaping black diamonds in any shape or size you want. Also, we don't mess with the quality of black diamonds while making as we promise to serve our customer with only the topmost quality in black diamonds that is AAA quality.
But if you really like to start with this hexagon shape black diamond then you can take it away right now as it is available at the best price only at one of the largest black diamond stores online, Jogi Gems.