Top 10 Engagement Ring trends
Engagement rings have been a symbol of love, acceptance, and romance since time immemorial. The pandemic hasn't been able to stop those in love, i.e., the engagement period. Brides and Grooms flaunt exquisite modern engagement rings that are a blend of vintage, contemporary, and sophistication. If you're tired of scrolling Instagram and looking at striking engagement ring trends, we have something better on the table.  We have curated the top 10 Engagement ring trends for those who constantly thrive with the desire to honor love and beautiful relationships.
Fall in love this Engagement season
Salt and Pepper Diamond Rings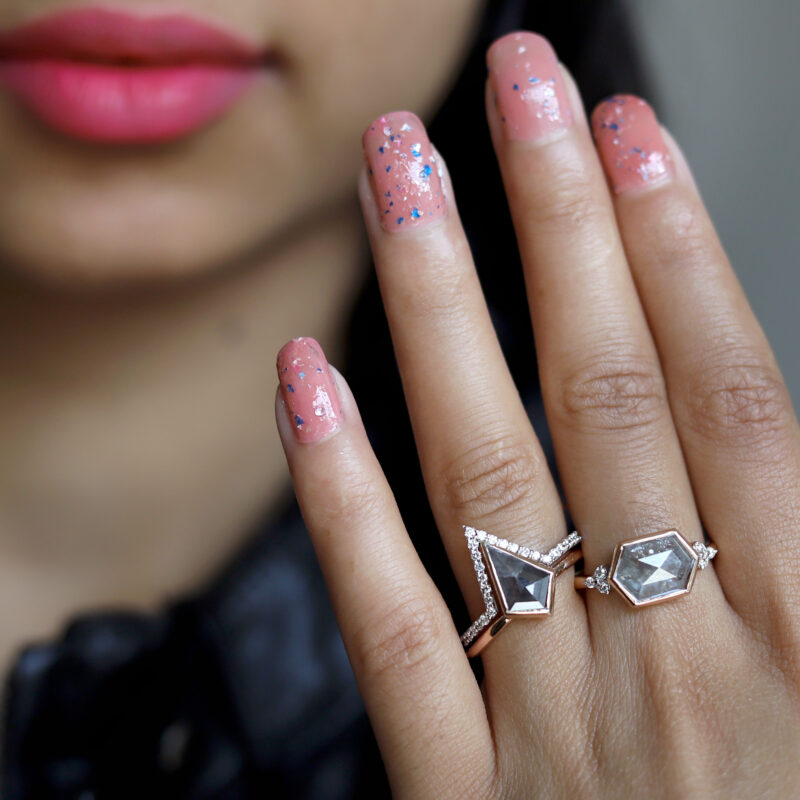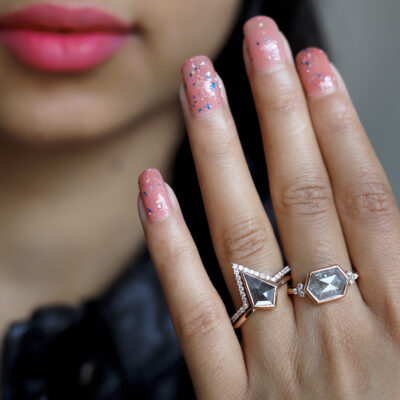 Salt and Pepper engagement rings are an absolute delight. You would fall in love with the purity of black and white inclusions. These are stunning stones with intuitive and one-of-a-kind designs. If you're looking for more of a vintage and contemporary vibe, the salt and pepper engagement rings would be a perfect fit.
Shop More Salt and Pepper Diamonds
Black Diamond Rings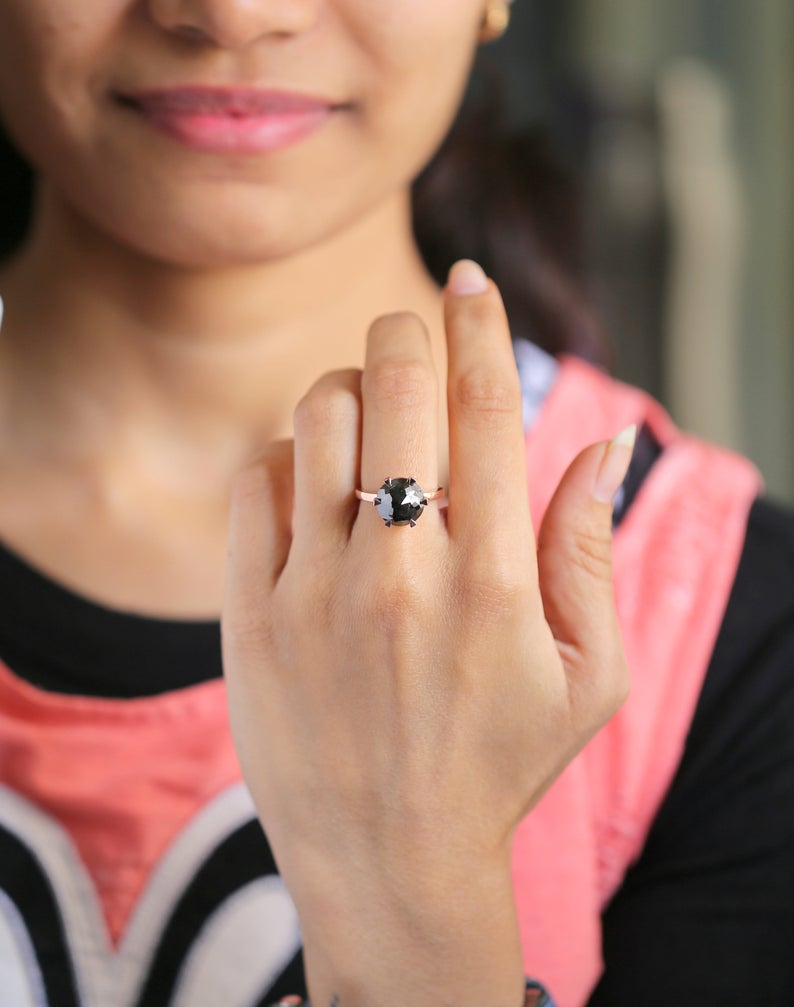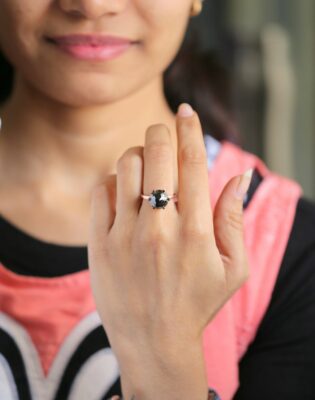 Get a non-traditional ethical alternative with the ultimate show stopper. Black diamond engagement rings resonate with a powerful, bold, and mysterious personality. The dark color comes from a higher content of graphite that gives them a lustrous look. Several women celebrities, including Jenifer Lawrence and Angelina Jolie, flaunt the black diamond rings. You can get customized designs to add more details and give a ring a personal touch.
Shop More Black Diamonds
Cushion-cut Salt and Pepper Diamond Rings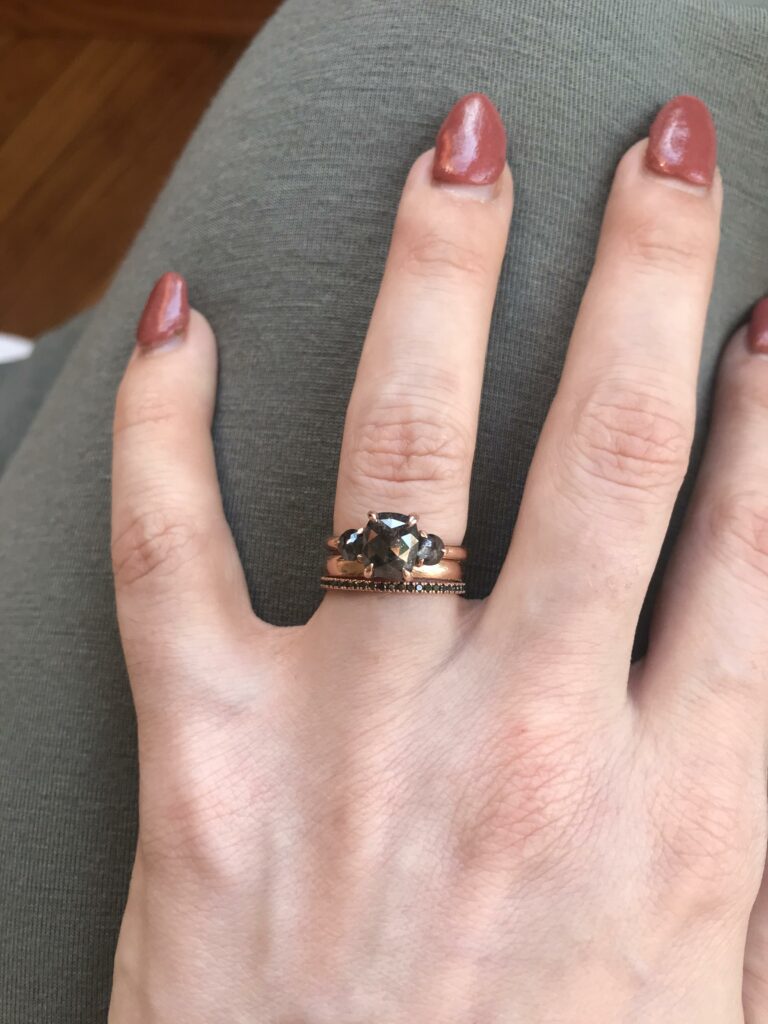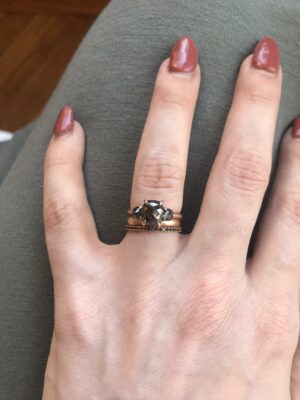 What's better than cushion-cut rings with beautiful inclusions that you cannot take your eyes off? Cushion-cut rings are our favorite when it comes to offbeat and unique engagement rings. You can go for the Icy white color diamond if you prefer simplicity and sophistication. The shiny plush Reddish Cushion-cut ring is made for the diva in you who loves to stand out from the crowd. Our absolute hot-seller is the Multi-faceted cushion-cut diamond with a tinge of black and grey, adding to its charm.
Shop More Cushion Shape Salt And Pepper Diamonds
Princess-cut Diamond Rings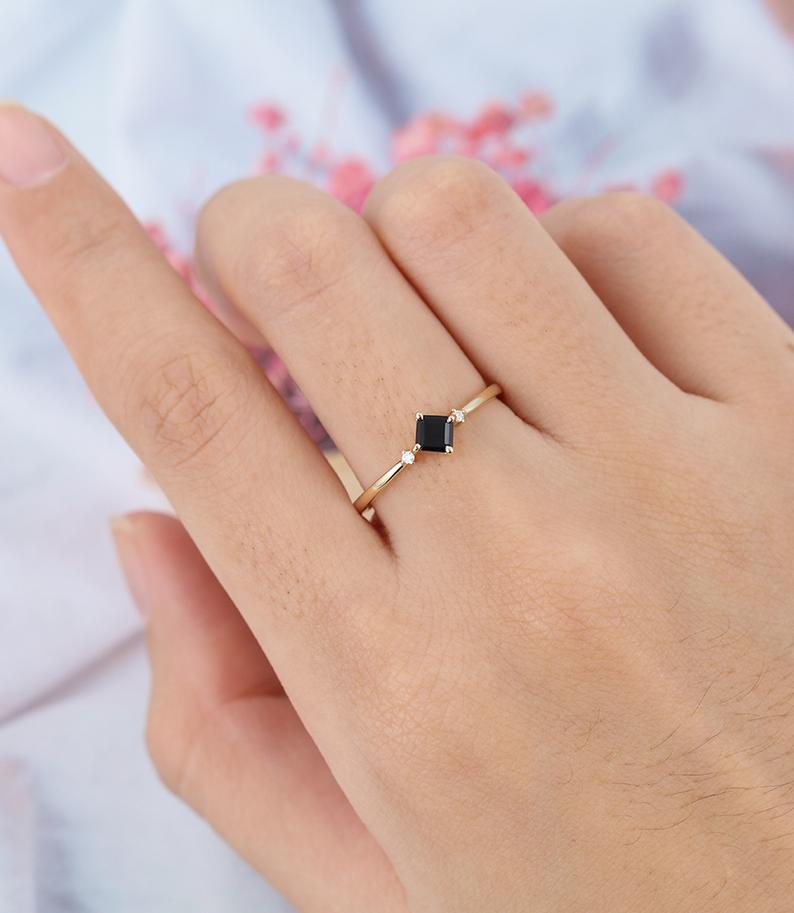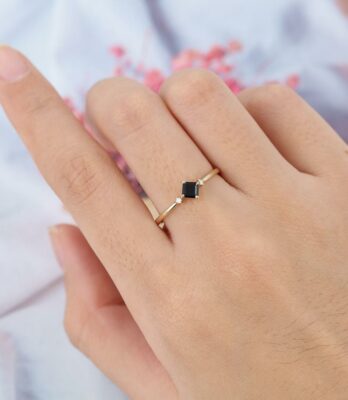 You cannot get enough of the princess-cut black diamond rings. The black color signifies boldness, authority, and power. The bride who wears this is a princess in her kingdom. You can choose from 1 Carat, 1.04 Carat, 1.05 Carat, 2 Carat, and more. The diamonds are ethically sourced following all protocols. These premium quality modern engagement rings come in state-of-the-art designs adding to the enchanting look.
Shop More Princess Cut Black Diamonds
Emerald-shape Black Diamond Rings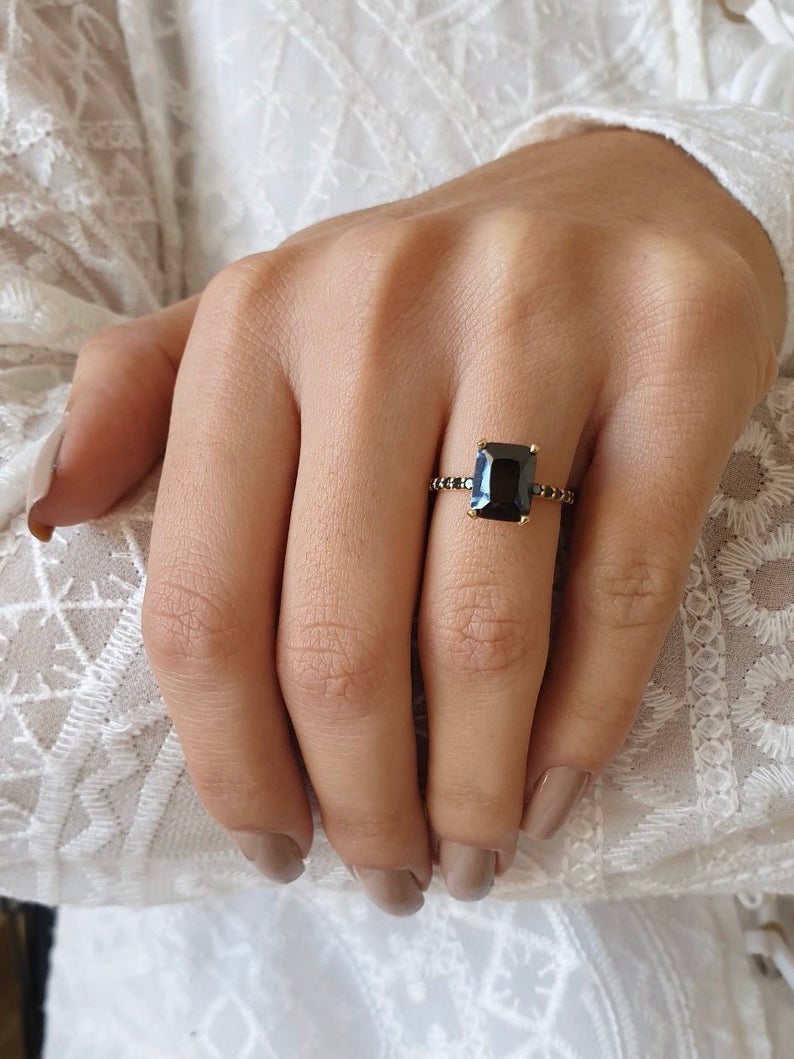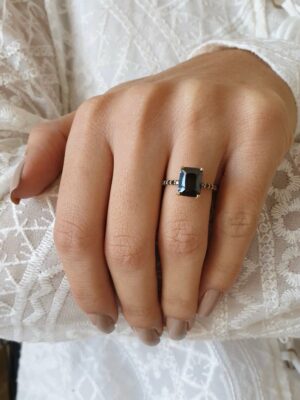 A unique wedding calls for an elegant engagement ring. We have a perfect option for the stunning couple. Emerald-shaped engagement rings are gaining popularity due to their natural inclusions and multi-facets. You can go for a shiny grey-black flat base or a while emerald-shaped rose-cut ring, a rare diamond. Another beautiful fit for adding a statement piece to your closet would be the light-toned yellow translucent diamond. You won't be able to resist the glamour and grace.
Shop More Emerald Shape Black Diamonds
Rose-cut Diamond Rings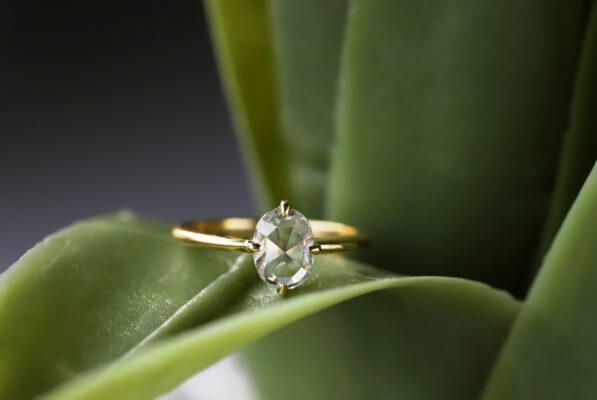 A rose-cut ring features the shape of a rosebud, anywhere between 3 to 24 facets. It has a flat surface area at the bottom while developing a larger surface for the stone's design. This is why the stone appears to be bigger than its carat weight. Rose-cut diamond engagement rings are non-traditional engagement rings giving you an extra edge this wedding season. Couples who need modern engagement rings with an artistic touch go for rose-cut diamond rings.
Shop More Rose Cut Diamonds
Oval-cut Black Diamond rings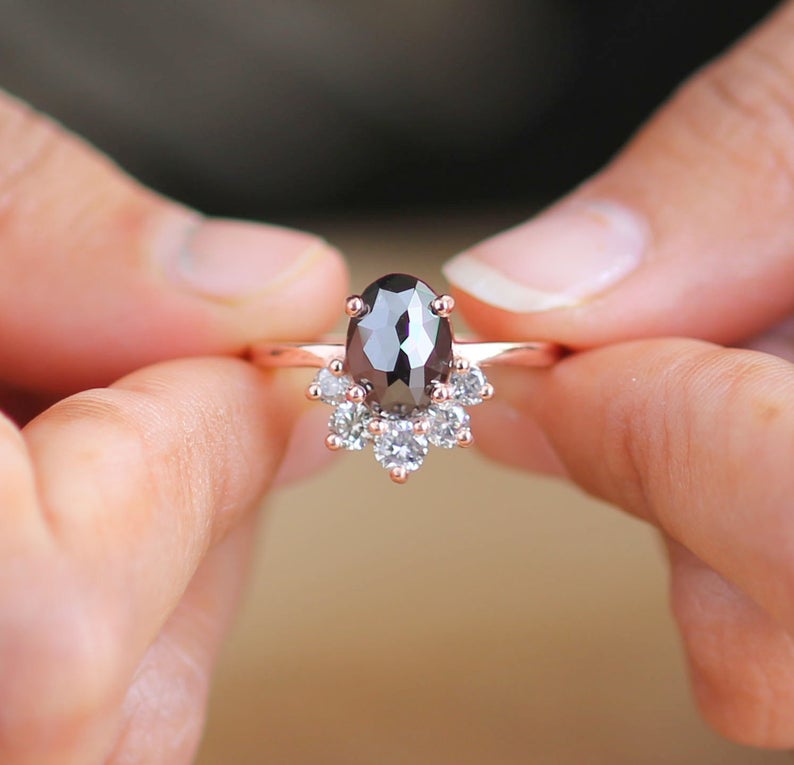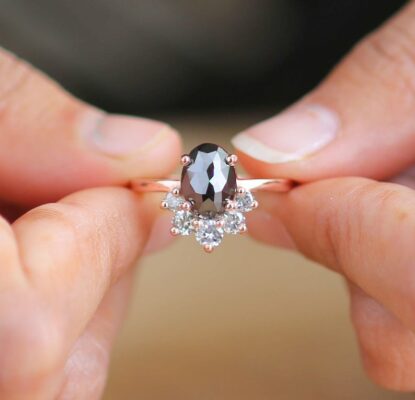 Your engagement rings should be unique and bewitching, which adds to your charismatic personality. Oval-cut diamond rings are a rarity. The diamond has a perfect shade of black which luster in the corners. The elegant diamond speaks for itself. These rings are made for independent and powerful couples who are ready to conquer every problem together.
Shop More Oval Shape Black Diamonds
Pear-shaped Salt and Pepper Diamond Ring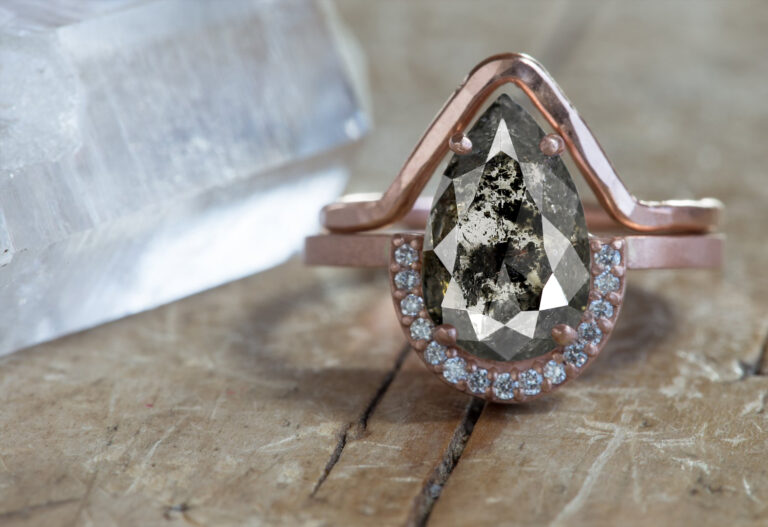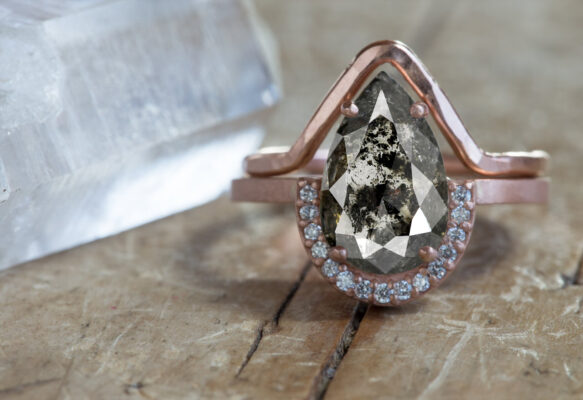 The pear-shaped diamond ring has a slimmer and broader shape which gives the image of a frozen teardrop. It is found in contemporary designs, which provides you with a vintage look. One of the most popular pear-shaped diamonds is the light-toned, glossy Peachy color perfect for occasions such as engagements or anniversaries.
Shop More Pear Shape Salt and Pepper Diamonds
Asscher cut Black Diamond Rings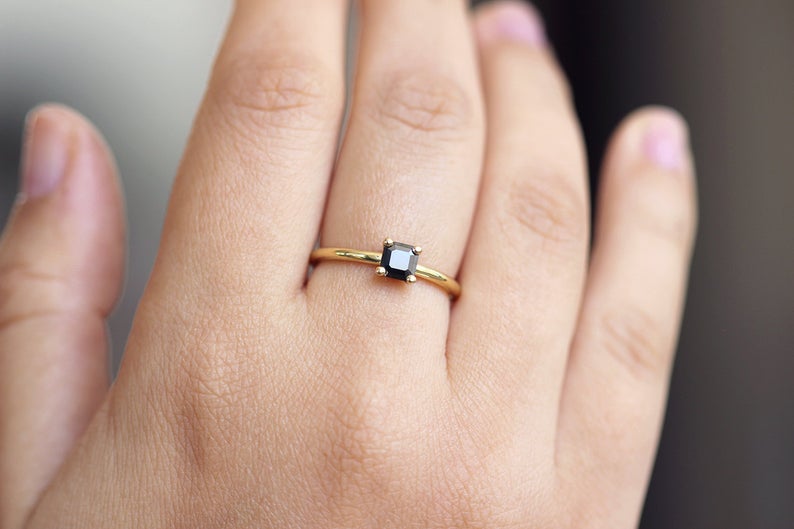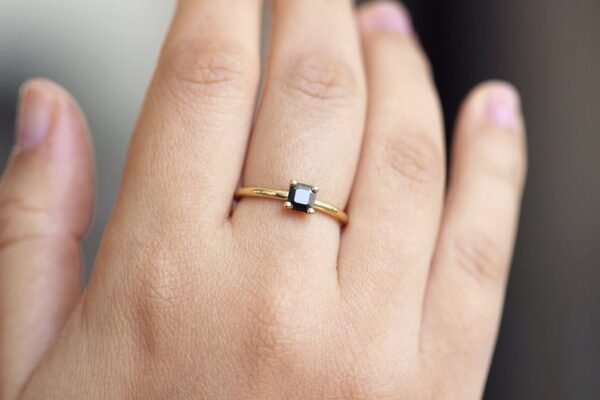 Isn't this a gorgeous black diamond? We recommend the Asscher-cut diamonds if you're looking for modern engagement rings. The inclusions are raw and leave you dazzled! You should check out the designs for couples who need a rare selection of black diamond engagement rings. You can get a customized design that's a blend of modernity and art. 
Shop More Asscher Cut Black Diamonds
Hexagon-shaped Diamond Rings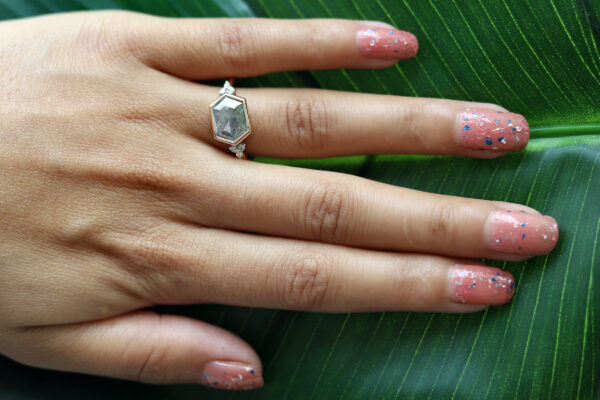 The hexagon-shaped diamond comes for both black diamond rings and salt and pepper diamond rings. The patterns follow vintage, geometric, glary, and sparkling styles. You can go for the magnificent blackish-grey dome-shaped flat base, which is an absolute stunner. We know that you can't stop drooling over these splendid designs. Get a hexagon-shaped engagement ring and flaunt it in style.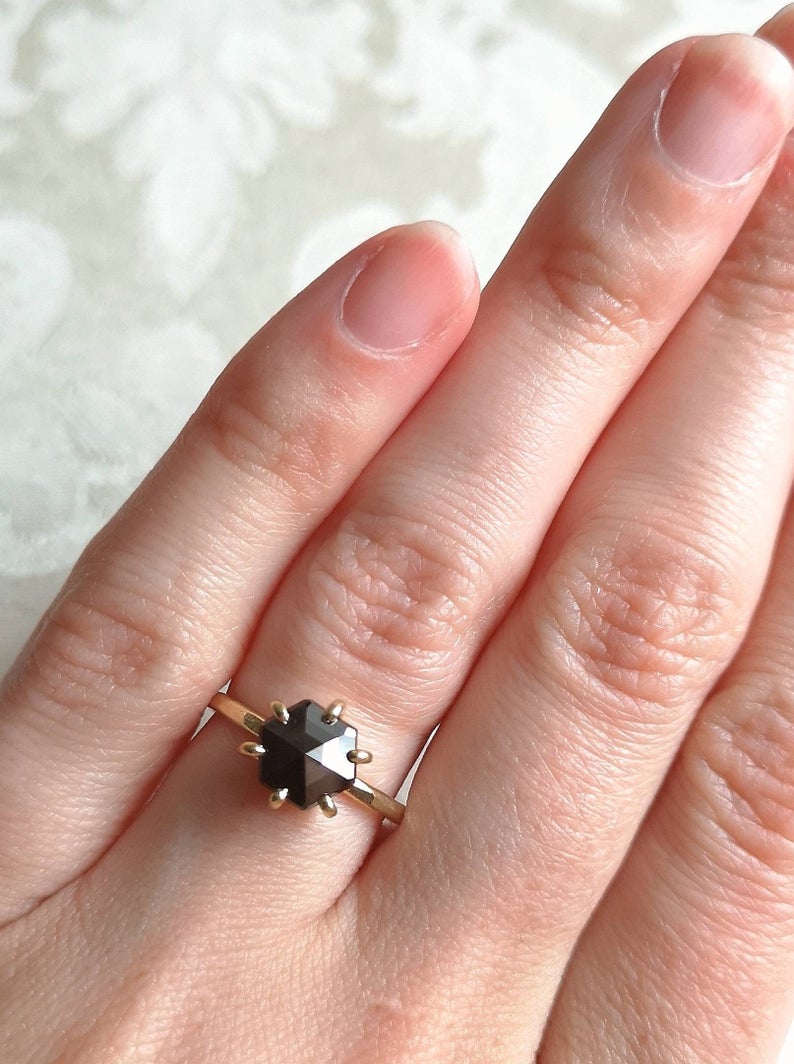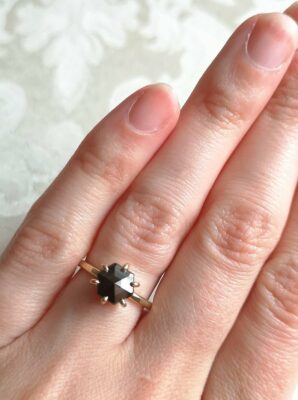 Shop More Hexagon Shape Diamonds
Let the Rarity reign.
Authentic and Elegant designs
Go bold with rare designs and patterns that stand out from the status quo. You're someone who's searching for a ring that's original and eccentric, breaking the classic Solitaire obsession. The latest engagement ring trends have a blend of inclusions that adds authenticity to your personality. We create patterns that are significant and poetic.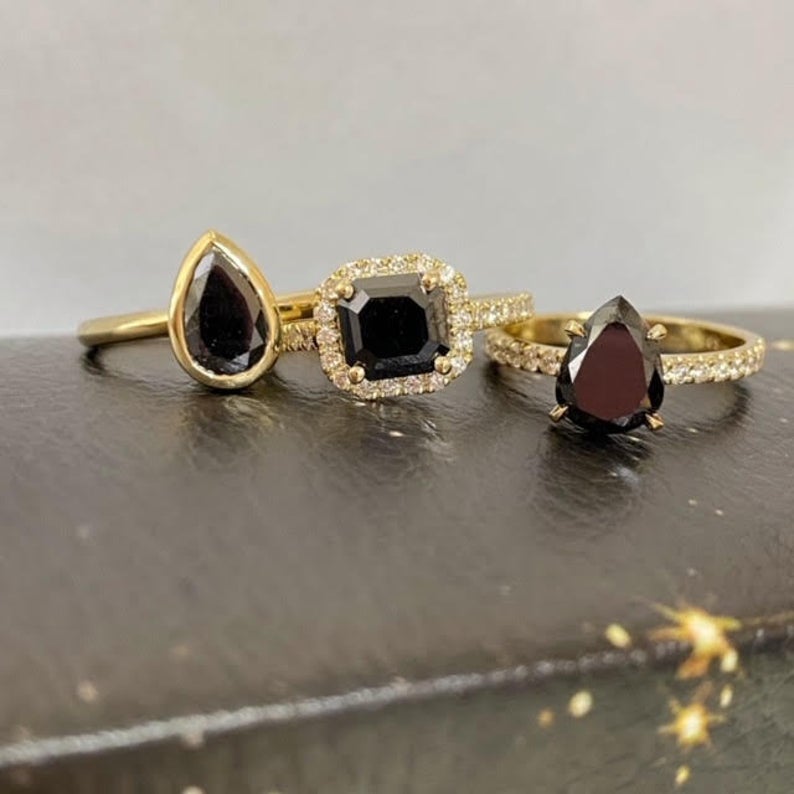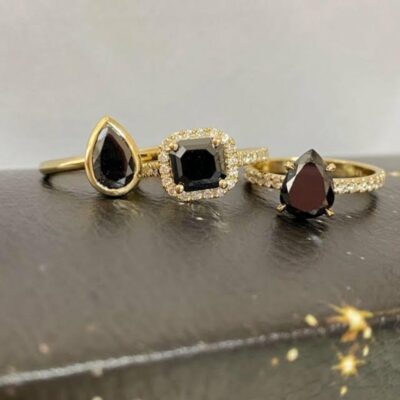 Brainstorming custom ideas
Customized rings rank highest in our top 10 engagement ring trends. You need a ring that you cannot just stop obsessing over. Some offbeat modern engagement rings would include salt and pepper diamonds, rose-cut diamonds, and black diamonds. We love to bring the out-of-the-box designs that help you create a tailor-made personalized design.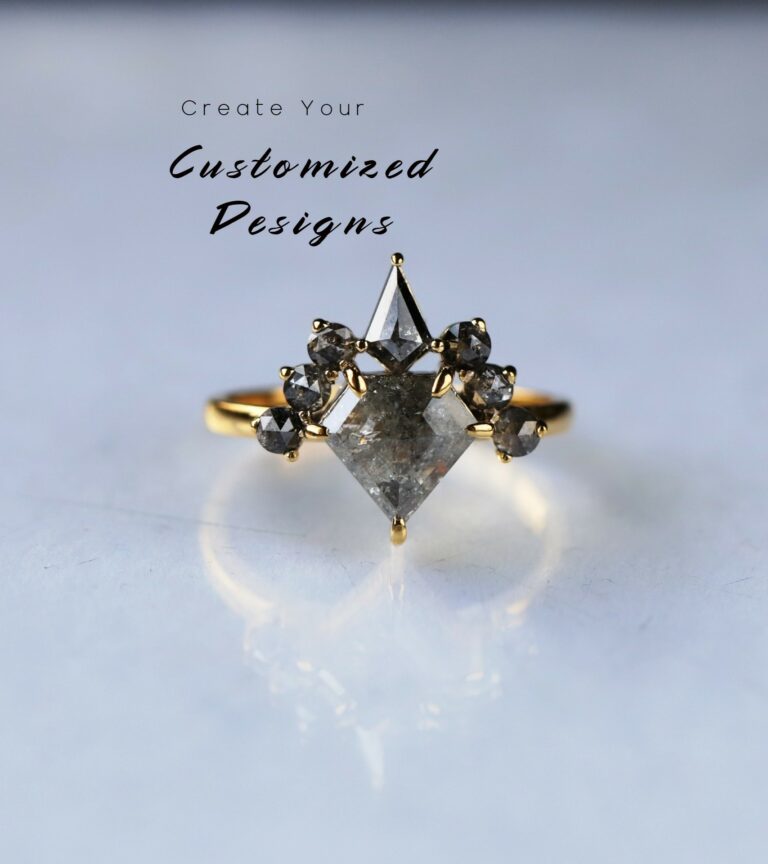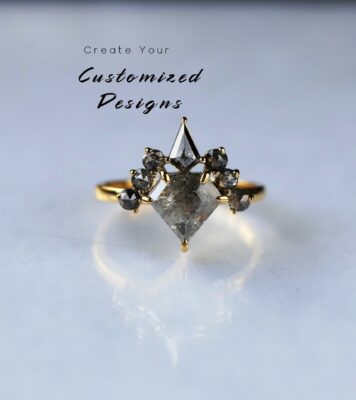 Sustainability
We have sustainable and eco-friendly modern engagement rings, especially for couples concerned about the ecosystem and human rights in the making of the diamonds. We have offbeat stones that are original and standalone designs. You can go for an extravaganza look with the black diamond ring or go bold with the salt and pepper diamond engagement rings. For adding simplicity and sophistication, you can select a rose-cut diamond engagement ring. The socially conscious you can sit back and relax. These are all eco-friendly options since the mining process is quick and doesn't destroy the ground's strata. 
Responsible Sourcing
Do you know where these beautiful diamonds come from? We believe in creating ethically sourced engagement rings. We extract precious diamonds, which are sourced following legal practices. Every piece is hand-made and designed profoundly to create that perfect ring for your engagement. 
Which one is your favorite amongst the top 10 engagement ring trends? Was it the charming black diamond ring or the lavish rose-cut diamond ring?