Black Diamond Ring In Trillion Cut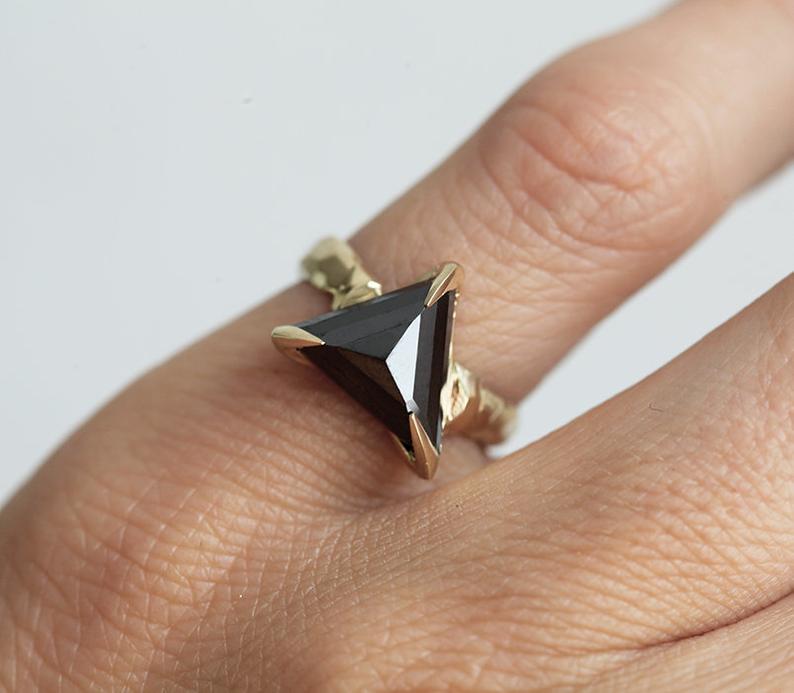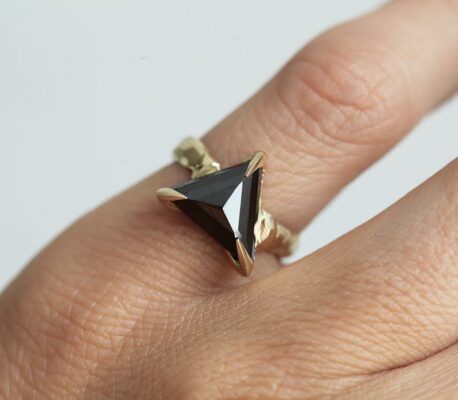 Natural black diamonds are in high demand and are very much in trend nowadays.  A black diamond in a trillion shape looks very interesting at the center of the ring. If you are a lover of black diamonds then you will definitely gonna love this ring. Because most of the black lover seeks a diamond ring with the black diamond ring on it.
These natural black diamonds are of fancy shape with a trillion cut with excellent finishing. The diamond is natural with jet black color with opaque clarity. It is a unique piece of jewelry. Trillion cut black diamond ring looks stunning with no doubt with a fancy shape natural black diamond in trillion cut.
Black diamonds are natural and are available at a low price so that we can easily own a black diamond ring on a budget.
A ring that demands to stay on your finger for a lifetime because of its stunning this ring features the super trillion cut of black diamonds in the center of the ring. And is beautifully crafted in 14k yellow gold that looks beautifully gorgeous and desirable ring.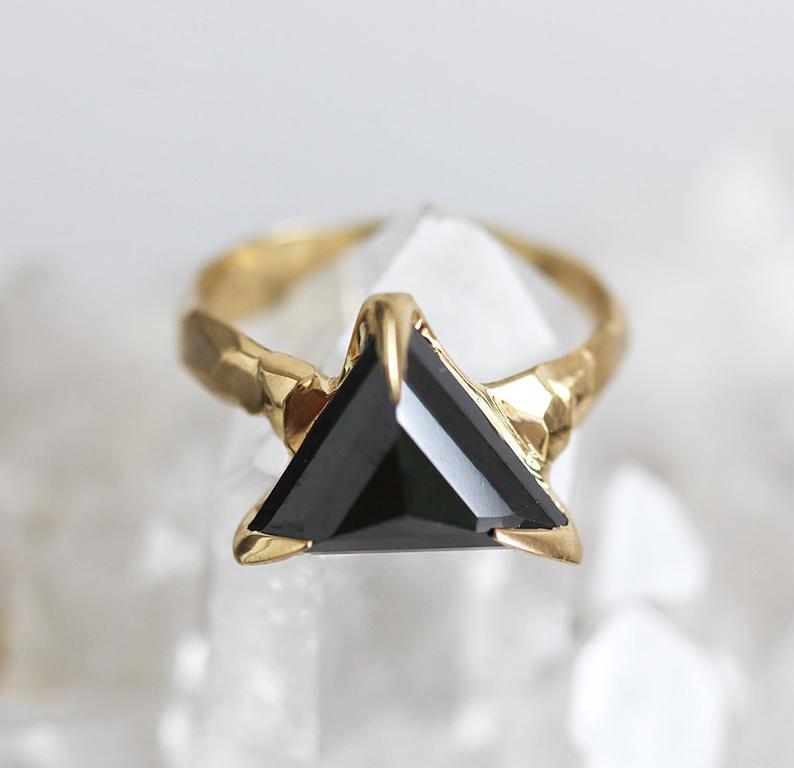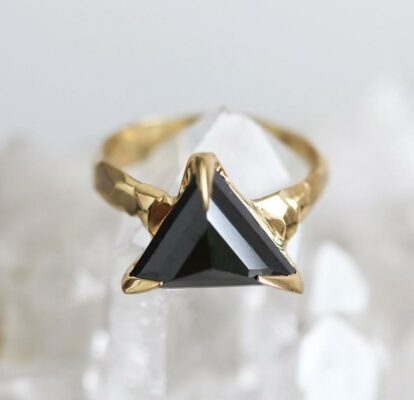 The use of black diamonds is the most common in vintage or antique style jewelry. Here, the whole ring is made up of 14k yellow gold and thus, it creates a great combination of black and yellow.
The best thing about black diamond jewelry is that it can be matched with any style. Moreover, people wear it to get a trendy look for a bold appearance.
And I'm very sure about this ring that if you own it you will get lots of compliments on it because of the black diamond trillion cut ring in yellow gold.
If you still would like to gather some more knowledge about what is natural black diamond then go through this and check our blog link below
Are Black Diamonds Real?
Black diamond trillion cut
Firstly, this black diamond is a fancy trillion shape and the diamond is a natural black diamond with jet black color with opaque clarity. The quality of this black diamond features the super quality of AAA. The trillion cut black diamond is one of the famous fancy shapes in all the diamond cut or in a piece of vintage jewelry.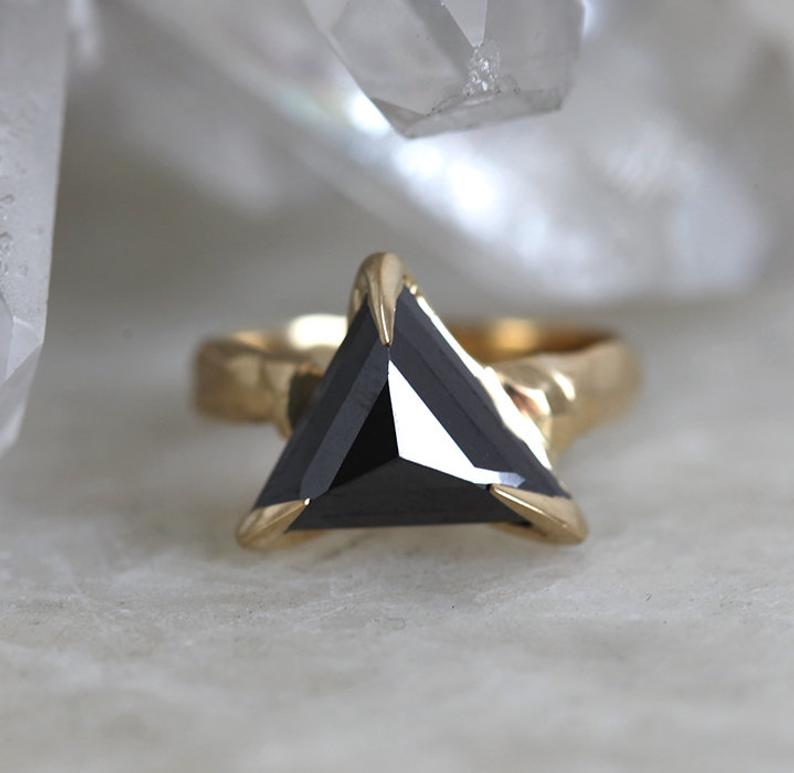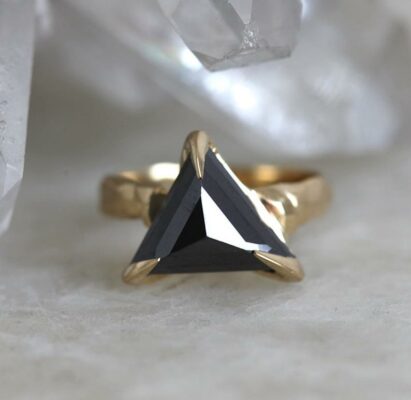 Trillion cut black diamond ring can be own for many reasons like it consist of unique trillion cut of the black diamond. It also makes you look bold, unique, and makes it perfect with any dress you wear.
It's an exclusive piece of jewelry, a perfect present for birthdays, engagements, anniversaries, valentine's day, weddings, Christmas, mother's day, friendship day, or just simply a wonderful surprise.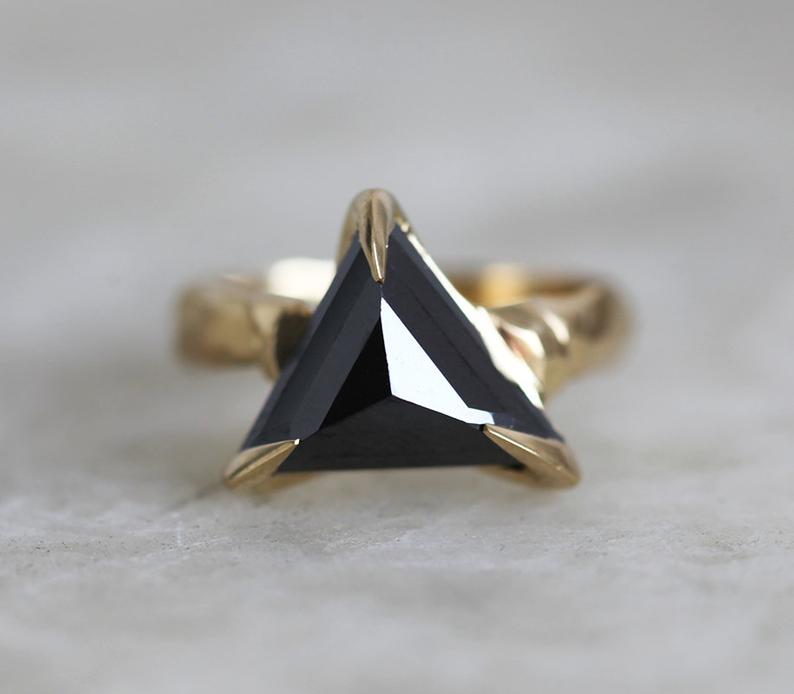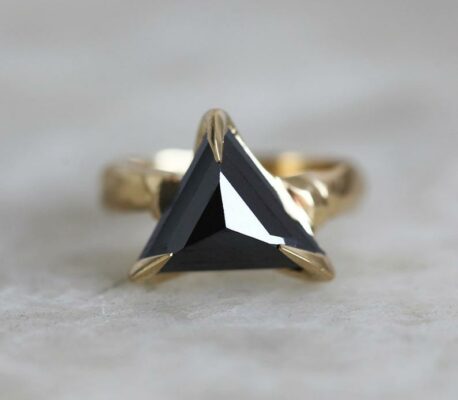 Customization And Delivery
Jogi gems are the leading manufacturer of black diamonds and black diamond jewelry. Here, we provide the best offers to our customers as we can understand the need for customization. We accept the customization request of the shapes, size, carat weight, and cut for the black diamonds. For metal, 14k gold and 18k gold in yellow gold, rose gold, white gold, and 925 sterling silver.
So if you want us to make black diamond jewelry of your's choice then feel free to mails us at any time. We will happily note down the details and can make the jewelry in the meantime.
We also offer fast delivery services. We can make jewelry within 10 working days to any corner of the world within 8 to 9 business days. So with customization and delivery, you can set your all trust in Jogi Gems anytime.