Round black diamond ring
Get yourself a bold and stunning look with our Round black diamond ring accented with white diamonds over the band at the best ever price from Jogi Gems. This black diamond ring is one of the best as it has a center stone of 1.50 carats with a superb AAA quality without a single scratch on it, The black diamond is a heated diamond that has to undergo heat treatment to gain a jet black color. While the accent diamonds set over the band are of GH color and SI clarity and absolutely natural.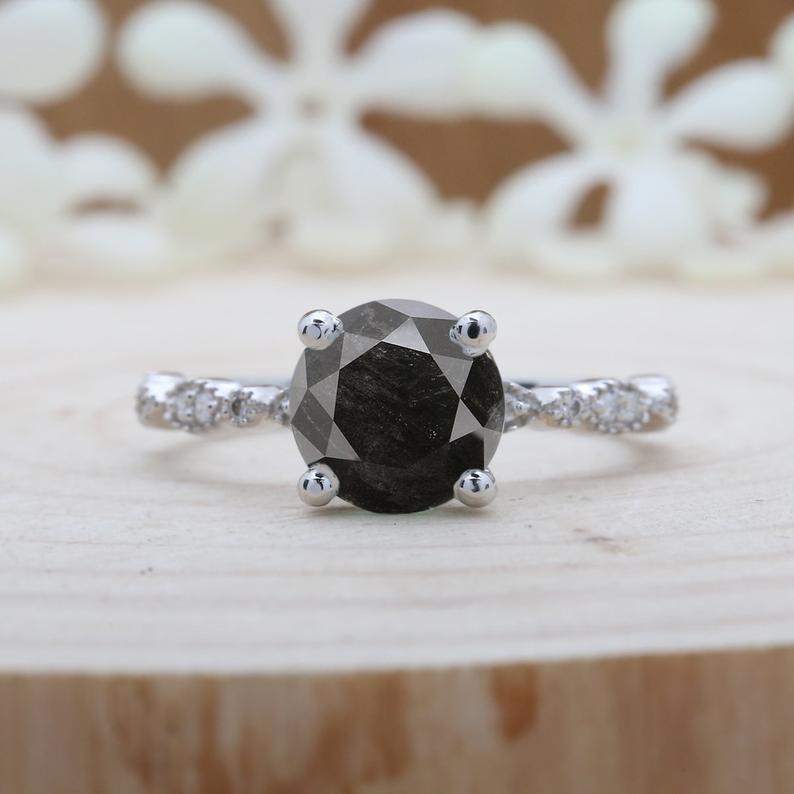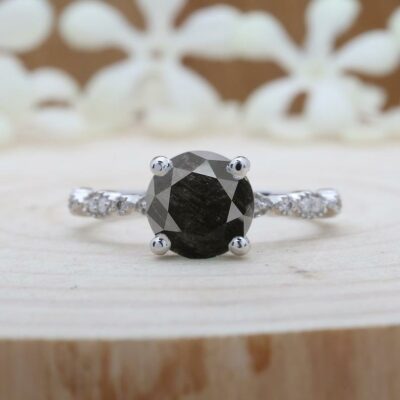 This ring has a leaf-like design where the tiny brilliant-cut diamonds are set in, makes it look like a vintage style that most people look for nowadays. The Black and white color of this ring looks absolutely stunning. It is the Greatest combination for people who are into black and white fashion. 14K white gold is used and to make it more comfortable as per price point the round brilliant cut black diamond is set in the center of this ring.
If you adore black color and want to own it in a different way that puts you back to the old era then you can definitely go with this unique round black diamond ring in 14K gold. Are you still new to black diamonds? and don't know much about them then you can learn more details about the magical power of black diamonds and their existence in the link below.
What Are Black Diamonds?
Round Black Diamond Ring in Details
The round black diamond ring is really attractive what makes it most unique? Know more about this black diamond ring in the content below:
This ring is made with 14K white gold and desired gold weight that is solid and can be used for daily wear jewelry.
It has a 1.50 carat of AAA quality black diamond in the center that is the toughest material on the planet earth.
The design of this ring will take you back to the victorian age hence you will fall for this ring again and again whenever you take a look at it.
To get a never-ending shine it is accented with white round brilliant cut diamonds in GH color and SI clarity.
The most amazing thing about this ring is it comes in lightweight with a thin band and you can pair it with your daily wear.
You can go with the ongoing trend of black diamonds with white diamonds in the accent with a cost-saving budget and own it forever.
You can propose your woman if she is more into the vintage design and loves to wear black all the time.
Customize your own Black Diamond Ring
Jogi Gems is a leading wholesaler of black diamonds and you can get several shapes of black diamonds from our stock, and not only black diamonds but if you want us to design an engagement ring of your wish then we can make that happen too. As we have a team of skilled artisans and jewelers who can make this happen at the budget you want. So to discuss more the customization of the black diamond ring all you have to do is hit our chat or email button and write us about it with a description of how do you want it. We will take note of everything and then start making your dream ring as per your wish in your budget. So whenever you have any such requirements then feel free to reach us out and we are happy to take such a request.