Kite shaped diamond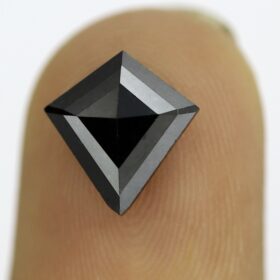 Kite shape is well known all time for its elongated and geometric shapes. There is no doubt that this shape has grabbed the attention of many in black color because they look gorgeous and impressive.
This natural kite shaped black diamond shaped is of AAA quality and is one of the most genuine shapes among black diamonds. It can be used in making a gorgeous engagement ring. There are so many interesting things to learn about the interesting fact of the black diamond. There are different shapes in black diamonds and each of the shapes has its symbol.
This shape looks special and unique and is very much trend and is in more demand for this natural black diamond kite shape. The kite shape has the steps cut facets on it and its back is generally smooth with a shiny luster table. This kite shape diamond can be utilized in both ways in a piece of jewelry. But in general, the jeweler uses the backside which is in step cut as that looks more geometric. Read the interesting fact about the kite shape diamond in the blog link below.
Kite Shaped Diamond
                                                                  Features Of Kite Shaped Diamond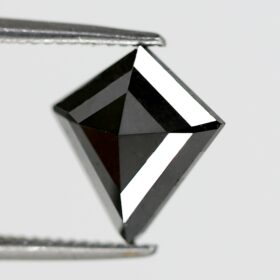 This natural black diamond kite-shaped is in an elongated shape with the 10.1 mm X 9.7 mm X 3.2 mm of measurement in size. It is with the opaque in clarity. If you are searching fancy cut black diamond for your unique jewelry then you can select this kite-shaped black diamond.
A fancy-shaped black diamond is the best and perfect for antique jewelry. This fine natural kite-shaped black diamond is of exceptional quality. The black diamond comes with superb AAA quality with jet black color which most of the jewelry makers prefer.
The weight f this black diamond is 1.72 carat which is perfect for an antique piece of jewelry. 1.72 ct Antique Kite Shape Flat Back Black Natural Loose diamond is an ethically Sourced Diamond and is ideal for making Solitaire Ring for her.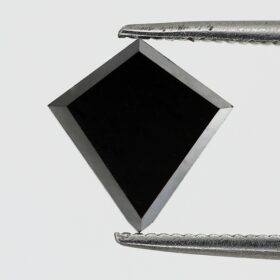 It is a 100% ethically source, conflict-free natural diamond. We also sell Natural Diamond, Raw Diamonds, Uncut Diamonds, rough diamonds, Natural uncut rough diamonds, which can be used for making diamonds necklace, bracelets, earrings, and customized jewelry. This diamond originates from Africa and is conflict-free.
Our mission is to provide an authentic and wide range of high-quality Natural Diamond at unmatched prices. We also provide our customers with wholesale terms for all our products. Please send us a Conversation with your requirements.
Custom and Delivery
If you want a different size, carat weight in this kite-shaped black diamond then you can definitely ask us here for sure. Our effort is to understand the needs of our customers and as per that, we accept custom orders often. As we are one of the emerging names in black diamonds and black diamond jewelry supply we can offer you a free customization service.
So here, Jogi Gems offers a different cut of black diamonds in any shape and size you want. So, we also offer fast delivery services and we can make jewelry within 10 working days to any corner of the world within 8 to 9 business days. So with customization and delivery, you can set your all trust in Jogi Gems anytime.