Black Diamond Dainty Ring
Dazzle up yourself with this bold and stylish black diamond dainty ring which is made with five petite black diamonds of AAA top quality made with 14K rose gold. Wedding rings with black diamonds are a trendsetter. This ring has 5 black diamonds set with a thin band of 1.5 mm in it. If you believe in numerology then you might know that the number 5 is a powerful number that boosts the spiritual growth and self-confidence of an individual.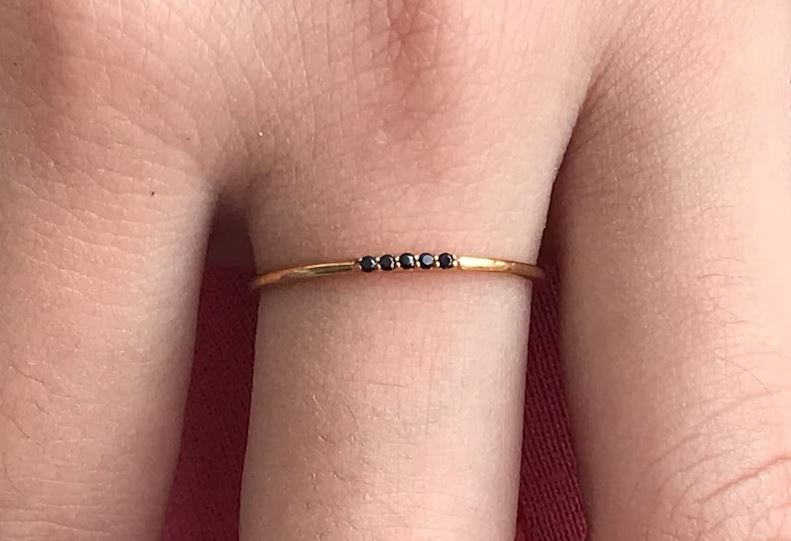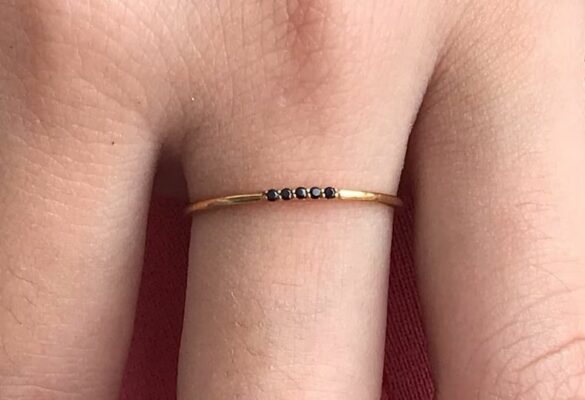 Why wear black diamonds?
Black diamonds are cheaper and you can find them easily in their treated form while buying a natural black diamond without any treatment can cost you lots of money and one wouldn't like to wear it as it lacks in luster which then leads to less sparkle. We use black diamonds that are treated as they are easy to afford and also promise to glitter when one wears them. The best thing about black diamonds is that one can match them with any type of jewelry or dress you wear. And black diamonds easily match up with any type of gold color such as rose gold, white gold, or yellow gold.
If you want to seek more information about black diamonds and their uses in modern-day jewelry then you can follow the link below.
What are black diamonds?
Features of Black Diamond Dainty Ring
Are you a solid admirer of small, delicate, and pretty things? then you must get this black diamond dainty ring for sure. If you are looking for a black diamond wedding ring for women online then you might get multiple options but this ring will not only catch your attention with the pictures but also the cost of this ring is quite affordable as we source diamonds and gold on our own and promise to make our jewelry of high quality with natural diamonds which is durable.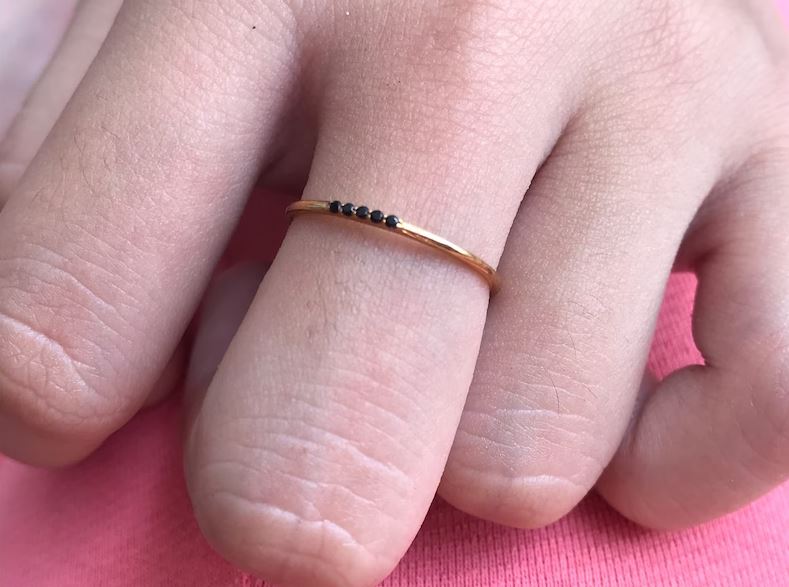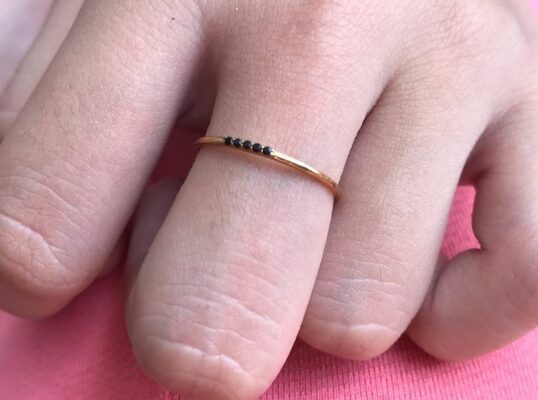 Let's talk about the features of this dainty black diamond ring.
This ring has 5 tiny black diamonds of 1 mm in size.
It is crafted in 14K rose gold which promises durability.
The thickness of the band is around 1.5 mm which makes it look pretty.
The total carat weight of the black diamonds in this band is  0.025 cts.
This black diamond dainty ring weighs 1.4 grams only.
The quality of the black diamonds is AAA quality, one of the top quality you can ever have in black diamonds.
Customize Black Diamond Dainty Ring
We customize black diamond engagement rings with specialization, if you want us to customize this black diamond dainty ring as per your want then you can directly reach out to us by email or website chat. Do you want to make a white diamond dainty ring or a black and white diamond dainty ring? we can make it happen for you. We can also make this ring in different gold colors like yellow gold, white gold, or black gold, whether you want it in 14K /18K gold. Our team is all set to make your dream wedding ring which means more than just gold or diamonds, we understand this concern and hence add value to it by making it just the way you want.  So if there's any type of customization request then feel free to reach out to us.