"Why are Black Diamond Round Shape always in trend?"
This Black Diamond round shape is a classic and elegant choice for engagement rings. Having black diamonds in your jewelry collection gives complete styling to your wardrobe.
They are considered a brilliant cut because of their traditional, symmetrical, complete design, which has 58 sides. 
Additionally, compared to other fancy designs, round-cut diamonds' faceting enhances the appearance of color and inclusions.
Here we are to guide you in purchasing your next loose black diamond. 
All about the Black Diamond Round Shape
.
Round brilliant cuts have a traditional, timeless appeal and are usually used in necklaces, engagement rings, and other fine jewelry. 
The most prominent diamond shape is the round cut. In fact, they account for around 65% of all engagement rings and about 75% of all diamonds sold.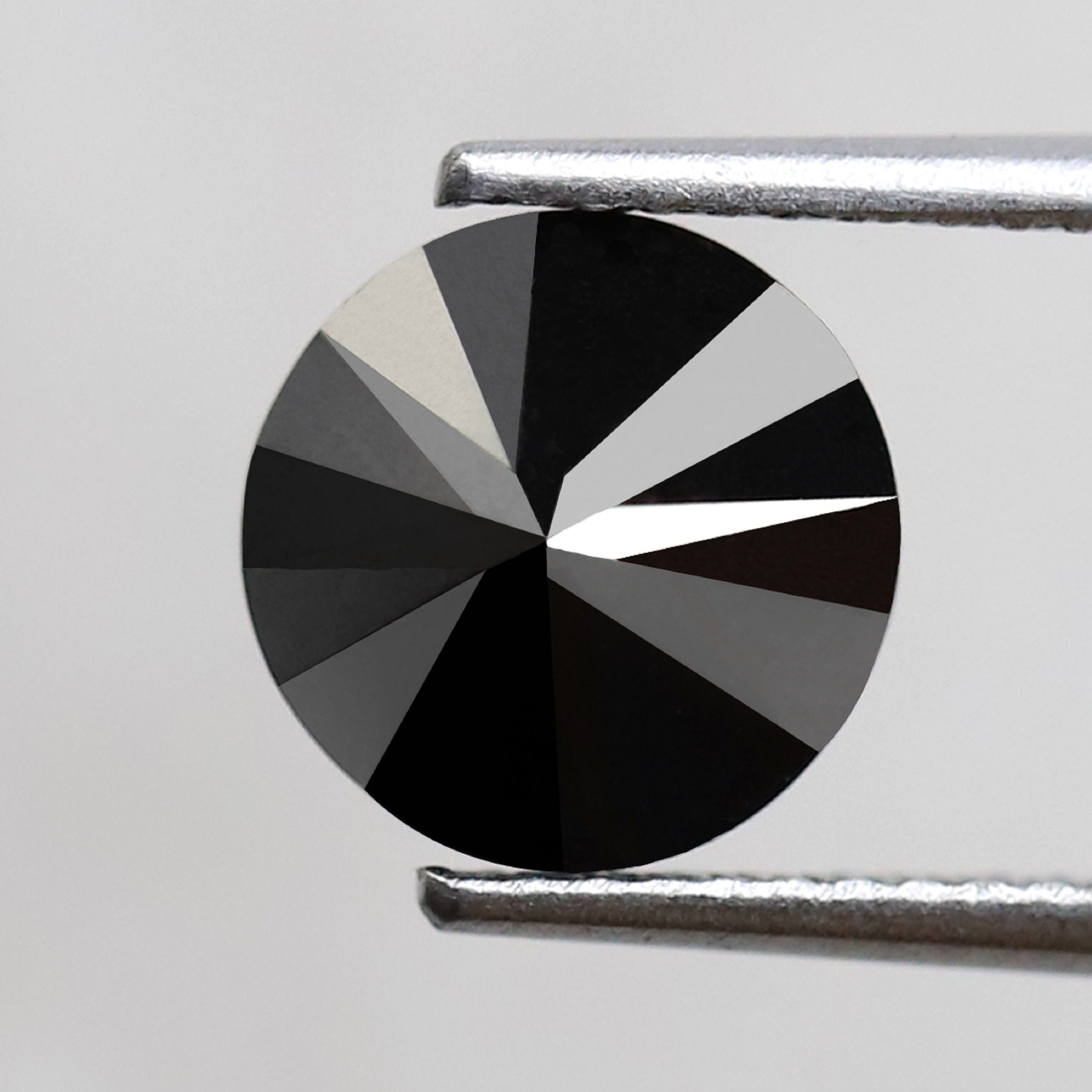 Cut Quality
The factor that has the biggest impact on a diamond's beauty out of all its attributes is its cut quality. It includes the optimal balance and aesthetic appeal of a diamond. A diamond's cut dimension has an impact on how well it can reflect light and provide shine.
We recommend paying close attention to cut quality because it influences a diamond's visual beauty. 
Get the apt knowledge about black diamonds from our blog link below.
Black Diamond History
How is our Black Diamond Round Shape
 a perfect fit?
When it comes to one-of-a-kind diamonds, you don't want to miss out on authentic jewelers. Find out why to select this gorgeous black diamond round shape.
The diamond features 2.08ct with an 8mm area which gives it an enlarged look

If you are a fan of the original

 loose black diamond

this is the perfect gem for you

This black diamond would rock on a

solitaire diamond ring

The diamond has a beautiful rusty clarity to it that makes it look vintage
When the diamond is paired with the right kind of ring setting the stone dazzles up. You can pair the diamond with a beautiful diamond pendant,  black diamond stud earrings, and elegant bracelets. One of the most pretty advantages of a black diamond is you can pair it as  Black diamond men's ring as well.
Benefits of a
round brilliant cut black diamond.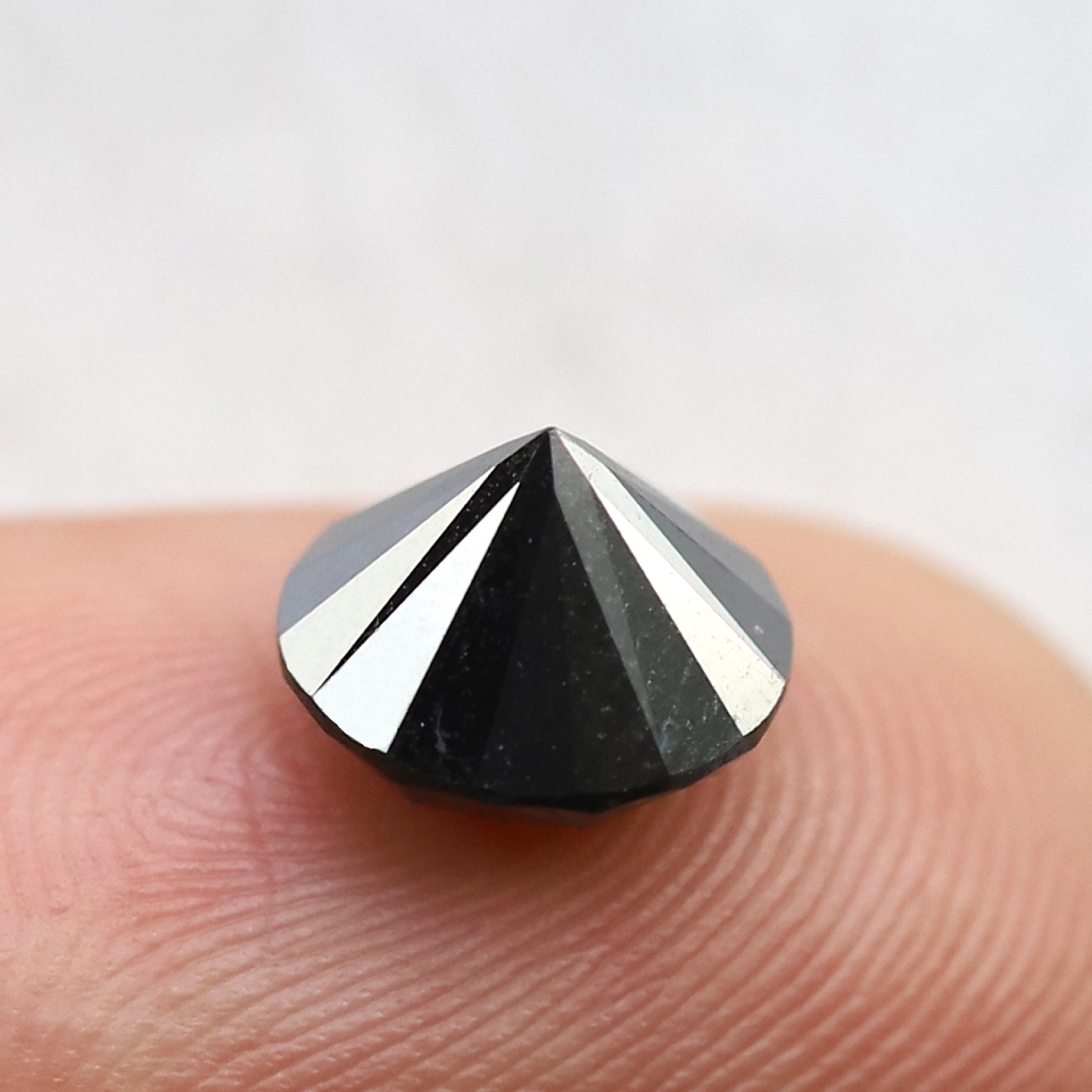 The dimensions of an excellently cut diamond are among the most striking characteristics of round-cut diamonds.
58 aspects

symmetrical, round shape (length-width ratio of 1-1.01)

Tables: 55 through 59

60% to 62.6 depth percent

Girdle, thin to somewhat thick

Zero culet
Why buy black diamonds from Jogi gems? 
We offer AAA-quality black diamonds which are top quality diamonds and offer natural, uncut, raw diamonds that are perfect to create black diamond pendants, black diamond rings, diamond pendants, and black diamond stud earrings. 
Long things short
To achieve the most magnificent Round Cut Diamond, prioritize the diamond's Cut quality before its Color and Clarity. Ensure that the GIA or AGS has certified your black diamond round shape. 
Contact our specialists at www.jogigems.com who can assist with reviewing and selecting high-quality diamonds to ensure you're making a wise purchase selection.
Head on to our chat box to get better assistance!