Black diamond rose gold ring
Are you looking for a black diamond rose gold ring at the best price over the web then you are at the best store for shopping for black diamond rings at affordable rates. This design is so special, usually, you can see a halo of diamonds in a round shape over the diamond but in this ring, you can see a halo of diamonds in hexagon shape with a rose cut black diamond set in the center. This unique design makes this black diamond ring look unique, generally, black diamonds don't shine as bright as white diamonds but the triangular facets help it to sparkle or reflect the light that hits the surface. And to reset the white diamonds in the halo and on the band sparkles brightly.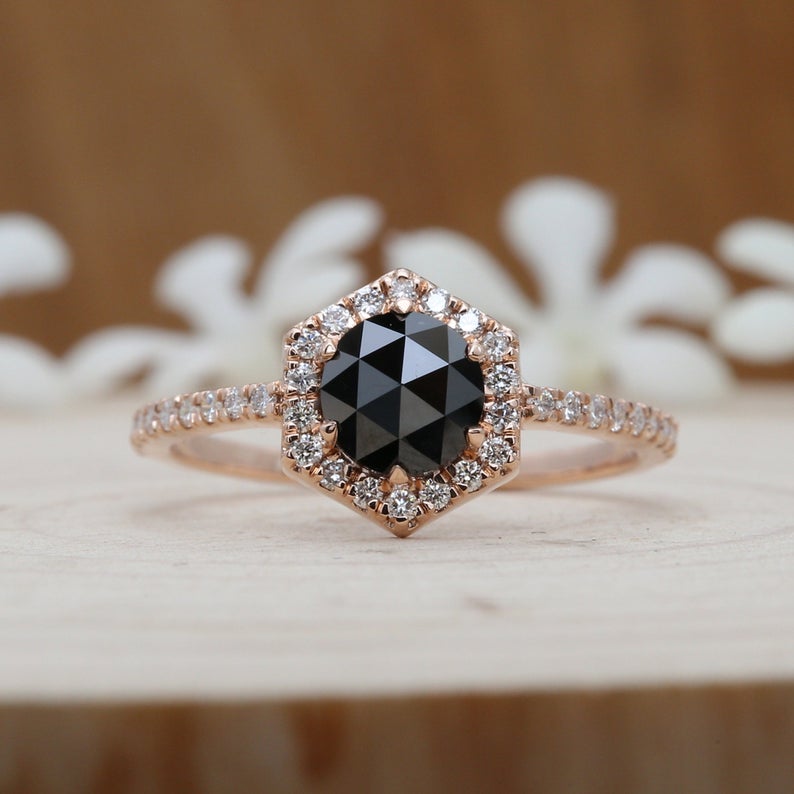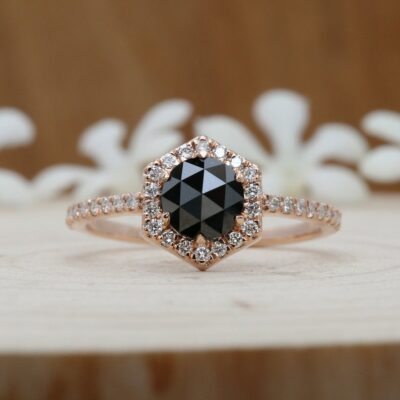 Black diamonds are well known for their bold beauty, Wearing one will make you feel confident about yourself. It also signifies deep and true love which is immortal and pure. So if you love black diamonds and want to own a ring with a combination of rose gold then you can select this black diamond rose gold ring and make it happen. Are you completely new to black diamonds? Then you must fast check with the magic of black diamonds and their less known facts in the blog link below.
What are black diamonds?
About Black Diamond Rose Gold Ring
Why you must make this black diamond rose gold ring yours? Here are a few of the reasons we have quoted for you: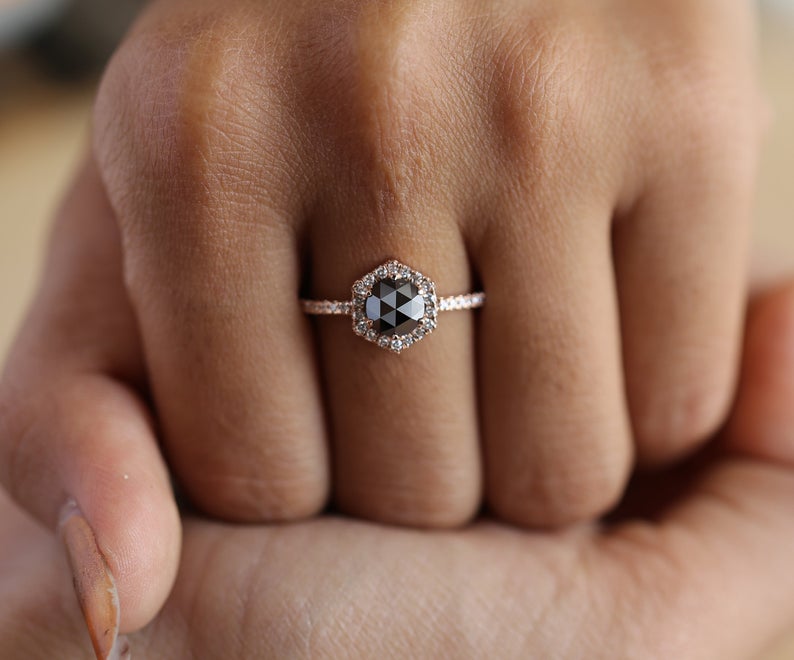 This ring comes with an ethically sourced black diamond in rose cut shape set in trendy 14K rose gold color.
It is easy to wear a diamond ring that has a halo of white diamonds in hexagon shape and few glitters of diamonds on the shank.
If you are looking for a fit-to-budget diamond ring then you can definitely go with this gorgeous ring featuring rose cut black diamond for sure.
The center stone of this ring has 0.90 carats of round rose cut diamond, with an accent stone of round brilliant cut diamonds in 0.38-carat weight.
If you are a vintage style lover then the rose cut black diamond with rose gold gives it the desired vintage look that makes it one of a kind.
It consists of natural diamonds with the jet black color of the black diamond and GH color, SI clarity of the white diamonds to sparkle forever.
You can wear this black diamond ring on whichever occasion you want to and can pair it with your rose gold earrings and see people glaring at it.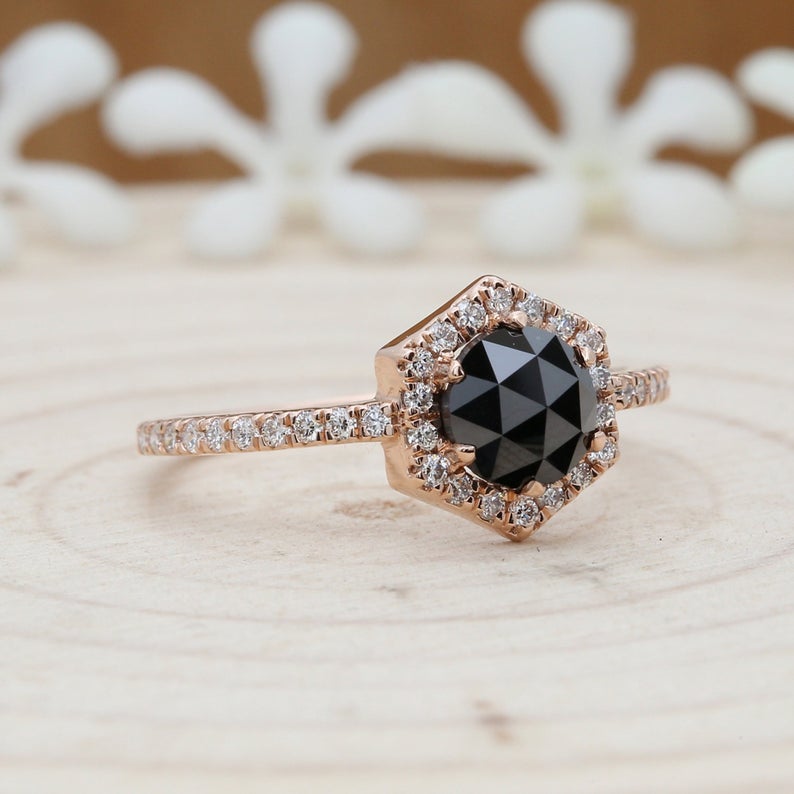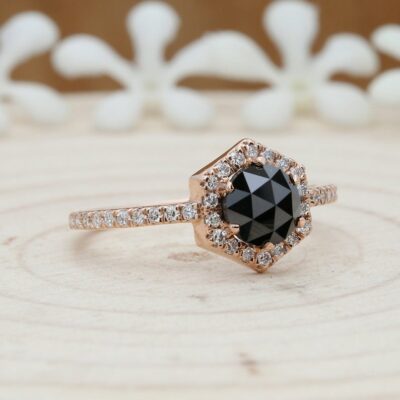 Customize your own Dream Black Diamond Ring With Us.
If you have any design in your mind and want to own a black diamond ring that stands out from the crowd then feel free to contact us anytime. You can reach us out through chat or our email address and we are ready to hear from if you have any customization request with the black diamonds. We can create magic for you as we have specialized people on our staff who are capable to create a ring of your wish. Jogi Gems has its own diamond and cutting factory with jewelers who can design rings of your style, so without hesitation, you can discuss your dream ring with us in email or chat. We believe in serving the best to the world and at the price you want us to make it keeping it real on both sides, We want to leave a never-ending smile on the face of our happy customers.