Oval black diamond ring
If you are looking for an oval black diamond ring then this ring is the best you can opt for, It comes with an accent of gorgeous round brilliant cut salt and pepper diamonds. It features an oval rose cut black diamond of 1 carat in the center which features AAA quality. The whole ring is made in 14K rose gold, the combination of rose gold and black diamond makes this ring unique, and the tiny accent at the end makes it look elegant.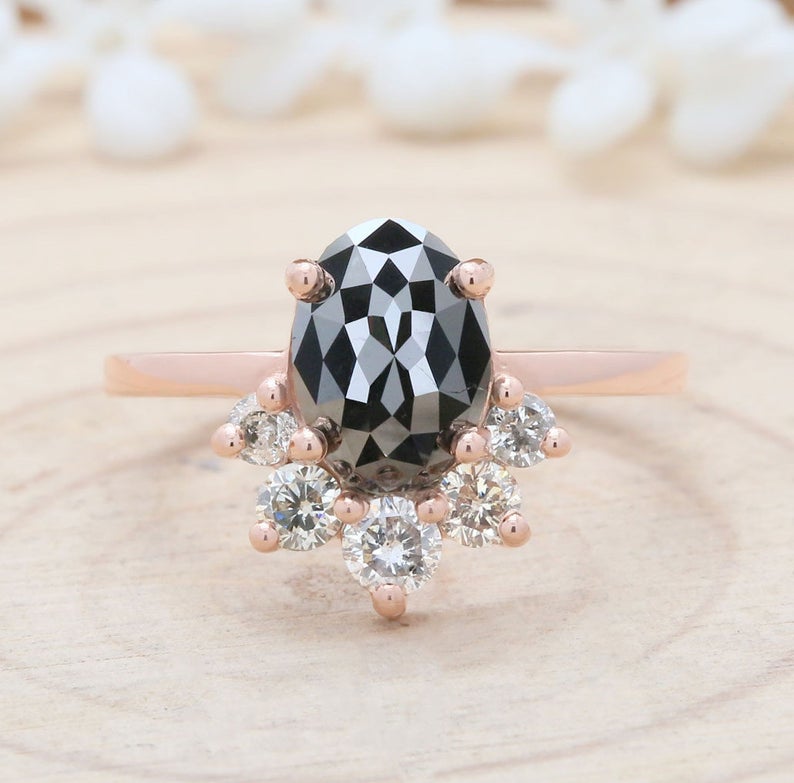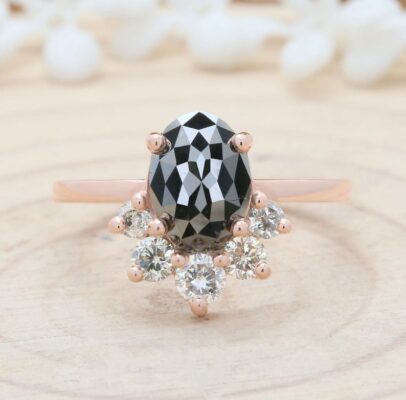 Hence, if you are looking for a black diamond ring in rose gold then this could be the best option for you. Even if the center diamond is black and opaque it still sparkles because of the rose cut facets, and to add extra sparkle to it, it has a halo of white round brilliant cut salt and pepper diamonds set in a halo around the center stone. The black diamond with salt and pepper effect on it in rose gold enhances the beauty of this ring.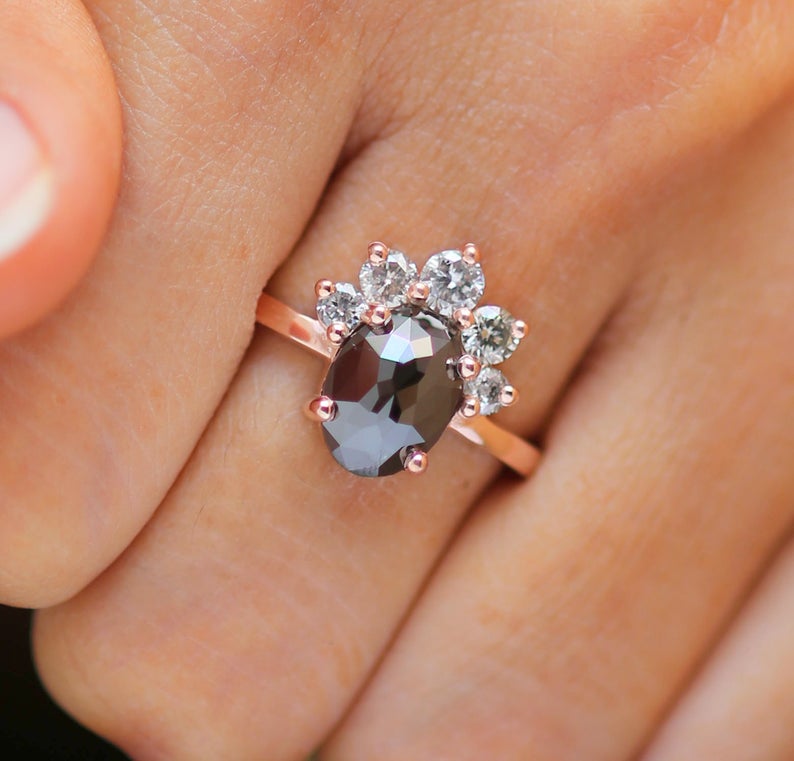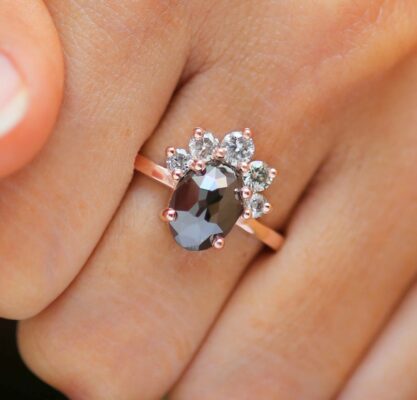 Black diamonds are unique in fancy colored diamonds, with the fashion industry accepting black color widely the trend of black diamonds is on the top nowadays. Also, the best fact about having a black diamond ring is that the price of a black diamond ring is quite lower than that of a similar white diamond ring. Hence getting a black diamond ring will be quite beneficial for your pockets too with adding an extra and precious layer to your obsession for the color black.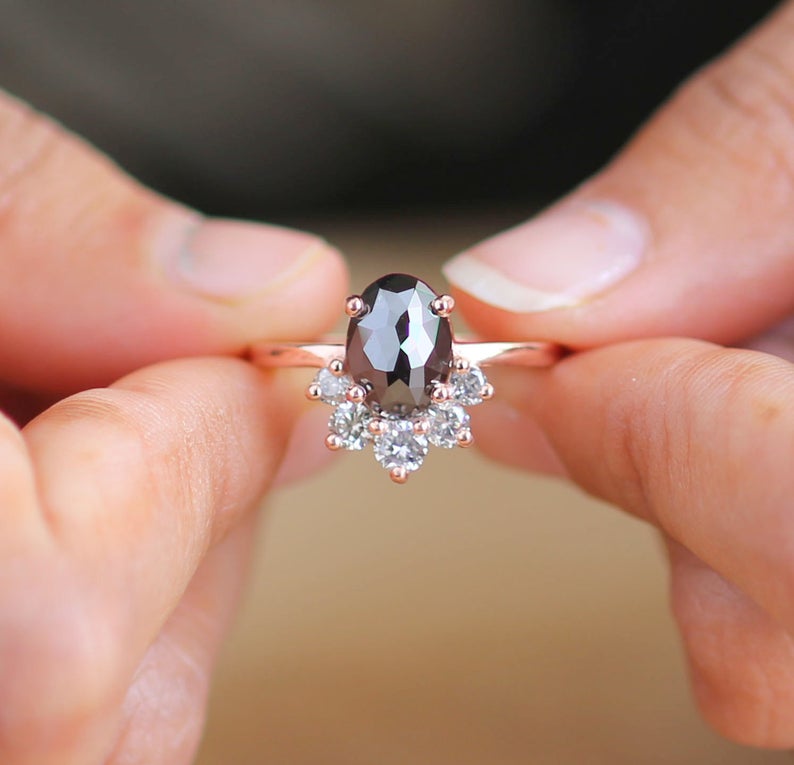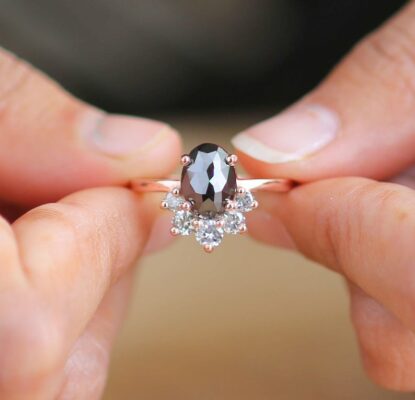 If you are new to black diamonds and want to know how black diamonds are rocking modern-day jewelry then you must check with our blog link below.
Magic of black diamonds in modern day jewelry
Oval Black Diamond Ring in Details.
This oval black diamond ring has some of the special features in it lets check with some highlights in the details below.
One of the most unique features of this black diamond ring is the oval shape of black diamond featuring rose cut facets on its surface.
To add more sparkle to it the oval black diamond ring has accents of salt and pepper white brilliant cut diamonds around it.
The total carat weight of the oval black diamond is 1 carat and white diamonds in the accent stone are 0.72 carats.
The whole diamond ring is made of 14K gold, diamonds set in 4 prongs and 3 prong settings.
Oval shape black diamond in the ring features AAA quality with opaque clarity and the round brilliant cut salt and pepper diamonds are of I3 clarity.
This black diamond ring is best to gift on anniversary or you can propose to your girl with it if she loves the color black.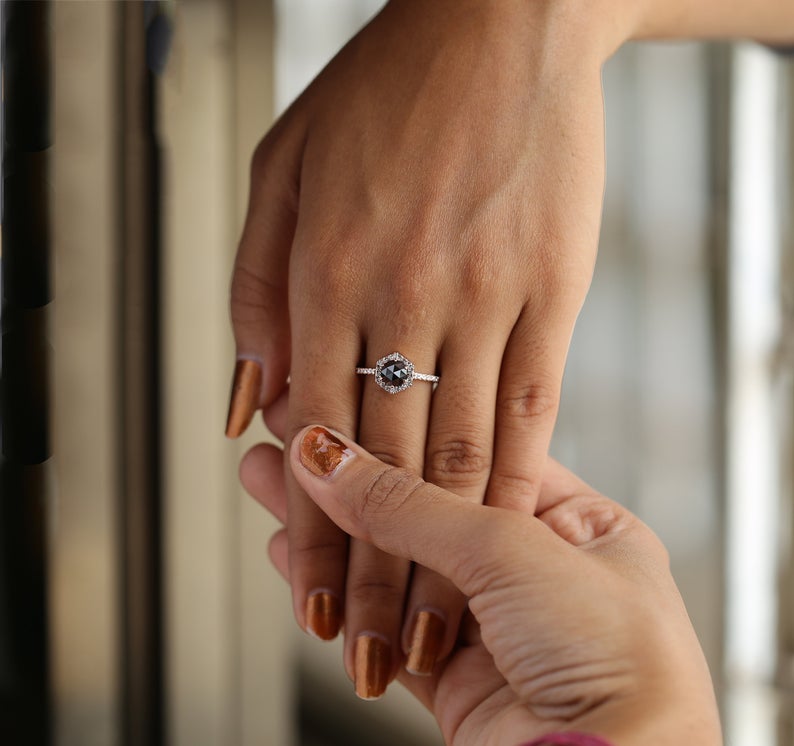 Custom black diamond engagement ring
Do you have any different ideas in your mind with the same design or the black diamond? Then you can ask us here over the email or chat option on our website. Jogi Gems has a team of skilled artisans who can design your dream ring at a low-cost budget. We can make this happen because we have a huge inventory of black diamonds and salt and pepper diamonds which we cut and polish in our own factory. So whichever your requirement is, feel free to reach us at any time and we can make it happen for you in the meantime.