A complete guide for heart shaped black diamond
A gorgeous heart-cut black diamond will look fantastic in a ring, pendant, or other items of jewelry and is more economical than a round diamond of comparable size. Heart shaped black diamonds are unique and easily identified.
Heart shaped black diamonds are a fantastic choice given their form. To evaluate the value and fineness of the other defining characteristics, it is essential to pay attention to them.
Find out all information that you require regarding the shape, color, clarity, and cut shape of your black heart diamond in this article.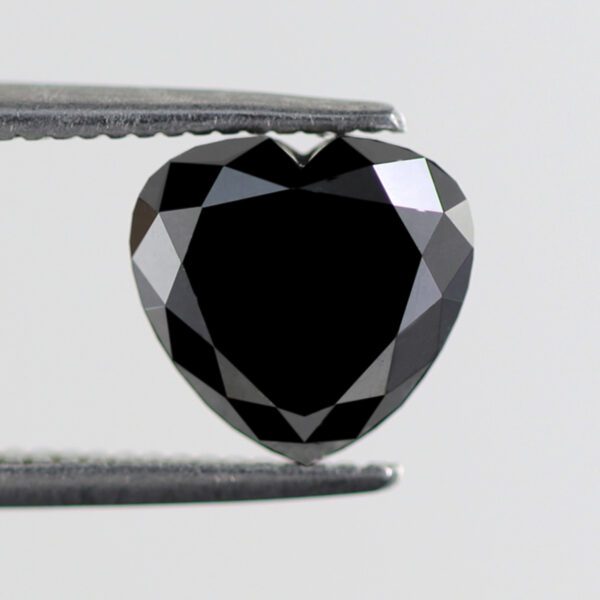 The Colour, Cut, and Setting of heart shaped black diamond.
Most naturally colored black diamonds today are colored by large amounts or clouds of minute mineral inclusions such as graphite, pyrite, or hematite that extend throughout the stone. 
Natural-color black diamonds often have a high brilliance that gives the stones a quite metallic feel. They are also fully opaque. Additionally, these black diamonds can be challenging to cut and polish due to their high inclusion levels.
Bezels and three-prong settings are excellent for heart-shaped diamonds. Bezel settings help to keep the carefully-cut shape safe and secure. Whereas the three-prong setting is perfect for catching the light and gives your diamond a striking feature. 

The Cut 
The cut of this particular diamond shape is essential because of its unique shape. Because the GIA, does not assess the cut quality of fancy diamonds, it is challenging to determine the cut quality of heart diamonds. As a result, when evaluating the cut quality of your heart diamond, the following elements are crucial.
Length and Width ratio 

The depth and table percentage 

Symmetry 
If you want to learn in detail about the shapes of black diamonds then you can check our link below.
Shapes of Black Diamonds
Features of our
black diamond heart ring.
This spectacular black diamond vintage ring is of top AAA quality with amazing opacity giving a matte finish to your band. 
This

heart cut black diamond

weighs 1.63 ct 

The diamond is ethically sourced and provides a stunning shine to the diamond

A perfect choice for couples looking for a sophisticated look in their wedding band.
How popular are
heart shaped black diamond engagement rings
The black heart wedding ring is a huge trend. This kind of diamond is most typically used as the centerpiece of an engagement ring.
Nicki Minaj and Lady Gaga, who wore a gigantic heart shaped diamond pavé ring when she got engaged to Taylor Kinney, are two recent examples of celebrities who have been spotted wearing heart-shaped diamond engagement rings.
The heart-shaped cut is actually based on the hugely popular round brilliant cut, despite the fact that it appears to be completely different. A heart-shaped diamond typically contains 56 to 58 facets, with the pavilion consisting of six to eight facets.
A heart-shaped diamond can have remarkable brilliance and an eye-catching shape that represents your shared love for your lover if it is cut to a high standard of craftsmanship.
Final Thoughts 
With the trend of black heart diamonds, get your perfect piece of the dazzling beauty of heart-shaped black diamonds on www.jogigems.com. Hit the chatbox now!