Black diamond princess cut
Square shape diamonds are popular for creating men's jewelry and they are known as a unisex choice in jewelry pieces, this black diamond princess cut is something you can get to start with your new men's diamond jewelry collection. This black diamond is square in shape with a flat table and pointed back makes it a proper princess shape in a diamond.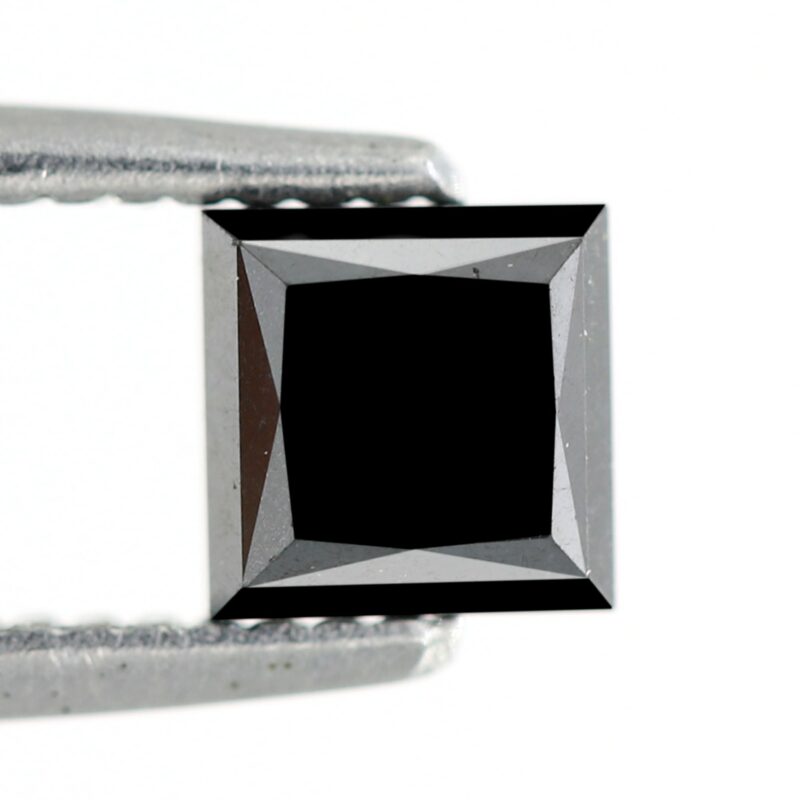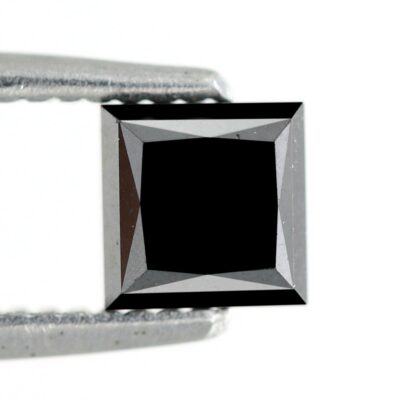 Princess cut black diamond is one of the most popular shapes after the round brilliant cut shape and despite its name, it is most cherished by men worldwide in their jewelry pieces. Men prefer to use it in their pendant, stud earring, or Men's ring. Princess cut black diamonds are mostly famous for designing men's stud earrings, So this black diamond princess cut is perfect for making a single stud earring for Men.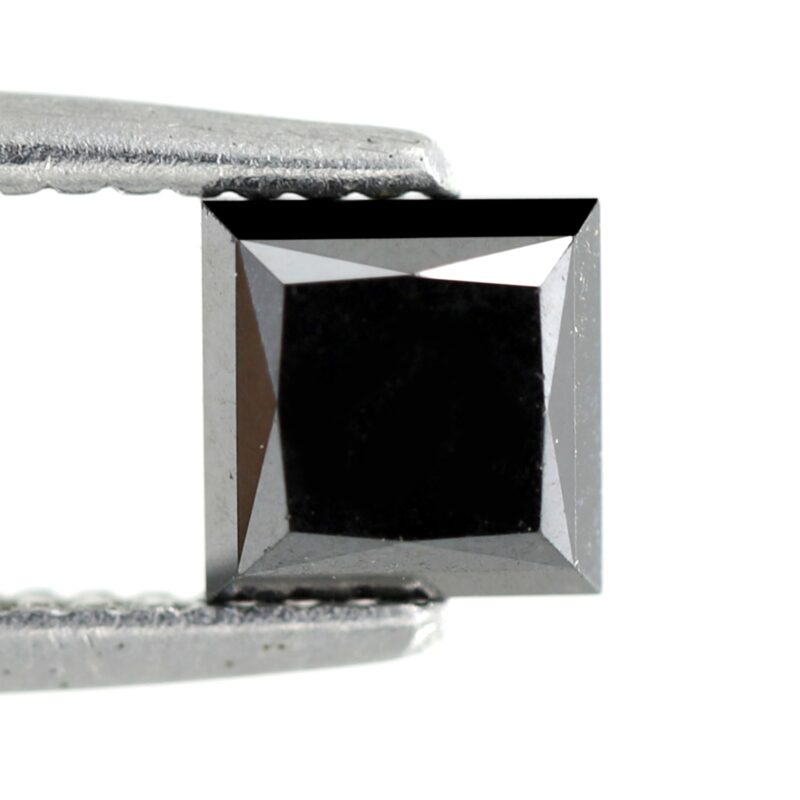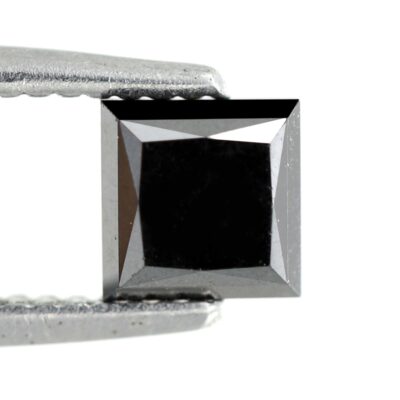 When you compare between a black diamond and a white diamond you will get to see the differences, with carat, color, clarity, and cut they may differ in various parameters. So if you are still new to black diamonds and want to check the difference between a black and white diamond, you can hit the blog link below.
Black Diamonds Vs White Diamonds
Details of Black Diamond Princess Cut
So whether you are going to make a perfect single stud black diamond earring with this black diamond or a gorgeous princess cut black diamond engagement ring, before setting this black diamond knowing it in detail is a must. Check the details for this black diamond princess cut below.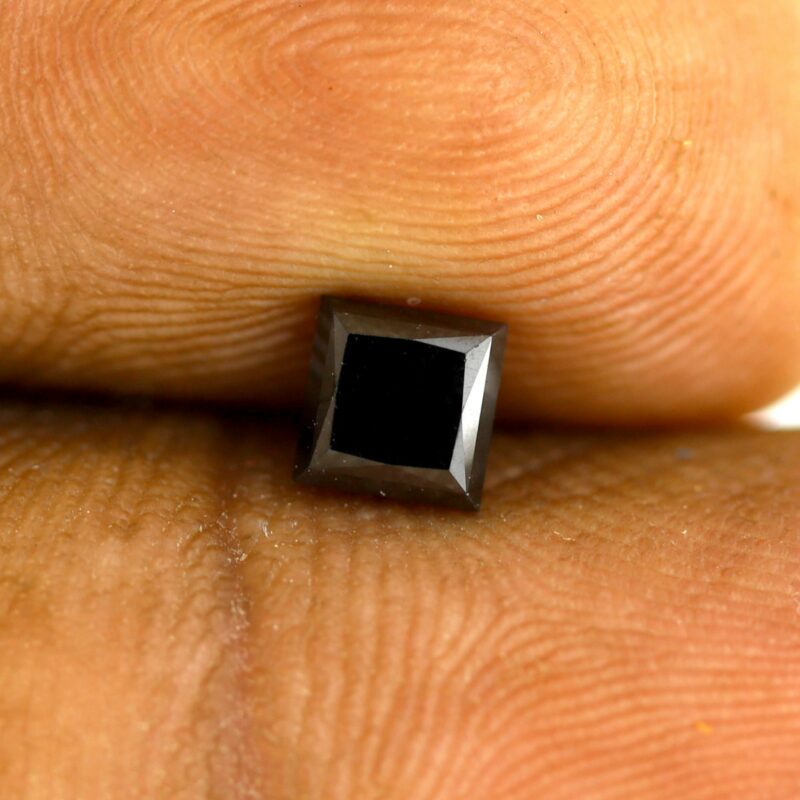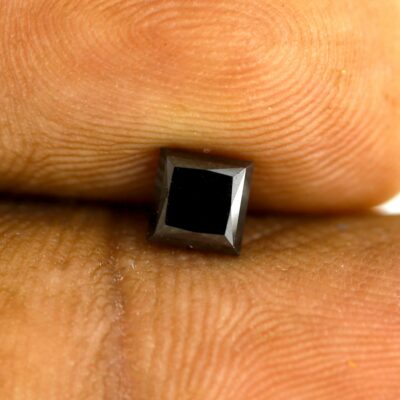 The weight of this princess cut black diamond is 0.78 carat which makes it close to a solitaire shape.
It features AAA quality which makes it look flawless without any visible scratches or spots on its surface.
The clarity of this black diamond is opaque and it comes with a truly jet black color with heat treatment.
The size of this black diamond is 4.3 mm X 4.3 mm X 4.2 mm making It a perfect square-shaped diamond.
You can make several black diamond jewelry pieces with this diamond-like stud earring, engagement rings, or men's rings.
Custom Shape Black Diamonds 
When you are looking for a black diamond to make your jewelry pieces you have some measurement noticed, and you are interested to buy this black diamond in princess shape but it doesn't fit your requirement then don't hesitate just ask us over email or webchat with your specific requirements and we will fulfill it within the meantime. Yes, Jogi Gems has a pool of skilled professionals who can cut black diamonds as per your desired wish and we won't charge you a single penny for a custom cut of black diamond. This is all possible because We are a leading wholesaler of black diamonds and can make it happen with all our abilities.
But if you are content with this black diamond in princess cut then you can go with this now. So grab this beautiful piece of black diamond now at the best price available for now as it is ready to ship, So shop now from our shop and keep making gorgeous your black diamond jewelry to fascinate your customers and black lovers worldwide.